This Sheet Pan Chicken Thighs and Potatoes recipe is a perfect weeknight dinner. Taking inspiration from Greek flavors, it'll be a new family favorite!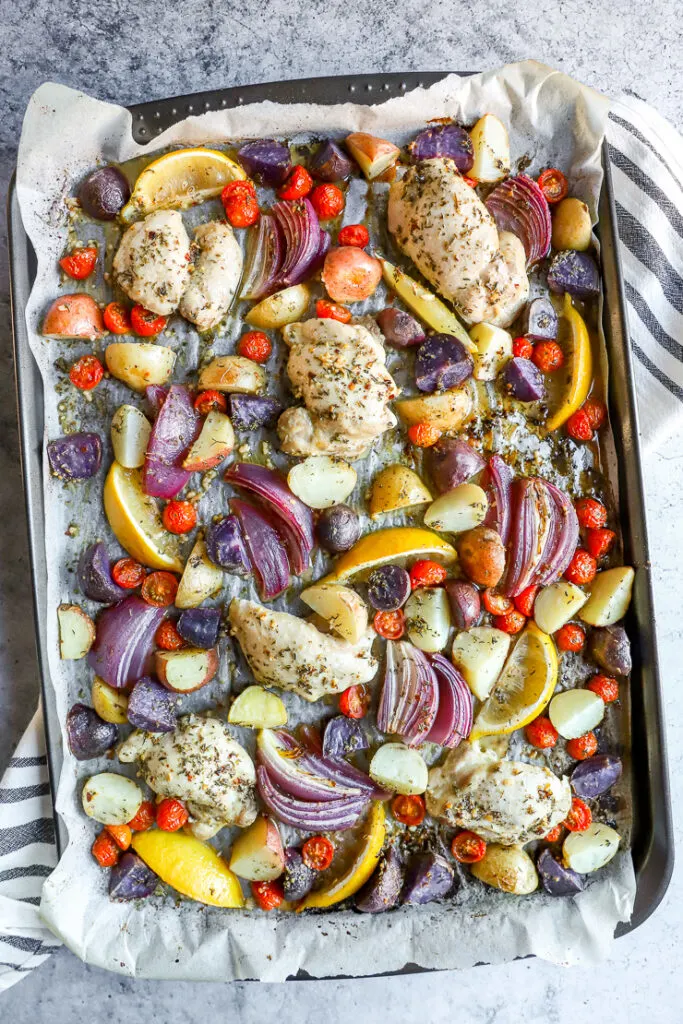 Sheet Pan Chicken Thighs and Potatoes
Sheet pan meals are a weeknight staple around my house and this Sheet Pan Chicken Thighs and Potatoes recipe is constantly on rotation.
Only having to prep the vegetables and marinade make it a very hands-off dish which is always great for busy nights.
The dish is inspired by Greek flavors keeping it light and bright for a meat and potatoes dish – who doesn't want more reason to eat feta, right? And lemon chicken is never not good!
If you're looking for more easy sheet pan ideas, check out this Sheet Pan Shrimp Fajitas recipe or this easy Chili Lime Tilapia that you could serve with rice and vegetables.
The Culinary Compass participates in several different affiliate programs. As an Amazon Associate, we earn from qualifying purchases.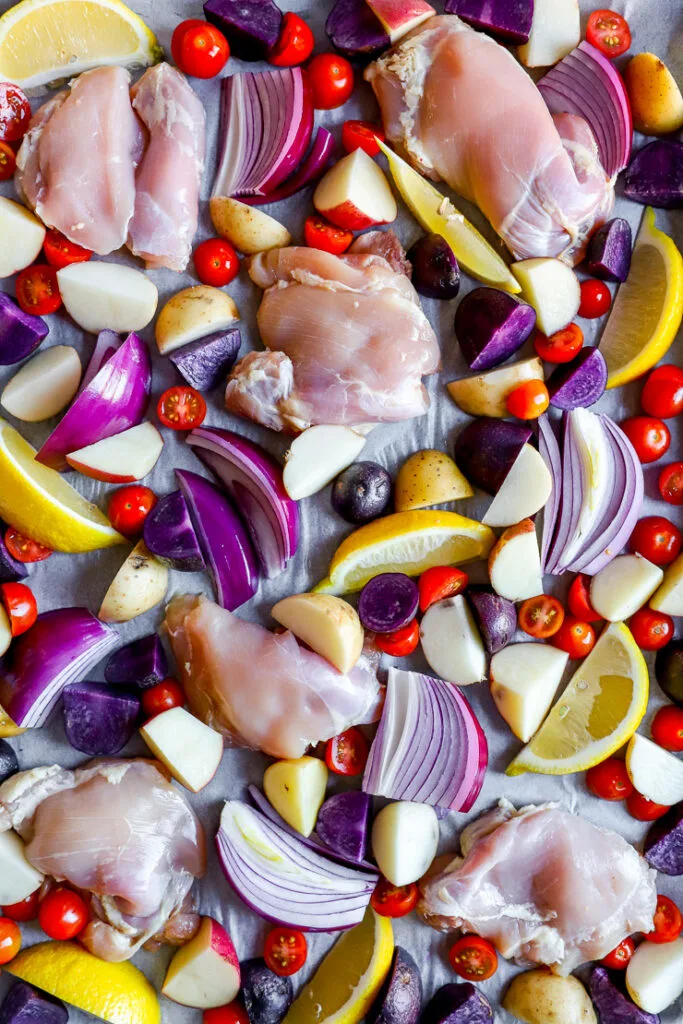 What ingredients do I need for Sheet Pan Chicken Thighs and Potatoes?
Boneless, skinless chicken thighs
Red or mixed variety baby potatoes
Red onion
Cherry or grape tomatoes
Lemon
Olive oil
Lemon juice
Herbs and seasonings like oregano, thyme, salt, pepper, and red pepper flakes – fresh herbs could also be used!
Kalamata olives
Crumbled feta
What kind of potatoes should I use?
I like to use baby red potatoes or a bag of mixed small potatoes. I've used both for the recipe and it ends up great either way.
Depending on the size, you'll want to halve or quarter the potatoes so they cook evenly and are fork tender at the time the chicken is also done.
If you have russet or Yukon gold potatoes on hand, be sure to cut them into bite size pieces!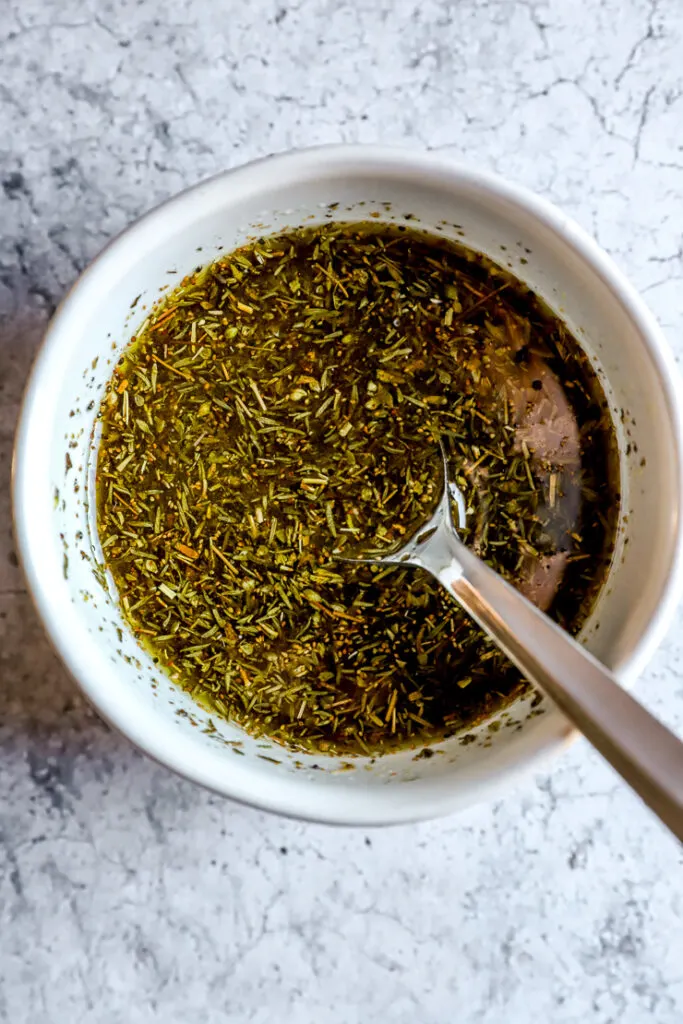 What kind of chicken thighs should I use?
Using boneless skinless chicken thighs is easiest with this recipe! Depending on your oven and the size of the thighs, the boneless chicken thighs will be cooked through in about 30 minutes. This is also a good amount of time for your potatoes to cook all the way through.
Check out these Grilled Boneless Skinless Chicken Thighs or this Thai Basil Chicken recipe if you're also a fan of boneless chicken thighs.
If you're looking to use bone-in chicken thighs with the skin, baked bone-in chicken thighs will need an extra 5 to 10 minutes to your cooking time overall.
If you find that your vegetables are done at 30 minutes, remove them from the sheet pan so they don't get too mushy.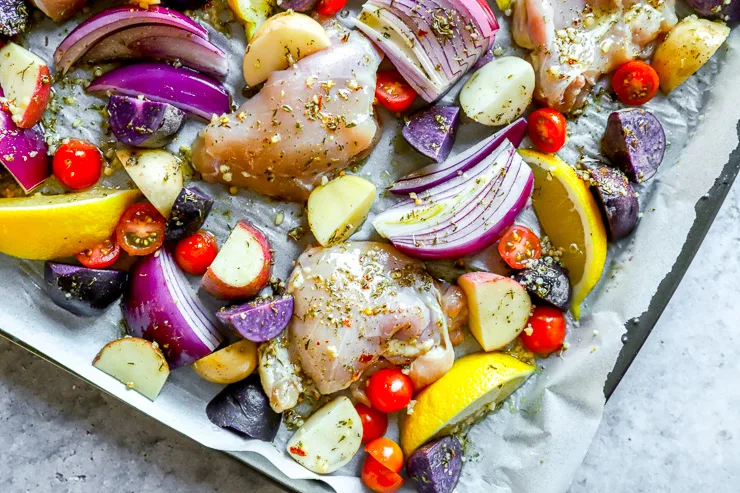 Can you cook raw chicken with raw potatoes together?
You can! This is a great way of cooking them together as long as you use proper food safety handling and ensure everything is cooked through when you serve the dish.
You'll want to keep an eye on the doneness of the roasted chicken and potatoes. Remove either if one is cooking much faster than the other.
What size sheet pan should I use for a chicken thigh and potato sheet pan dinner?
I like to use a big sheet pan when I cook something like a sheet pan meal. This will help give everything more room to cook evenly and to have a chance to crisp up the edges. This will make sure that it won't come out steamed and mushy.
The size I use is about 19.5 inches by 13.5 inches which is bigger than a traditional half sheet size you might use for cookies.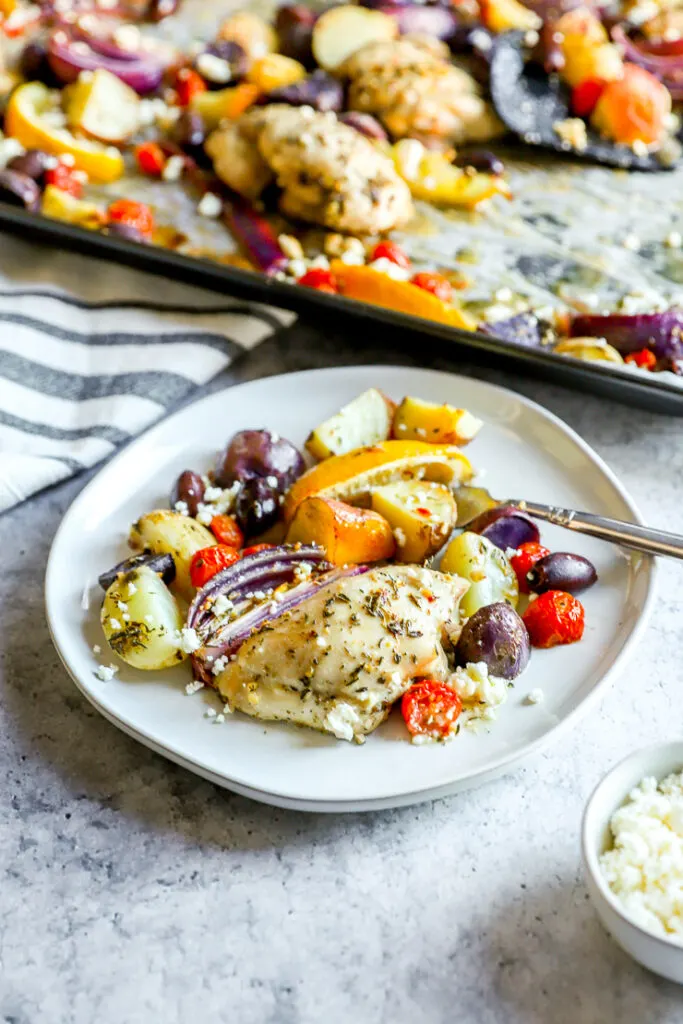 How to make Sheet Pan Chicken Thighs and Potatoes
This sheet pan boneless chicken thighs and potatoes only has a few steps!
Preheat oven to 400°F, prepare your large sheet pan or rimmed baking sheet with aluminum foil, and prepare your vegetables. Cut any fat off the chicken thighs, if desired.
Place the chicken thighs, cut potatoes, red onion, cherry tomatoes, and lemon wedges onto the sheet pan. Be sure to evenly spread them out in a single layer.
Mix together the olive oil, lemon juice, oregano, thyme, salt, pepper, and red pepper flakes in a small bowl. Drizzle the olive oil mixture over the chicken and vegetables. Toss everything in the mixture to make sure it's evenly coated, or use a silicon brush to evenly spread it out.
Bake for 30 minutes, or until the chicken is cooked through and the internal temperature of the chicken reaches 165°F using an instant digital thermometer.
Top with the kalamata olives and feta and broil for a minute or two to warm through. Serve warm and enjoy!