Have an abundance of Thai basil? Try this Thai Basil Chicken recipe! It's sweet and spicy making it a dish you'll want over and over.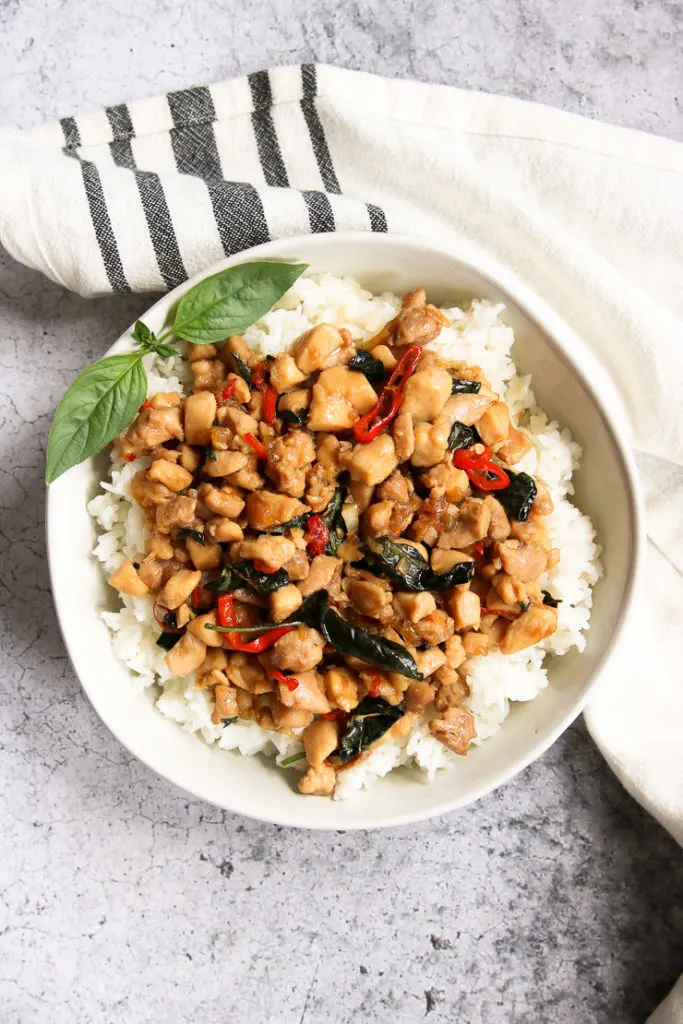 Thai Basil Chicken Recipe
If you're anything like me, I didn't have Thai food until I was at least in high school. Finding Thai restaurants wasn't even on my radar, unfortunately. I hope to change that for any of my skeptical readers!
Thai Basil Chicken should definitely be on your Thai food bucket list as it's a staple. It's a spicy, savory dish that you'll fall in love with.
This is also a great recipe for weeknights as it can come together in about 30 minutes.
The Culinary Compass participates in several different affiliate programs. As an Amazon Associate, we earn from qualifying purchases.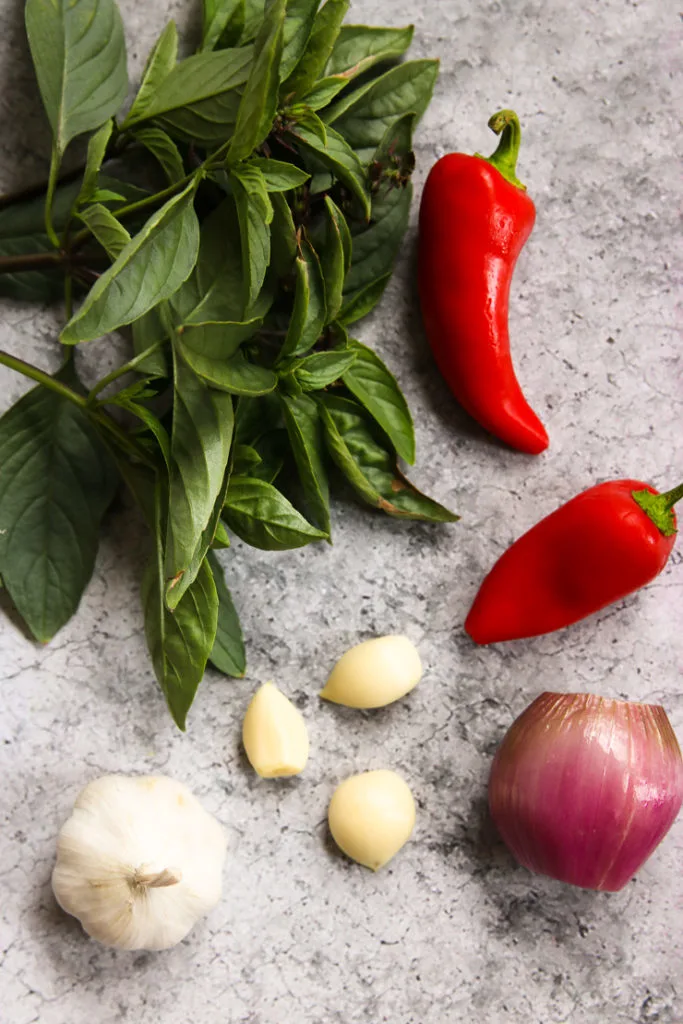 What is Pad Krapow Gai or Thai Basil Chicken?
Pad Krapow Gai is a Thai dish that translates to Fried Holy Basil chicken. It's wildly popular and deservedly so. It's spicy and savory and will be one of your favorites once you try it.
What kind of basil should I use?
If you're able to find it, you should use holy basil as that is what kra pow means.
Thai basil may be a little easier to find. It's got an anise flavor and is a little more spicy than regular sweet basil that compliments this dish really well.
The main difference between Thai basil vs. basil is the flavor so using regular basil will affect the overall flavor, but it can still work if you're in a pinch.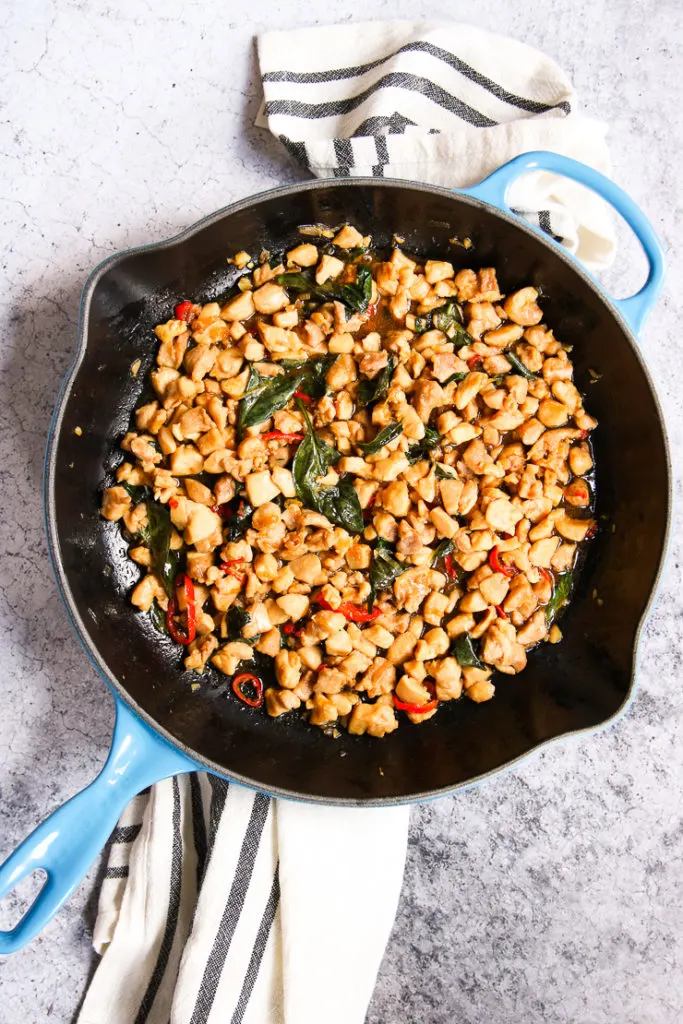 What kind of chili peppers should I use?
If you're a fan of spice, be sure to use Thai chilies or Bird's eye chili. The spice level does simmer a bit when cooked, but it's still got some substantial heat so be warned.
I used a red chili which is one that you'll mostly likely find at the grocery store. It has some heat, but wasn't enough to burn off any taste buds.
Serrano peppers are also a great alternative if you can't find any red chilis.
If you're serving this to your family or if spice isn't something you like, just use a regular red pepper or bell pepper. It'll be a little sweeter than the dish normally is, but will be a good substitute if that is a concern.
Do I need to use chicken thighs?
I like to use boneless, skinless chicken thighs to add a little bit of fattiness, but you don't need to use chicken thighs. Chicken breast or ground chicken are also both great options for this dish.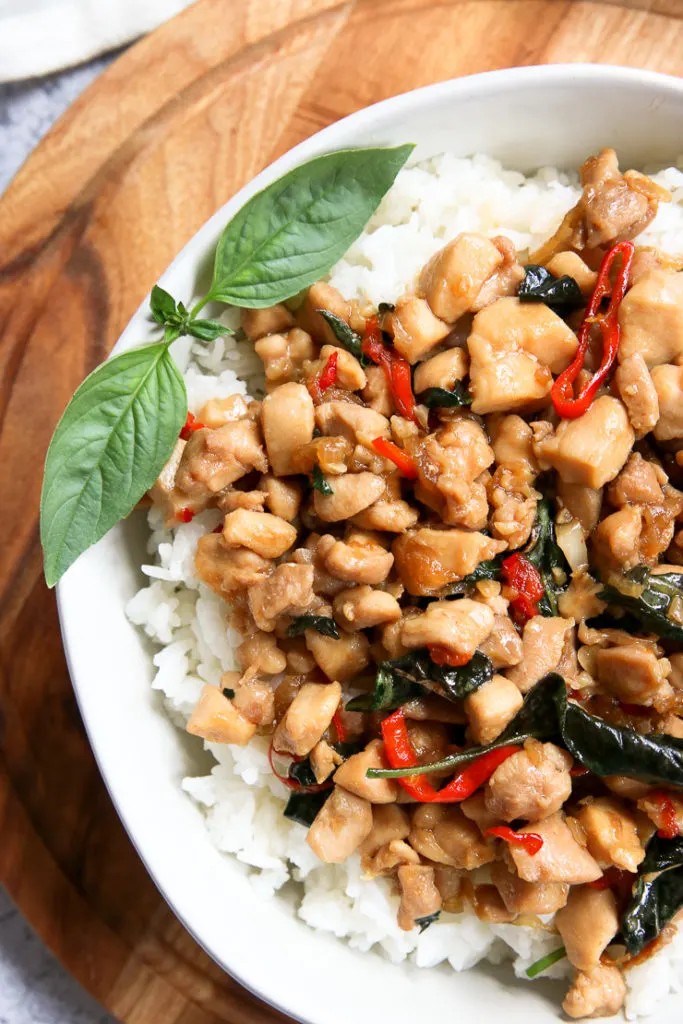 What if I don't have oyster sauce?
There are a few options that you have to substitute the oyster sauce in the dish. You can substitute it completely with some hoisin sauce.
Another option would be to divide the amount beween fish sauce and soy sauce if you already have those on hand. For this dish, it'd be about half tablespoon of both fish sauce and soy sauce on top of the amounts already required.
Can I include an egg?
You bet! A fried egg as a topping for this dish is often found in a Thai restaurant. It helps to cool down some of the spices and adds a bit of fat to the dish.
How do I make Thai Basil Chicken?
You'll want to prepare your chilies, shallot, and garlic before getting started. I also like to dice the chicken thighs so they're ready to add to the dish.
Use a large skillet to heat up the vegetable oil and heat up the diced chilies, diced shallots, and minced garlic until they are aromatic.
Add in the chicken thigh pieces and stir occasionally until they are cooked through completely.
While your chicken is cooking, combine soy sauce, oyster sauce, fish sauce, and sugar in a small bowl to combine. Pour the sauce over the chicken and let it thicken a bit. Stir in the Thai basil leaves and cook stirring everything together to let the leaves wilt.
Be sure to serve over cooked jasmine rice and enjoy!
Looking for other Asian inspired recipes? Try one of these: