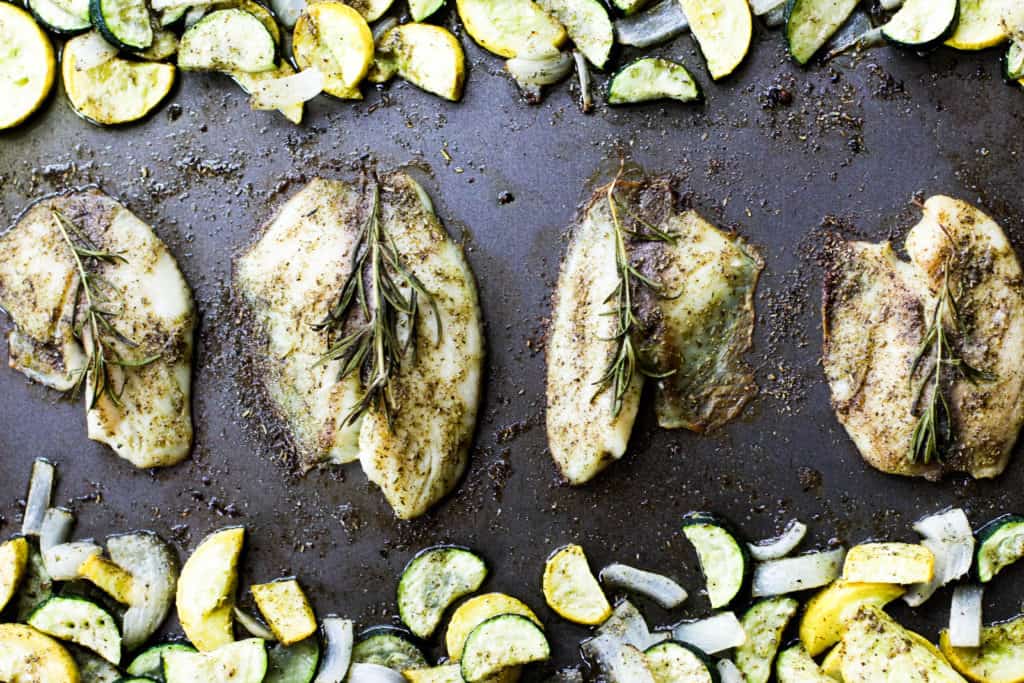 Sometimes life happens and 13048 (<— totally not an exaggeration) things are screaming for your attention at once and dinner is the last thing on your mind. This One Pan Herbed Tilapia and Squash is a quick way to cross one thing off of your list and it's sure to please.
It only takes 30 minutes and very little prep. I've even quick thawed frozen tilapia fillets while chopping veggies and still been able to pull the meal together in no time.
Since both the tilapia and veggies are super mild in flavor, they take on all of the awesome herbiness of the spice mix. The rosemary, sage, and thyme make it super earthy and addicting in my personal opinion.
It's a super easy base with the tilapia and veggies that I think you could very easily play around with the herb combination to come up with something just as easy! Maybe add in some peppers and use some cumin and chili powder or cayenne to give it a southwest flare!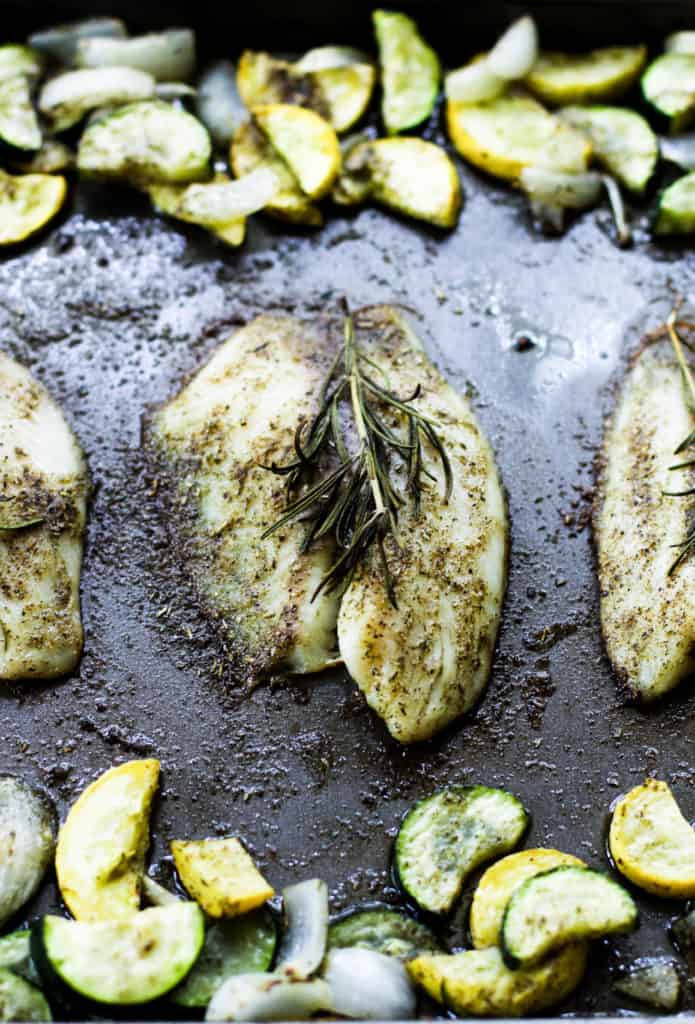 Be sure to preheat your oven as soon as you want to start making dinner. I don't know about you, but my oven takes forever… might've been the longest thing I waited for. It'll hopefully be ready once you put everything else together.
The fish and veggies take no time at all. I personally like the squash and veggies cooked all the way through, but if you like them more crunchy, consider waiting to put them in until halfway through so they are still cooked a little and warm with the tilapia when you take it out.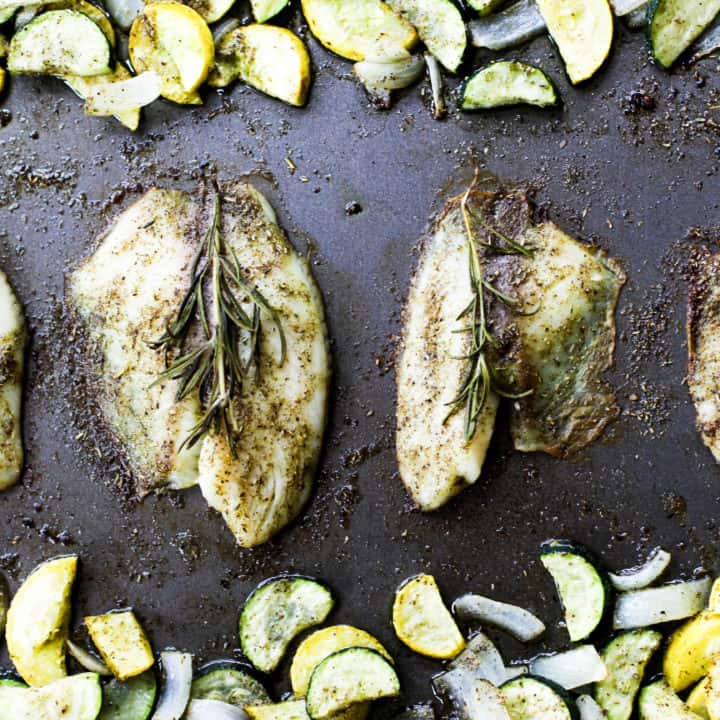 One Pan Herbed Tilapia and Squash
Yield: 4 servings

Prep Time: 10 minutes

Cook Time: 20 minutes

Total Time: 30 minutes

This One Pan Herbed Tilapia and Squash is a great 30 minute meal with little clean up! Perfect for weeknights!
Ingredients
1/2 tsp salt
1/4 tsp pepper
1 tsp rosemary
1/2 tsp oregano
1/2 tsp thyme
1/4 tsp sage
1/4 tsp garlic powder
1/4 cup olive oil + more for pan
1 zucchini, quartered and sliced into 1/2"
1 yellow squash, quartered and sliced into 1/2"
1/2 yellow onion, largely diced
4 tilapia filets
Instructions
Preheat oven to 425F.
Optional: Use a spice grinder to grind the salt, pepper, rosemary, oregano, thyme, sage, and garlic powder together.
Mix the spice mix with the 1/4 cup olive oil until well combined.
On a cookie sheet spread out some olive oil or use parchment paper. Spread out the four tilapia fillets in the middle of the length of the pan. Place the squash and onions on either side of the tilapia. Evenly spread the herb olive oil mixture over the tilapia and veggies. Be sure to mix veggies around to evenly coat all sides. Flip tilapias over so each side is covered.
Cook for 20 minutes or until tilapia flakes with a fork. Take out half way through to mix veggies.
Serve warm and enjoy!