Can't find any shaved Brussels sprouts at the store? Follow along to learn how to shave Brussels sprouts in just a few easy steps!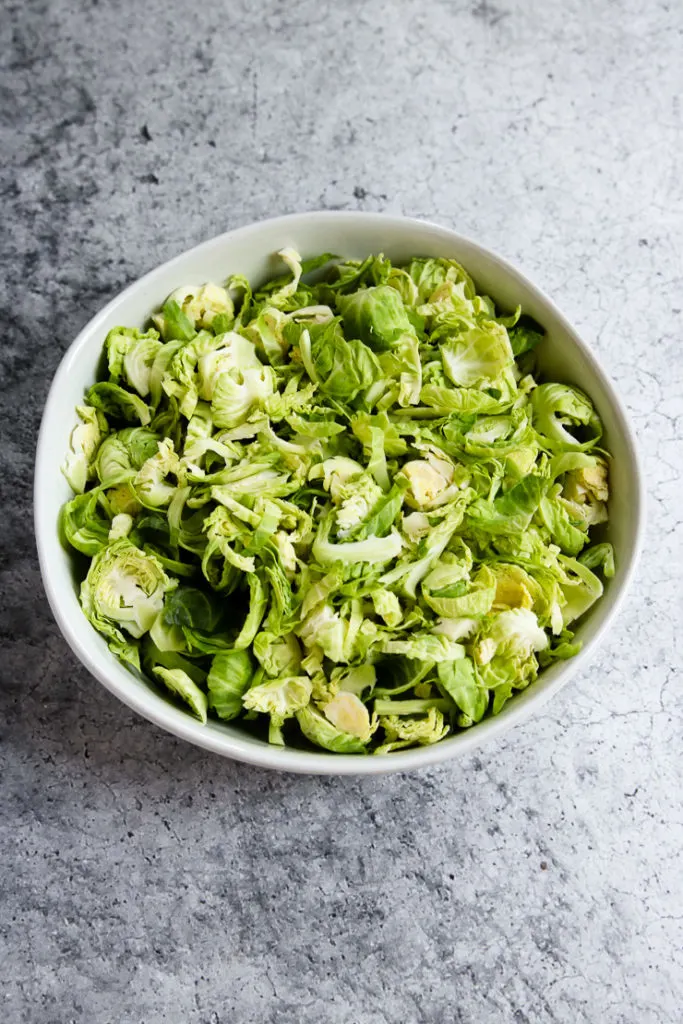 How to Shave Brussels Sprouts
If you can't find any shaved Brussels sprouts or don't have a food processor to help do most of the work for you, here's a quick step by step tutorial on how to shave Brussels sprouts.
The Culinary Compass participates in several different affiliate programs. As an Amazon Associate, we earn from qualifying purchases.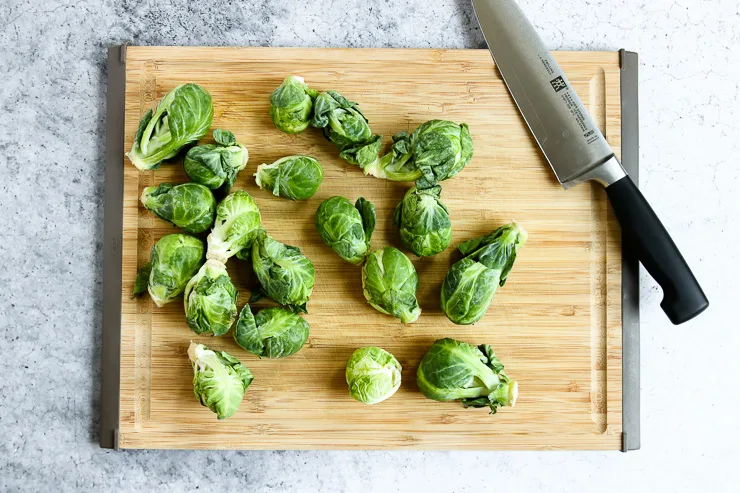 Prepare your work station with a sharp knife to help avoid any accidents and a dry cutting board. Try putting a wet paper towel or kitchen towel under the cutting board to keep it from slipping while you cut.
When working with preparing vegetables, I love to have a 'trash bowl' around to put all the cut parts in so I can keep my workstation tidy and not have to walk back and forth to the trash can. This is also an easy way to gather compostable items as you're working to transfer them to your compost bucket.
Wash your Brussels sprouts and set them aside. You're ready to get started.
The first step is to cut the root end off of each sprout and put those into your trash bowl.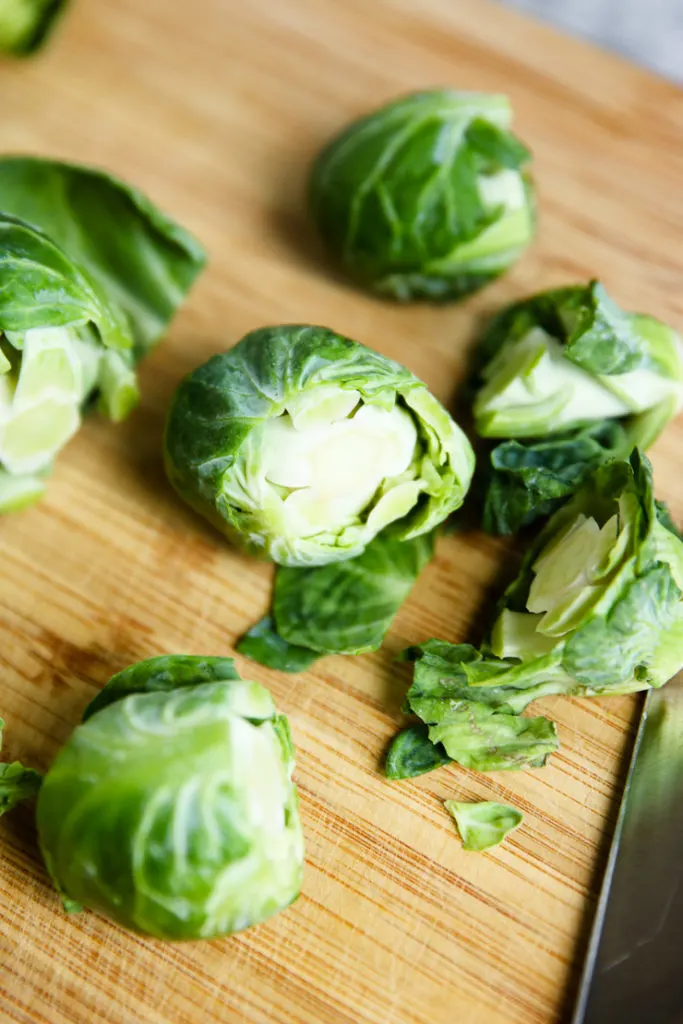 Next, pull off any outer leaves that are loose or look like they may be either dirty or rotten.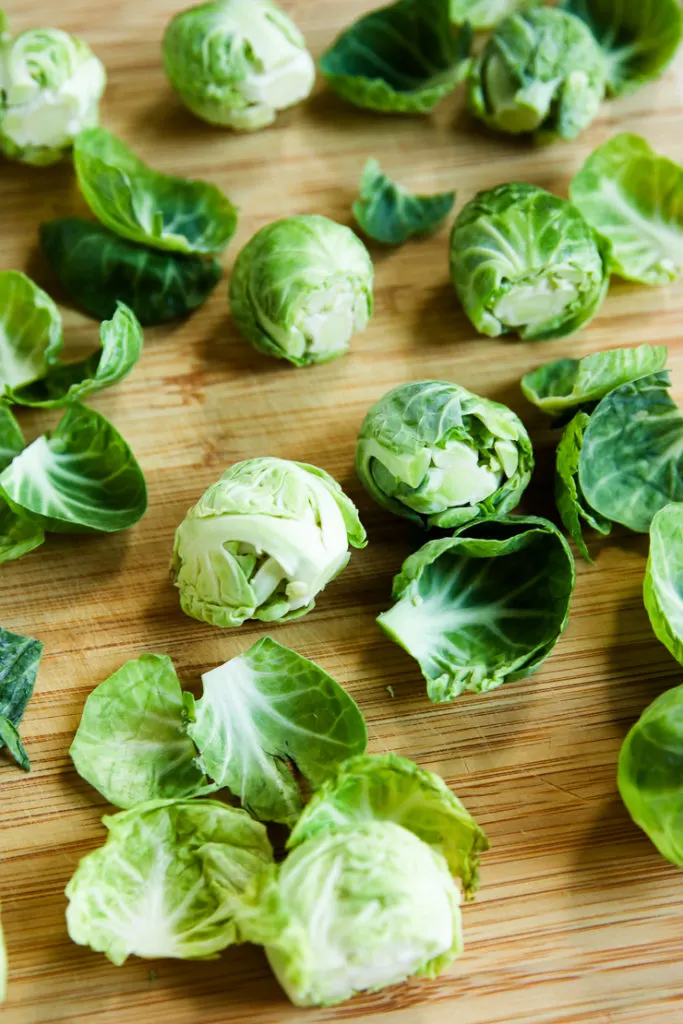 This next step is where we're going to start cutting into the Brussels sprouts. I like to hold the Brussels sprouts with the root end on the cutting board since there should be a flat edge there. That gives me a little more stability when cutting.
You'll want to carefully cut your shredded pieces from here. This is where you can decide how thick you want your pieces.
If the sprouts are small, one way to do it is to cut each in half, then each half into quarters. If you're looking for smaller shreds, start from one end and work your way through the sprout.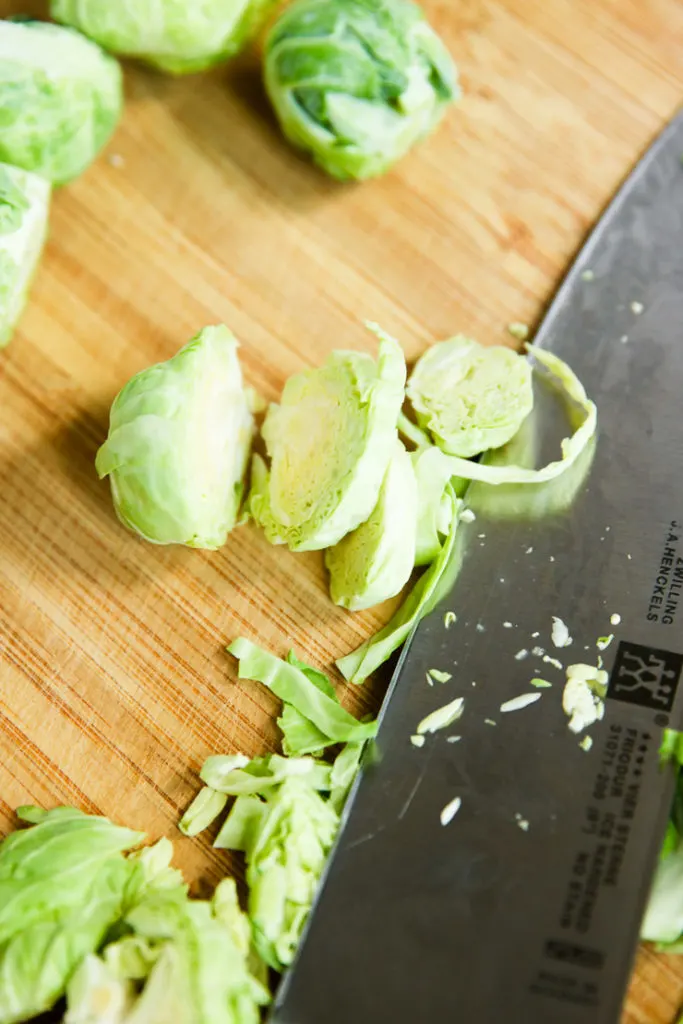 Once you have your shreds, you can pull apart each and cut any larger pieces. Tada! You're all set.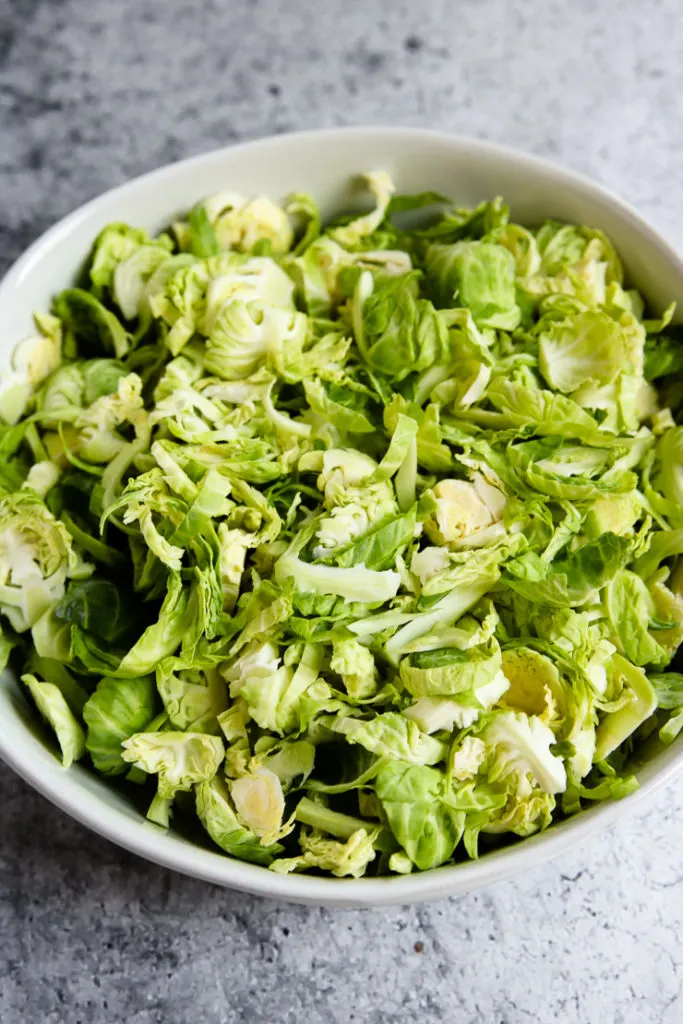 What can I use to shred Brussels sprouts?
There are a few ways that you can shred Brussels sprouts! The first would be by hand using a knife to cut through.
Another option is to use a mandoline, but be sure to be careful with those as it's really easy to catch your fingers in the blade since Brussels sprouts are so small.
The last way would be to use a food processor. Most come with a shredding or grating disc attachment that you can pulse the Brussels sprouts in to give them a quick shred with pretty limited effort and I think that's what we all need these days.
How do you cook shaved Brussels sprouts?
Roasting shaved Brussels sprouts might be one of my all time favorite vegetables. It's crunchy with a ton of flavor without the typical steamed Brussels sprouts flavor you usually get.
Shredding it also means more surface area, but it's not as thick so it takes less to char rather than just cooking through. A quick and delicious way to make it as a side dish is using olive oil, salt and pepper, and a drizzle of balsamic vinegar to help caramelize the edges. You'll never look back after that!
Can you eat shaved Brussels sprouts raw?
You can! They are delicious in a salad with a great dressing and some other elements to liven it up. These Brussels sprouts salads are just a few ideas if you're looking into making a raw dish.
Looking for other Brussels sprouts recipes? Try one of these: