This White Wine Mushroom Pasta is decadent and delicious. It's a copycat Vapiano Crema di Funghi recipe that is full of flavor!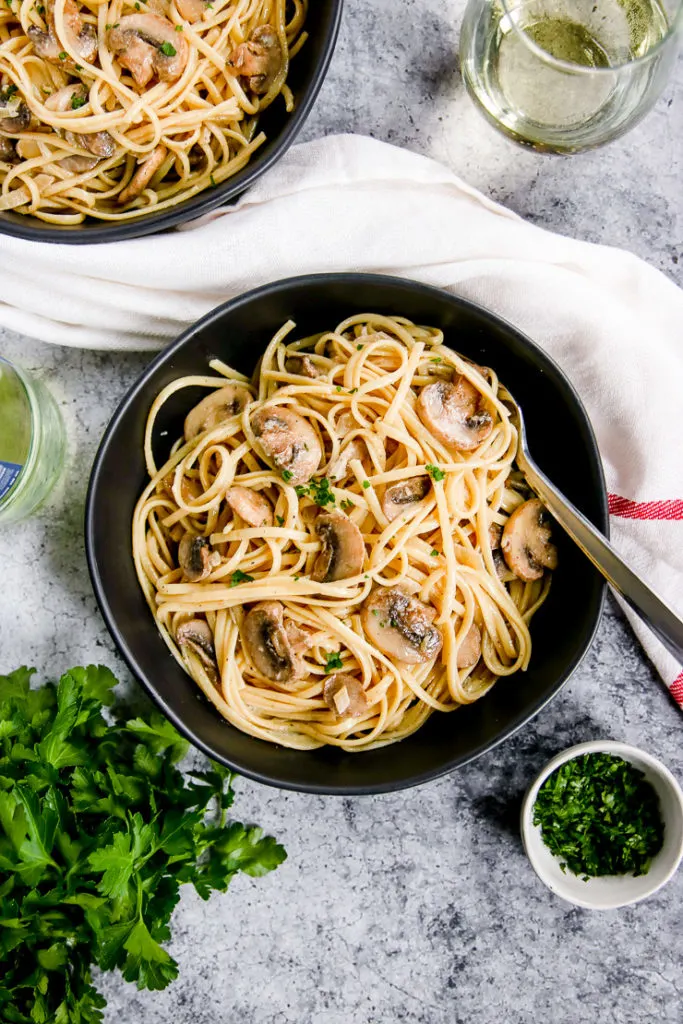 White Wine Mushroom Pasta
There is something about a creamy mushroom pasta that will never let you down. Once you add some white wine to the sauce and a little nutmeg to add even more earthiness and warmth, you'll never want another type of sauce again.
This White Wine Mushroom Pasta recipe is inspired by the Crema di Funghi that you can get at Vapiano's. It was always my favorite to watch the chefs quickly cook the mushrooms and ingredients together.
When they added the fresh nutmeg, I was a surprise and skeptical at first, but was pleasantly surprised and fully believe it adds another layer to the overall dish.
The Culinary Compass participates in several different affiliate programs. As an Amazon Associate, we earn from qualifying purchases.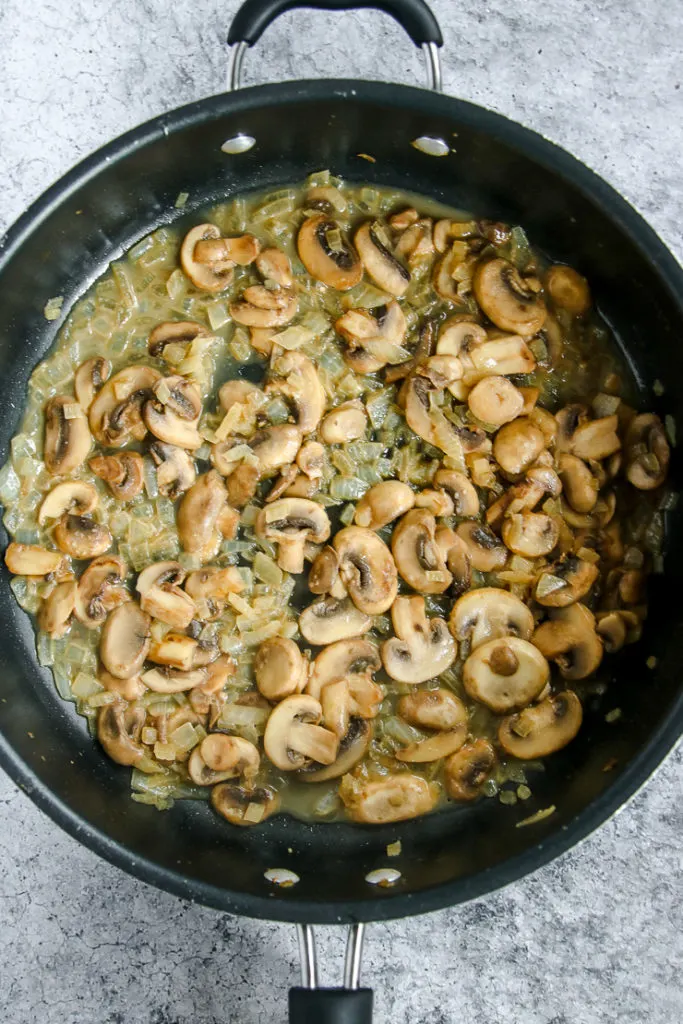 What kind of white wine should I use to make white wine mushroom pasta?
If you're looking to pair wine with mushrooms, full-bodied, smooth white wines like Chardonnay or Sauvignon Blanc go well with mushrooms.
You could also look for something like a Viognier or Pinot Gris could also work as they would be nice and floral without too much sweetness.
The wine does mostly cook down, but the residual flavor adds a nice acidity and brightness to the sauce.
What kind of mushrooms would be good to use?
I am a fan of using what's pretty available to me and that's usually white button mushrooms or baby Bella mushrooms. They're generally always at the store and I find either to go well with the dish.
You can by the pre-sliced, if you'd like! That's usually what I grab when I'm in a rush to make food.
Oyster mushrooms would also be delicious, if you're able to find those! Even mixing up the mushrooms in the dish would add different layers and textures to really make it unique.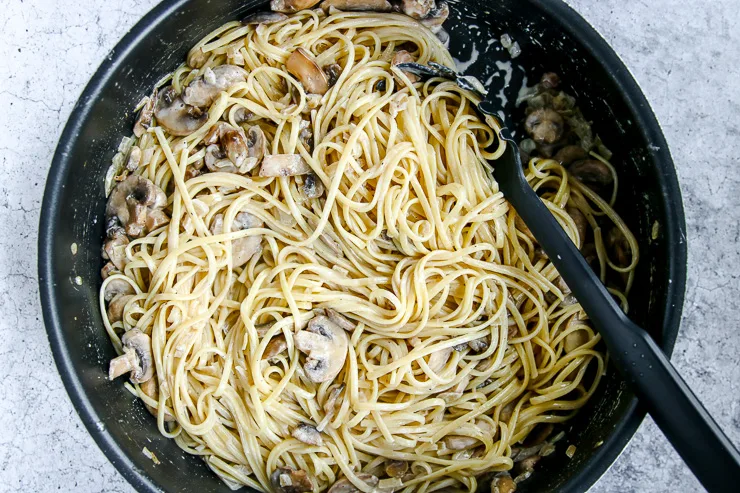 How should I clean whole mushrooms?
If you have whole mushrooms, they're a little easier to clean that way. You'll never want to run the mushrooms under water as they can soak up too much moisture that way.
What you'll want to do is use a damp paper towel to wipe down and knock off any dirt on the mushrooms.
What type of pasta should I use?
Any long pasta would be great here! I like a little thicker pasta like a linguine or a fettuccine to really get coated in the sauce.
Something like bucatini is also a great idea here! Of course, spaghetti and angel hair are good options if those are what you have on hand.
Can I add other seasonings to this?
Definitely! If you're looking to add a little heat, adding some red pepper flakes while you're cooking the onions and garlic would be a great idea.
To lighten it up a bit, you could always add some lemon juice and oregano or thyme.
Of course, you can always top the dish with some parmesan cheese!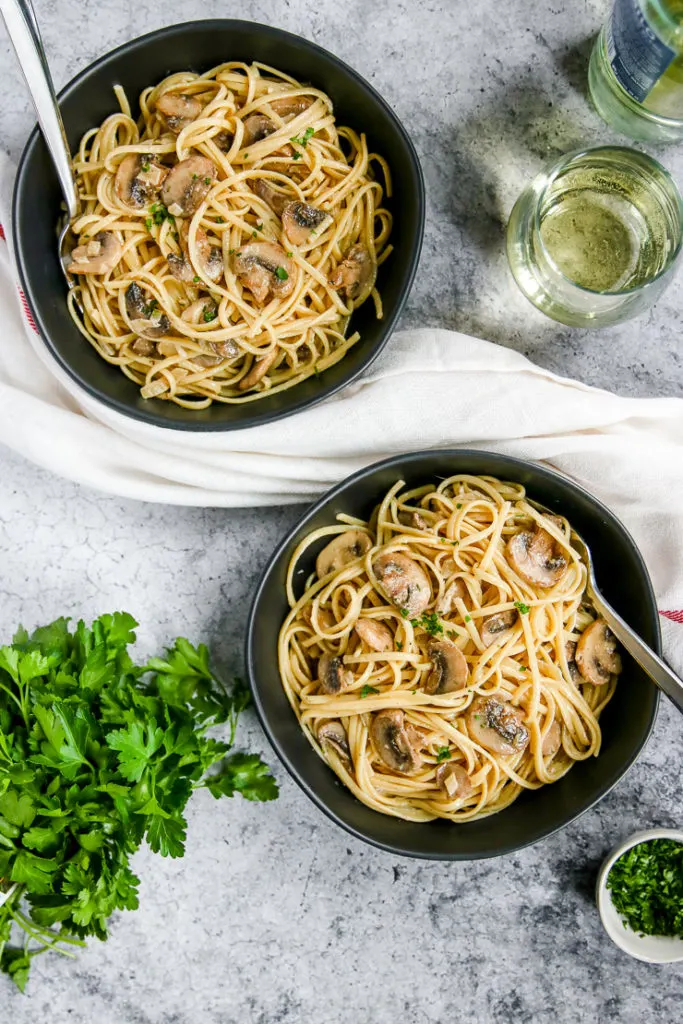 How do I make white wine mushroom pasta?
First up, cook the pasta according to the packaging! You'll want to get a head start on this while you cook everything else so you can reserve some of the pasta water. Don't forget the salted water for your pasta!
The pasta water will be nice and starchy which will help the sauce stick to the pasta a little more.
While the pasta is cooking, start getting that sauce ready! Melt some butter then add in the onion and garlic so that they get nice and aromatic.
After that, you'll add in the mushrooms and cook. Let those hang out in the sauce so they get nice and fork tender.
Once those are ready to go, you might have a little bit of browned spots on the bottom of the pan. Add in the white wine at this point to help get those spots up and add that flavor to the sauce.
Let the wine reduce by half then add in the heavy cream and stir it in until combined. Season with some salt, pepper, and ground nutmeg.
The most important part is slowly adding in some of the reserved pasta water – let it simmer a bit so it can thicken. Add in the pasta and toss to coat! Top with parsley and, voila, you're all set!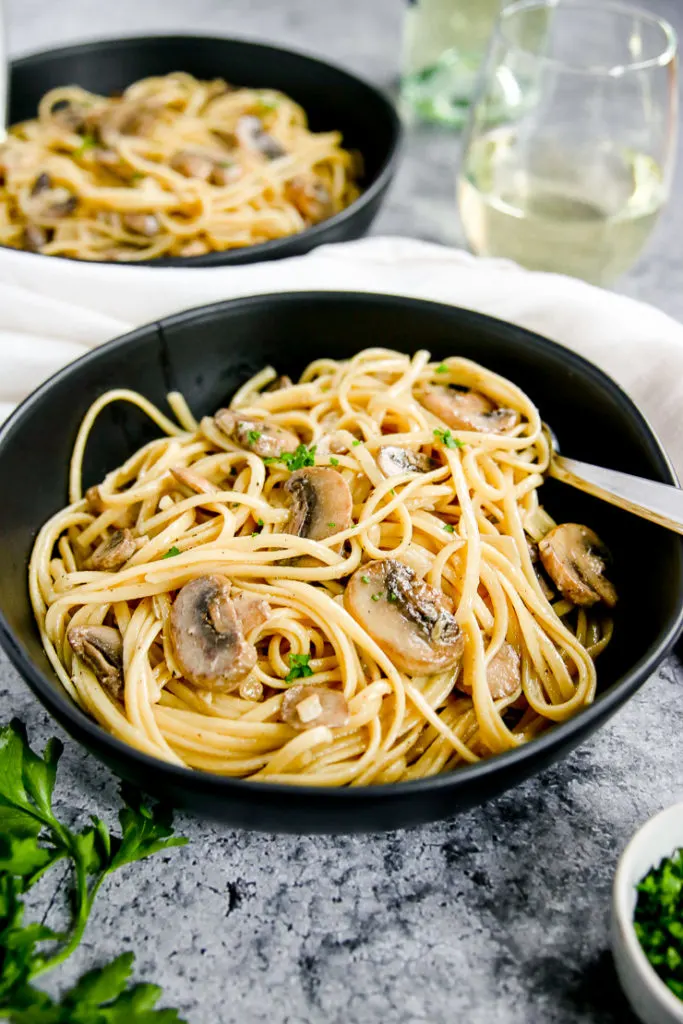 Could I add protein to this dish?
Of course! This would work great with some Italian sausages cut up or ground, or even just with some cut up chicken if you're looking to keep it easy.
If you're looking for another vegetarian pasta dish, try this Roasted Vegetable Pasta!
Looking for other pasta dishes to try for dinner? Try one of these: