This Sausage Mushroom Risotto recipe is such a decadent date night dinner! It's surprisingly easy and will impress all your guests.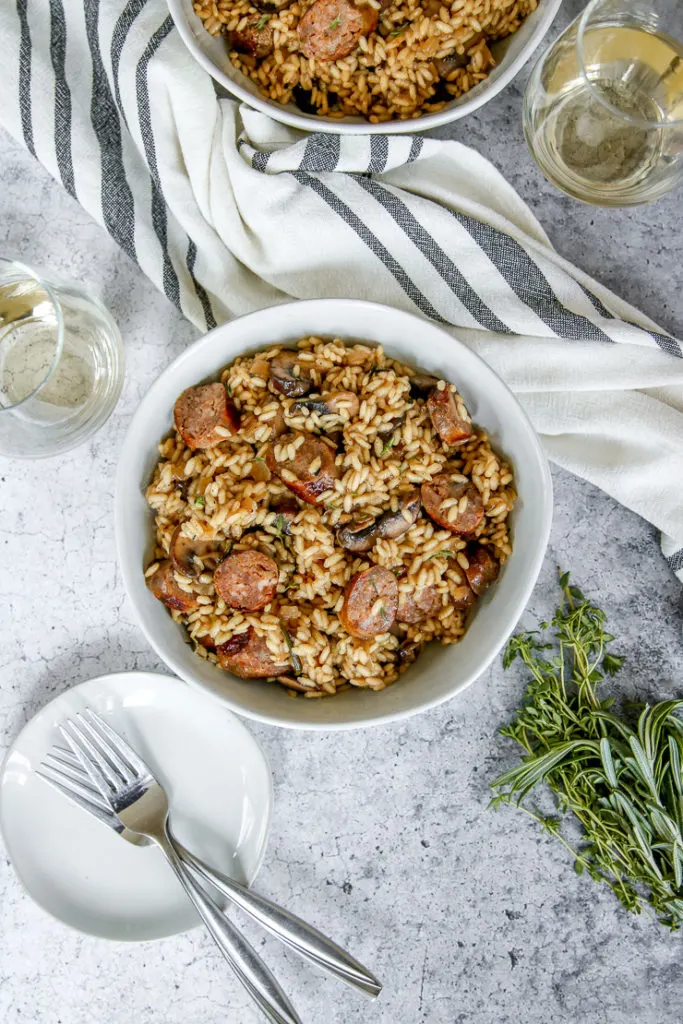 Sausage Mushroom Risotto
If you're like me, risotto always sounded like a dish that was really intimidating to make. Once you try it though, you won't go back!
It takes a little time and patience, sure, but the result is a comforting and delicious dish you'll make again and again.
Sausage and Mushroom Risotto is one of my favorite dishes to make when we're celebrating something or just want to treat ourselves on a cold winter night!
If you're looking for a spring or summer version of risotto, try out this Spinach Risotto.
The Culinary Compass participates in several different affiliate programs. As an Amazon Associate, we earn from qualifying purchases.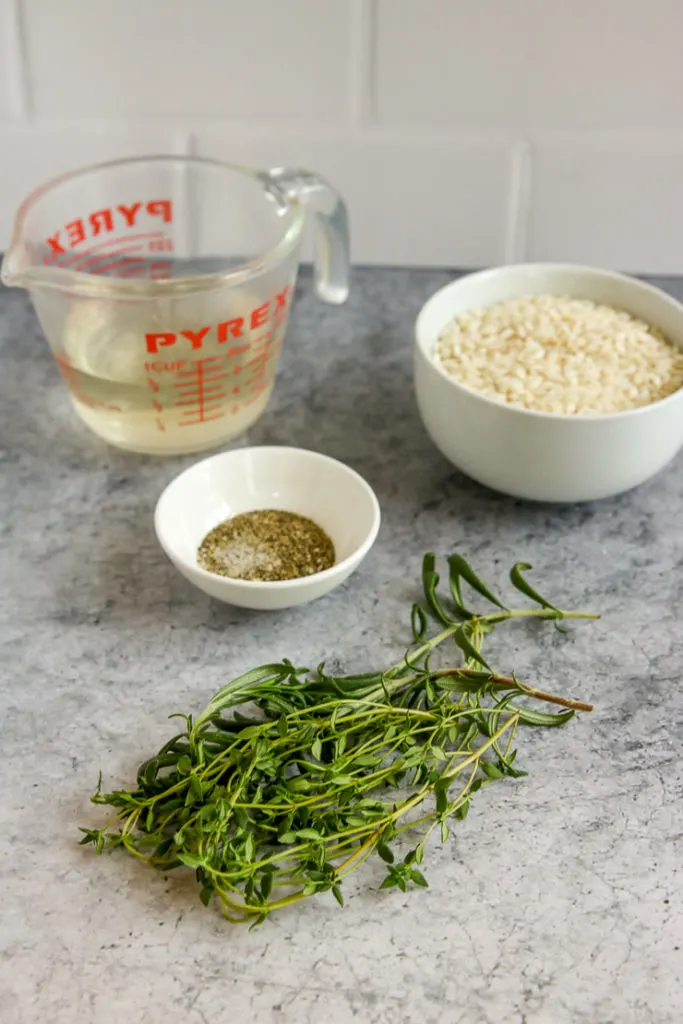 What is risotto?
Risotto can be considered two things! Most commonly, risotto is known as a delicious creamy and decadent rice dish from Italy.
Risotto is also a main cooking method of rice meaning that other types of rice can be made in a "risotto-style."
What kind of rice is used?
Arborio rice is what you'll want to use for this sausage mushroom risotto. It's a little thicker of a grain and is traditionally used for risotto.
It's a short grain rice variety that is named after the region in Italy that it comes from.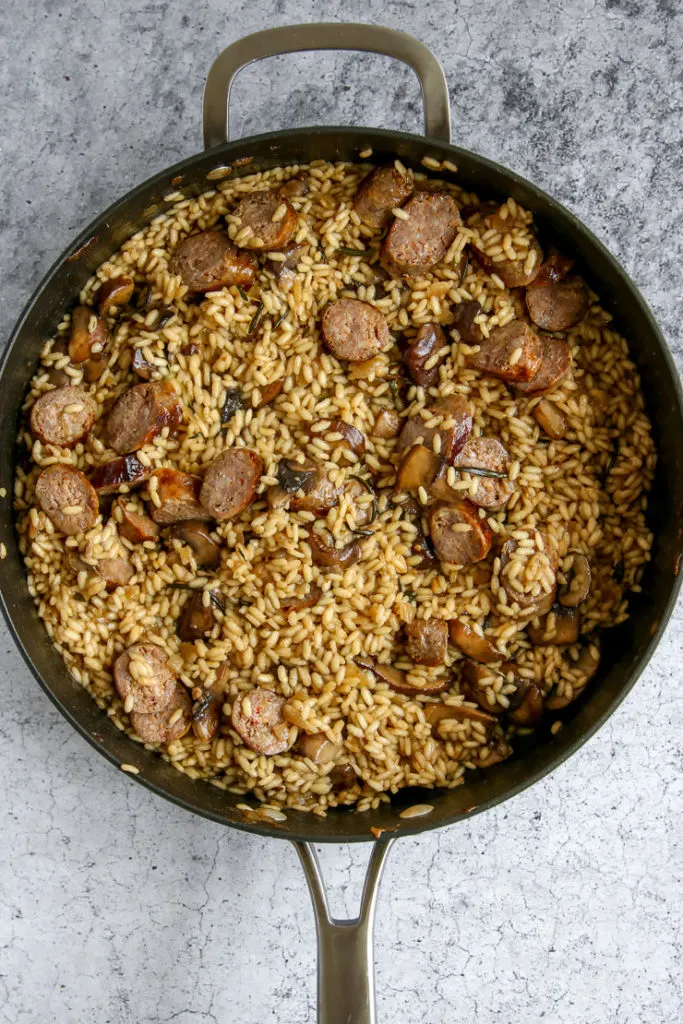 What kind of stock is used for risotto?
Use a stock that is similar in profile to the protein that you're going to be cooking the risotto with.
I tend to stick to chicken or vegetable stock to keep the risotto nice and light while still giving the risotto a ton of flavor. Beef stock would give a deeper flavor and would also pair well with this dish!
You could even make your own to pair with the dish! A stock made of mushrooms and vegetables would be perfect if you've got the time.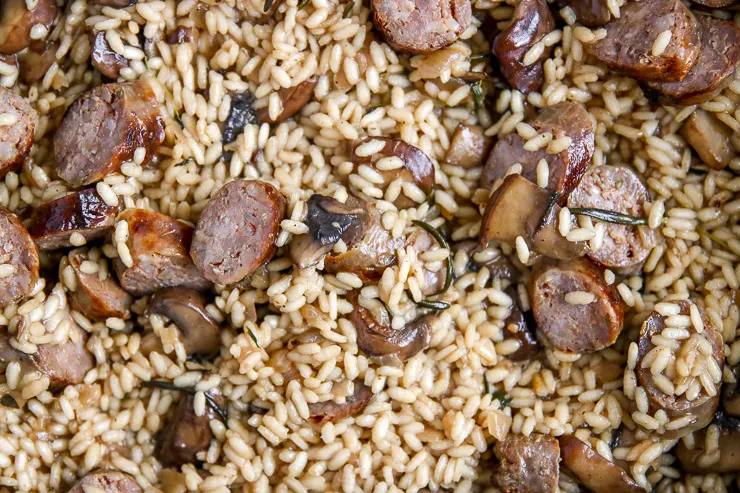 Is there any cream in mushroom risotto?
There isn't! No cream is used in traditional risotto. The arborio rice contains enough starch that is cooked slowly enough that it releases to help with that creamy texture.
Cream, of course, can be added! It's more for flavor that it is for texture. When you learn how to cook risotto correctly, it really isn't needed! There are a ton of great tidbits in that guide if you're looking to make a very traditional risotto.
What meat goes with mushroom risotto?
The sausage in the recipe pairs really well with the risotto with the Italian herbs and spices that are in it.
Another option is serving the mushroom risotto with a different protein altogether like this Cast Iron Filet Mignon or Easy Baked Chicken Breast.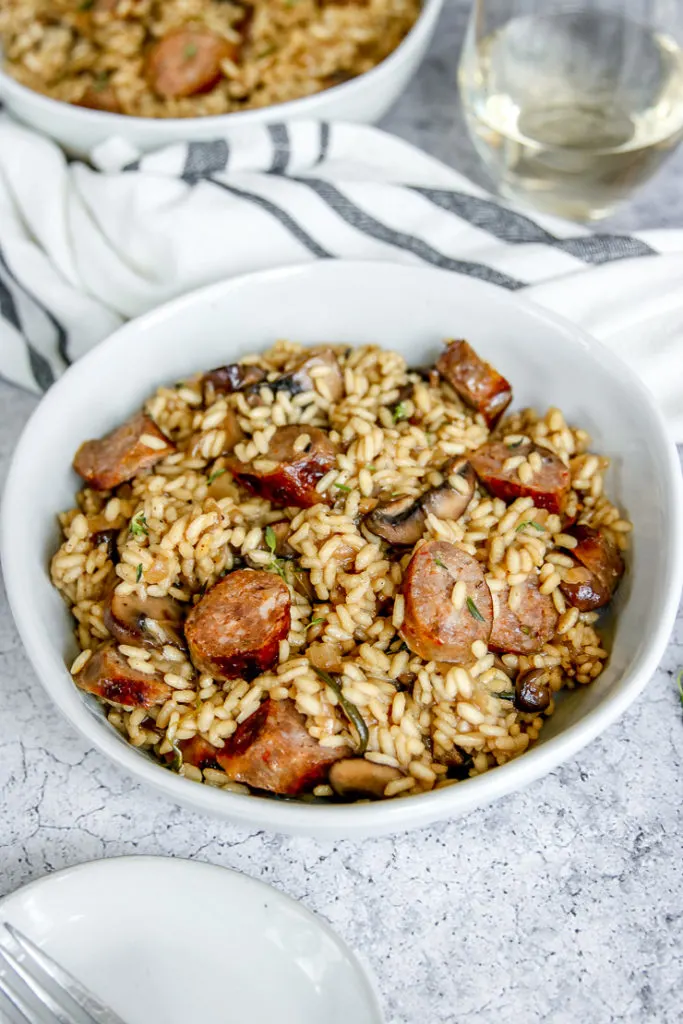 What can I use instead of wine in risotto?
If you don't have any wine on hand or aren't an alcohol drinker, you do have a few options to substitute the wine in risotto for.
Using a little extra of the chicken broth to help deglaze the pan is a good option since you already have that on hand.
You could also squeeze in a bit of lemon juice at this point to help add a little brightness and acidity to the dish too.
White wine vinegar would be a good option here too, but only 1 or 2 tablespoons since it is so potent and the risotto will pick up on those flavors.
Looking for other decadent dinner ideas? Try one of these: