These Grilled Chicken Drumsticks are a great dinner for summer nights and potlucks that have a great flavor from being cooked over a flame. Even if you're a gas grill newbie, I'll give you directions on how to grill chicken drumsticks.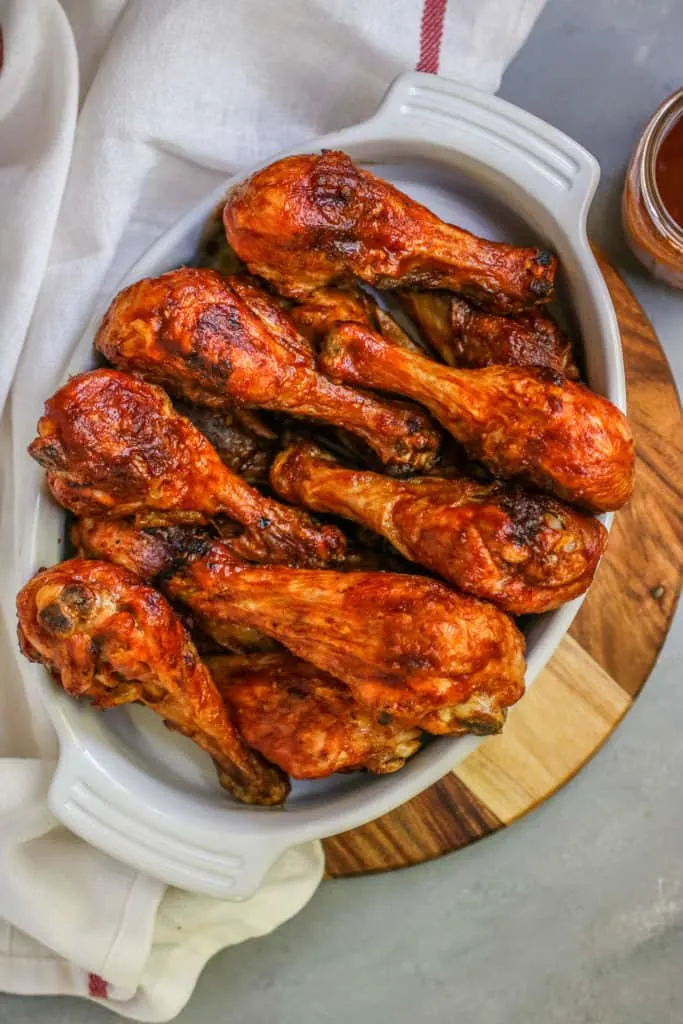 Grilled Chicken Drumsticks
This Grilled Chicken Drumsticks recipe is one that my whole family uses all the time during grilling season. It's a perfect summer dinner for when you want to grill and hang out on the porch and chat.
We love to cook it low and slow with some of our favorite homemade BBQ sauce to coat it. It only takes a few basic ingredients with no prep time beforehand so it's also great when you're short on time or ingredients.
How do you start a gas grill?
It's a lot easier than you think! Keep in mind this will depend on the type of grill you have, but this is what works for my Char-Broil.
First, you'll turn the gas on, think lefty-loosey for most grills. You'll then turn the knob on the ignition burner, which should be marked as such, to the flame symbol. From here, just hold down the ignition button until it lights. Once it's lit, you can turn the other burns on if needed!
There ya go! You're cooking with gas. Quite literally.
To turn it off, I was taught to turn off the gas first, then turn the knobs to the off position. This may depend on your grill, though, so be sure to read up on your specific brand!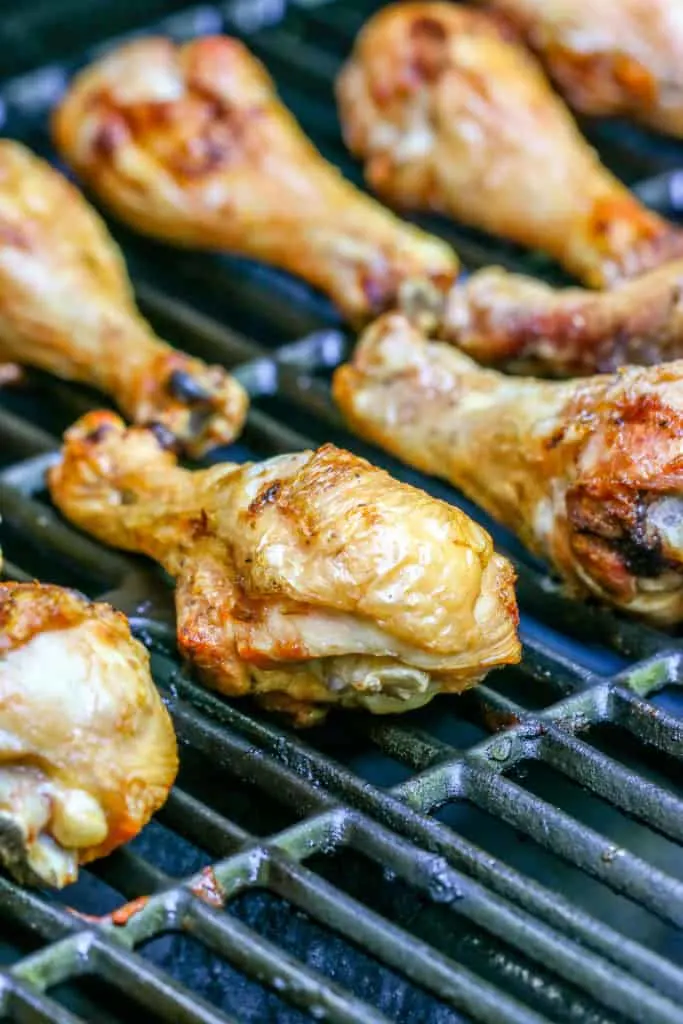 How long do you cook chicken on a gas grill?
This will depend on the temperature! If you're cooking it like me which is between 325°F and 350°F, then it'll take between 45 minutes to an hour.
If you need dinner on the table faster, consider cranking up that heat, but keeping an eye on the chicken!
Either way, be sure to use a digital meat thermometer to verify that the internal temperature has reached 165°F before serving. Stay away from the bone while checking as well or that could alter the results.
What temperature should my gas grill be for chicken?
Between 325°F and 350°F! This means the chicken does take a little longer than cranking up the heat, but I think this is key to making sure your chicken stays moist and the skin crisps without burning.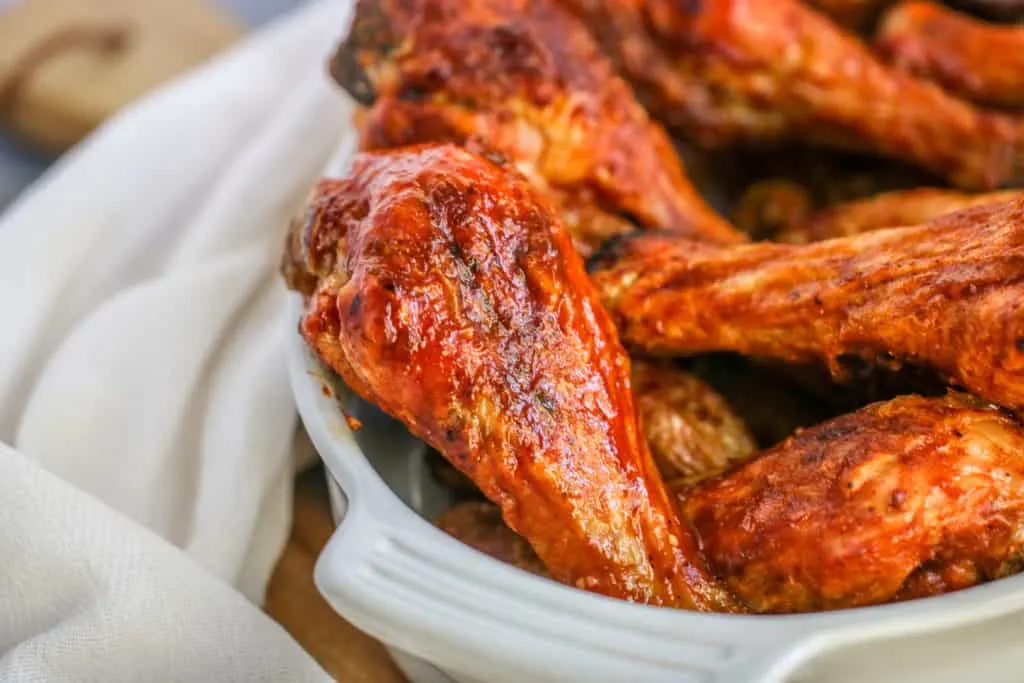 How do I grill chicken drumsticks without burning them?
I have a few tricks that help me with this grilled chicken legs recipe:
I like cooking the chicken at a low heat to make sure it doesn't burn on the actual grill itself.
Bring your chicken drumsticks to room temperature first to help lower the amount of temperature change the chicken needs to get to which will also help with creating some crispy skin on the outside.
Quarter turn your chicken pieces to ensure each side is on the grill grates at one point for those gorgeous grill marks.
I personally avoid basting the bbq chicken legs too early on or else the sugars in the sauce may burn. I don't even use olive oil on the chicken or the grill!
Keep an eye on your grill. If you notice that the front burns hotter than the back, move the chicken pieces around to evenly cook them.
What sauce should I use on these BBQ chicken drumsticks?
You can use whatever barbecue sauce that you'd like! I'm a big fan of making my own to make whatever flavor I want. Here are a few of my favorites:
Honey BBQ Sauce – This one is nice and sweet without too much of a kick which is perfect for grilled bbq chicken drumsticks.
Maple Brown Sugar BBQ Ribs – The deep molasses flavor from the brown sugar makes for a sticky sweet sauce that is one of my favorites.
Guinness BBQ Sauce – Guinness makes a for a perfect base as a dark stout with all the great flavors of the beer incorporated in the sauce.
Be sure to reserve some of the sauce to use with the finished drumsticks. I like putting about 1.5 cups of my favorite bbq sauce into a separate jar to use my basting brush with so it's not contaminating the same sauce you'll use at the end.
Another great option for grilled drumsticks is to use a dry rub. You can use a paper towel to help get off any excess moisture then dredge the chicken legs into the mixture.
A great spice rub could include some brown sugar, salt, black pepper, onion powder, garlic powder, chili powder, and cayenne pepper. Here's a great recipe for a DIY barbecue dry rub if you're looking for some exact measurements!
When do you add the BBQ sauce?
I like to add the sauce towards the last 20 minutes or so. This will be after the chicken has done 4 quarter turns so it should be relatively cooked through.
I've found that this is enough time to build up the flavors of the sauce without it burning or sticking to the grill pan.
I use a basting brush to coat the sauce and do it a few times, especially between turns, before the chicken is removed from the grill.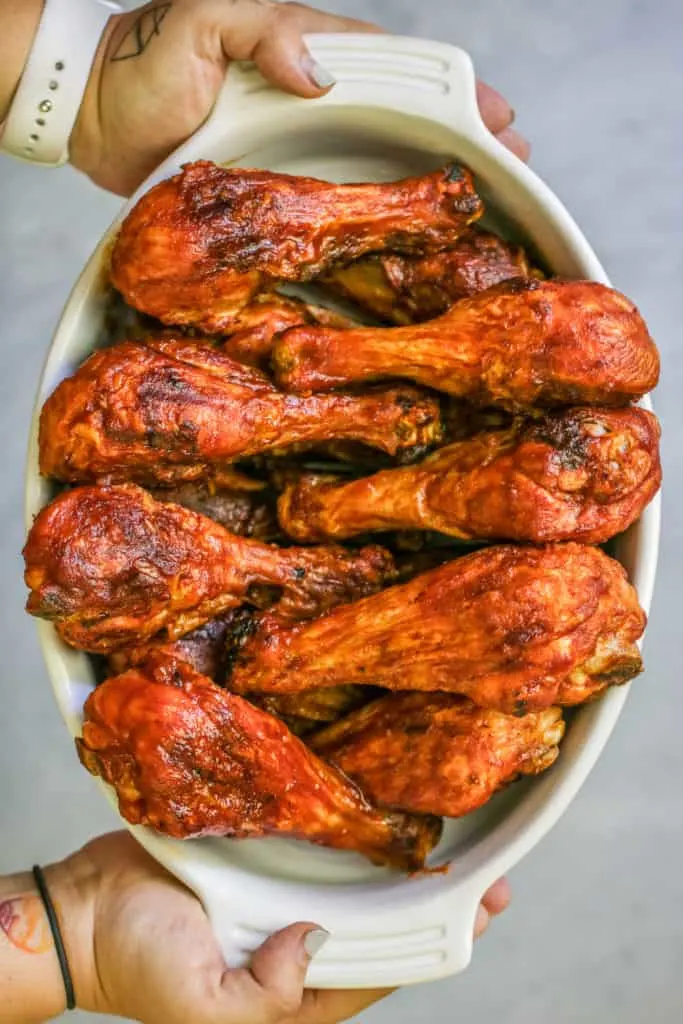 How should I lay out the grilled chicken legs on the grill?
This great article shows a step by step tutorial on how I like to lay out drumsticks while they're grilling. They talk about using indirect heat on the indirect side of the grill, but I use low direct heat when grilling my own.

Think about laying out the chicken in a way like the picture above in almost an interlocking pattern. This will help ensure that your grilled chicken legs will finish at the same time.
I also quarter turn my pieces on the grill every 10 minutes without switching locations completely to make sure that each part has been on the grill for an equal time.
If you're looking for other grilled chicken recipes, check out these Grilled Boneless Skinless Chicken Thighs or this Balsamic Grilled Chicken. The chicken thighs and chicken breasts both have a great chicken marinade that you could also use to bring out much more flavor depending on the cut of meat you have!
Be sure to enjoy and tag me with #theculinarycompass on Instagram if you make this!