These Grilled Veggie Skewers are easy to throw together and full of flavor. You'll love cooking veggie skewers on the grill!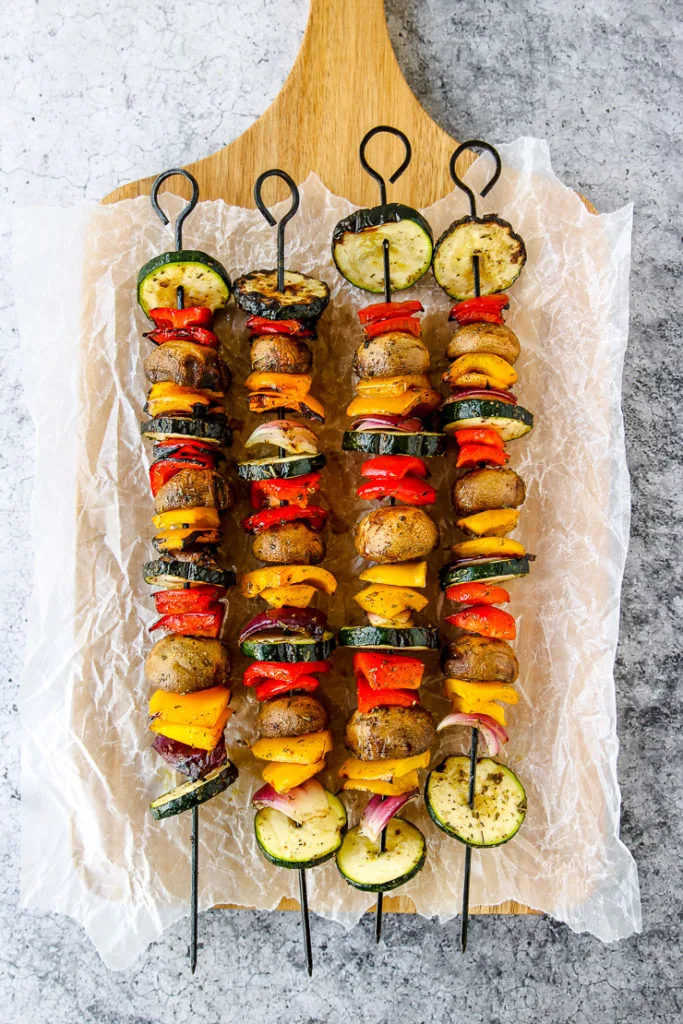 Grilled Veggie Skewers
I don't know about you, but I'm always looking for ways to add more vegetables to my diet. These Grilled Veggie Skewers make it super easy to add delicious vegetables to just about any meal.
They've got a slight char and tons of flavor! No need for marinading to pack in tons of flavor either.
They're perfect as a side dish to a steak, as a topping for a salad, or just as a delicious summer snack.
The Culinary Compass participates in several different affiliate programs. As an Amazon Associate, we earn from qualifying purchases.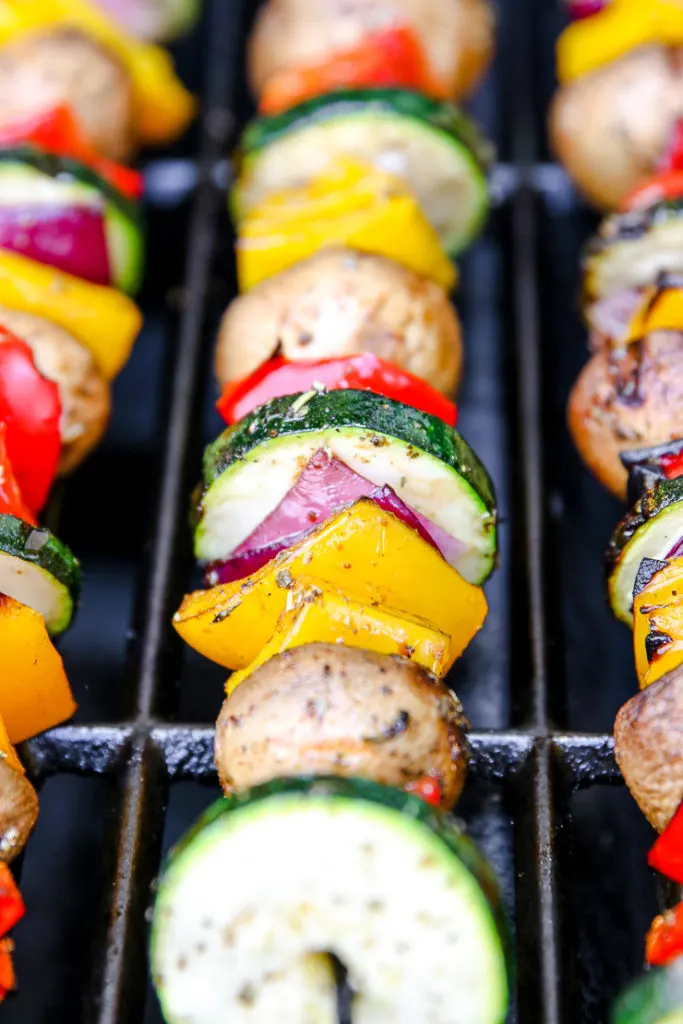 What kind of skewers should I use?
I personally like using metal skewers to hold up to the heat on the grill. You'll never have to worry about them charring.
Definitely be careful and use tongs or heat-resistant silicone mitts to help you flip the skewers, they'll pick up heat quickly!
If you're grilling with bamboo skewers, you'll want to soak your skewers in water for at least 30 minutes. This will help keep the skewers from burning while on the grill!
What can I use if I don't have skewers?
You've got a few options to grill your vegetables if you don't have skewers! The first is to make an aluminum foil packet to wrap up all the vegetables and seasonings into. This will steam the veggies a bit more so they won't have as much of the char flavor.
Another option is to use a grill pan that sits right on the grill grates. You can either use aluminum foil to help with clean up, or keep the veggies right on the pan.
Using something like a cast iron pan right on the grill is another alternative if you don't have a grill pan.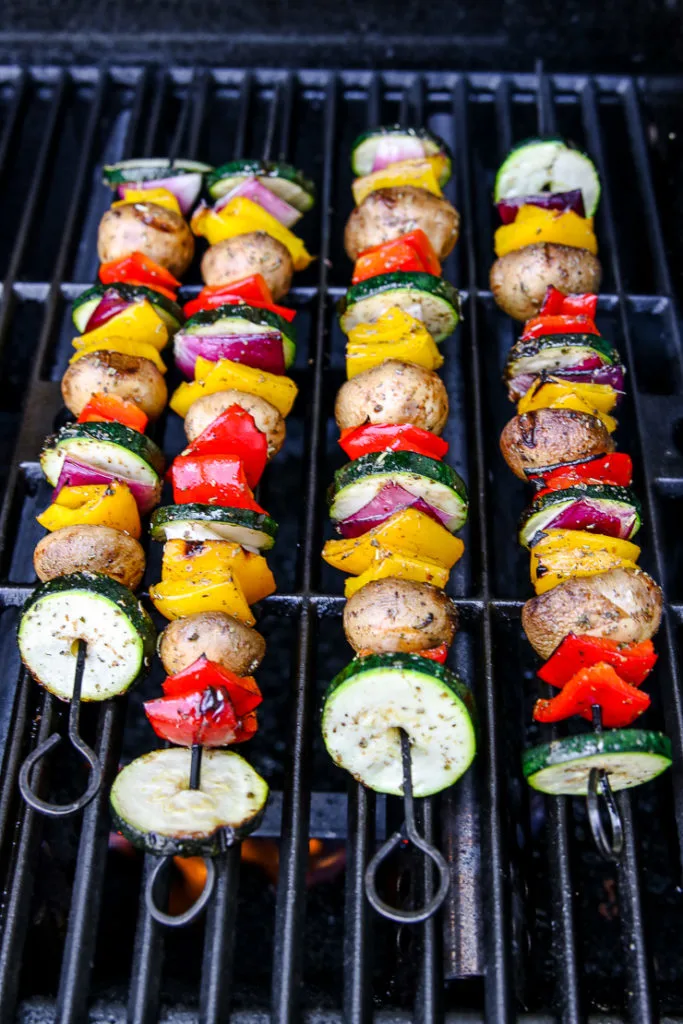 What kinds of vegetables should I use for a veggie skewer?
As long as you can skewer the veggie, it would be a great addition to your veggie skewers! Try one of these:
Zucchini
Summer squash
Bell peppers
Red or yellow onions
Whole mushrooms
Cherry tomatoes
Sliced potatoes
You'll want to consider making the cuts of the vegetables around the same size. Another thing to think about is the thickness or hardness of the vegetables.
You may want thicker slices of zucchini and smaller slices of bell pepper to make sure they're cooking at the same rate.
What kind of marinade should I use for grilled veggie skewers?
A balsamic vinaigrette is perfect for grilled veggie skewers. It packs a ton of flavor that pairs well with most vegetables.
You can use your own salad dressing, or make your own! It just takes a few ingredients to make so you can add whatever you'd like. If you like extra garlic, load it on up. If you like spicy, add in some crushed red pepper flakes!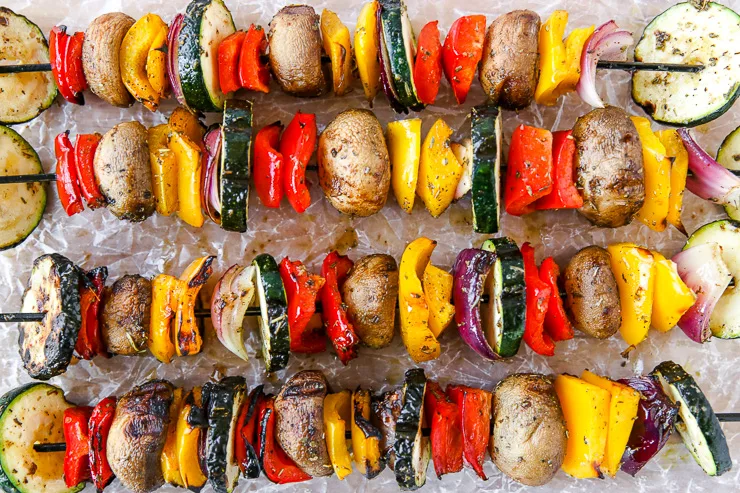 How do you grill skewers without burning vegetables?
Here's a few quick tips!
Make sure your veggies are cut similarly
Don't put the skewer directly over the flame source
Continue to rotate the skewers
How long do you cook veggie skewers on a grill?
Cooking the veggie skewers on a grill at around 350°F, you'll want to cook them for around 15 minutes total.
You can cook them for about 7-8 minutes on both sides, or rotate them ever 4-5 minutes to help encourage them to cook on all sides.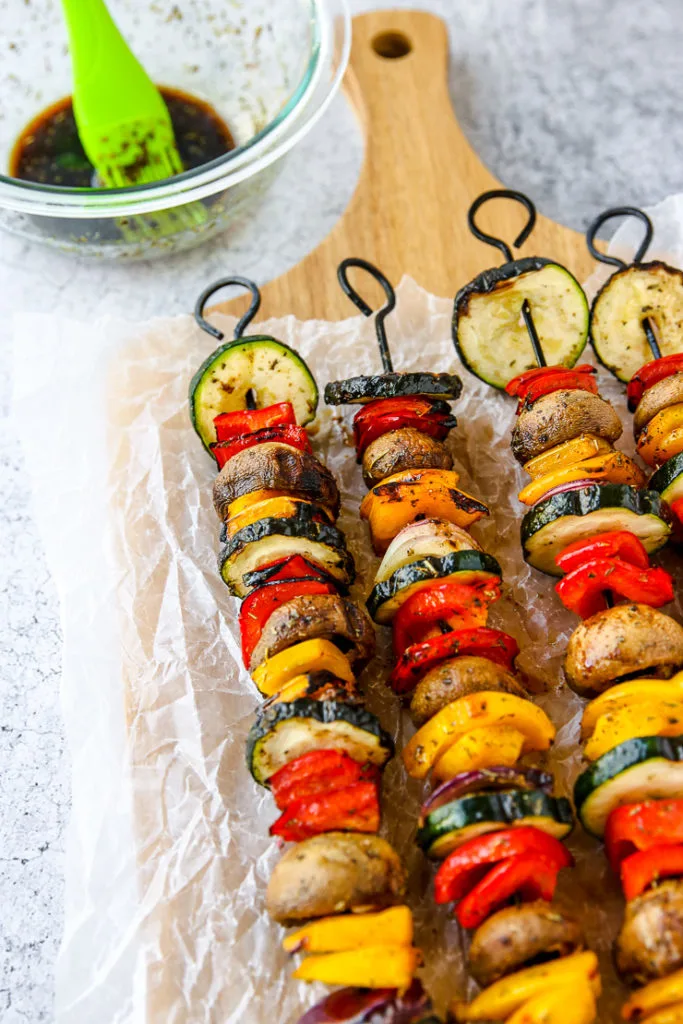 How to Make Grilled Veggie Skewers
It takes just a few steps to make grilled veggie skewers. If you're using wooden skewers, be sure to soak them for 20-30 minutes prior to grilling.
Cut the veggies using similar sizes and add them to your skewers.
Make your balsamic dressing by combining olive oil, minced garlic, balsamic vinegar, Italian seasoning, salt, and pepper.
On your preheated grill, place the veggie skewers on the grill grates. Use a silicone brush to brush the marinade on the veggies. Cook them for around 7-8 minutes with the grill cover closed.
Flip those skewers around using tongs and add extra marinade. Close the grill cover again and cook for an additional 7-8 minutes. Once they're fork tender, remove and enjoy!
Looking for more recipes to grill? Try out these: