This Balsamic Grilled Chicken recipe will be your favorite summer meal! The marinade is full of flavor to give you the best grilled balsamic glazed chicken.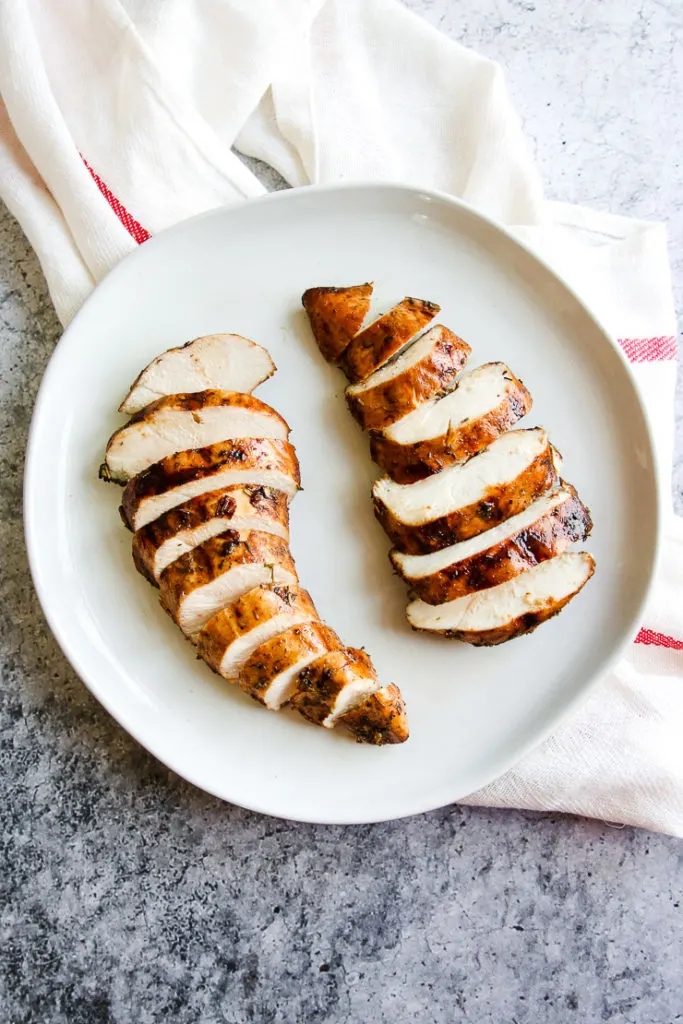 Balsamic Grilled Chicken
If you're looking for a delicious and easy balsamic chicken recipe, look no further! This balsamic glazed grilled chicken has an easy marinade that'll make the most flavorful chicken you'll ever have.
It's perfect on it's own, as a side dish with some vegetables, or sliced on a salad. It's a summer dish that you'll want to make again and again.
The Culinary Compass participates in several different affiliate programs. As an Amazon Associate, we earn from qualifying purchases.
How do I make balsamic grilled chicken marinade?
To make the balsamic grilled chicken marinade, you'll want to combine balsamic vinegar, olive oil, Italian seasoning, garlic powder, salt and pepper together.
You can do this in a sealable gallon bag or a marinade Tupperware container depending on what you'd like to use. Add the chicken breast and make sure to coat all sides.
Place the container into the refrigerator and let it marinade for at least 30 minutes or up to 12 hours. Leaving it overnight allows those flavors to really sink in so I'd recommend doing that if you're able to plan ahead a bit!
Avoid marinating the chicken for 24 hours though as that can start to break down the tissue with how acidic the marinade is.
If the whole chicken breast is not covered by the marinade, be sure to flip it at least half way through so both sides are fully submerged at some point.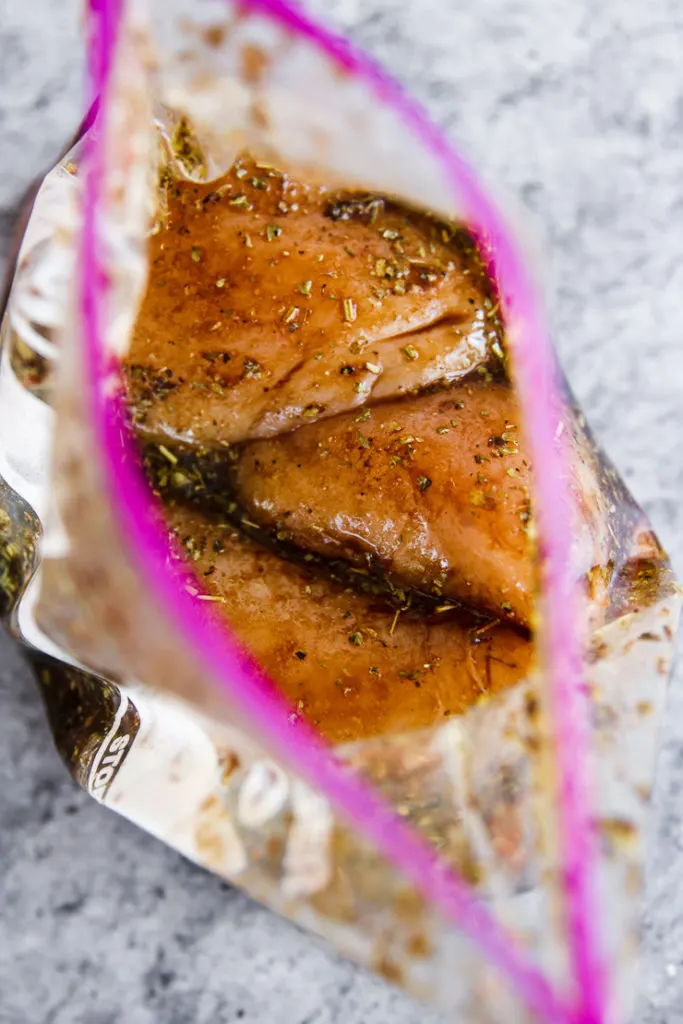 Can I add honey to the marinade?
You can add some honey to the marinade to add some sweetness and cut the sharp vinegar flavor, but it doesn't necessarily need it!
One thing I would warn you about if you add honey is that it will burn faster on the grill. You'll just want to keep an eye on it and maybe cook it at a lower temperature to avoid burning the honey in the marinade.
Could I make these into kabobs or skewers?
Definitely! Cubing the chicken breast and placing that in the marinade would be a great idea to turn these into grilled balsamic chicken breast kabobs.
You can put them onto the skewers alone or with some vegetables to create a whole meal! If you decide to use wooden skewers, be sure to soak them in water first to help prevent them from burning.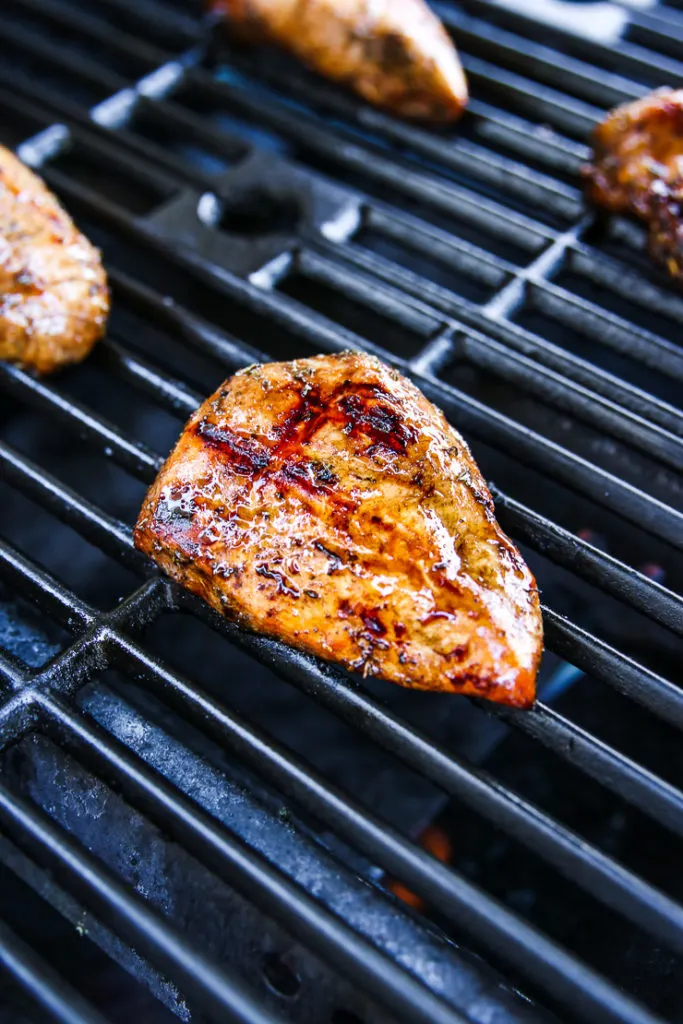 Could I make this balsamic grilled chicken with chicken thighs?
Replacing the chicken breasts with chicken thighs would be great idea! It would make the most tender balsamic grilled chicken thighs with that same balsamic marinade.
Cooking the chicken thighs would take less time, so keep an eye out for that and use a digital meat thermometer to help make sure the chicken is cooked all the way through.
Chicken thighs and other cuts of dark meat tend to need to be cooked to between 175°F – 185°F rather than 165 degrees F due to their connective tissues. You can learn more about why you need to get a higher temperature for chicken thighs in this guide!
How do I make balsamic grilled chicken?
This balsamic grilled chicken recipe is super simple! Once you have your marinade mixed together and your chicken is ready to grill, you will want to preheat your grill to 350°F or a medium high heat.
Place your chicken breasts on the grill grates and let it cook for 7-8 minutes per side. You can close the grill cover to help regulate the temperature a bit.
Use grill tongs to flip the grilled chicken breasts. While doing this, you should be able to easily move the chicken breasts from the grill. If you find that they're sticking, it may just need a bit more time to release easily.
You'll just want to cook for an additional 7-8 minutes for the chicken to cook through. Use a digital instant read thermometer to make sure internal temperature reaches 165°F.
Something to note is that the times are dependent on the size of the chicken breasts. If you're using thin sliced, you'll want to cut the time way down. The time listed is for the size you'll typically find in the 1.25 – 1.5 pound packs.
Once you remove the chicken from the grill, let it rest for 3-4 minutes before slicing. This will allow the juices to redistribute into the chicken so it doesn't get dry as soon as you cut it.
After you slice, serve warm and enjoy!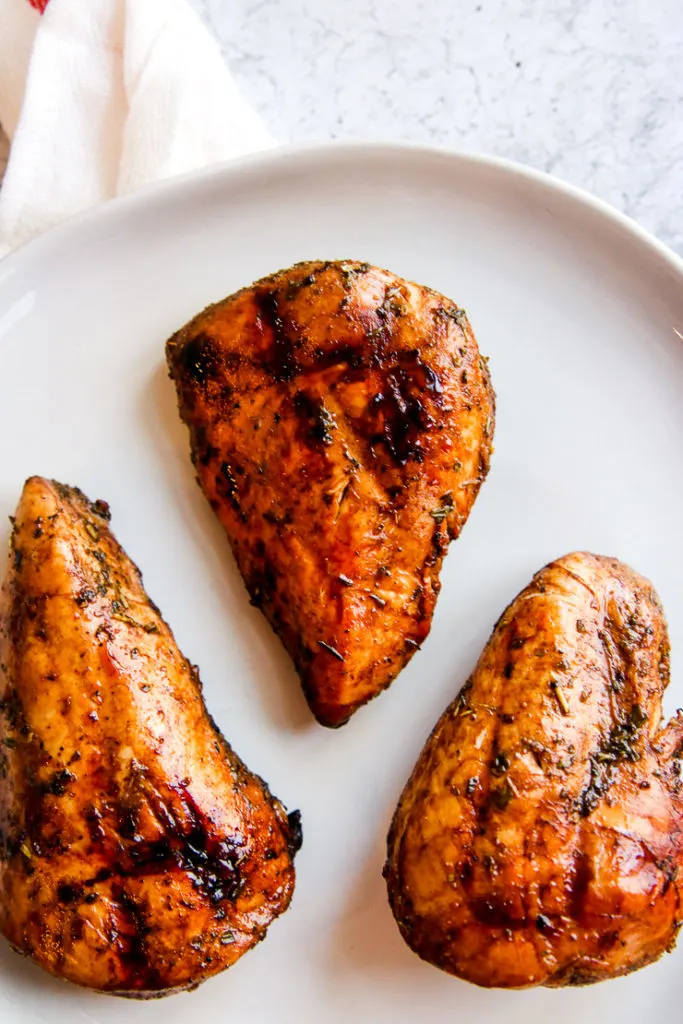 What can I serve this with?
The balsamic grilled chicken is super versatile which is part of the reason I love it so much! You can dice it and add it to pasta or pasta salad, or slice it and add it to a salad like a Balsamic Grilled Chicken Salad or caprese salad.
You can even just grill some veggies in a grill pan along with the chicken as a side dish and call it good!
Looking for other reasons to break out the grill? Try one of these: