This Cranberry Bourbon Cocktail is tart and refreshing! The lemon juice adds a perfect sour flavor that balances the fall cranberry cocktail.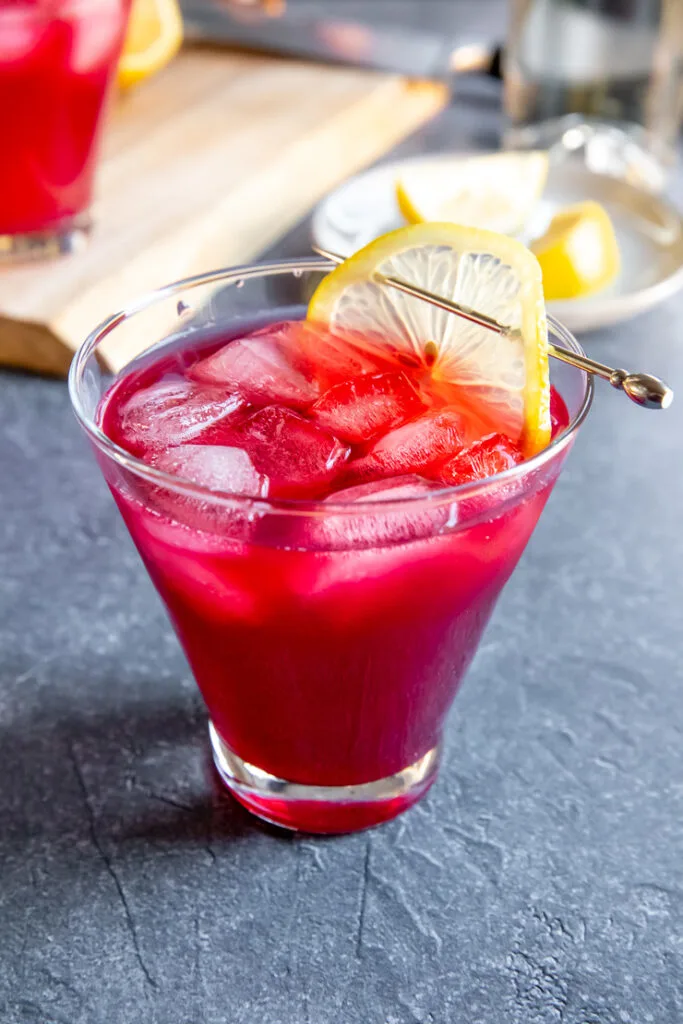 Cranberry Bourbon Cocktail
This delicious cranberry bourbon cocktail combines the bold flavor of bourbon with the tart and fruity flavor of cranberry juice, making it the just the right balance of sweet and sour.
Topped off with a squeeze of lemon juice and a touch of simple syrup, this cocktail is sure to become your new go-to fall bourbon cocktail recipe. Whether you're sipping on it at home or bringing it to a holiday party, this cocktail is sure to be a hit this holiday season!
The Culinary Compass participates in several different affiliate programs. As an Amazon Associate, we earn from qualifying purchases.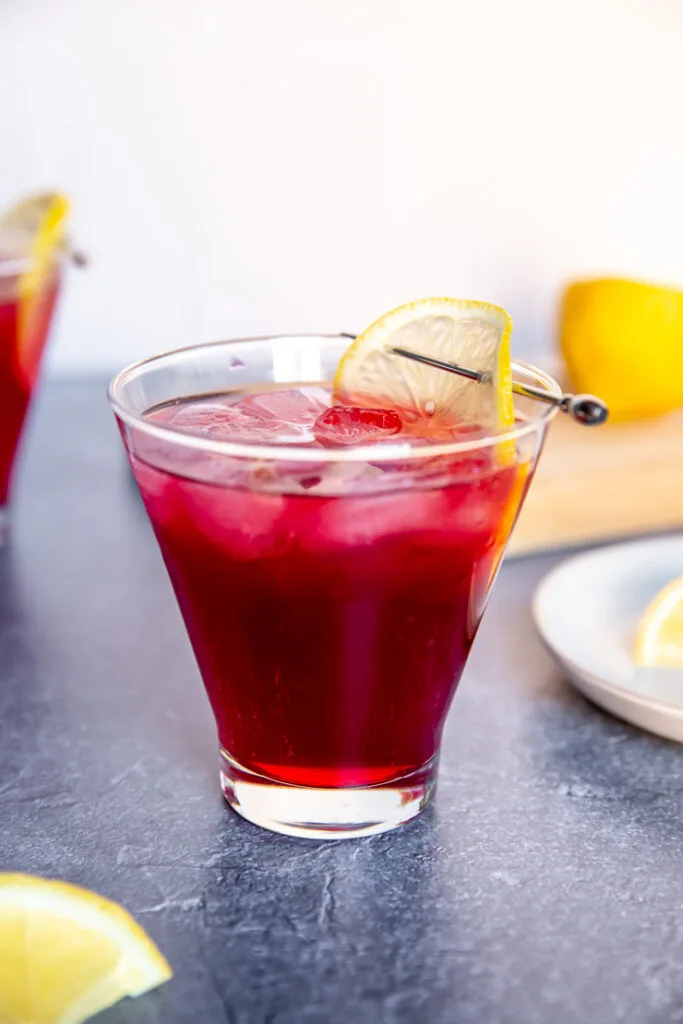 Cranberry Bourbon Cocktail Ingredients
You'll just need a few simple ingredients to make a cranberry bourbon cocktail:
Your favorite bourbon
Cranberry juice
Lemon juice
Homemade simple syrup
Ingredient Substitutions and Variations
If you're not a huge bourbon fan, you can swap it out for another type of whiskey like rye or scotch. It's also a very versatile drink that'd pair great with rum or vodka!
Cranberry juice can be swapped out for another deep berry flavor like pomegranate juice or raspberry juice. Cranberry juice cocktail is another option if 100% cranberry juice is too tart.
You can swap out the lemon juice for something like this Homemade Sour Mix to make more of a cranberry bourbon sour. Swapping it out for lime juice or orange juice would also pair nicely!
Simple syrup is easy enough to make by dissolving equal parts sugar and water in a saucepan over medium-high heat, but if time is short, you could swap it out for honey, maple syrup, or agave as a sweetener.
To change up the cocktail even more, try using a splash of ginger beer or ginger ale to add some bubbles or some orange bitters to add more depth to the cocktail.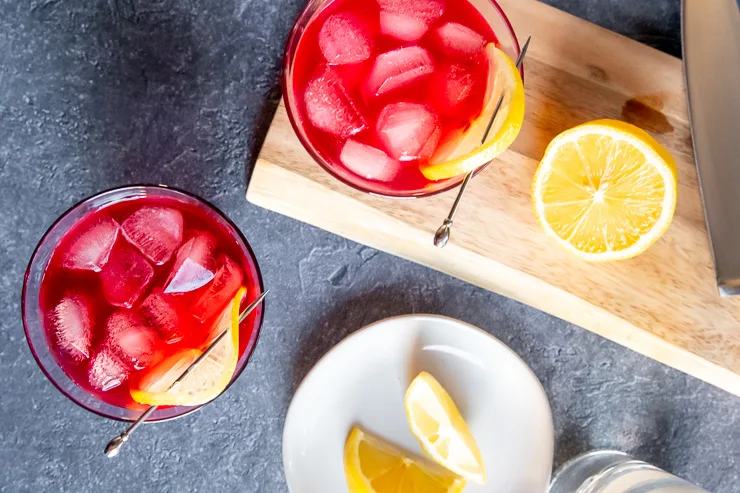 What kind of cranberry juice should I use?
For this cranberry bourbon cocktail, you can use either pure cranberry juice or cranberry juice cocktail. I prefer pure cranberry juice so you can sweeten it to your liking with simple syrup!
Pure cranberry juice is made from just cranberries and is usually tart and slightly bitter. Cranberry juice cocktail is a blend of cranberry juice and other fruit juices, such as apple or grape, and is often sweetened meaning you might not need as much simple syrup.
Both types of cranberry juice can be used, depending on your preference for sweet versus tart. If you prefer a sweeter cocktail, you can use cranberry juice cocktail, while pure cranberry juice will give you a more tart cocktail.
Do I need to use a cocktail shaker?
Not unless you have one! It's a simple enough cocktail to make in the glass you're serving it in. Just give it a good stir over ice to make sure it's nice and cold.
It's also a great cocktail to make in a pitcher to serve for a crowd at a holiday party!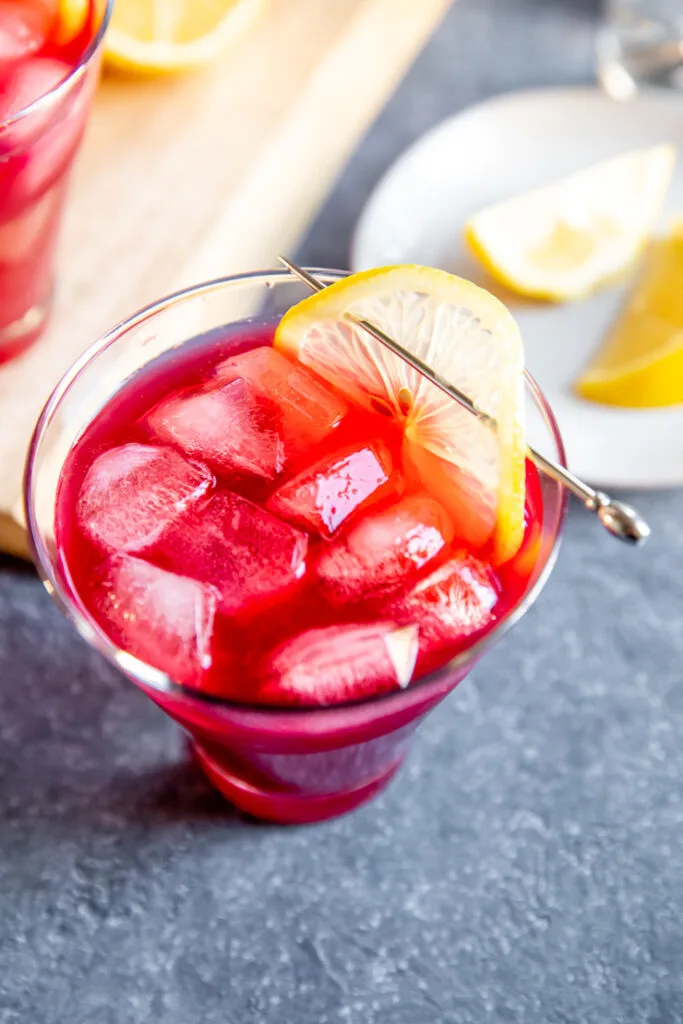 Can I make a large batch of a cranberry bourbon cocktail?
To make four servings at one time, increase the servings to the following:
1 cup bourbon
1 cup cranberry juice
¼ cup lemon juice
¼ cup simple syrup
More Delicious Bourbon Cocktails
How to make a Cranberry Bourbon Cocktail
In a cocktail shaker with ice, pour in bourbon, cranberry juice, lemon juice, and simple syrup.
Shake or stir until cold, and strain into a rocks glass with ice cubes or whiskey stones. You can garnish it with some fresh cranberries, sugared cranberries, a cinnamon stick, or rosemary sprigs to liven up your Thanksgiving table even more!