This Blackberry Bourbon Smash will be a new favorite refreshing cocktail! The blackberries, mint, bourbon, lime juice, and ginger beer are perfectly paired.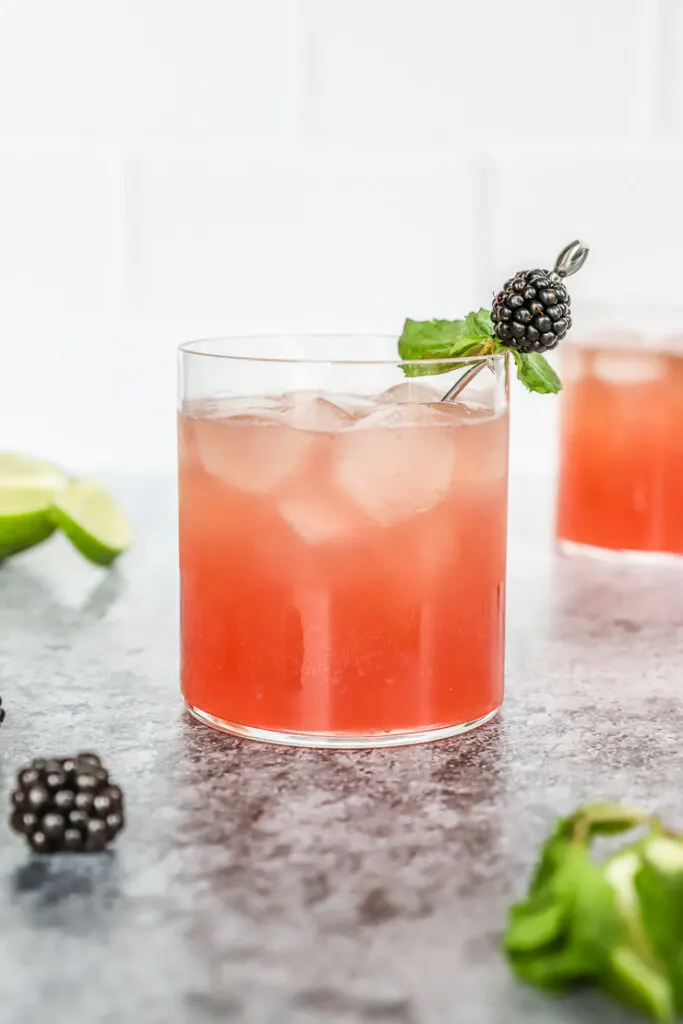 Blackberry Bourbon Smash
When I tell you this cocktail has become a new family favorite, it's an understatement. I had a blackberry bourbon type of whiskey smash cocktail at a restaurant in Charlotte and loved the profile it gave so I wanted to expand on it a bit.
This past Thanksgiving I whipped it up for my family and we immediately knew we didn't buy enough mint or blackberries. For Christmas and New Years Eve, we bulked up the blackberries so we could make it all throughout break.
So far it's been a hit – even for those who don't like bourbon as much as other spirits.
The lime and mint just brighten the whole thing up and balance really nicely against the blackberries. Think of it as a blackberry Kentucky mule or even mint julep. If mint cocktails are your thing, try out this Watermelon Mint Julep.
This Blackberry Bourbon Smash recipe might seem a little intensive, but I promise you it's worth it!
The Culinary Compass participates in several different affiliate programs. As an Amazon Associate, we earn from qualifying purchases.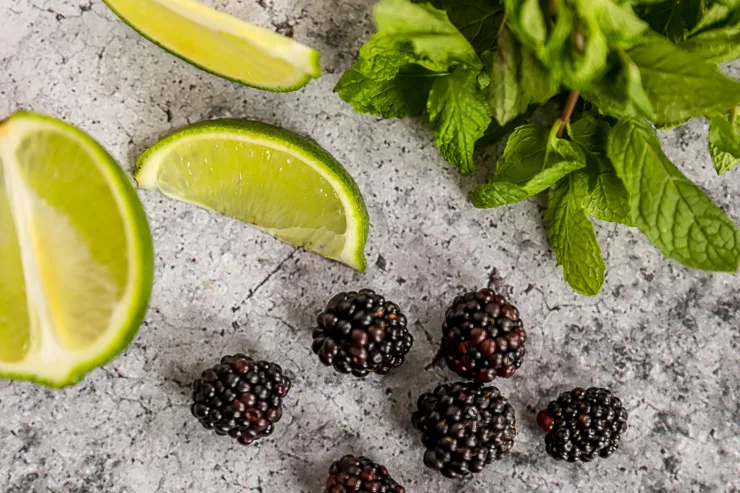 What ingredients do I need for a Blackberry Bourbon Smash cocktail?
Blackberries
Fresh mint leaves
Granulated sugar – Simple syrup would work if you already have that on hand.
Bourbon
Lime juice – I much prefer lime juice, but lemon juice would also bring a great acidity.
Ginger beer – If ginger beer isn't your thing, club soda or soda water are both good alternatives.
Can I use frozen blackberries?
You can, but there might not be as much juice from them so be sure to increase the amount per drink.
You'll also want to thaw them completely to be able to muddle them down as much as possible. Here's a quick guide on how to thaw frozen berries in the microwave.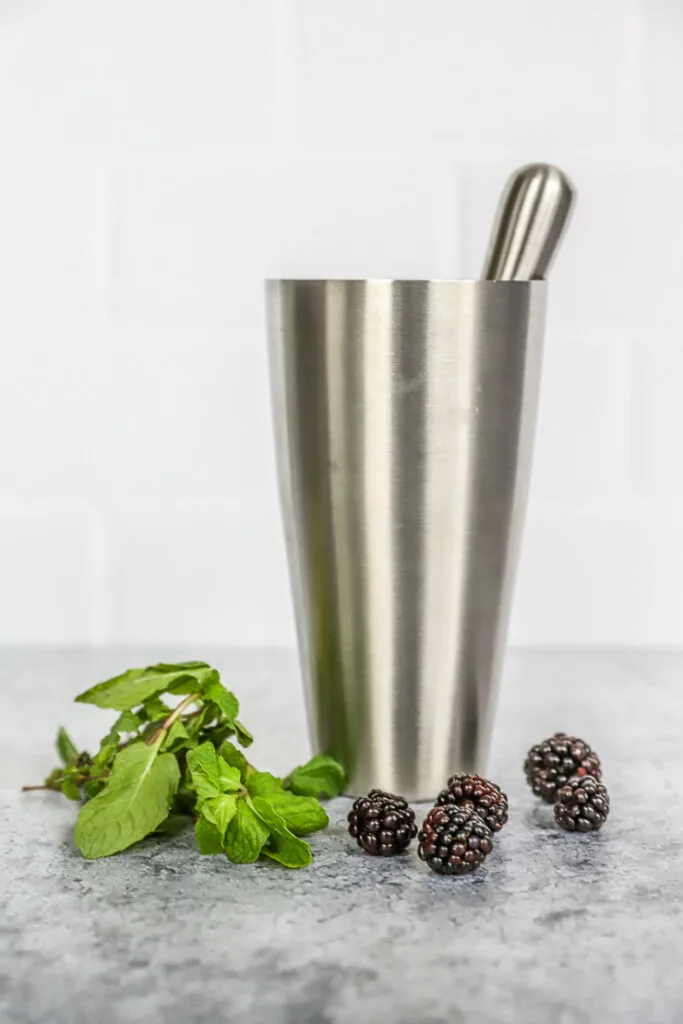 Can I use other types of berries?
Blackberries are definitely the best option for this drink with their deeper fruity flavors.
Raspberries or blueberries could be a good alternative, but the overall flavor profile definitely won't be the same. Try using mixed berries if you're running short on one!
This will be even better in the summer with seasonal fruit. If you've got an abundance of raspberries, try out this Raspberry Bramble.
Do I need to use bourbon?
You don't need to! I've made it with vodka and that was a hit too for those who don't love bourbon.
Rum or even gin would be great options to compliment the herbaceous and fruity notes of this drink.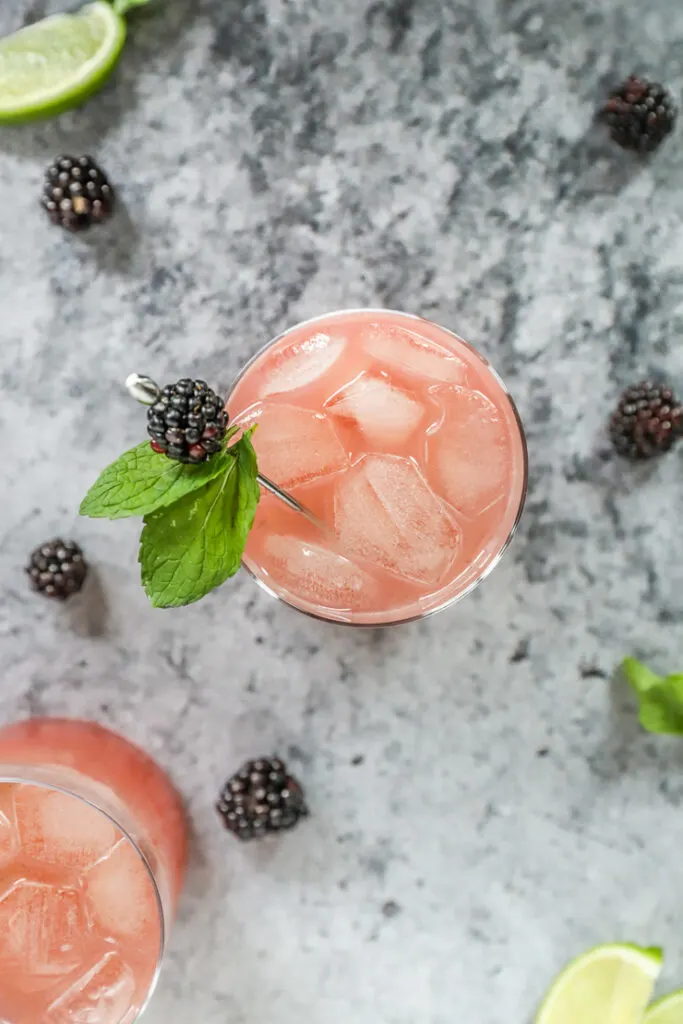 Can I make larger batches of the bourbon blackberry smash cocktail?
Definitely! It's been a go-to cocktail of mine the past few months and have made up to four at a time in a cocktail shaker.
I try to evenly add ice to each glass and slowly fill up each to make sure I make them as even as possible. I have even made it ahead of time so I could focus on entertaining and filled up a small growler I had on hand with the bourbon mixture.
Once I was ready to serve, I evenly poured that base mixture into the glasses and topped with ginger beer so it'd still be nice and effervescent.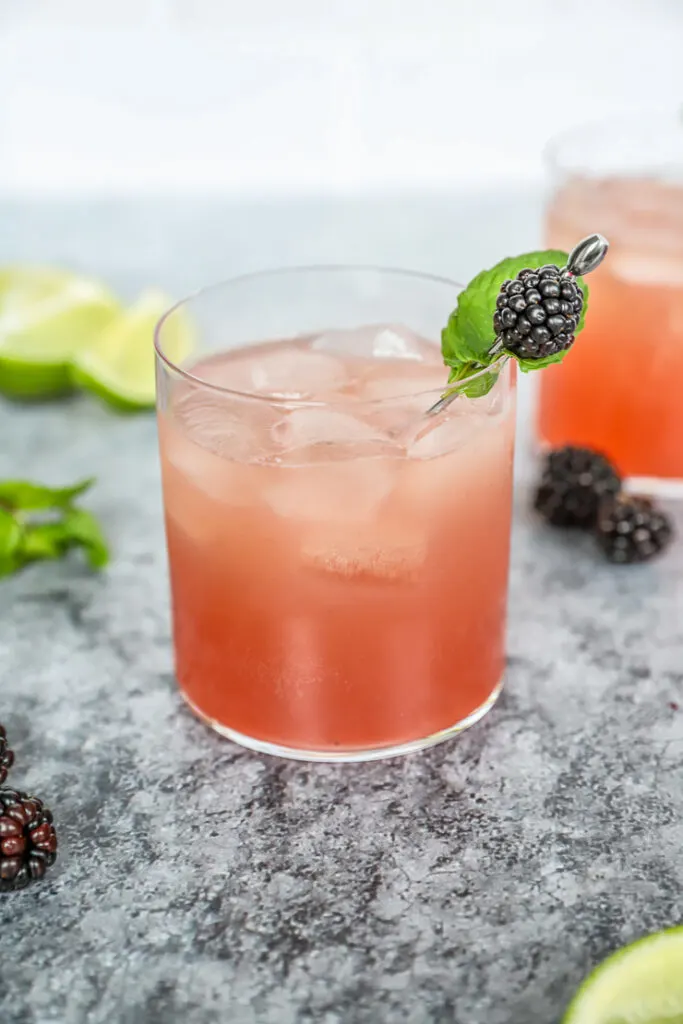 How to make a Blackberry Bourbon Smash
Muddle together the blackberries, mint leaves, and sugar in a cocktail shaker. Pour in the bourbon and freshly squeezed lime juice then stir together.
Fill your glass of choice with crushed ice and pour the mixture through a cocktail strainer into the glass to catch the blackberry seeds and mint leaves.
Top with some chilled ginger beer and lightly stir. Garnish with extra blackberries or mint leaves and enjoy!