This Blackberry Mojito recipe is fruity and refreshing! The mint, lime, and blackberry syrup combine for a perfect summery cocktail.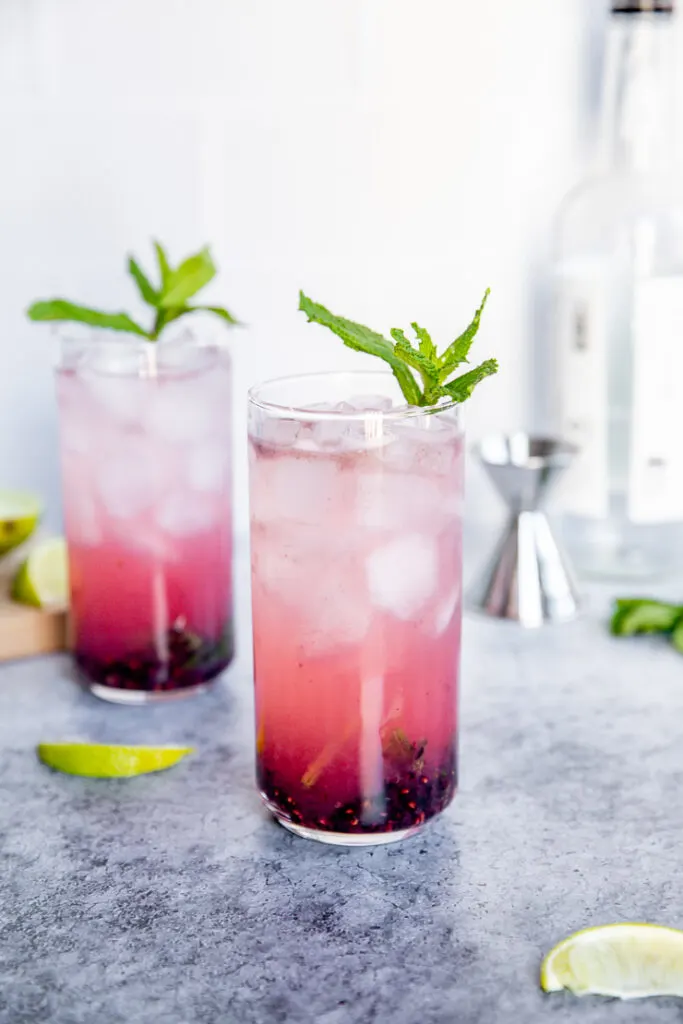 Blackberry Mojito
This refreshing blackberry mojito recipe is made with fresh summer blackberries, granulated sugar, fresh lime juice, mint leaves, rum and club soda. Super refreshing and gorgeous – it's the summer cocktail your guests will love on a hot summer day!
If there's one perk of summer, it's the fresh fruit that is abundant at the farmers markets. I've recently discovered a huge one in Charlotte close to me and grabbing as much fresh produce as we can has been a blast.
The fresh berries we've gotten this year have been quite sweet and tart which combines perfectly with the the classic mojito flavor of mint, lime, rum, and bubbly club soda!
There's something about the blackberries and mint that just go perfectly together. Try out this Blackberry Bourbon Smash if those flavors speak to you, too!
The Culinary Compass participates in several different affiliate programs. As an Amazon Associate, we earn from qualifying purchases.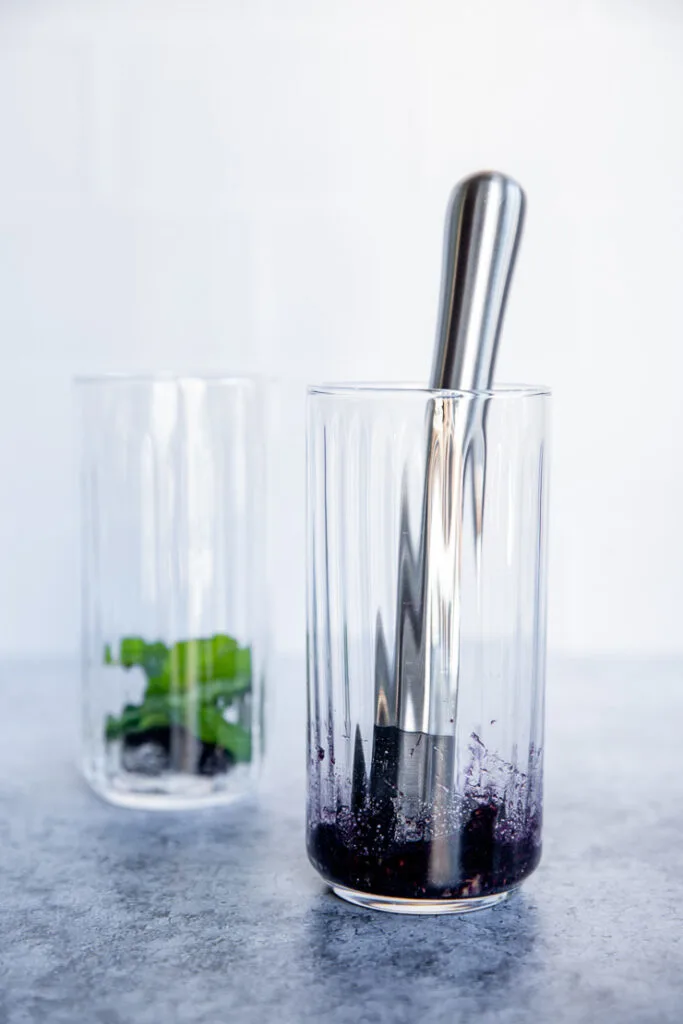 What ingredients do I need for a Blackberry Mojito recipe?
You just need a few ingredients to make this delicious blackberry mojito recipe:
Granulated sugar
Fresh mint leaves
Fresh blackberries
Fresh lime juice
White rum
Club soda
Ice cubes
What type of rum is used in a mojito?
A mojito is a classic Cuban drink that is typically made with white rum. Rum is made from fermented sugarcane juice found abundantly in the Caribbean.
White rum doesn't have any spices added during the fermentation process leaving it clear.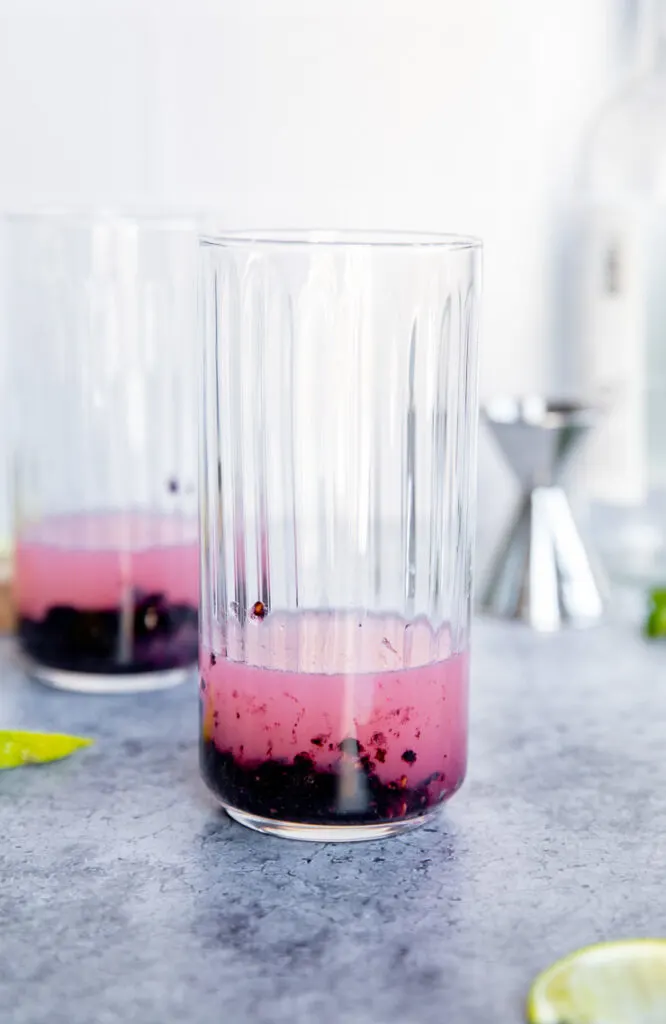 Can you substitute vodka for rum in a mojito?
You can substitute vodka for rum in a blackberry mojito, but sticking with rum is always a good idea with mojito recipes.
Could I use simple syrup instead of sugar?
Simple syrup can be used for a blackberry mint mojito. The homemade simple syrup being liquid can quickly be mixed into cocktails without the graininess you might sometimes get from regular sugar.
Learning how to make simple syrup is crucial for a home bartender! Mix together equal parts sugar and water and let boil, then let it cool before adding to your cocktails.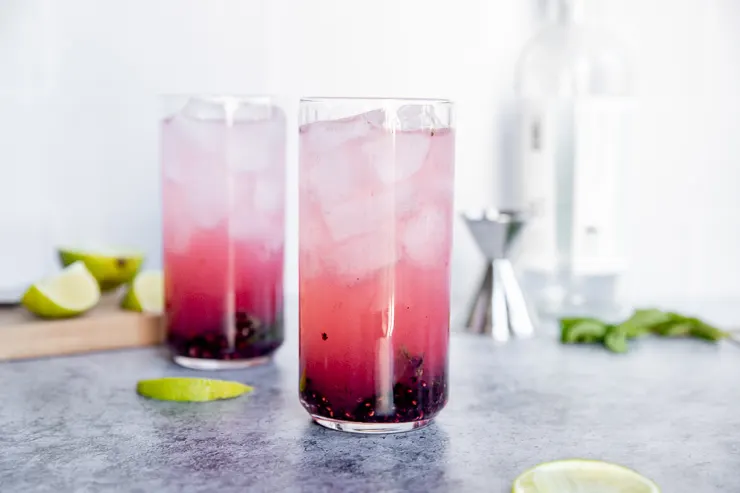 Invest in a Muddler
Adding a muddle to your home bar is a great idea especially for drinks with fresh fruit. A muddler is a tool that has a wide, flat head used to either juice or get flavors out of cocktail additions like fruit or sugar cubes.
These are generally affordable and good addition in a home bar set. If you don't have a muddler, I find that using a wooden spoon or the handle of a spatula can work well too.
Muddling the mint leaves brings out the essential oils to the cocktail which brings out the herbaceous flavors more than torn mint leaves would.
Blackberry Mojito Prep Time
Mojitos are notorious for their prep time. While it only take a few extra minutes muddling the ingredients, it is something to keep in mind if you're making them for more than a few people.
It could be a good option to mix together the ingredients in a pitcher when serving for a crowd.
Another option is to make your own blackberry simple syrup ahead of time. You can make it similarly to an unflavored simple syrup by muddling blackberries with sugar and water together in a small saucepan over medium heat.
Once it's bubbling you can take it off the heat and let cool. Another perk to this is that you can use a fine mesh sieve to strain out the blackberry seeds.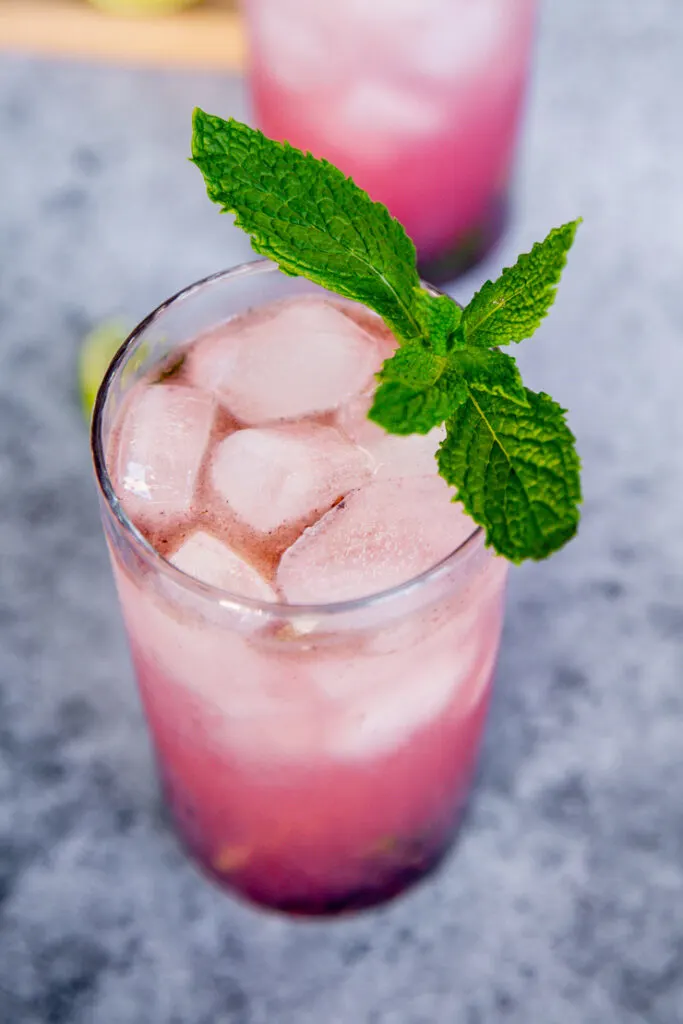 Adding fruit
You can change the basic mojito by adding different varieties of fresh fruits when you usually muddle the ingredients. A few ideas might be a mojito made with strawberry, raspberry, watermelon, peach, blackberry, or blueberry.
Frozen fruits can also be used to add fruit flavor to your cocktails! I'd recommend taking a small bowl of the frozen fruit and either letting them thaw on the counter or microwaving them for a few seconds to release some of the juice and so it's easier to muddle.
If you've got raspberries on hand, try out this Raspberry Bramble. Maybe watermelon? Try this Watermelon Mint Julep.
Virgin Mojitos
With the combination of the blackberry flavor with the traditional mojito, there's enough flavor that the blackberry version of a mojito makes for a great mocktail by just leaving out the rum.
The addition of blackberries with the lime and mint is a perfect summer drink for all ages.
How to make a Blackberry Mojito
Making a blackberry lime mojito only takes a few steps:
Muddle together your sugar, mint leaves, and blackberries in a highball, rocks, or tall glass of choice until the sugar is dissolved and blackberries are finely mashed.
Add rum and lime juice to the blackberry mixture. Add ice to top off the glass and pour in your club soda. Give it a gentle stir, garnish with lime wedges or mint leaves, and serve!