This Raspberry Bramble recipe is a spin on the classic with added Chambord. It's a perfect take on a raspberry lemonade cocktail for summer!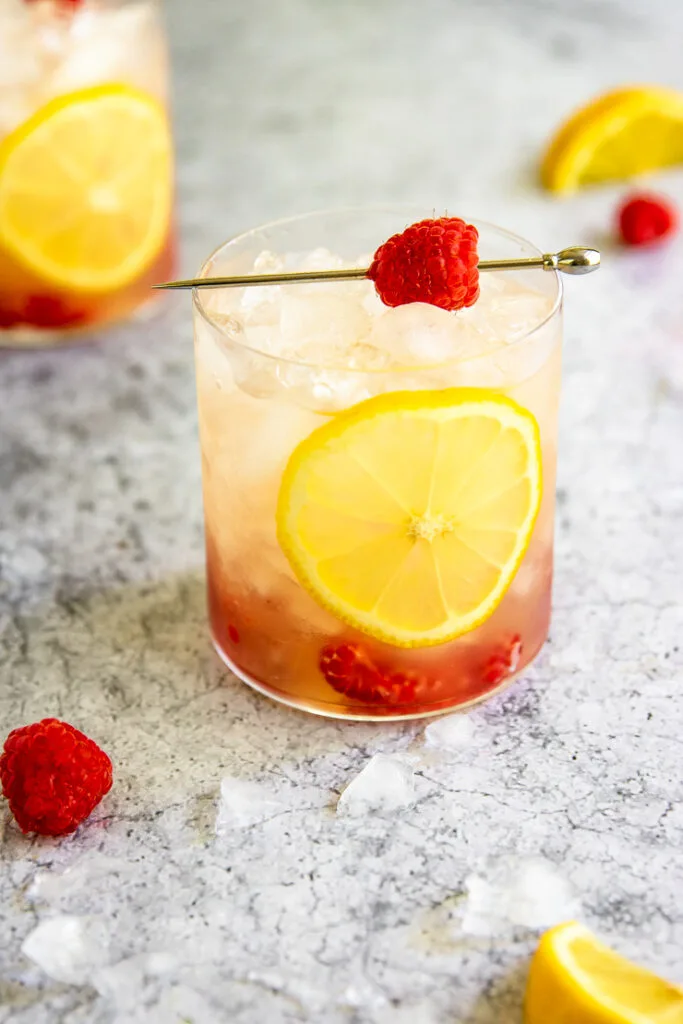 Raspberry Gin Bramble
During the past few years, I've been having fun exploring different cocktails and figuring out how to add a little spin on them. The most recent cocktail I came up with was this delicious Raspberry Gin Bramble!
If you've got extra Chambord on hand, it's a great addition to a traditional bramble cocktail. It's one of my new favorite cocktails for spring or summer. It's so refreshing!
The Culinary Compass participates in several different affiliate programs. As an Amazon Associate, we earn from qualifying purchases.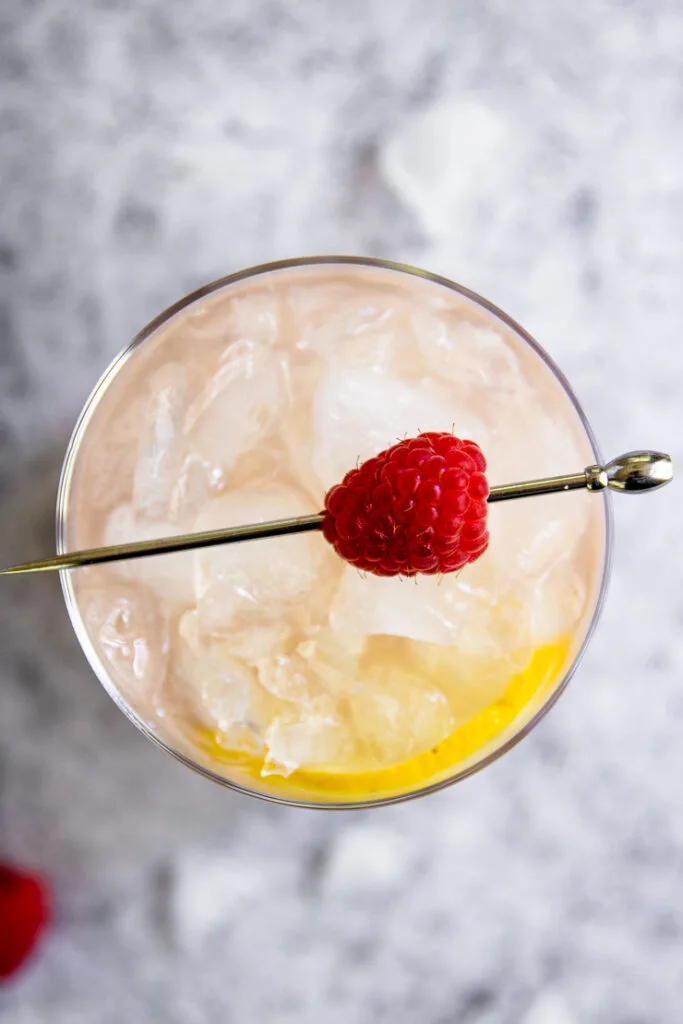 What is a bramble cocktail?
The Bramble cocktail was created in 1984 by a London bartender, Dick Bradsell. It's based off of a gin sour, but with the addition of crème de mure which is a blackberry liqueur.
It's got a balance of sweet and tart, while still being perfectly refreshing with it's combination of dry gin, lemon juice, simple syrup, and crème de mure.
What is Chambord?
Chambord is a black raspberry liqueur from France. The ingredients include red and black raspberries, Moroccan citrus peel, honey, Madagascar, and Cognac.
Its fruity and sweet profile make it a great liqueur to add to lots of fruit forward cocktails to make an easy, refreshing cocktail without too much extra effort.
If you're looking for some other great Chambord cocktails, try this Chambord and Champagne cocktail and or this Chambord Margarita.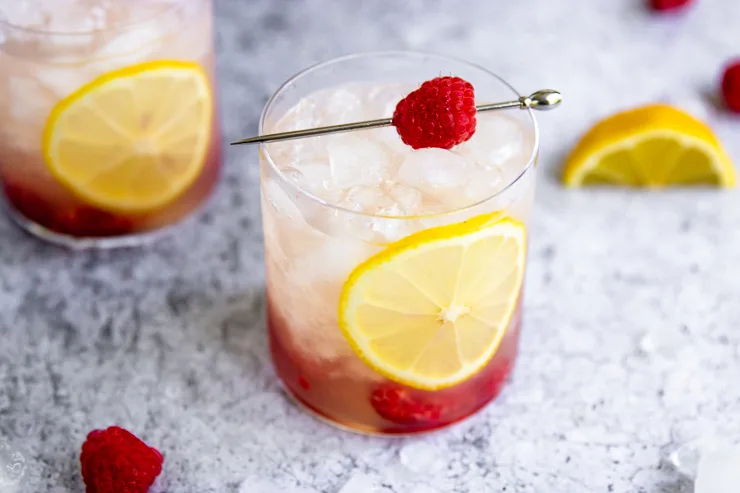 What ingredients do I need to make a Chambord bramble?
It only takes four ingredients to make:
Gin
Chambord
Lemon juice (lime juice could also work!)
Simple syrup
If you're feeling fancy, add some fresh fruit like raspberries and blackberries or lemon slices!
Can I make this with other fruits?
For sure! This would be a great drink with blackberries, or even other mixed berries like a few blueberries and strawberries.
Really any sort of red fruit would make a great addition to lighten up the drink.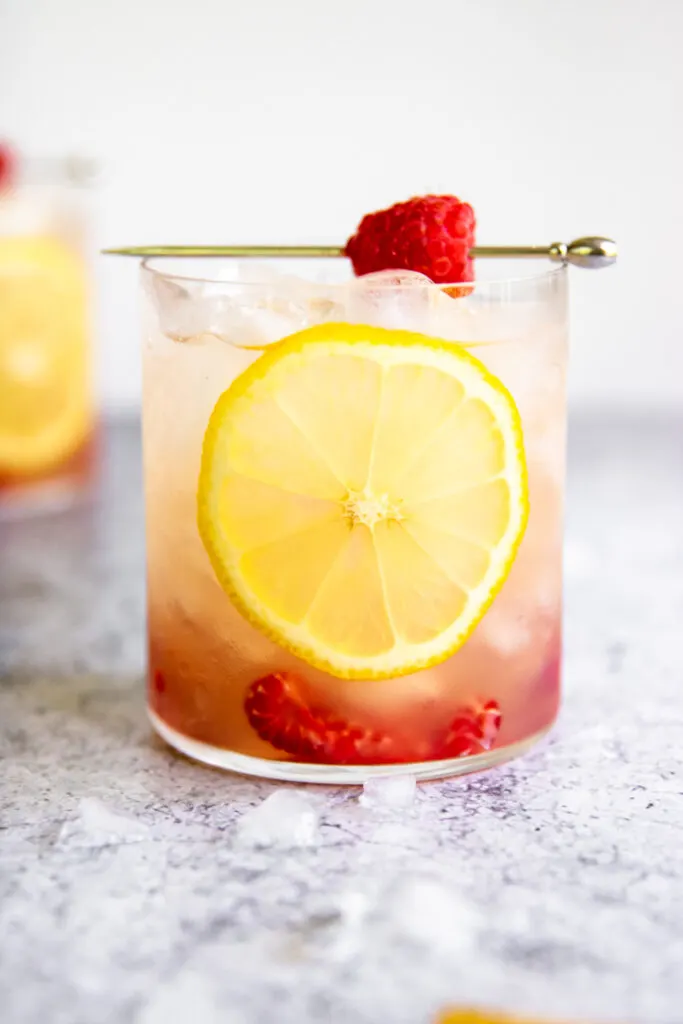 Are there other types of liqueur I can use?
If a Chambord bramble doesn't sound like your type, you can make it classic with crème de mure to bring out the blackberry flavors.
Blackberry brandy could also be a great option to bring a fruit-foward liqueur to the cocktail.
How to Make a Raspberry Bramble
Here's how to make the raspberry bramble cocktail recipe. Before you get started, be sure that you have some simple syrup on hand. Here's a quick guide on how to make simple syrup.
If you'd like to include raspberries, muddle them at the bottom of your rocks glass then fill the glass with crushed ice.
In a cocktail shaker cup, pour in the other ingredients and stir together. Pour it over ice and enjoy!
Try out this Blackberry Vodka Cocktail if you're looking for another summer berry cocktail!