This Chambord Margarita recipe is a perfect balance of tart and sweet. The combination of raspberry and lime juice will be a new favorite!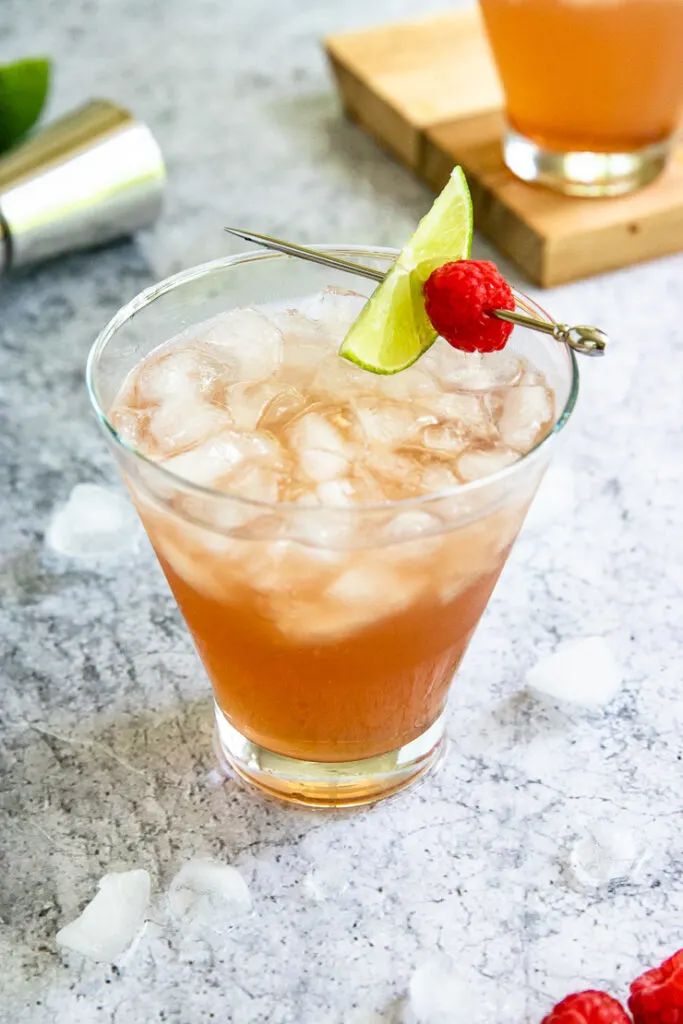 Chambord Margarita
Margaritas of any kind will always be a warm weather favorite and this Chambord Margarita is no different!
The deep raspberry flavor pairs perfectly with the lime juice to give you a tart bite rounded out by the simple syrup. This margarita recipe with Chambord really brings out the berry flavors!
The color is perfect for special occasions, but honestly my special occasion is usually a 5 o'clock on a Friday! Any one else?
The Culinary Compass participates in several different affiliate programs. As an Amazon Associate, we earn from qualifying purchases.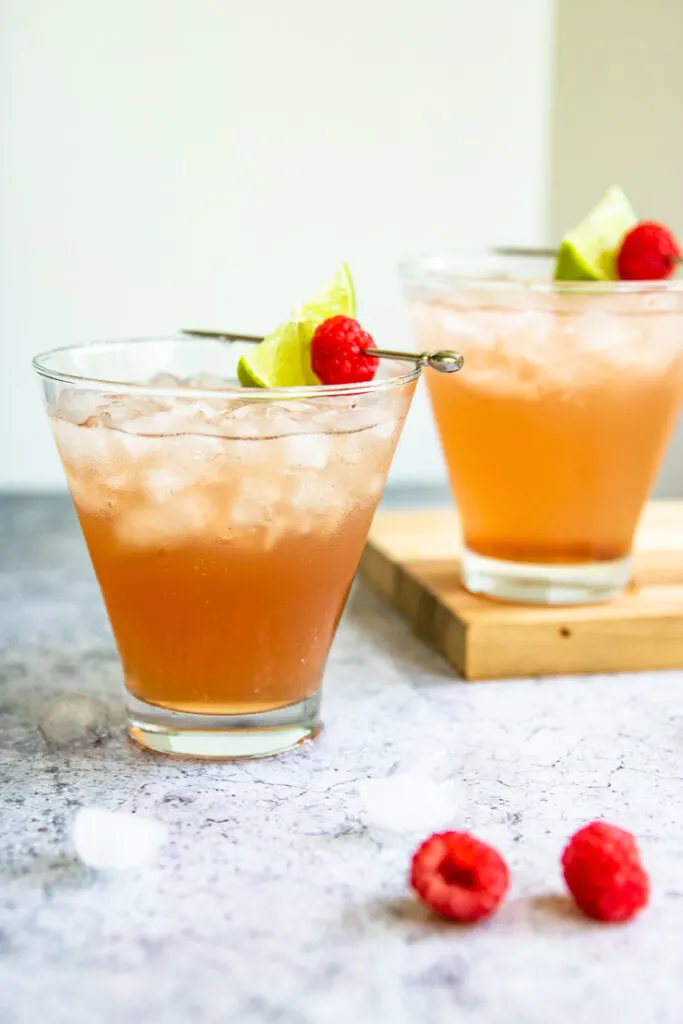 What is Chambord?
Chambord is a black raspberry liqueur from France. It is made with black and red raspberries, honey, Cognac, Moroccan citrus peel, and Madagascar vanilla. The combination of ingredients gives the most delightful fruity flavor. This makes it a great option for lots of cocktails.
What ingredients do I need?
You'll only need four ingredients to make this cocktail which makes it even better! You'll need:
Tequila, preferably silver tequila
Chambord
Lime juice
Simple Syrup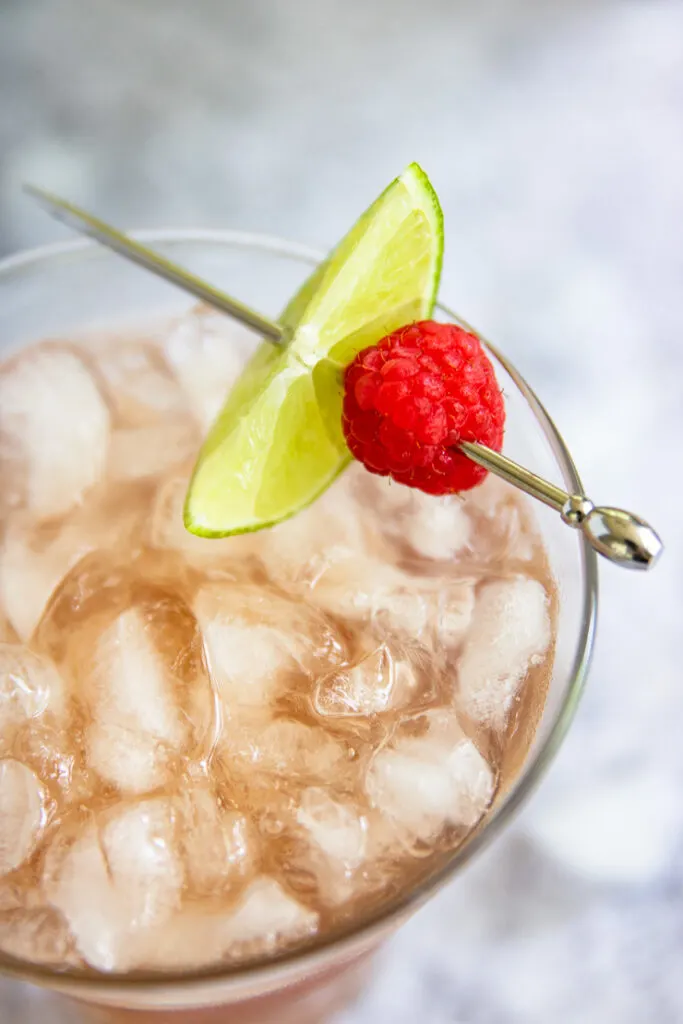 Should I use fresh or bottled lime juice?
Freshly squeezed lime juice will always bring more fresh, tartness to the drink so that'd probably be my suggestion.
However, having bottled lime juice around and using that for cocktails is always my easy button when I either didn't make it to the grocery store or just don't feel like cutting and squeezing a lime.
You can find pretty good quality lime juice too that you can keep on hand just for cocktails. Check out your grocery store the next time you're there and I bet you can find something near where they keep the mixers and cocktail ingredients!
What else can I serve with a Chambord Raspberry Margarita?
While I think that this drink is refreshing as-is, there are tons of ways that you can change it up to make it fit what you're feeling!
Add a bit of orange liqueur like Cointreau, Grand Marnier or Triple Sec for a citrusy kick
Muddle some mint leaves or even just garnishing with them will add some herbaceous notes
Switch out the tequila for mezcal for a smoky take on the margarita
Add in some fresh raspberries to really lean into the raspberry margarita with Chambord
Try it on ice for a refreshing berry frozen margarita
Add watermelon juice or blend it with frozen watermelon for a perfectly summery watermelon margarita
If you're looking for another berry filled margarita, try out these Mixed Berry Margaritas!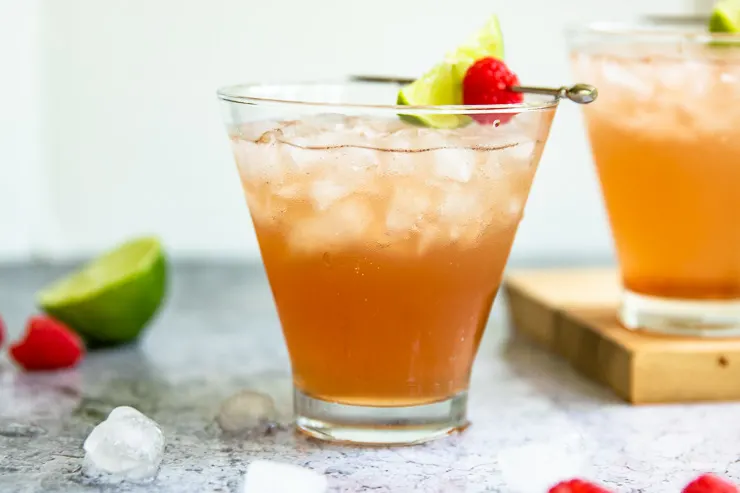 What other drinks can I make with Chambord?
Chambord can be a little pricey so having options of drinks to make on-hand for whatever occasion is always my goal.
You can keep it simple for special occasions and make a Chambord and Champagne cocktail or even a refreshing Raspberry Bramble.
How to Make a Chambord Margarita
Making a Chambord Margarita is pretty straightforward. First off, if you don't already have simple syrup made, check out this easy guide on how to make simple syrup.
Next, you'll grab your cocktail glass of choice and salt the rim, if that's your thing. Here's an easy guide on how to salt a glass rim, if it's not something you're familiar with!
Fill up your glass with ice so it's ready to go. Pour in your ingredients into a cocktail shaker and give it a light shake.
Shaking helps mix in the Chambord since it's a bit of a thicker consistency. Now, just pour into the glass and you're ready to go!