This Champagne and Chambord cocktail recipe is perfect for the holidays! It's an take on a Kir Royale that you're sure to love.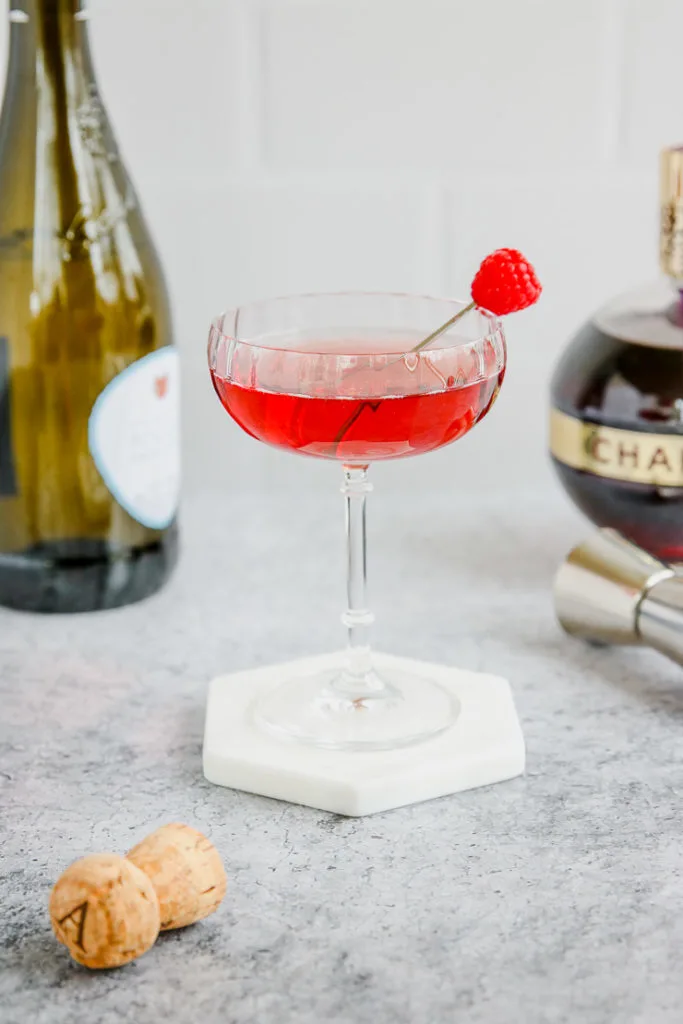 Chambord and Champagne Cocktail
If you're looking for a perfect, fruity champagne cocktail, look no further. This Chambord and Champagne cocktail is the best take on a raspberry mimosa you'll ever need.
It's light enough for a Mother's Day or bridal shower brunch while also being a festive color for your Christmas or New Year's Eve parties! I know it's a drink that'll get tapped in all year for me.
The Culinary Compass participates in several different affiliate programs. As an Amazon Associate, we earn from qualifying purchases.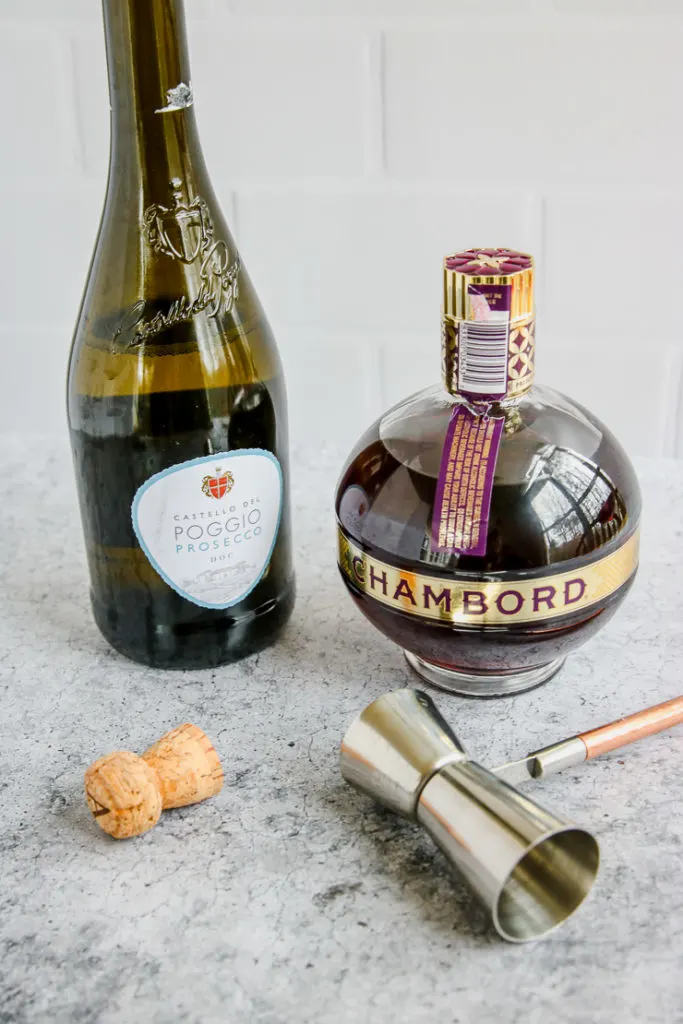 What is Chambord?
Chambord is a French black raspberry liqueur. It's ingredients include red and black raspberries, Madagascar vanilla, Moroccan citrus peel, honey, and Cognac.
This combination gives it a fruity and sweet flavor that makes it a great addition to a lot of popular cocktails. If you're looking for a berry forward drink, this will help create that for you!
Because of the thicker consistency, be sure to pour the Chambord first so that the champange helps mix it together without having to stir the drink afterwards.
What kind of sparkling wine should I use?
A bottle of champagne would be the best addition here, but using a sparkling wine like a Prosecco or Cava would work great!
Since it's most of the cocktail, it could be worth spending a few dollars extra to ensure a good flavor. A sweet champagne would lend itself a little more than something like a dry champagne.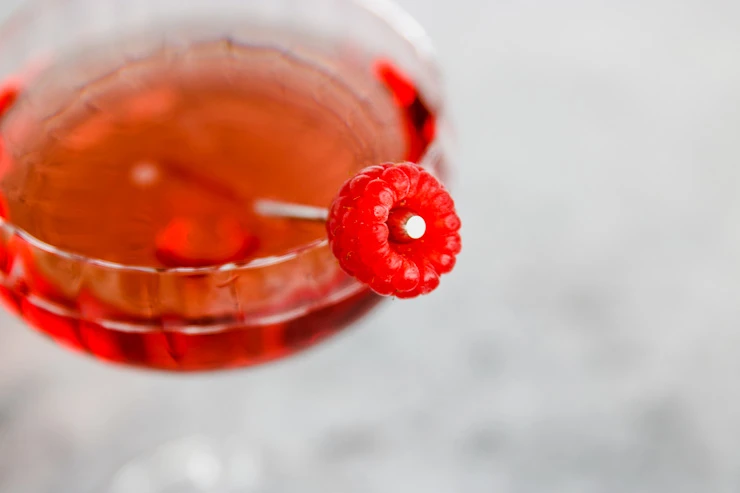 What kind of glass should I use?
Use a champagne flute or coupe glass to help keep the champagne from going flat faster and just to overall feel fancy.
Is this different than a Kir Royale?
It is. A Kir Royale is actually based on the wine cocktail, Kir. The royale comes from the addition of the champagne rather than using white wine.
Crème de cassis is traditionally used in both Kir cocktails. It's a black current liqueur that has similar characteristics of Chambord.
What can I use instead of Chambord?
If you have raspberry extract, you could use a tiny amount of that since it's so concentrated for a similar raspberry flavor.
Raspberry juice would also work! If anything, a few muddled raspberries could also give you a good flavor.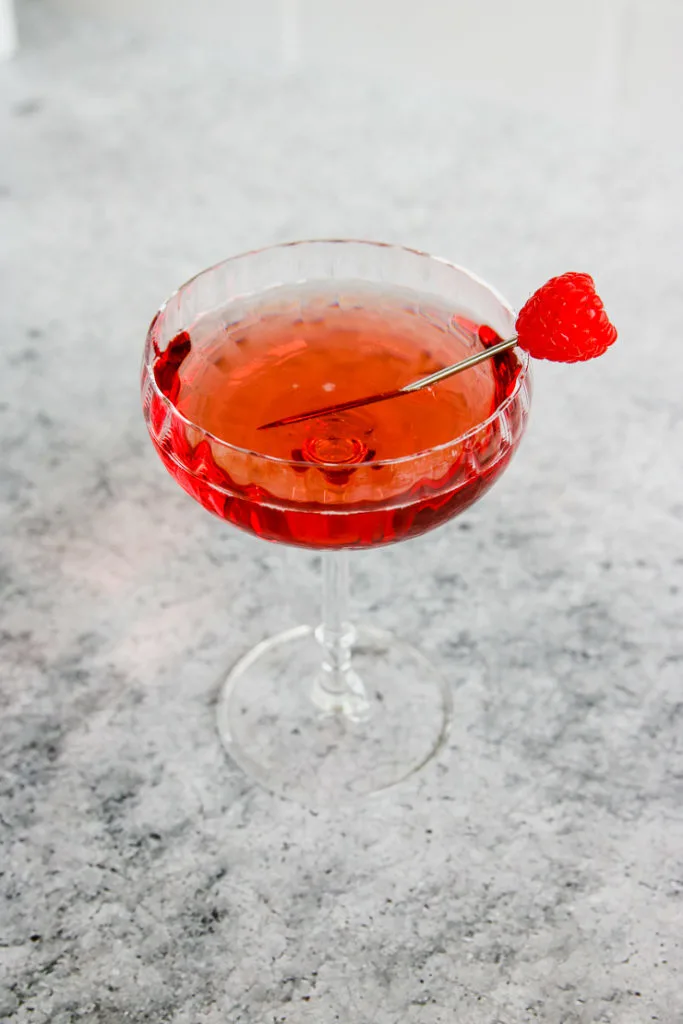 What's the difference between Crème de cassis and Chambord?
Crème de cassis is a sweet liqueur made from blackcurrants while Chambord is black raspberry flavored.
What else can I use Chambord in?
French martinis are one of the most popular drinks that you can make with Chambord! It's got vodka and pineapple juice in it as well so it's fruit forward.
Another option is adding it into margaritas to add a raspberry kick to it.
Looking for other festive drinks? Try one of these: