Wondering how to make sweet and sour mix? It only takes a few ingredients to make your new go to homemade sour mix.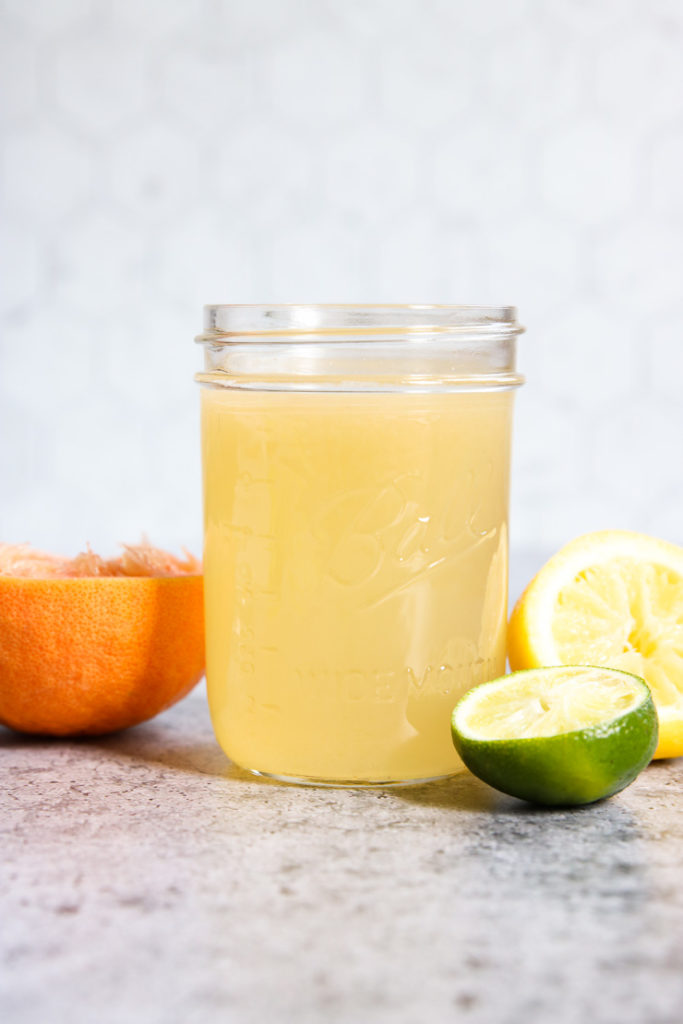 Homemade Sour Mix
Store bought sour mix is traditionally that bright yellow and highly processed drink mixer that you'll see bartenders reaching for.
It makes a great cocktail, but a fresh squeezed version will change your cocktail game.
The fresh citrus is an instant elevation and has more body than something like using lemon lime soda. Mixing drinks will be even more fun when you have this cocktail staple on hand.
The Culinary Compass participates in several different affiliate programs. As an Amazon Associate, we earn from qualifying purchases.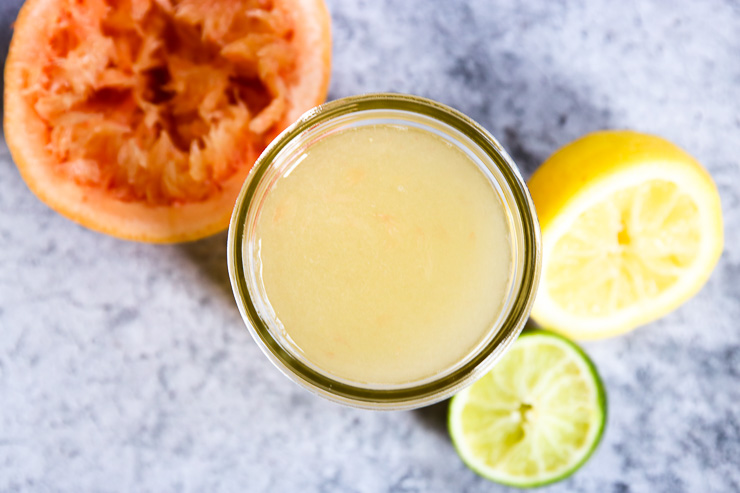 What is sweet and sour mix?
Sweet and sour mix is made up of citrus juice, generally lemon and lime, but you can use grapefruit as well, and simple syrup which is just sugar and water.
Be sure to check out this guide on how to make simple syrup if it's something you're interested in trying!
How long does sour mix last?
Sour mix should last one to two weeks in the refrigerator in a sealed container, but it's never lasted longer than that in our house! As soon as it's made we get creative with what drinks we want to make to use it.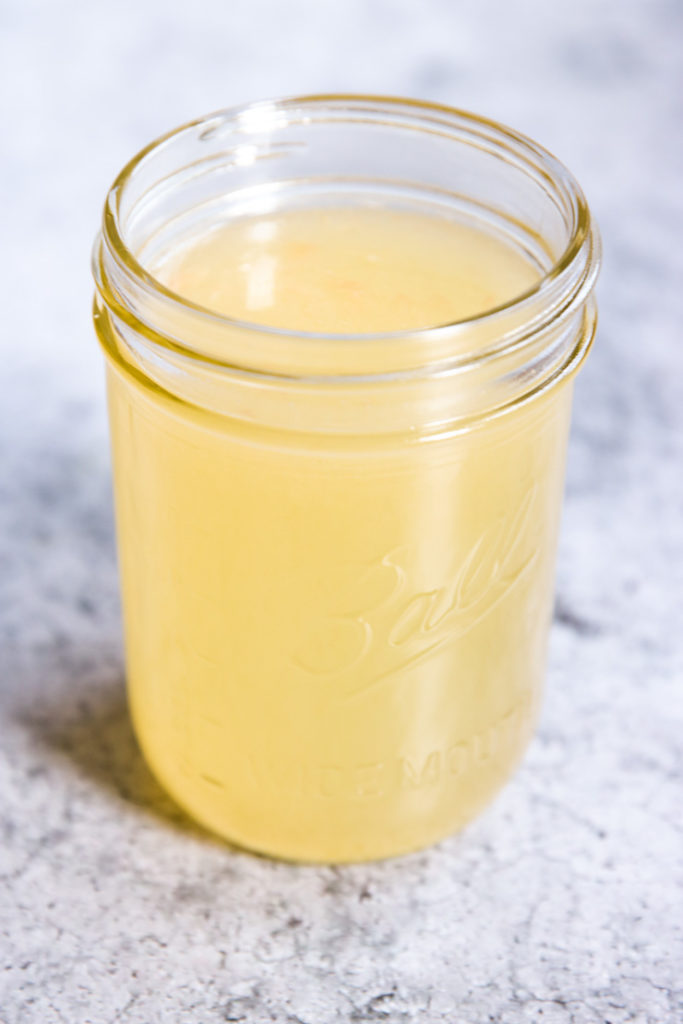 What should I store sour mix in?
Store your sour mix in a container that is sealed. Something like a mason jar will work great, but using a smaller mouthed container will make it easier to pour so be sure to keep that in mind.
Do I need to use grapefruit juice?
Nope! Sour mix is traditionally just sugar, water, lemon and limes juices. Adding the grapefruit juice is up to you, but I find it brings another citrusy element to drinks that balances it really well.
If you'd rather not use grapefruit juice, just make equal parts lemon and lime juice to make up for that.
You can use more fresh lemon juice if you're making more whiskey or bourbon drinks with it or more lime juice if you're looking to incorporate it into a margarita recipe.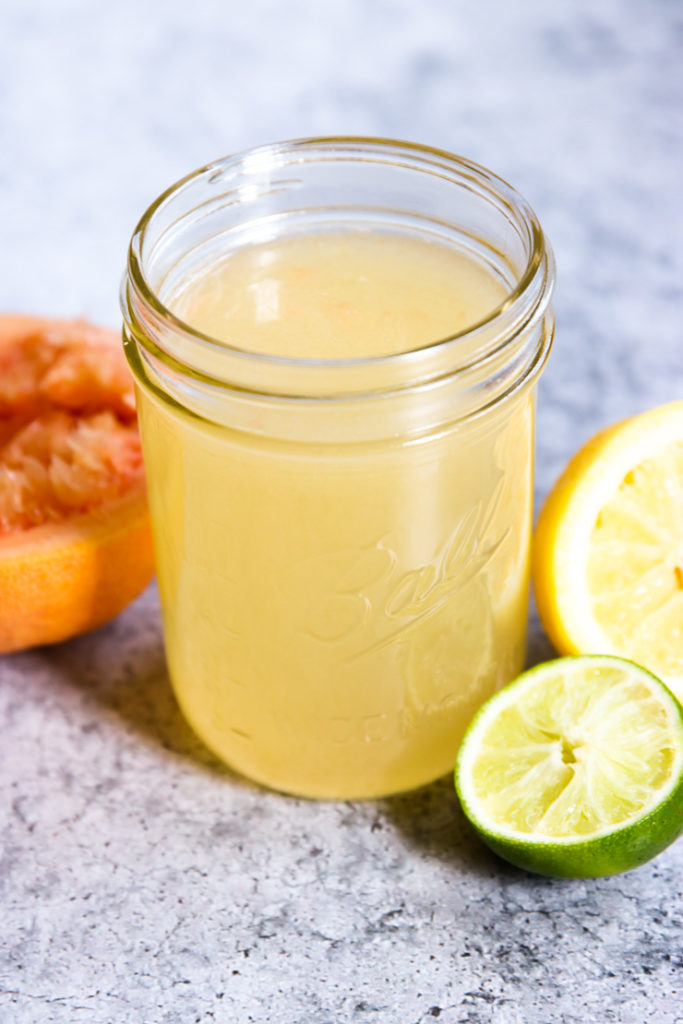 What drinks can I use sour mix in?
Most sour cocktails have a general base of liquor, citrus, and a sweetener, the sour mix came about to help make those drinks more quickly. Here are a few of those classic cocktails:
Tom collins
Whiskey sour
Pisco sour
Margarita
Paloma
Is there a difference between sour mix and sweet and sour mix?
Nope! They are two in the same and generally interchangeable in cocktail recipes.
Looking for some great cocktails to try? Try one of these: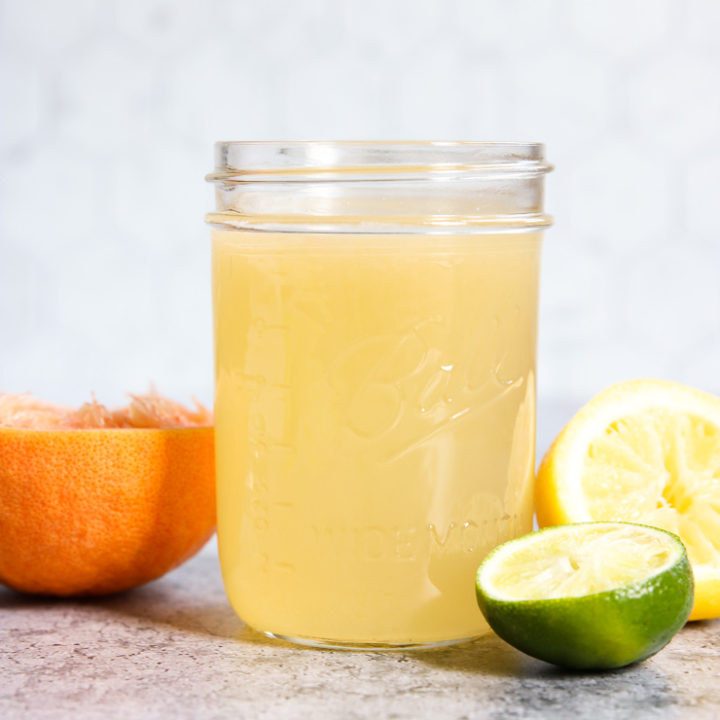 Homemade Sour Mix
Wondering how to make sweet and sour mix? It only takes a few ingredients to make your new go to homemade sour mix.
Ingredients
0.5 cup water
0.5 cup sugar
1/3 cup lemon juice, about 2 lemons
1/4 cup lime juice, about 2 limes
1/2 cup grapefruit juice, about 1 grapefruit
Instructions
Add sugar and water into a small sauce pot over medium high heat and mix together. Bring to a boil and stir until dissolved. Remove from heat and let cool.
While simple syrup is cooling, pour lemon, lime and grapefruit juice into a jar that has a lid. Mix in simple syrup once cooled until combined.
Use immediately, or seal and refrigerate until ready for use. Use within 2-3 weeks.
Recommended Products
As an Amazon Associate and member of other affiliate programs, I earn from qualifying purchases.
Nutrition Information:
Yield:

7
Serving Size:

2 oz
Amount Per Serving:
Calories:

94
Total Fat:

0g
Saturated Fat:

0g
Trans Fat:

0g
Unsaturated Fat:

0g
Cholesterol:

0mg
Sodium:

5mg
Carbohydrates:

25g
Fiber:

2g
Sugar:

18g
Protein:

1g
Nutrition provided is only an estimate.