These Southern Pecan Pralines are so delicious and will be some of the best you've ever had! They're such a tasty combination of candy and cookie.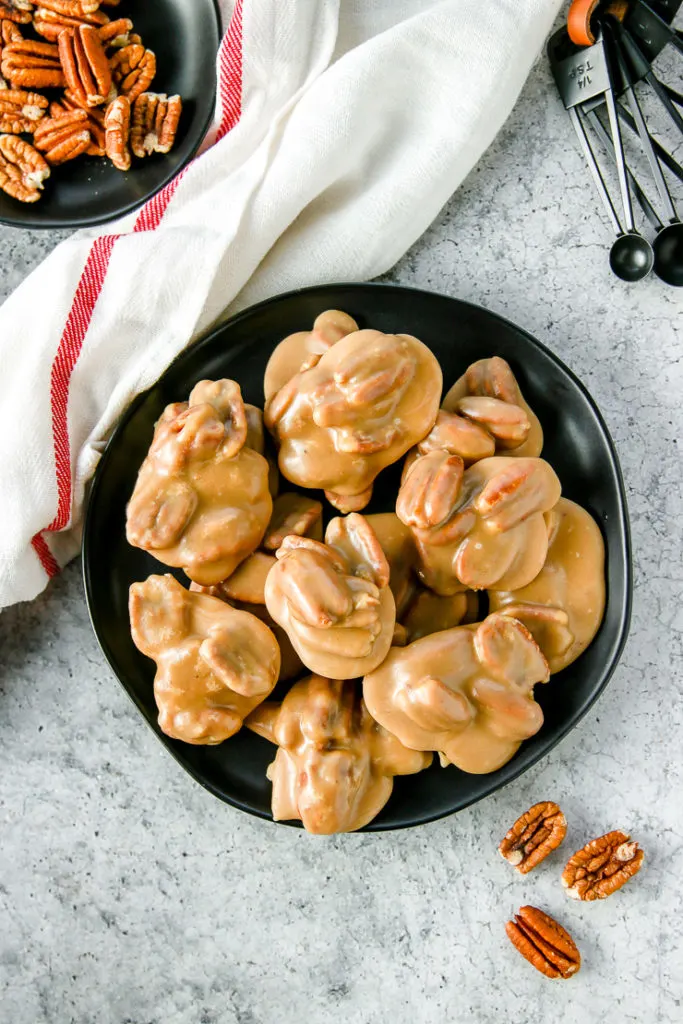 Southern Pecan Pralines
Making this Southern Pecan Pralines recipe may seem intimidating, but the result is oh, so divine. The combination of nuts and candy coating with a luxurious texture.
Other Southern staples like Easy Peach Cobbler are all you really need for summer desserts! Who can be mad at a peach or pecan dessert.
The Culinary Compass participates in several different affiliate programs. As an Amazon Associate, we earn from qualifying purchases.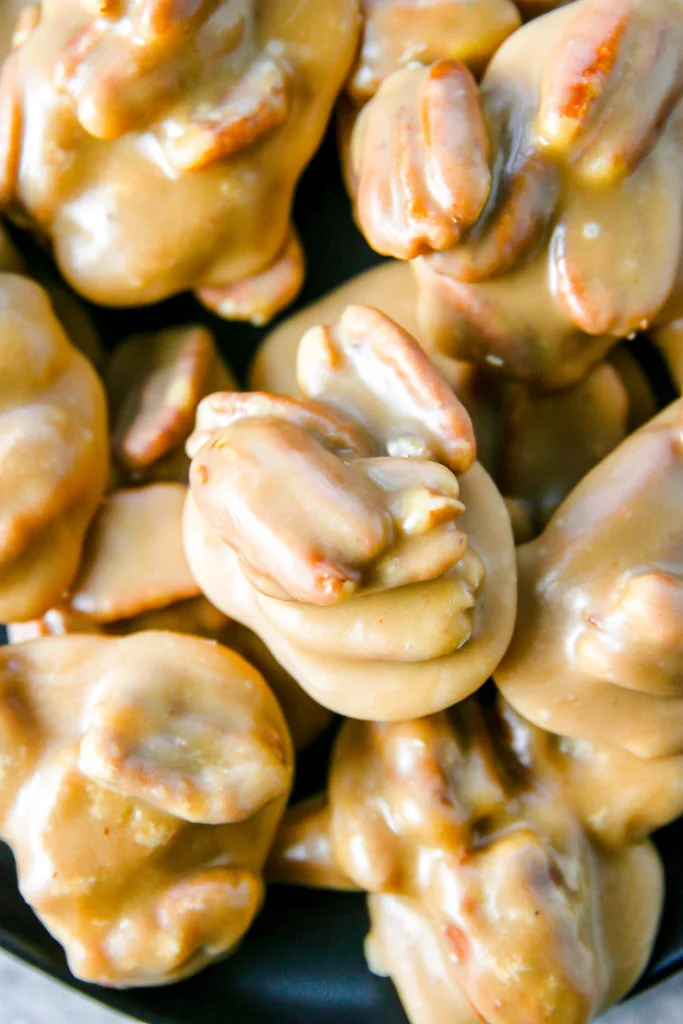 What are southern pecan pralines?
Pecan pralines are candies made from sugar, butter, pecans and a few other ingredients for a perfectly sweet and crunchy texture. They melt in your mouth and will be your new favorite.
River Street Sweets or Savannah's Candy Kitchen in Savannah, Georgia or Laura's Candies or Loretta's Authentic Pralines in New Orleans are some of the best that you can get! New Orleans pralines are a staple as they are in Savannah.
What ingredients do I need to make southern pecan pralines?
You'll need a few ingredients to make southern pecan pralines:
Sugar
Brown sugar
Evaporated milk
Unsalted butter
Salt
Vanilla extract
Pecan halves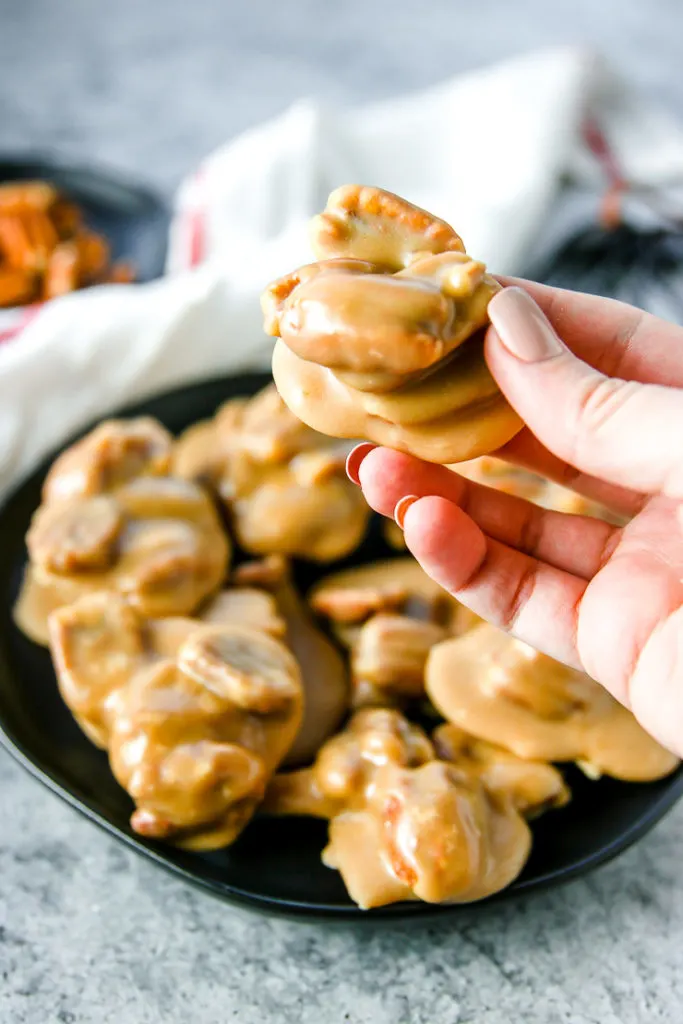 Should I use pecans halves or chopped pecans?
Either should work! I like using pecan halves since we usually have an abundance of them, and that's how they are traditionally made.
Chopped pecans offer a different texture and allow for more of the pecans to be covered in the candy mixture which is also great!
Why are my pecan pralines grainy?
When pralines are grainy, it's likely a result of the mixture of the sugar. Sugar crystallization is the one thing you'll want to look out for when making pralines.
Having patience and paying attention to the mixture will be key to ensuring a good consistency.
The pralines can be grainy if it's not mixed enough, mixed too much, heated through all the way, or if the sugar doesn't reach the correct temperature.
I'll be honest in saying this recipe isn't the easiest, so having grainy pralines on your first try is definitely not a failure!
Why are there spots on the top of the pralines?
Pralines will often have white dots or patches on top of them due to the sugar crystallization.
It's not a sign of having done it wrong as places known for their pralines will often have the same thing happen for them.
Can I cover pralines in chocolate?
Definitely! They add a nice texture and flavor to the pralines you know and love.
Another option if you're looking for a pecan chocolate candy are these Pecan Turtles. They're admittedly easier to make, chewy, and delicious!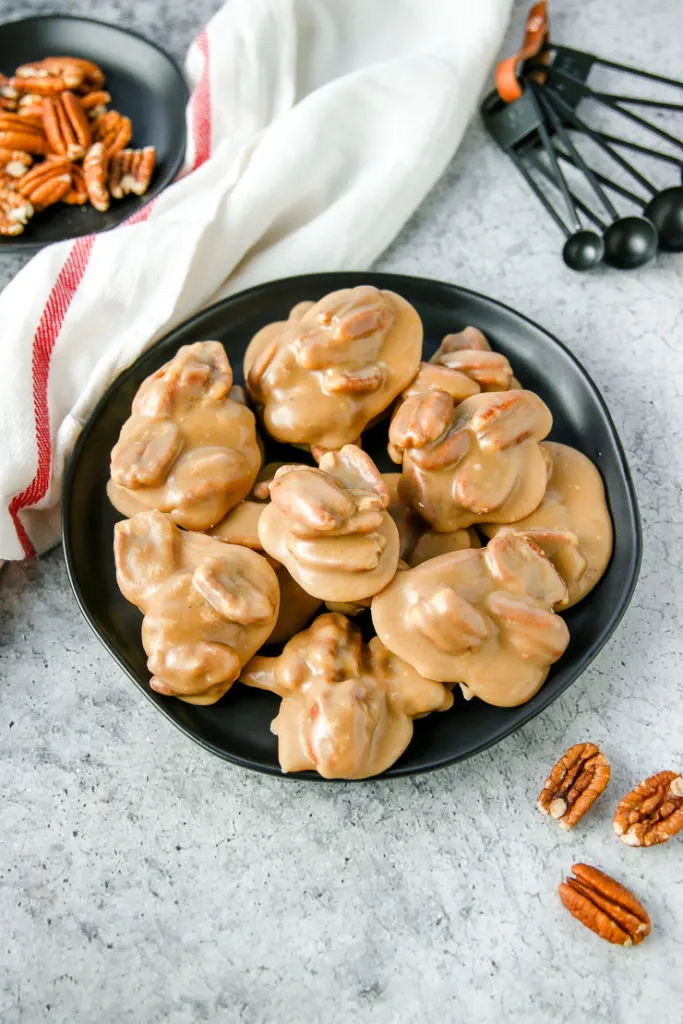 How to Make Southern Pecan Pralines
Here's how to make souther pecan pralines:
Use parchment paper to line a baking sheet.
Mix brown sugar, evaporated milk, butter, and salt together in a dutch oven or heavy sauce pot over medium heat. Use a rubber spatula or wooden spoon to stir and bring to a boil so that the sugar dissolves. It'll get foamy and that's a sign it's getting close.
Use a digital thermometer to keep an eye on the temperature. Once it reaches 235°F, or the soft ball stage, remove the pot from the heat and add in the vanilla extract and pecan halves.
This is important – stir constantly and quickly for 2-3 minutes. The mixture needs to cool, but not enough so it sets while stirring. It should lose its shine a bit and thicken.
Scoop a tablespoon of the mixture onto the parchment paper. Move quickly to finish the remaining of the mixture. Let it sit for 10-15 minutes at room temperature to set and cool completely!
Tips for Making Pecan Pralines
Use a candy thermometer or digital instant read thermometer. This will help ensure that you reach the correct temperature while not over heating the mixture.
Stir vigorously to incorporate all the ingredients right before spooning out the mixture to set.
A rubber spatula or wooden spoon will be the easiest way to mix the ingredients together.
Use parchment paper to set the pralines. It'll help make sure it doesn't stick.
Use a thicker pot so that the mixture heats up more evenly.
Looking for other desserts? Try one of these: