If you're looking for a recipe for an easy peach cobbler with fresh peaches, look no further! This easy peach cobbler recipe is one that my family has been making forever.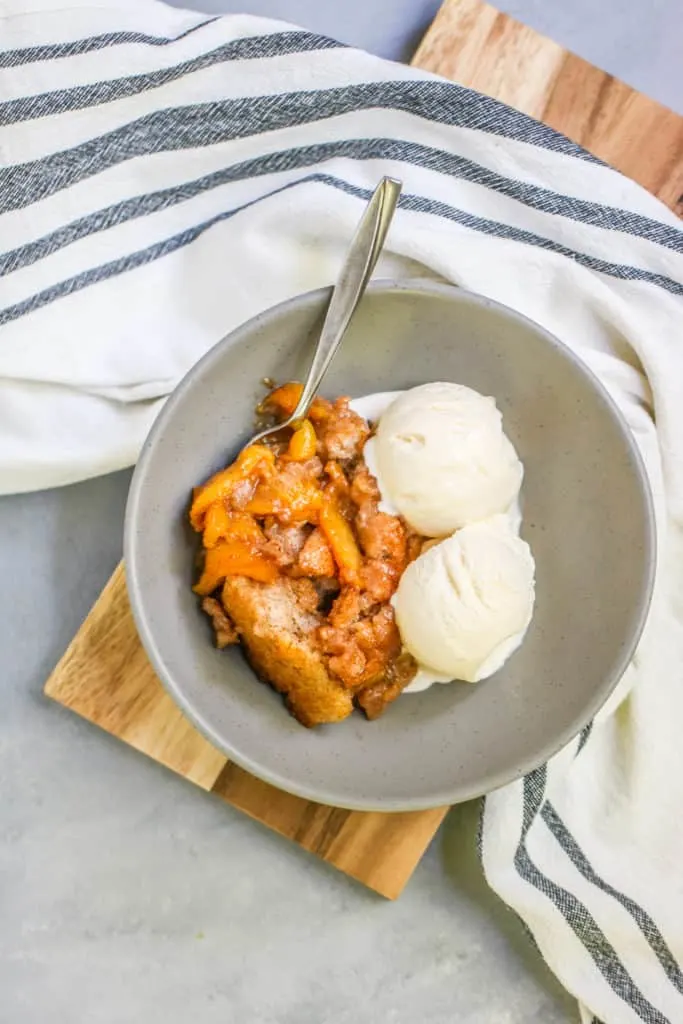 Easy Peach Cobbler
This easy peach cobbler recipe is one that we make all the time when we visit family in Georgia. It's our family's take on Paula Deen's classic peach cobbler to make sure that it's really easy to make and full of cinnamon flavors.

It's something that's really easy to throw together and I guarantee will be a crowd pleaser.

It's best warm with ice cream and this Peach Ice Cream would really bring out those summery peachy flavors!
The Culinary Compass participates in several different affiliate programs. As an Amazon Associate, we earn from qualifying purchases.
Can I use canned peaches in fresh peach cobbler?
You can, but it won't taste as fresh! It is a great option for when peaches are not in season though.

Canned peaches are usually about 16 ounces so I'd recommend using two cans. I'd also heat them through and season them with a little extra cinnamon or sugar if needed to bring those same flavors.

Another option would be to freeze extra fresh peaches to use out of season! We had a ton of extra bags and it's a great treat for the winter or even fall.
How do you make easy peach cobbler with fresh peaches?
It's just a few steps and few ingredients so it's really easy!
Heat together your sugar, cinnamon, water, and peaches.
Preheat your oven with a stick of butter in the casserole dish.
Mix together your remaining sugar, self-rising flour, cinnamon, and milk.
Layer the casserole dish with the batter then the peaches & bake.
Enjoy once it's done!
Simple as pie! Or maybe we should say peach cobbler.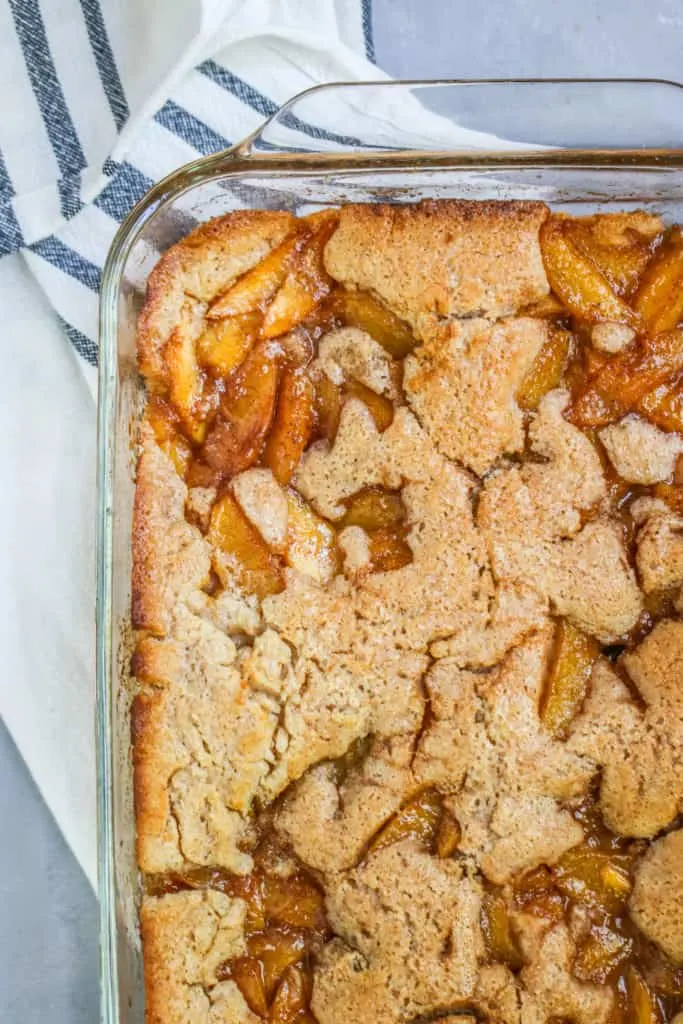 How may peaches equals 3 cups?
I used 5 big peaches to make about 3 cups of sliced peaches. You can always add more peaches if you have a ton or are a big fruity dessert person.

My family personally likes an even ratio of crispy dough to peach and syrup ratio so we found this to be a good amount.
How can I ripen my fresh peaches faster?
If you have peaches that aren't ripe quite yet and have some time to spare before making the cobbler, place the peaches in a brown paper bag and fold the edges so they close.

About 24 hours later you should have peaches that are much more ripe than before they went in to the bag. The reason being is the fruit releases ethylene gas which speeds up the ripening process.

Avoid using plastic bags as that can't breathe as well as paper which would build up moisture and leave your fruit being soggy.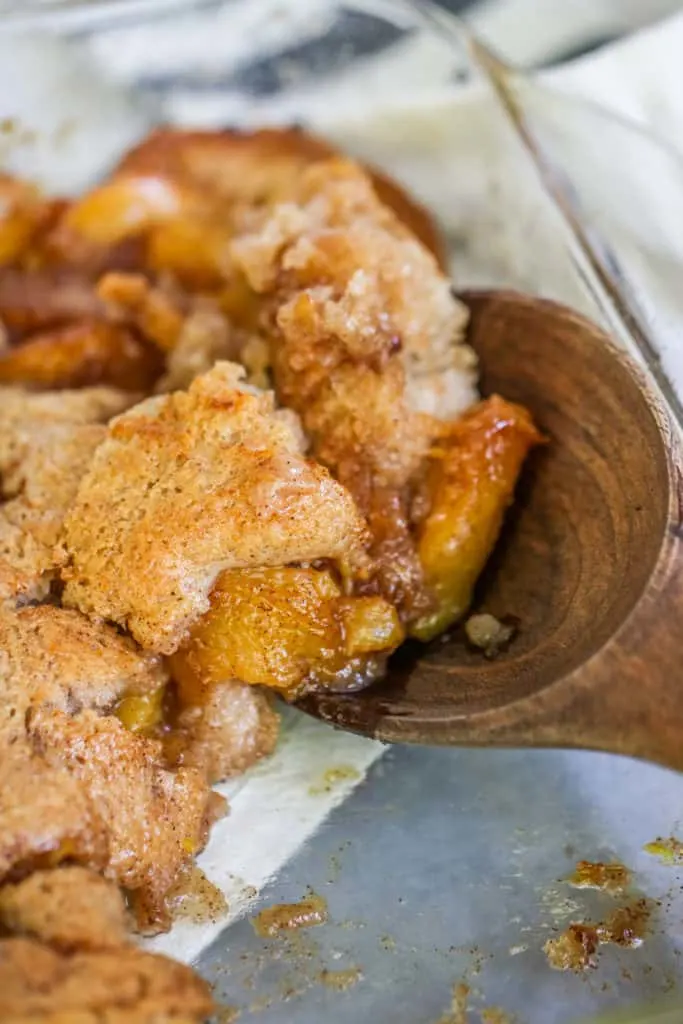 Do I need to use cinnamon?
The cinnamon is technically optional, but it's one of my favorite parts about this dish. It's in the peaches and the batter making it extra cinnamon-y.
What spices go with peaches?
Cinnamon, of course, but you can also use nutmeg, cloves, or ginger to make it a spiced treat!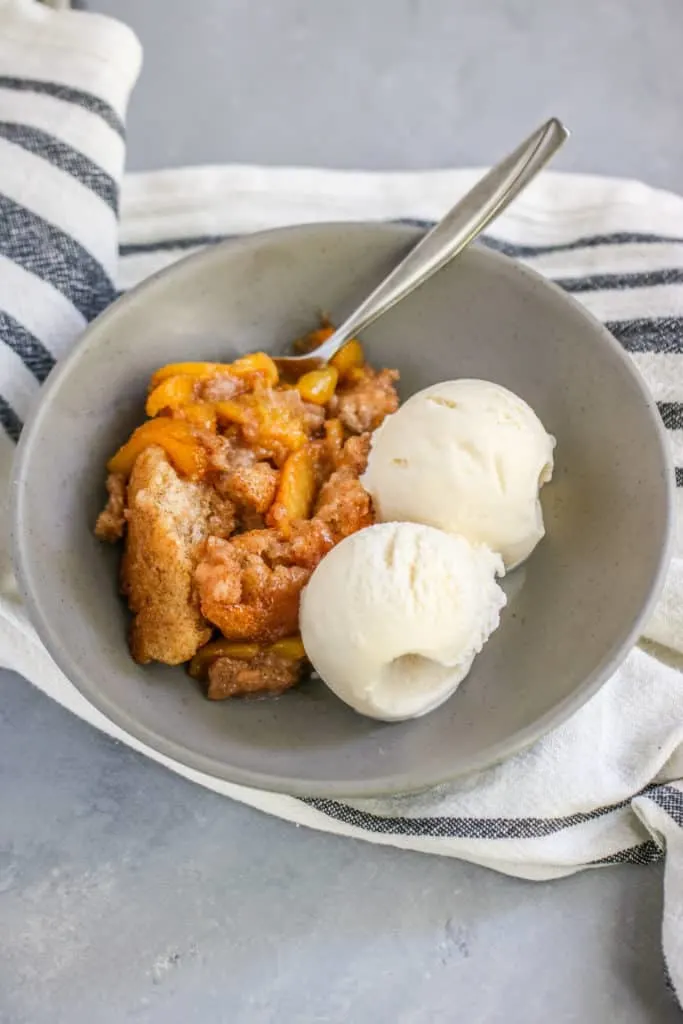 Can I use all-purpose flour instead of self rising?
If you have baking powder and salt on hand, then yes! Self-rising flour is just flour that is mixed with salt and baking powder so you don't have to add any other leavening agent in it.

If you don't want to purchase any self-rising flour, just mix together 1 cup of all-purpose flour with 1 and ½ teaspoons baking powder and 1/2 teaspoon of salt.
Looking for other fun summer desserts? Check these out:
Lemon Crinkle Cookies – These are easy cake mix cookies that are always a crowd pleaser.
Fruit Pizza – Use summer fresh summer fruit to make it super seasonal and gorgeous!
Mom's M&M Cookies – M&M Cookies are good for any time of year. Just change the M&M colors to match the theme!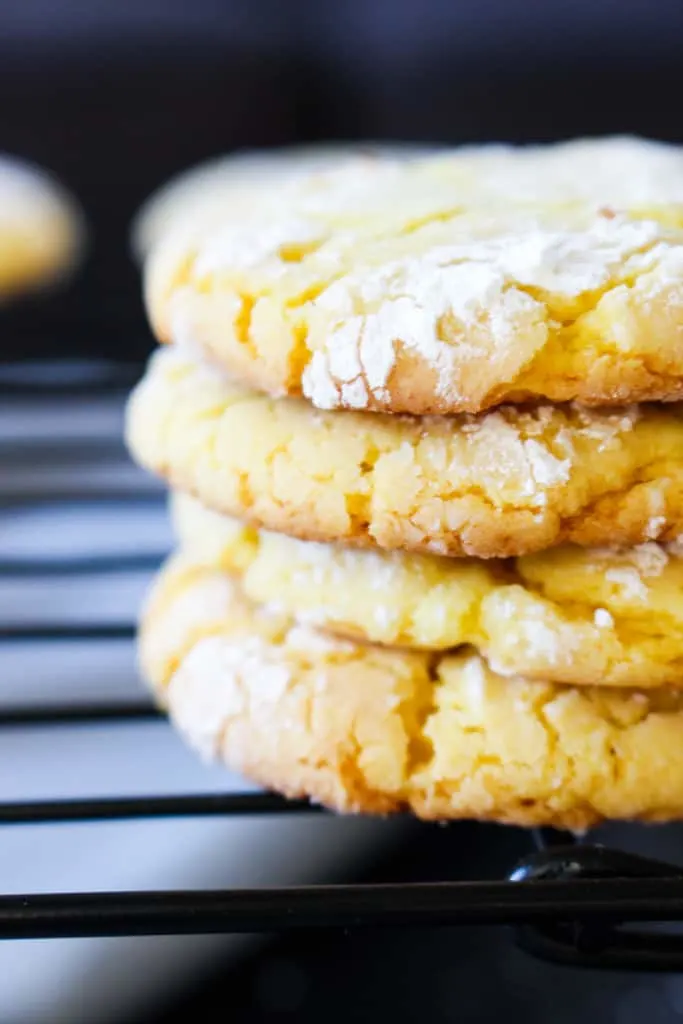 Be sure to enjoy and tag me with #theculinarycompass on Instagram if you make this!