This Heath Bar Trifle combines all of your favorites! It's got layers of chocolate pudding, brownies, Heath Bars and Cool Whip. What more could you want?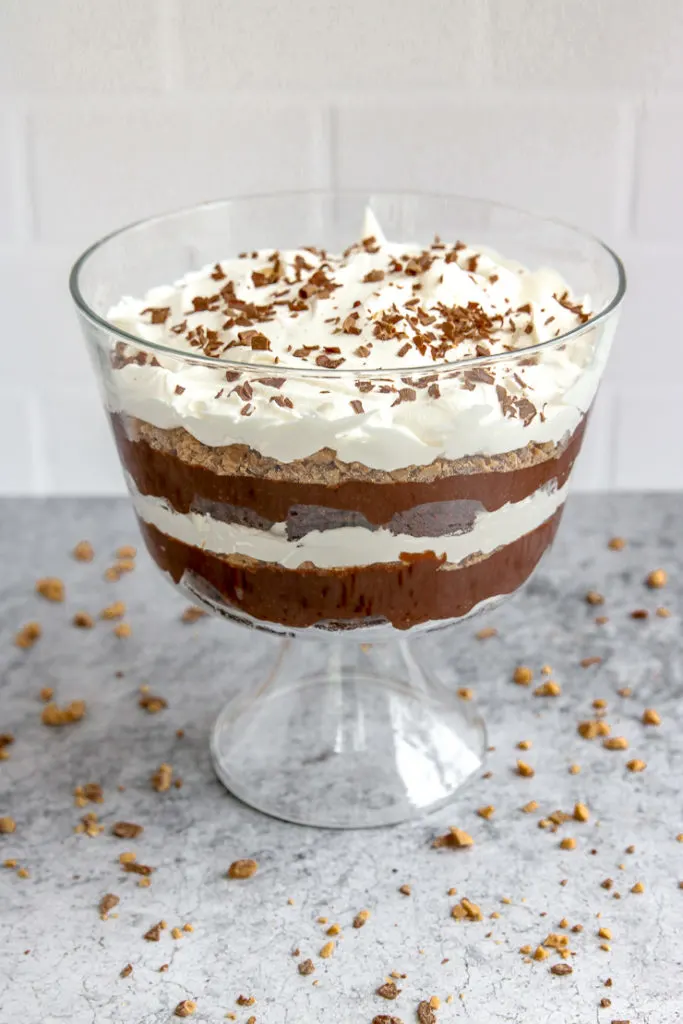 Heath Bar Trifle
If you're looking for a dessert that everyone will love, this Heath Bar Trifle is the perfect thing. It's been a dessert my family has made for gatherings and parties for as long as I can remember.
My mom would even make it for me and my high school friends when we had dances to snack on afterwards. Ah, the simpler times, right?
Anyways, it's got layers of brownies, pudding, Heath toffee bits, and Cool Whip to make a perfectly chocolately and crunchy dessert you'll want again and again!
The Culinary Compass participates in several different affiliate programs. As an Amazon Associate, we earn from qualifying purchases.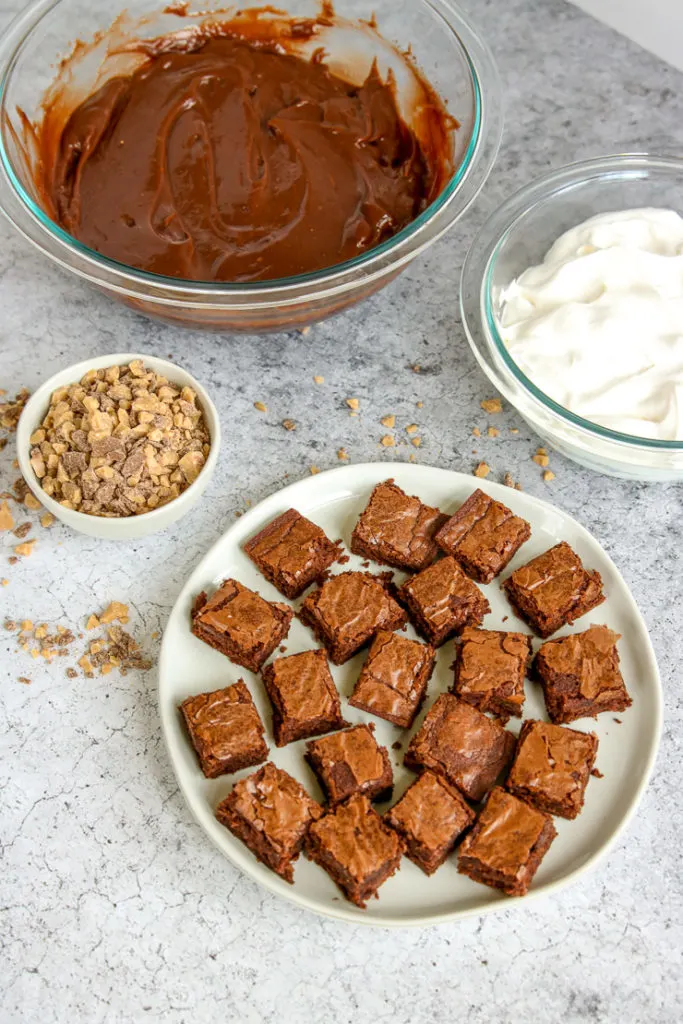 Do you need to use Cool Whip?
Not necessarily! I know there are people with aversions to using Cool Whip, so it's not entirely needed, but is the only thing I use. It's got a thicker consistency that holds up well in the layers.
If you're serving the trifle pretty quickly after assembling, you could use a homemade whipped cream. The layers might not be as defined, but it's still a good alternative.
Here's a great guide on how to make homemade whipped cream if you're looking to go that route!
Do you need to use boxed brownie mix?
You could make your own brownies, but I'm a big fan of boxed brownies for this dish. The less you have to do the better in my personal opinion.
If baking brownies is your jam, go for it! Really fudgey brownies make the best base for this Heath brownie trifle. Try these Super Easy Homemade Brownies would be a perfect option!
Maybe brownies aren't your thing? Chocolate cake would be a great alternative.
Can I make this ahead of time?
Yes! It's such an easy dessert to prepare ahead of time. I like making the brownies and pudding beforehand so the brownies are cool and the pudding is thickened before assembling.
It's pretty simple too – I make both the brownies and pudding according to the package. You can also get pre-crushed Heath bars making that quick and painless.
You can also assemble the entire trifle ahead of time! The pudding mix soaks into the brownies making it even more gooey and delicious.
Holding off on the last layer of whipped topping is an easy way to make it presentable right before serving without worrying about plastic wrap clinging to the top, too!
What are the layers of a trifle?
A traditional English trifle contains ladyfingers, pound cake, or angel food cake soaked in sherry or a liquor of your choosing, fresh berries or jam, vanilla pudding or custard, and fresh whipped cream.
This trifle doesn't have a jam or berries layer, but it could be added! Something like strawberries would probably be delicious.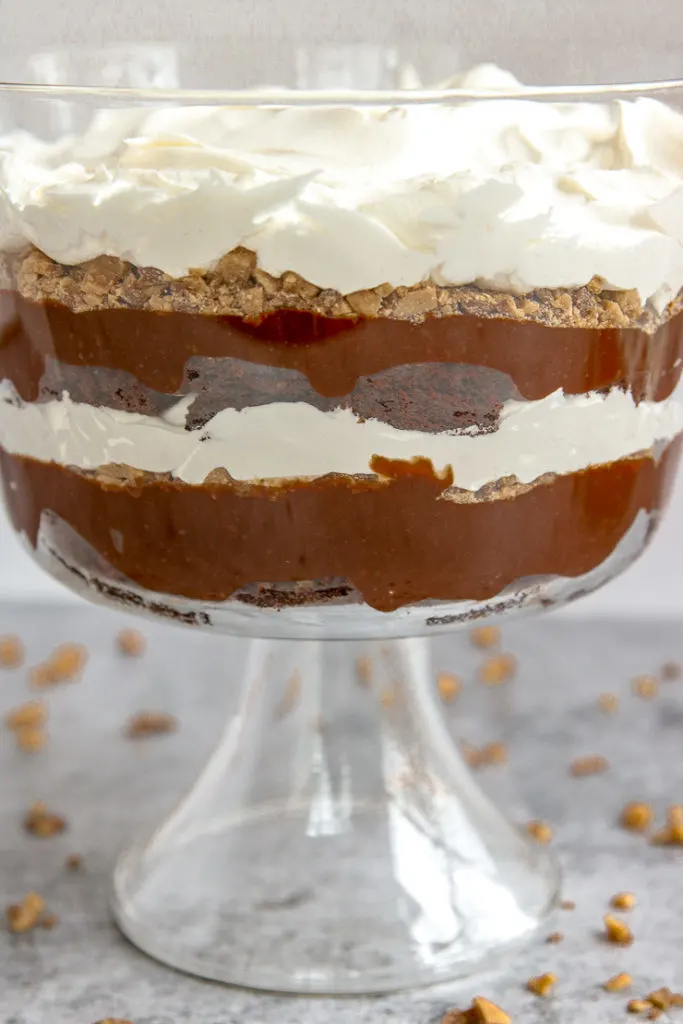 What is the best way to layer a trifle?
To layer a trifle, you'll want to think about the weight and consistency of each of the layers. Brownies or cake make a perfect base to soak up any more liquid layers.
Putting those layers of jam or custard on top of the brownie layers helps keep it contained and keep the brownies or cake moist.
Topping it with the whipped cream topping makes it beautiful and avoids having ones of those layers squished.
How can I make this Heath Bar Trifle unique?
An easy way to add a bit more flavor would be to add some instant espresso into the brownie mix for a deep coffee flavor with the chocolate!
You could also add a thin layer of caramel or dulce de leche on the pudding layer to add a rich flavor as well.
How should I serve this?
Glass trifle bowls or glass bowls make it easy for everyone to see all the gorgeous layers! A classic trifle dish has 90 degree edges so each serving gets a bit of everything.
You could also serve in individual ramekins if you're looking for an easy grab and go option.
Looking for other dessert recipes perfect for a crowd? Try one of these: