These Rosé Poached Pears will be your new favorite holiday treat! You'll only want poached pears in rose wine from now on.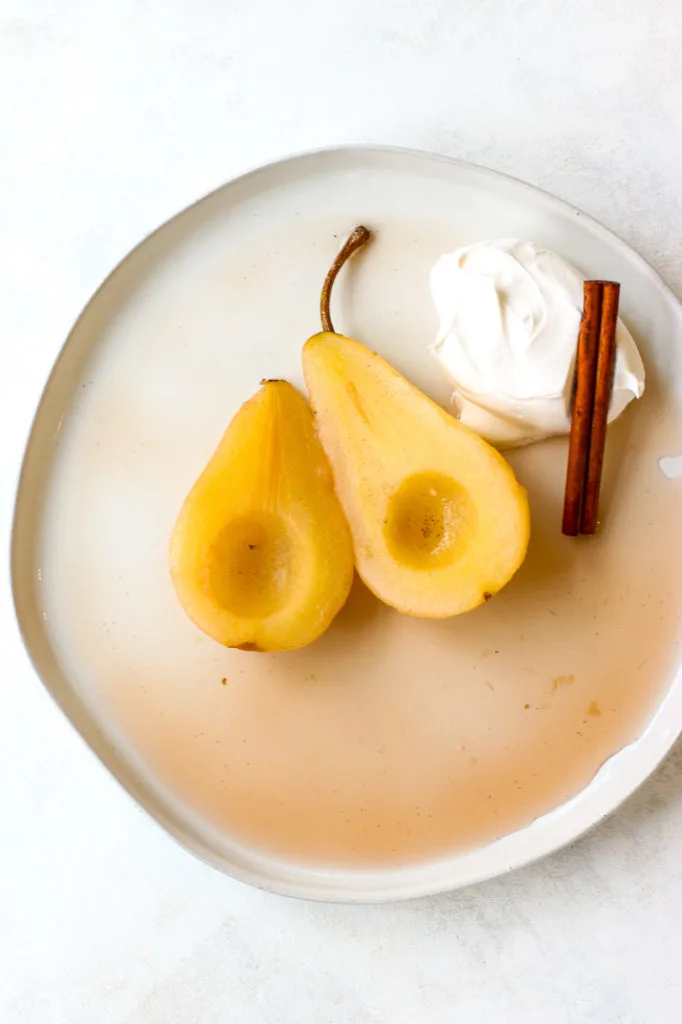 Rosé Poached Pears
These Rosé Poached Pears are surprisingly easy to make, but look like something you might be served at an upscale hotel or restaurant.
The gorgeous pink color from the rosé makes it extra festive too! It's infused with cinnamon and vanilla to give it a wonderful spiced flavor that'll be sure to warm you up in the winter nights.
Now I don't know about you, but I am firmly in the camp that rosé is not just a summer drink. It's light, crisp and refreshing with all the subtle floral notes that pair perfectly with so many dishes.
Those floral notes also go so well with the earthy pear flavor and spices from the vanilla bean and cinnamon. The combination also makes your house smell amazing!
The Culinary Compass participates in several different affiliate programs. As an Amazon Associate, we earn from qualifying purchases.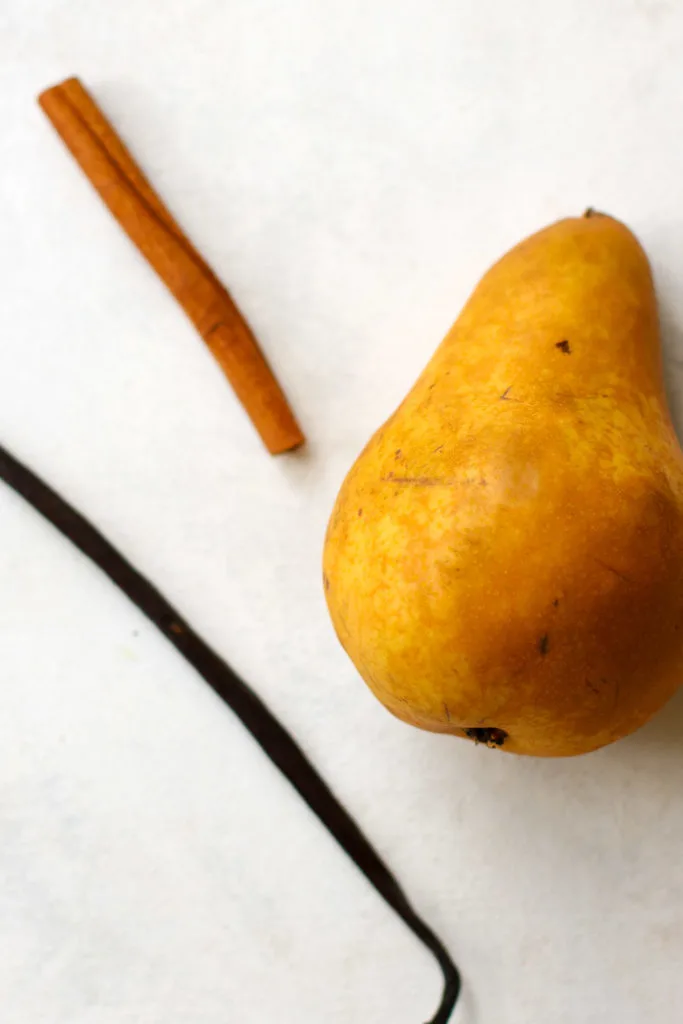 What are poached pears?
Poached pears are a traditional dessert consisting of simmering pears in a flavored liquid or syrup, most often wine with spices or zests.
The pears cook through to be fork tender and are full of the flavors that are included in the liquid.
What type of pears should I use?
Bosc pears are most traditionally used in poached pears or baked pears because they hold up really well and keep their shape. They're also nice and sweet to add to the dessert even more
If you're not able to use Bosc pears, try either Anjou or Bartlett pears as they are good alternatives for baking.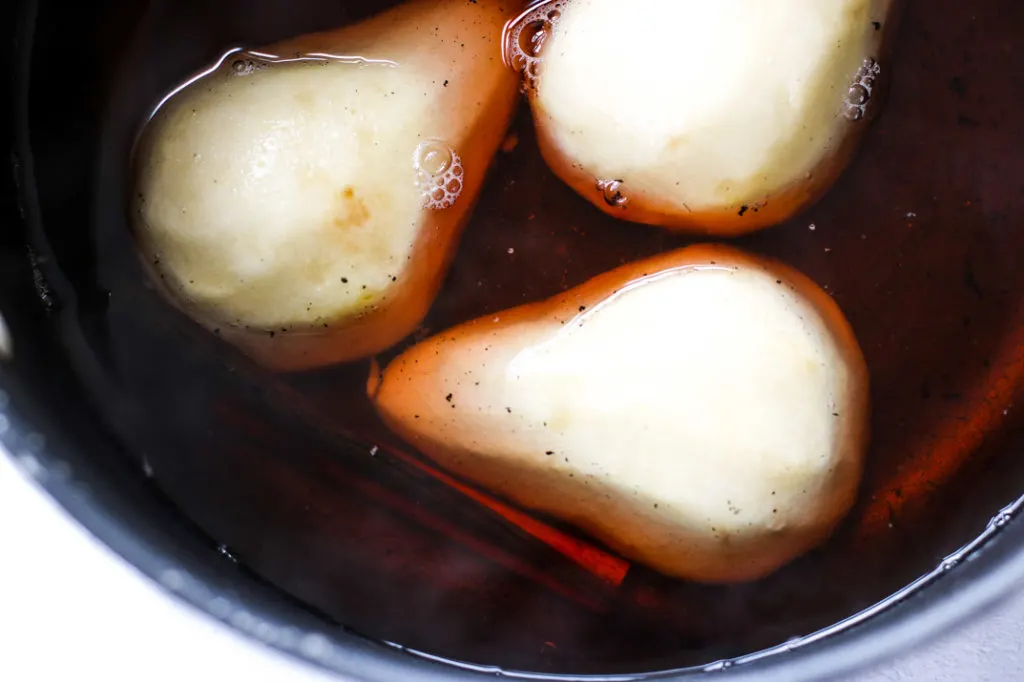 Can I use vanilla extract instead of a vanilla bean?
If you don't have a vanilla bean, vanilla extract should work. I definitely encourage you to try and use a vanilla bean, though. It's a more powerful flavor that infuses into the rosé rather than just acting as a flavoring.
How long should I let it simmer?
In total, you'll want to let the mixture simmer around 30 minutes. Allowing the whole mixture to simmer burns off the alcohol leaving only the flavors behind. This also creates a simple syrup with the sugar that creates an amazing topping.
The pears alone are obviously delicious, but I think my favorite part is the topping. I poured a little extra over the pears and the whipped cream just to make sure I had enough.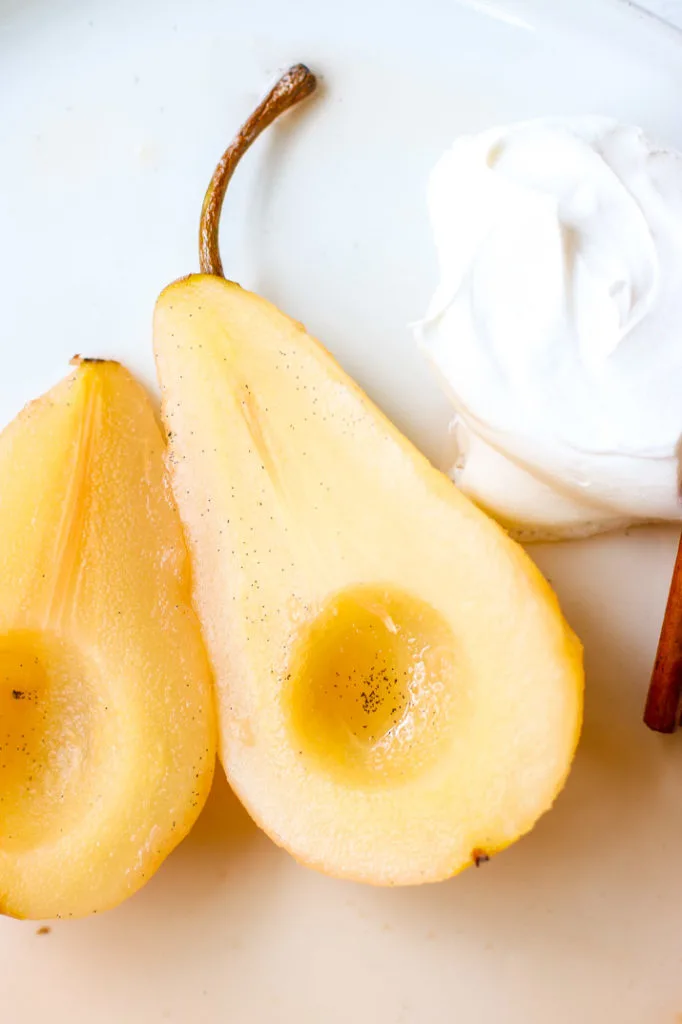 Should I use store bought or homemade whipped cream?
Creating your own whipped cream would be easy here to do! You could add cinnamon and vanilla to heavy whipped cream and powdered sugar to make it reflect all of the flavors that you're getting in the pears.
Obviously store bought is fine too! Another option would be a simple vanilla ice cream. Pouring the hot poaching liquid and eating it with the warm pears sounds like the ultimate holiday treat!
Looking for other fruit based desserts? Try one of these!