This homemade Moose Munch recipe will be one of your favorites for any event! It's a copycat recipe for the chocolate and caramel popcorn you will love!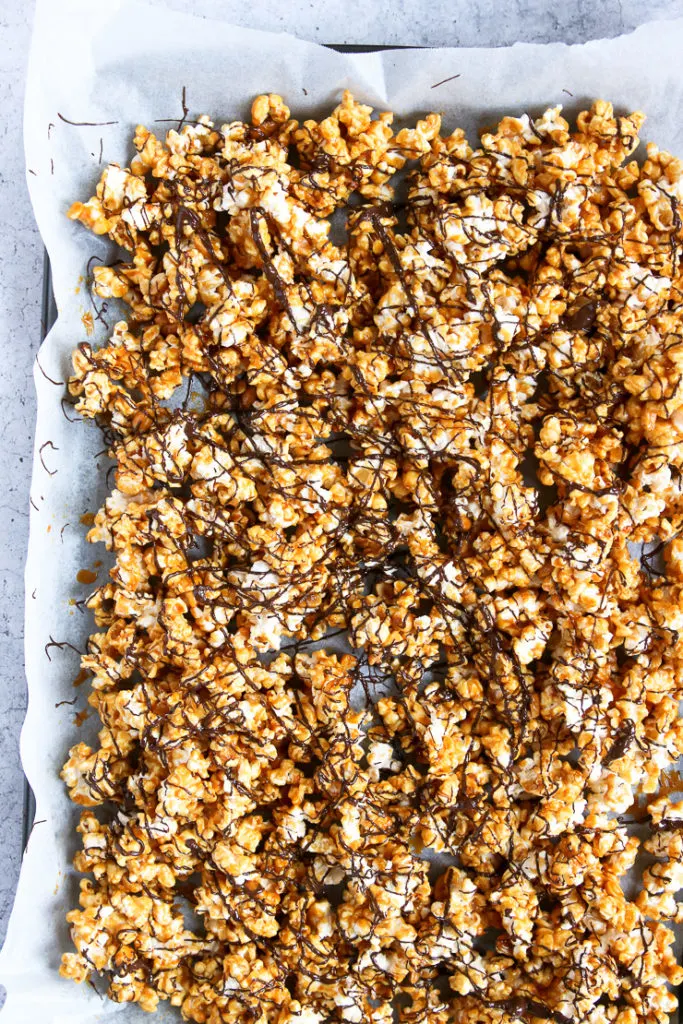 Moose Munch Recipe
If you haven't had Moose Munch and love caramel popcorn, you need to make this recipe as soon as you can. It's popcorn and nuts with caramel and chocolate.
It's a perfect dessert for a crowd or to make as a gift during the holidays or Christmas! I'll make a bunch and add them to bags or decorative tins to give out to friends.
The Culinary Compass participates in several different affiliate programs. As an Amazon Associate, we earn from qualifying purchases.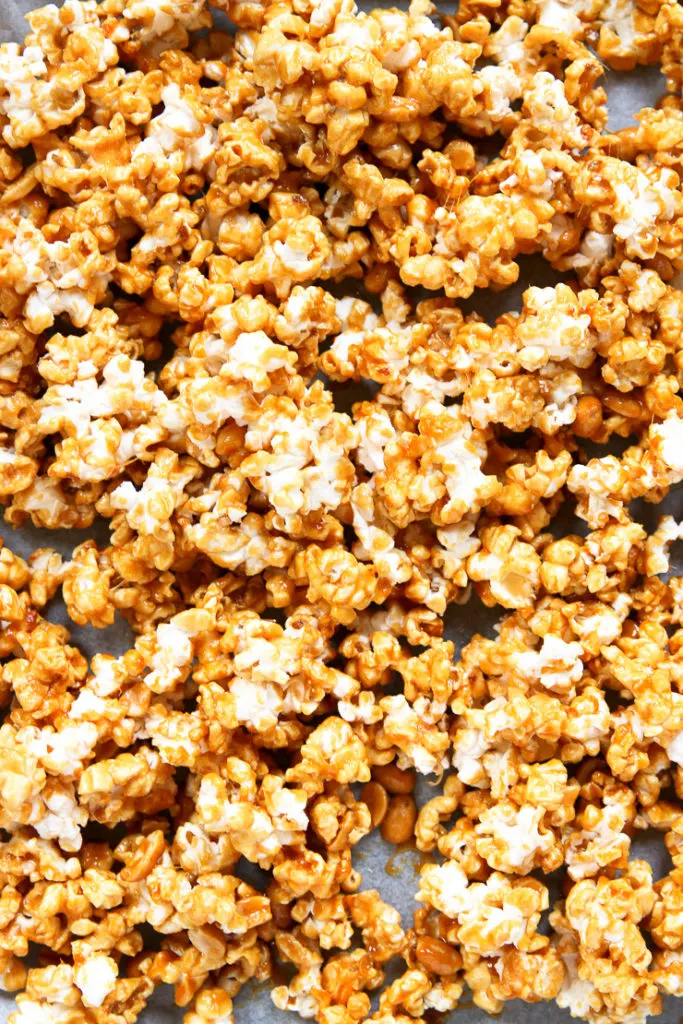 What is Moose Munch?
Harry & David's Moose Munch is a treat that I often got during the holidays, but it can be a bit expensive. It's got caramel popcorn and nuts that are drizzled in chocolate to make the perfect sweet, salty, and chocolatey bite.
Do I need to make my own popcorn?
You can, but you definitely don't need to! I'll use two bags of popcorn in a natural sea salt flavor to give about the same amount of popped popcorn that is required for the recipe.
Avoid using any popcorn that has flavorings especially butter as that won't pair really well with the sweet toppings.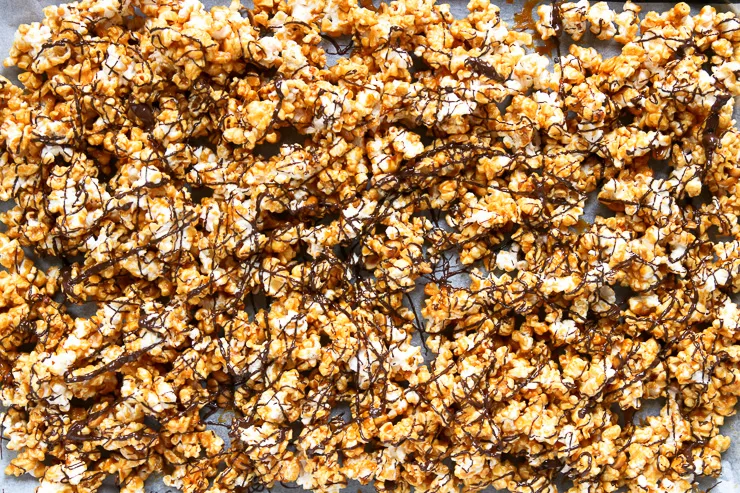 How do I make the caramel?
It's a pretty quick caramel to make! You'll need the following ingredients:
1 cup brown sugar
1/2 cup corn syrup
1/2 cup butter
1 tsp baking soda
Grab a saucepan and heat the brown sugar, corn syrup, and butter together over a medium heat. You want to keep it over the heat and stir until the caramel boils. Give it 2 minutes to boil without stirring then add in the baking soda.
It'll bubble quickly so have your popcorn on a baking sheet ready to go.
Be sure to line your baking sheet with wax paper or parchment to help with the clean up! It gets messy and sticky very quickly so any help to clean up is much appreciated.
What kind of nuts should I use?
I use peanuts that are salted since I usually have those on hands. You could use something like cashews or almonds to change up the textures and flavors!
What kind of chocolate should I use?
I typically use semi-sweet chocolate chips, but any type of chocolate would be good to use! Milk chocolate or dark chocolate would be more traditional, but white chocolate could be a great option too!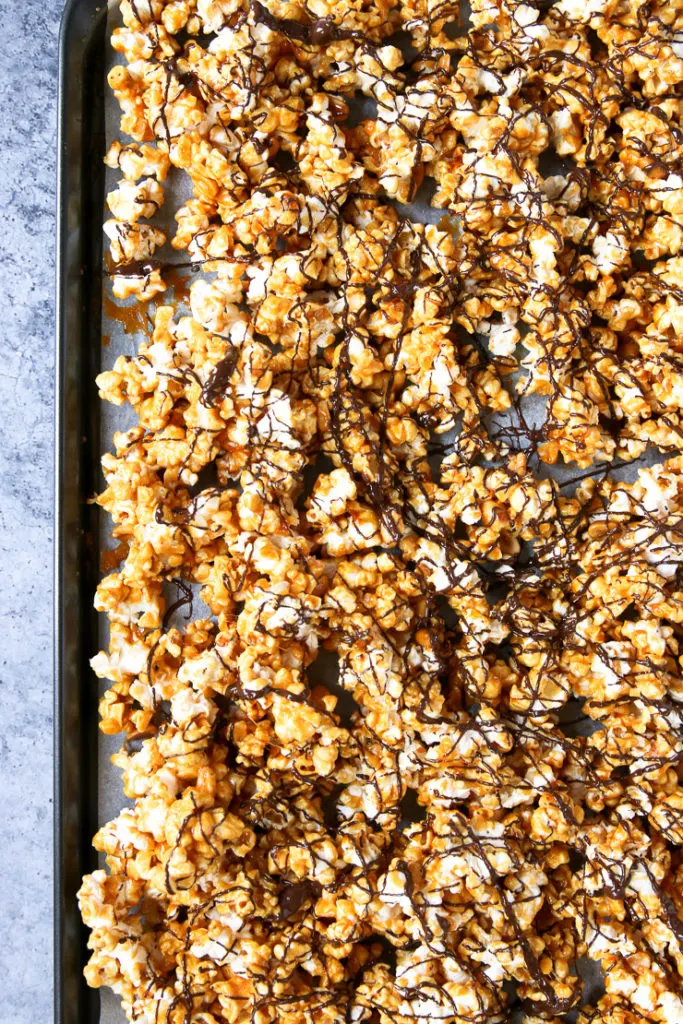 How long does copycat moose munch last?
Not long in my house! If you don't finish it as soon as it's done, it should last around a week in an airtight container before the popcorn gets a little stale tasting.
Looking for other dessert ideas? Try one of these:
Here's the original post and image from 2016 when I paired it with this Pomegranate Mimosa. Let's all celebrate an upgrade in camera equipment: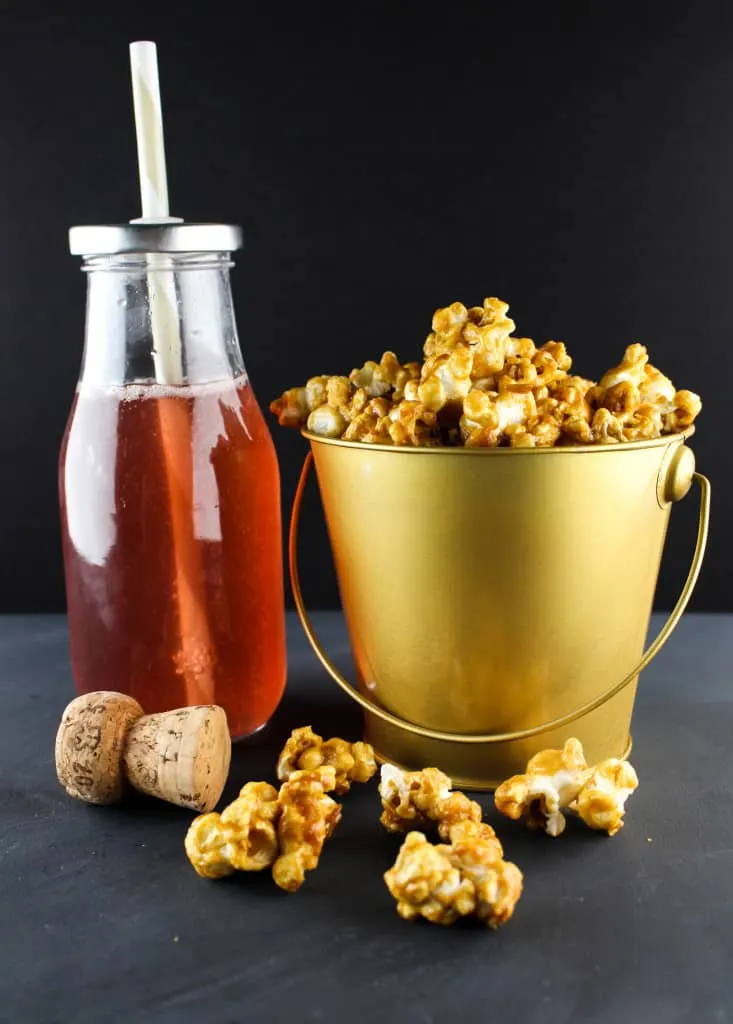 Oscars night is one of my favorites of the award show season just for the pure glitz and glamour of the entire event. The celebrities look gorgeous and are probably really hungry… while I'm in sweats and munching on this AMAZING copycat Moose Munch and sipping on my Red Carpet cocktail debating on which dress I would wear if I were ever in that situation.
Read – I will never be, but if I was, I'm pretty sure I'd just take a tumble like my girl J-Law.. probably much less elegantly too.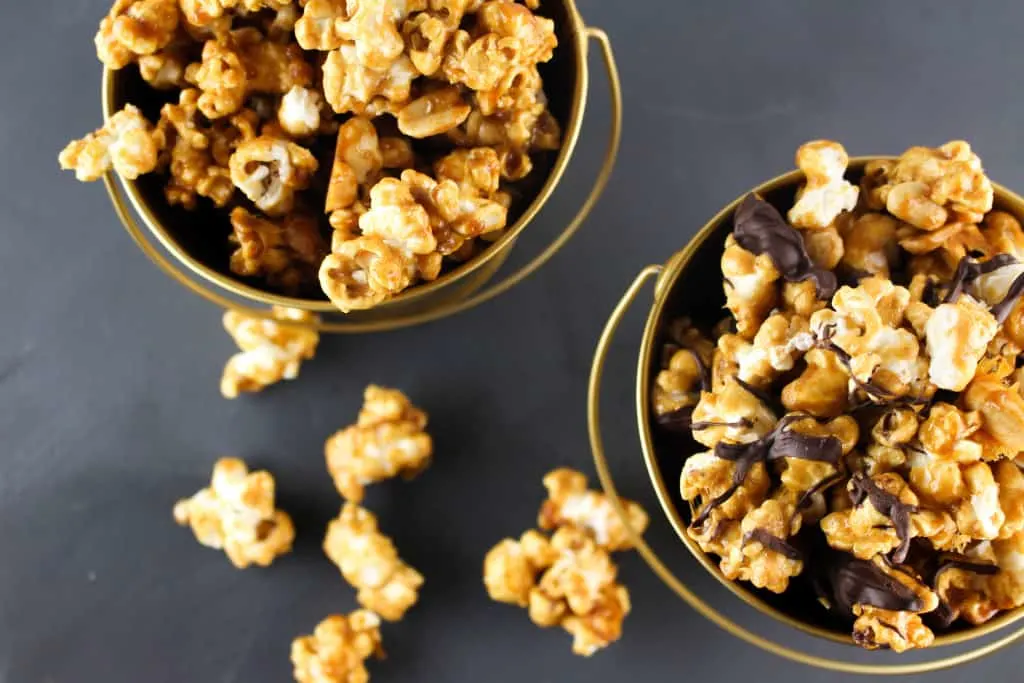 Popcorn and the movies are synonymous with one another, but I felt like it needed to be just as fancy as the night itself and what's more fancy than that luscious caramel.. Nothing. Maybe chocolate.. which is why that's thrown on there too.
Like… that caramel and peanuts… and chocolate together. I can't stop eating it. If I knew it was so easy to make, I would've been doing this years ago. There were so many cravings for caramel corn and Moose Munch that were completely unnecessary when I JUST COULD'VE MADE IT. It'll all be okay from now on.
Champagne was the obvious choice for the night. The red carpet needed to be honored beyond the multiple hours of interviews going on right now. Add a little pomegranate juice and homemade sour mix and bam. Perfect Oscar night drink. I probably could've been a little more creative with the name, but I have the Oscars to watch.
If you hear excessive cheering when (fingers crossed) Leo wins the Oscar finally, that's me.
Edit: He did get the Oscar.