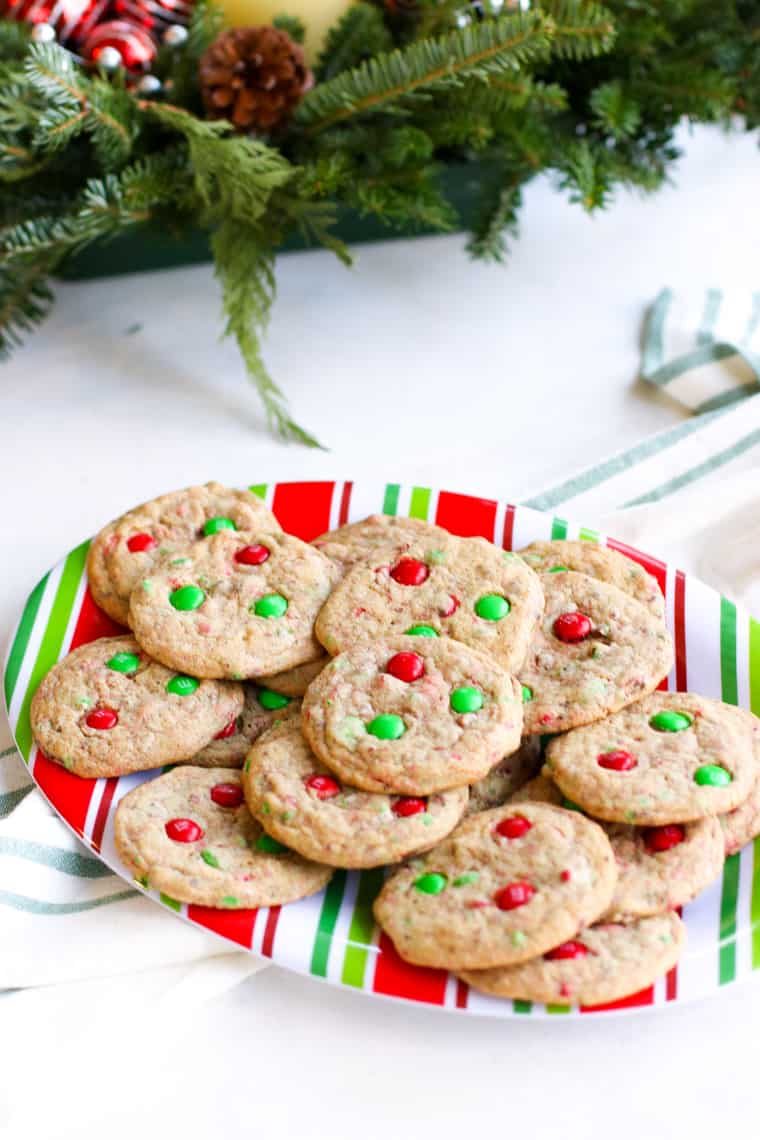 It's that time of year where gift giving and holiday parties are all around us. I wanted to get in on the holiday spirit that The Sweetest Season brings! I wanted to share My Mom's M&M Cookie recipe to contribute to the already amazing looking cookies this year.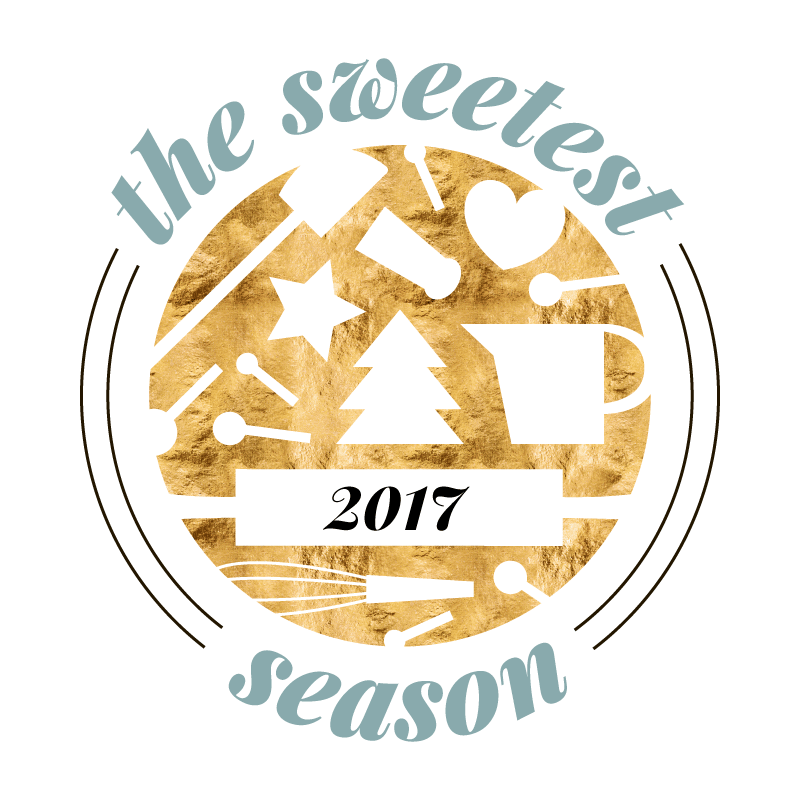 Erin, Susannah, Meg and Madison are the wonderful team behind this Sweetest Season Cookie Exchange so I'd love for you to go check out their cookies from this year and just go see their sites as a thank you for putting this whole thing on!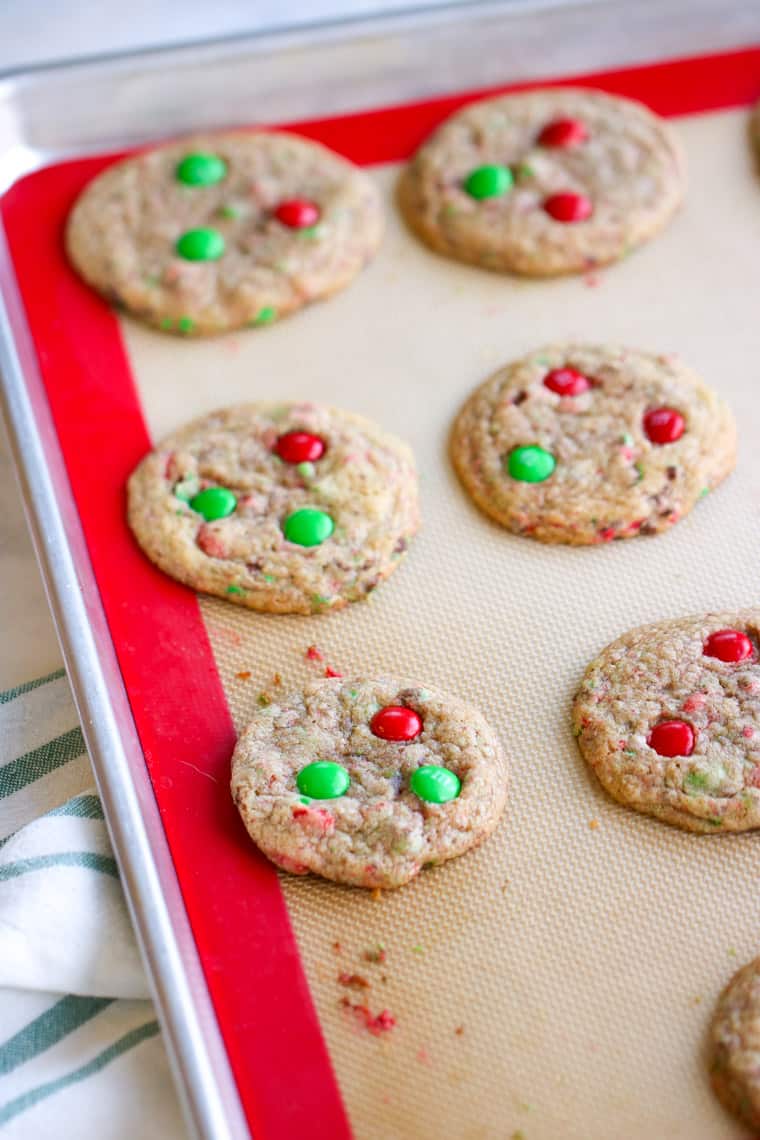 Our fearless leaders thought of a great idea and wanted to make sure this truly was the sweetest season yet. They've dedicated this season to adding joy to the holiday season as well as raising money for Cookies for Kids' Cancer.
Cookies for Kids' Cancer, founded in 2008, is committed to raising funds for research to develop new, improved, and less toxic treatments for pediatric cancer. When their 2-year-old, Liam, was diagnosed with childhood cancer in 2007, Larry and Gretchen Witt were shocked to learn of the lack of effective treatments due to lack of funding and pledged their support to the cause. With the help of 250 volunteers, Gretchen baked and sold 96,000 cookies and raised $240,000 for research.
Consider donating to our Cookies for Kids' Cancer fundraiser this year!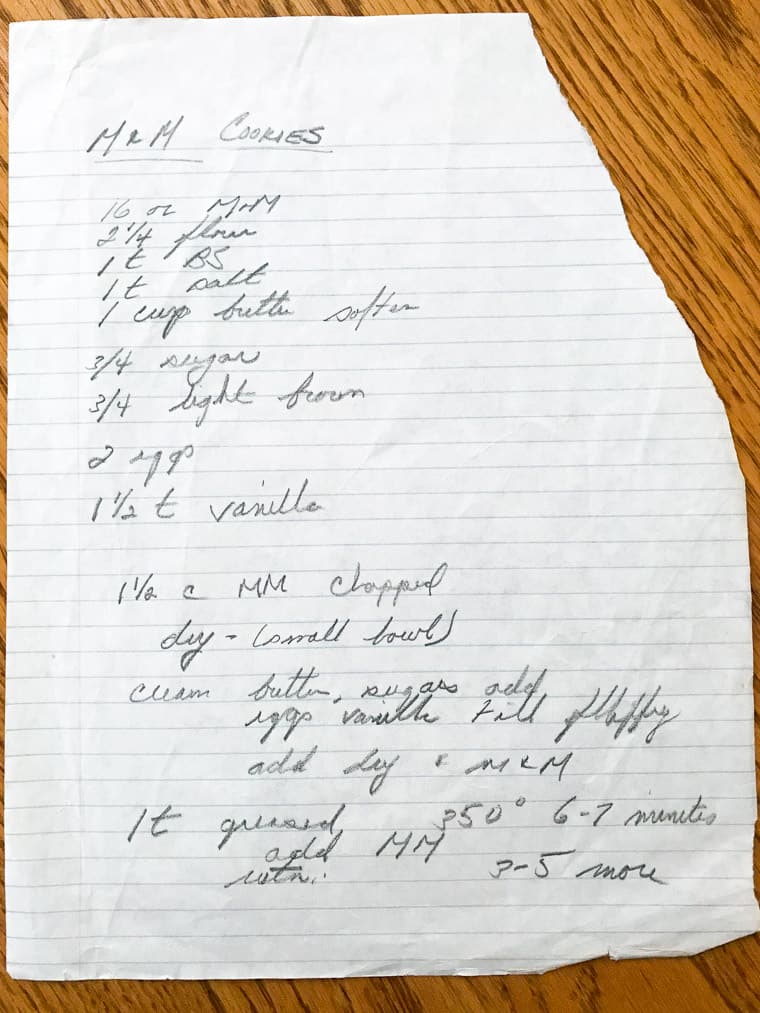 As you can see, this recipe is tried and true and tested and well-loved. It's the one cookie I remember making every year for Christmas.
My job was always to crush the M&M's in a bag with a rolling pin for my mom. I'm sure a food processor would work just as well now, but there's something about doing it by hand that brings me back.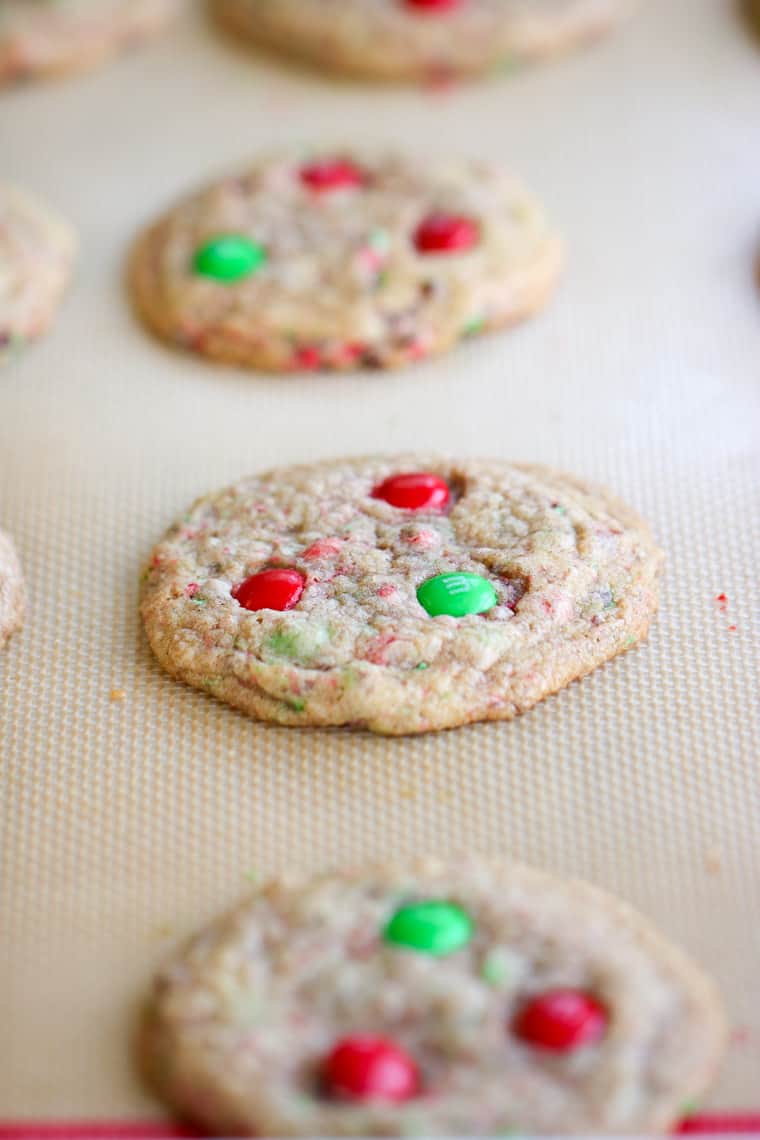 I love the little bit of M&M in each bite too and all of the colored flecks throughout make them extra festive.
I'll be the first to say these cookies are a little flat, but I promise, they are the chewiest cookies you'll ever have. Even after a few days they stay super chewy. They also get a lace cookie like texture on the bottom with the sugar and butter which I love.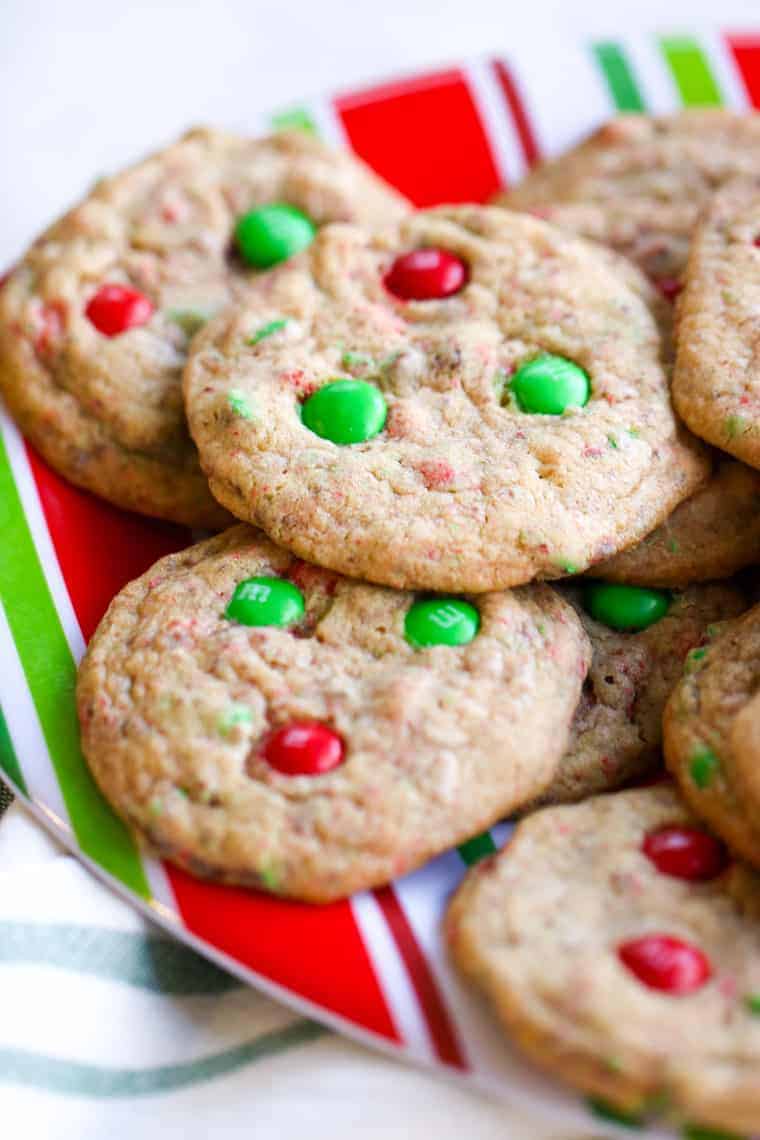 I hope this post inspires you to bring some joy to your family and others with these cookies and perhaps a donation to the Cookies for Kids' Cancer fundraiser!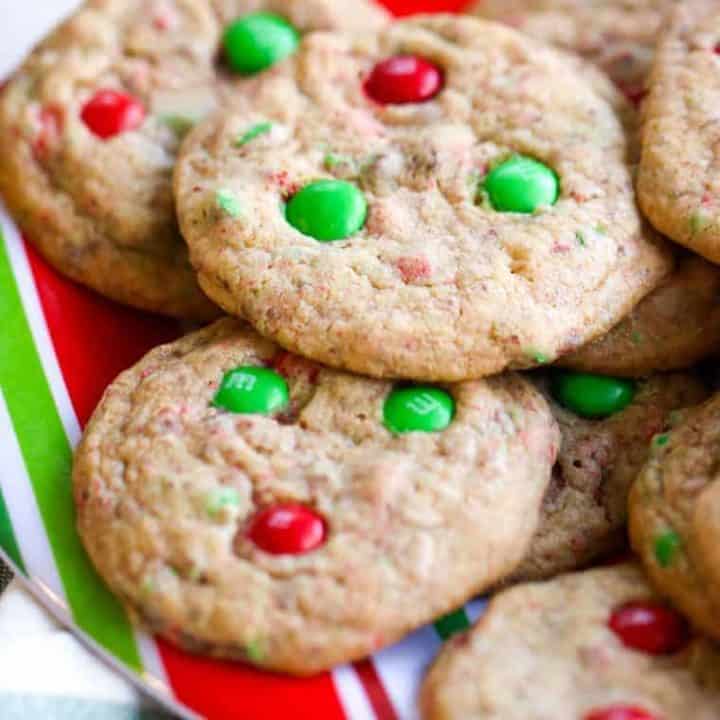 Mom's M&M Cookies
My Mom's M&M Cookies are easy to make and are sure to be a crowd pleaser!
Ingredients
2 1/4 cups flour
1 tsp baking soda
1 tsp salt
1 cup butter, softened
3/4 cup sugar
3/4 cup light brown sugar
2 eggs
1 1/2 tsp vanilla
11 oz M&Ms
Instructions
Preheat oven to 350F.
Combine flour, baking soda, and salt in a small bowl.
Cream together the butter and sugars with a beater in a large bowl. Add eggs and vanilla and beat until fluffy.
Place about 1 cup of M&Ms into a sandwich bag and crush up with a rolling pin or hammer. You could also pulse in a food processor. Save the remaining M&Ms to place on top of the cookies.
Slowly add in the dry ingredients and crushed M&Ms into the wet ingredients and mix until well combined.
Use a 1 tbsp scoop to put cookie dough on a cookie sheet. I'd recommend with using parchment paper or silicon mat.
Place in oven for 6-7 minutes. Remove from oven and carefully place M&Ms on top. Bake another 3-4 minutes. Remove from oven and let sit another 3-4 minutes on the sheet before removing.
Recommended Products
As an Amazon Associate and member of other affiliate programs, I earn from qualifying purchases.
Nutrition Information:
Yield:

36
Serving Size:

1
Amount Per Serving:
Calories:

151
Total Fat:

7g
Saturated Fat:

4g
Trans Fat:

0g
Unsaturated Fat:

2g
Cholesterol:

25mg
Sodium:

151mg
Carbohydrates:

20g
Fiber:

0g
Sugar:

13g
Protein:

2g
Did you make this recipe?
Please leave a comment on the blog or share a photo on Instagram