Red Velvet Cake Mix Cookies only need a few ingredients for some of the fluffiest cookies you'll ever make! Learn how to make Red Velvet Cookies with cake mix in just a few steps.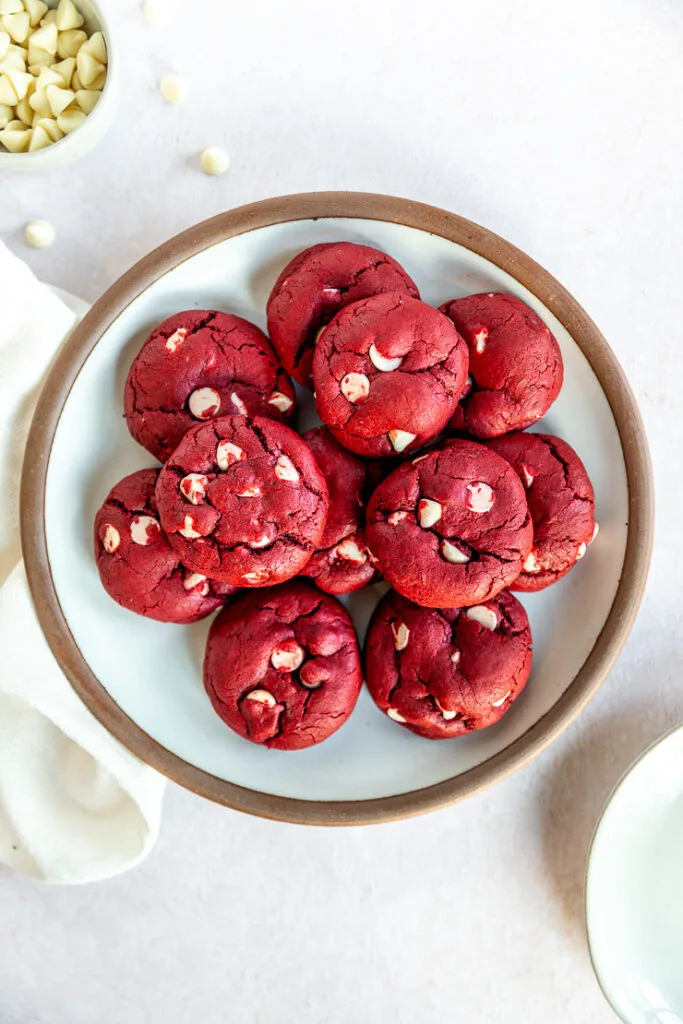 Red Velvet Cake Mix Cookies
Red velvet cake has to be one of my favorites desserts for its rich, indulgent flavor, and beautiful reddish-brown color. The fact that you can turn that boxed cake mix into a cookie?! Mind-blown.
You'll just need some eggs and oil to turn the mix into fluffy bites of cakey cookies. You definitely won't be able to eat just one.
They're the perfect red color to make for Christmas cookies or even for Valentine's Day!
The Culinary Compass participates in several different affiliate programs. As an Amazon Associate, we earn from qualifying purchases.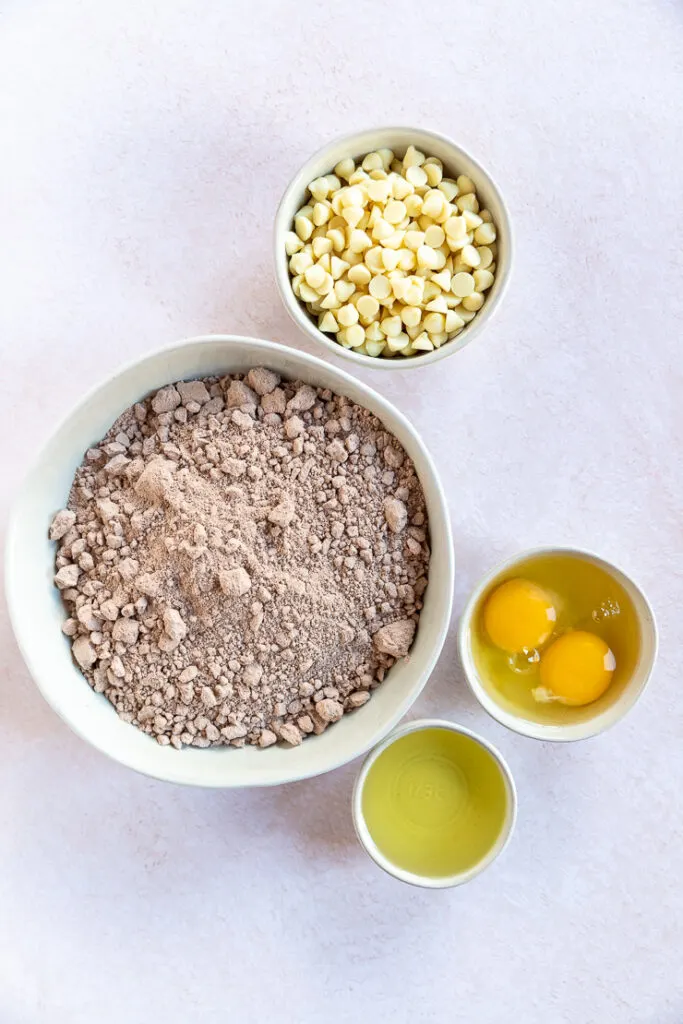 Red Velvet Cake Mix Cookies Ingredients
You only need a few ingredients to make these cookies:
Red Velvet Cake Mix – A 15.25 ounce box of red velvet cake mix will work perfectly make 24 cookies. I love Duncan Hines!
Eggs – Depending on the size of your eggs, the dough make be sticky – try adding a tiny bit of flour if the dough is unmanageable.
Vegetable Oil – Any neutral flavored oil should work.
White Chocolate Chips – Technically optional, but delicious!
Ingredient Substitution and Variations
If red velvet cookies aren't your thing, try using another type of cake mix! I love these Lemon Crinkle Cookies for a springy flavor.
Vegetable oil can be swapped out for any neutral flavored oil like canola oil.
While white chocolate chips are my favorite with these cookies, you can add in whatever you'd like, if anything at all!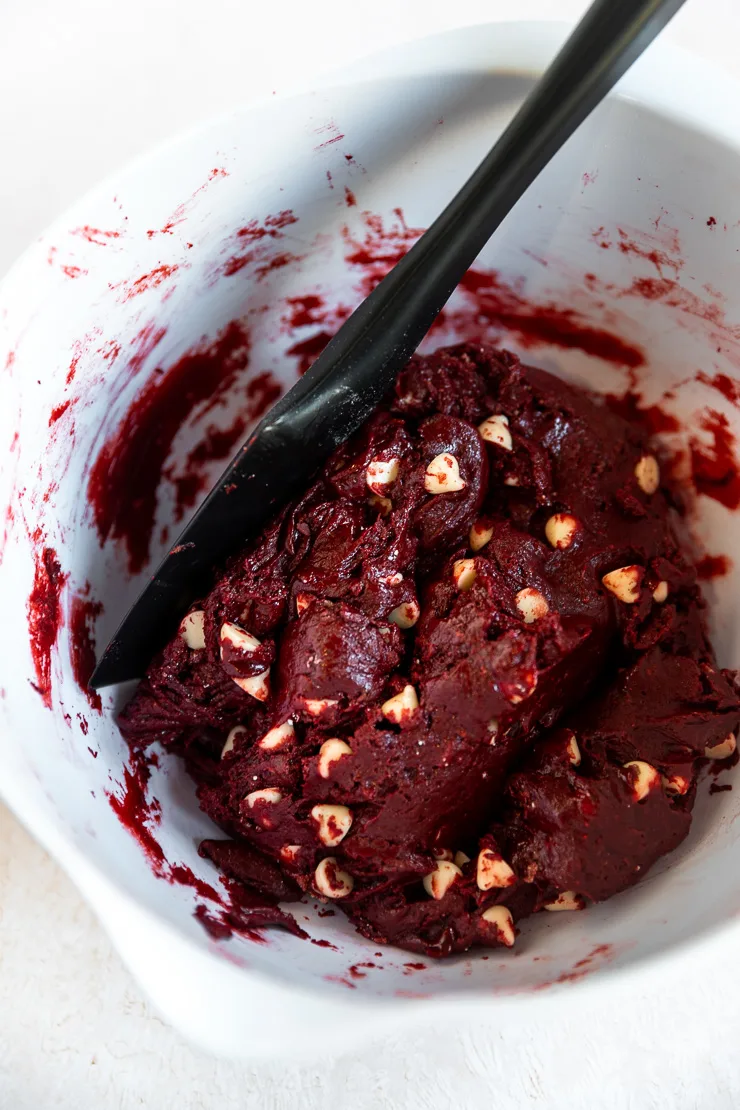 Can I add any additional ingredients or toppings?
I love these cookies because you can change them up to whatever you'd like them to be! Try rolling the dough in some powdered sugar to give them the classic red velvet crinkle cookie look.
You can also try drizzling white chocolate on top, or creating a cream cheese frosting for a true red velvet cake flavor!
How do I store the cookies?
Cake mix cookies can be stored in an airtight container to keep them fresh and delicious. This will help prevent the cookies from drying out and losing their flavor and texture.
Be sure to allow the cookies to cool completely on a wire rack before transferring them to an airtight container with a tight fitting lid at room temperature.
Something my mom did growing up was to include a piece of white bread in the container with cookie to help the cookies last even longer! The moisture from the bread will help the cookies retain their moisture even longer. It's a great trick for mailing cookies to loved ones, too!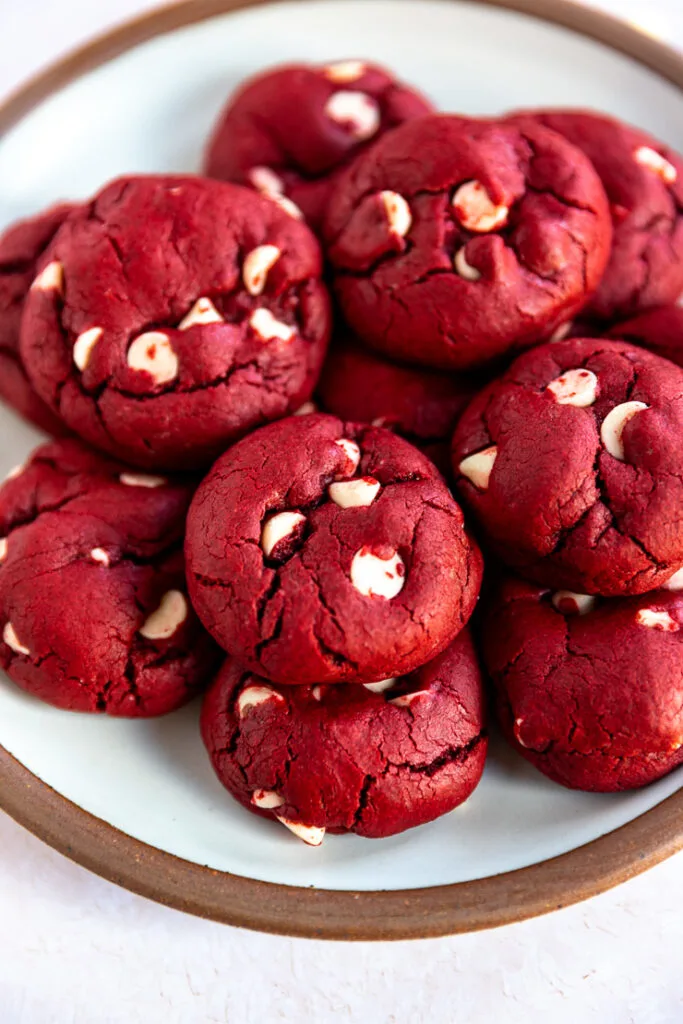 Can I freeze the cookies?
Definitely! You'll want make the cake mix cookie dough according to the directions then drop spoonfuls of dough balls onto a lined baking sheet and freeze the cookies until they are solid.
Once they are frozen, transfer the cookies to a resealable plastic bag or airtight container and store them in the freezer for up to 3 months.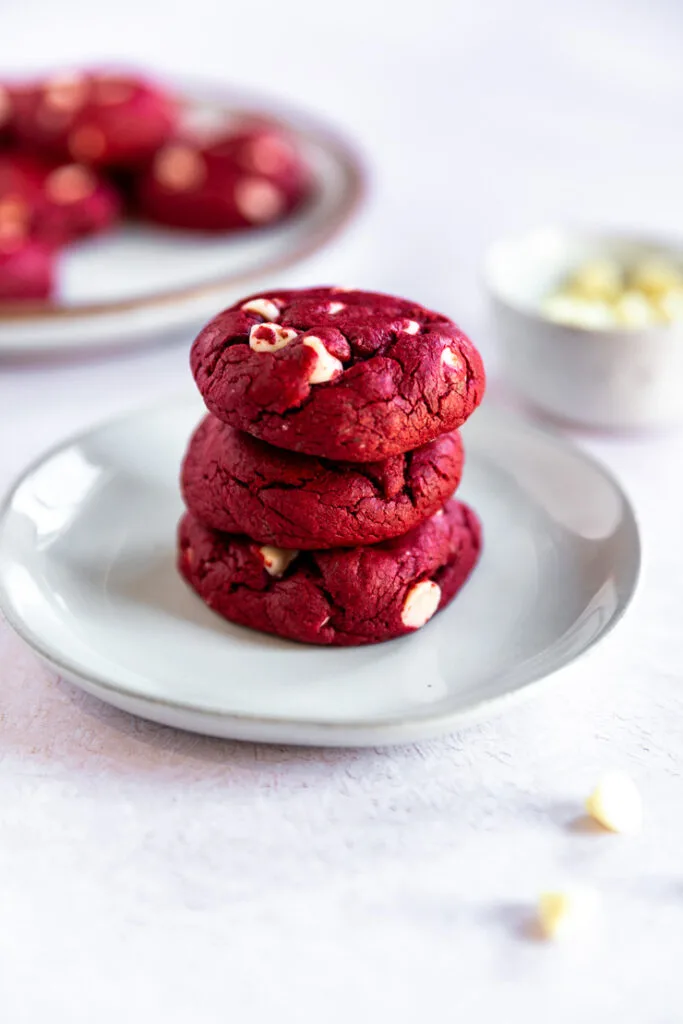 How to make Red Velvet Cake Mix Cookies
To make red velvet cake mix cookies, you should first preheat your oven to 375°F.
In a large bowl, mix red velvet cake mix, eggs, and vegetable oil until thoroughly combined. Fold in some white chocolate chips, and roll the dough into 1-inch balls.
Place the balls on an ungreased cookie sheet and cook them for 7-9 minutes, or until the edges are brown and the middle is still gooey. You may need to cook the cookies in two batches.
Once they are done, allow the cookies to cool slightly and then enjoy!

The Sweetest Season
This cookie is brought to you in collaboration of the The Sweetest Season! My friends Erin from The Speckled Palate and Susannah from Feast + West put together a virtual cookie-swap with a bunch of food bloggers creating delicious recipes.
This year we are raising money for Cookies 4 Kids' Cancer which makes it even sweeter. C4KC is a recognized 501(c)3 non-profit organization dedicated to funding research for new, innovative and less-toxic treatments for childhood cancer.
Another exciting thing is that Cookies for Kids' Cancer is in a matching window with their friends at OXO, meaning OXO will be matching every dollar raised through the end of 2022, up to $100,000. **Whatever money we raise will automatically double on our fundraising page!
More Cookie Recipes