This Ginger Snaps recipe results in the perfect cookie! It's chewy, flavorful, and hard to share.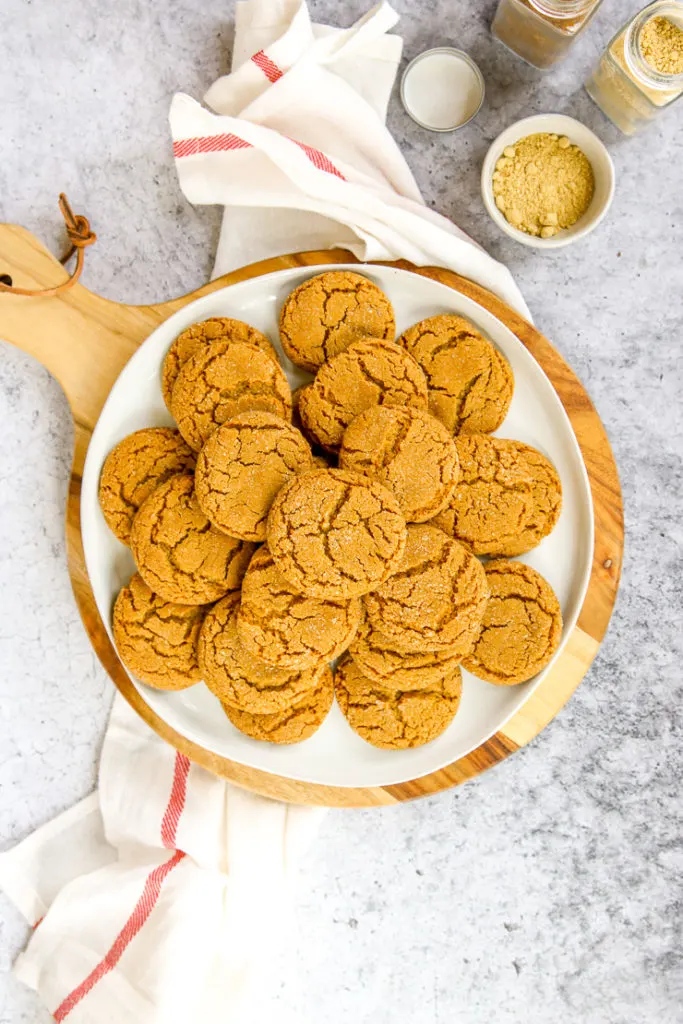 Ginger Snaps Recipe
I always thought I'd never like any cookies that weren't centered around chocolate or peanut butter. That is until I discovered ginger snaps!
One of my high school friends would make these amazing ginger molasses cookies that got me hooked. It's like a bite of the holidays, which is really just delightful.
These Ginger Snaps will be on repeat for your holiday cookie rotation once you try them!
The Culinary Compass participates in several different affiliate programs. As an Amazon Associate, we earn from qualifying purchases.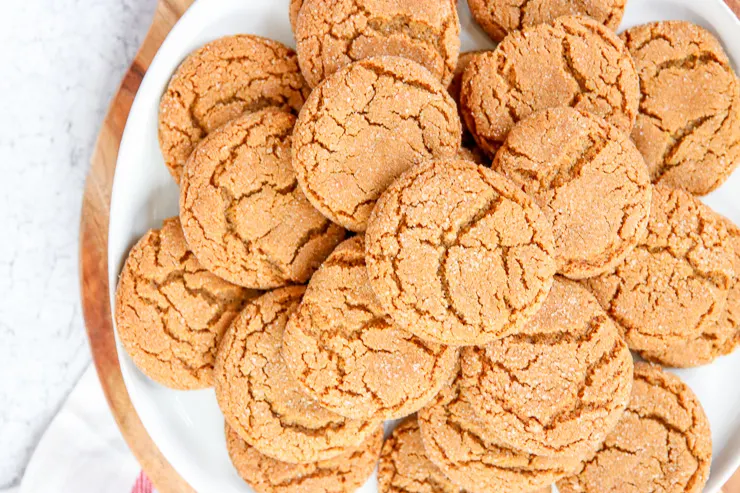 Why are they called Ginger Snaps?
Ginger Snaps are said to have the name because of the obvious snapping sound that the crunchier versions of this cookie make.
This also comes from the origins of the cookies from years ago. Gingersnaps came over from Europe so the name is derived from a German word "snappen" which means "to seize quickly."
You may also hear of cookies or biscuits called ginger nuts, but there are very passionate people who will tell you those are different cookies altogether.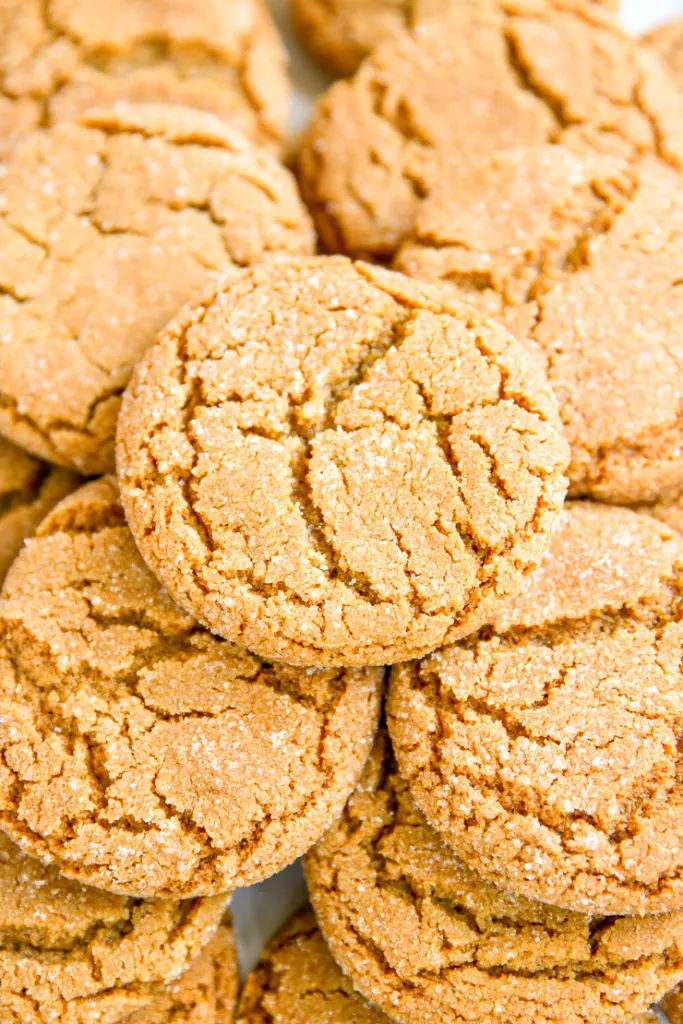 Are these ginger snaps chewy or crunchy?
They're the perfect combination of both! It's got the perfect chewy middle and just crunchy enough edges to give you a perfect bite.
I've also found that if you microwave a cookie for about 10 seconds, it makes it even chewier!
What are the spices in this recipe?
Of course there is a lot of ginger in this recipe to give a nice and warm spice to the cookie! There's also cinnamon to really bring in those holiday flavors.
The spices in gingersnaps recipes derives from gingerbread spices so you'll see that some recipes call for nutmeg, clove and allspice, but I tend to like a more ginger forward cookie myself.
If you're looking for another desert with some warm spices, try out these Biscoff blondies!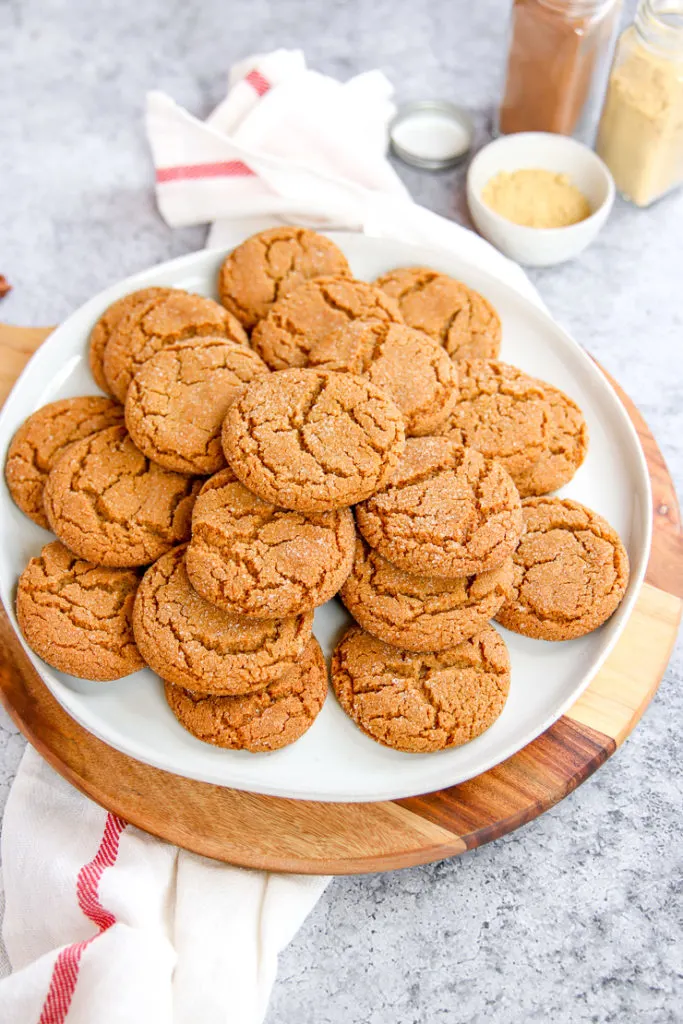 How to Make Ginger Snaps
To make Ginger Snaps, you'll want to first measure your flour, ginger, baking soda, cinnamon and salt.
I like to do this in a sifter that placed over a bowl so you don't make a mess and so you can sift those ingredients in the creamed mixture later.
Next, you'll use a hand mixer or stand mixer with a paddle attachment to cream the shortening until it's soft. Once it is, you can gradually add in the sugar being sure to cream the mixture after each addition.
When the sugar is fully incorporated and creamed in, add in the egg and molasses then combine.
Grab the dry ingredients and sift those together over the creamed mixture blending well to ensure that it's all combined.
Finally, you'll make 1" balls with the dough – using a cookie scoop for this help make each even! You'll roll each one in sugar then put it on an ungreased baking sheet.
Bake for 10-12 minutes in a preheated oven and you're all set! Repeat until your dough is all baked. Be sure to bake for a lower amount of time if you're looking for chewier cookies too!
Looking for other holiday treats to share? Try one of these: