These Pecan Turtles will be one of your favorite easy chocolate caramel desserts! Learn how to make pecan turtles with only 5 ingredients.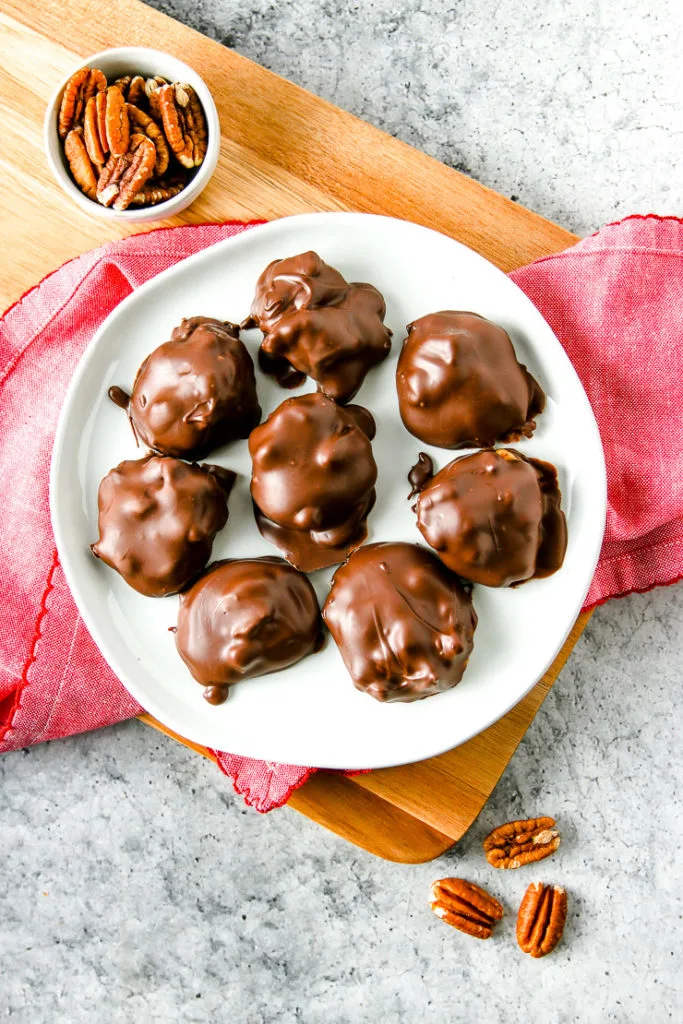 Pecan Turtles
I found this Pecan Turtle recipe handwritten from my grandmother so I was excited to try. It's a super easy recipe which makes it even better!
The original recipe called for paraffin to help make the candy coating, but I found that using chocolate candy melts worked just fine!
We always get a huge bag of pecans from my grandfather every year so I think this recipe is the perfect dedication to the both of them.
The Culinary Compass participates in several different affiliate programs. As an Amazon Associate, we earn from qualifying purchases.
Why are chocolate turtles called Turtles?
Chocolate turtles earned their name from their shape that they often take.
A pecan dipped in caramels and chocolate looks like a turtle!
Are pecan delights the same as turtles or turtle pecan clusters?
Both pecan delights and turtles are made up of chocolate, caramel, and pecans so they're very similar!
You may just find them called different things depending on the brand that makes them. Turtles are pretty common while Russell Stover is known for their Pecan Delights.
How long do chocolate caramel turtles last?
They only last as long as you have the restraint for! They will last even longer if you hide some for yourself.. I promise I won't tell anyone.
In all seriousness, they'll last about 2-3 weeks at room temperature in an airtight container.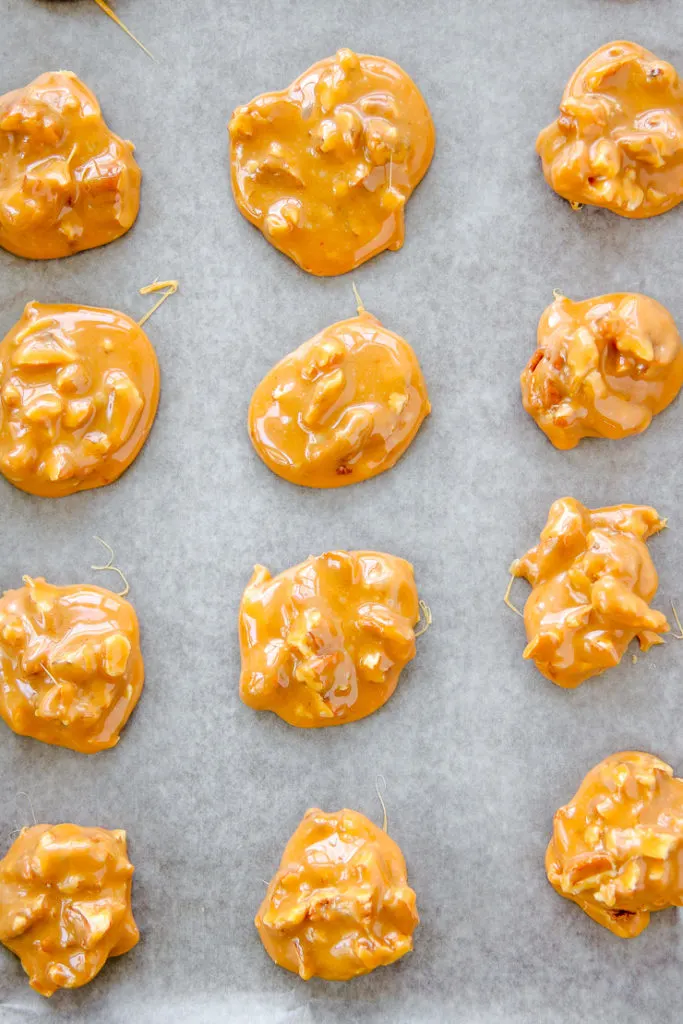 Can you freeze pecan turtles?
Yes! They hold up pretty well in the freezer and can last up to 3 months.
It's a great recipe to double and hide some extras in the freezer for when you want a sweet treat!
Be sure to just thaw the turtles rather than microwave them or you'll end up with a clump of melty chocolate and caramel.
Can you make your own caramel mixture?
You can! I find that melting down the caramels from the store to be much quicker and a little less intimidating, but you could absolutely make your own caramel.
Here's a great guide on how to make homemade caramels. Since it's more of a science, you'll want to have a candy thermometer or a digital thermometer on hand to help get you to the right stage of caramel.
Homemade caramel usually consists of a mixture of sugar, butter, evaporated milk, and corn syrup boiled together. Some may call for brown sugar or sweetened condensed milk as variations. You can also add sea salt in the mixture or on top to get that perfect balance of sweet and salty.
What else can I substitute in these turtles?
These are super versatile so you can make them fit your taste preferences!
You could add in walnuts or peanuts instead of pecans, or even crushed up pretzels to add another type of crunch.
A quick way to get the same flavors are to bake some Rolos on a pretzel and stick a pecan on top!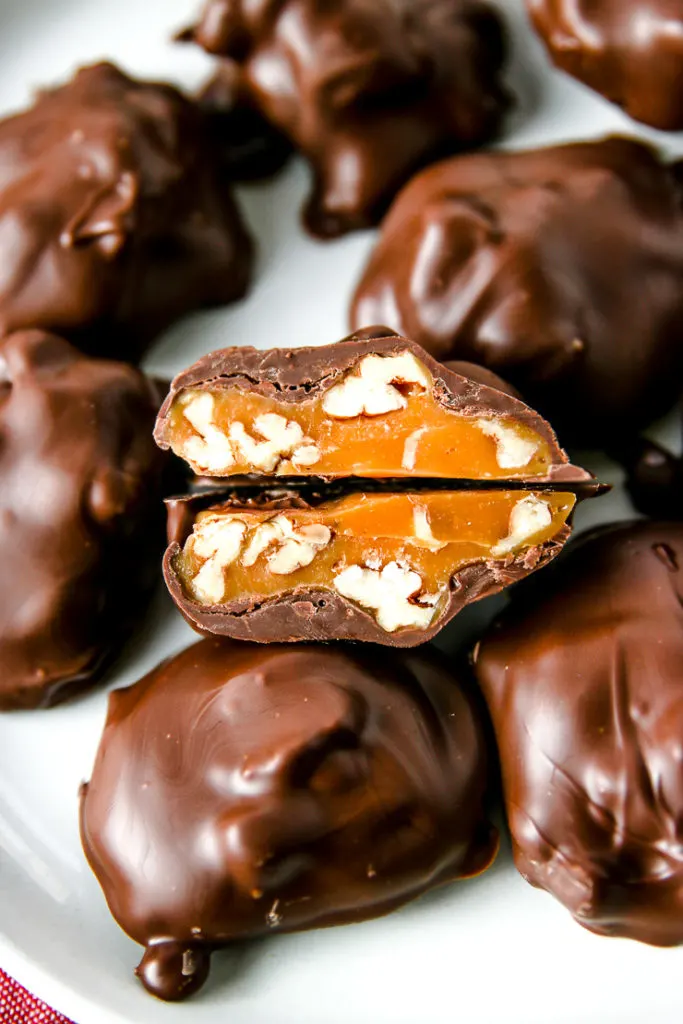 How do you make chocolate covered turtles from scratch?
Making this chocolate pecan turtle clusters recipe is a breeze! Here's how it comes together.
Prepare a cookie sheet lined with parchment paper or a silicone baking mat. Try not to use wax paper as that may stick to the caramels.
Unwrap your bag of caramel candies and add them to a small sauce pan over low heat with the butter and water. Keep stirring it so the mixture melts together and is smooth.
Once that's melted, stir in your chopped pecans or whatever nut you'll be using.
Use a cookie scoop or tablespoon measure to spoon out one tablespoon of the mixture onto the prepared cookie sheet and continue this for all of the mixture. You'll want to freeze this so it's easier to handle and dip!
After they're solidified, prepare the candy melts according to the packaging. This usually just involves adding the chocolate chip melts into a microwave safe bowl and heating it up for 30 seconds and stirring until it's melted completely.
You can pick either milk chocolate or dark chocolate! Either suits the candy and is really up to your preference.
You'll carefully dip each turtle into the melted chocolate and put back on the cookie sheet to let set!
You can leave those out at room temperature to set and you're ready to serve!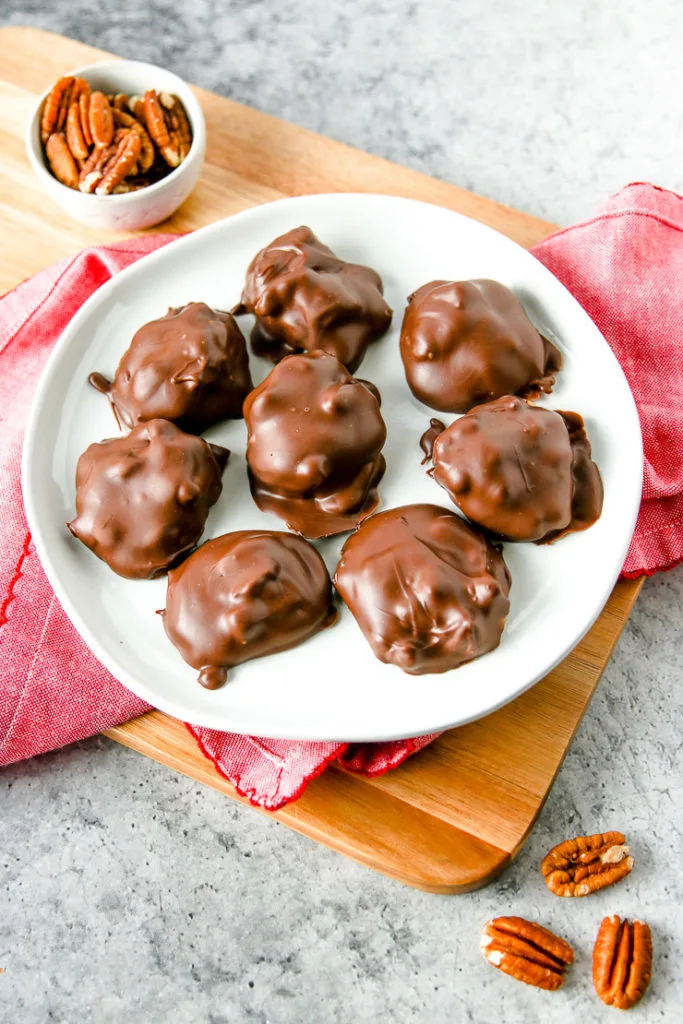 Looking for other great dessert options? Try one of these: