Rolo Pretzel Turtles are a delicious and easy dessert that combines pretzels, Rolo candies, and pecans. These bite-sized sweets are perfect holiday treats, or anytime you want a sweet and salty treat!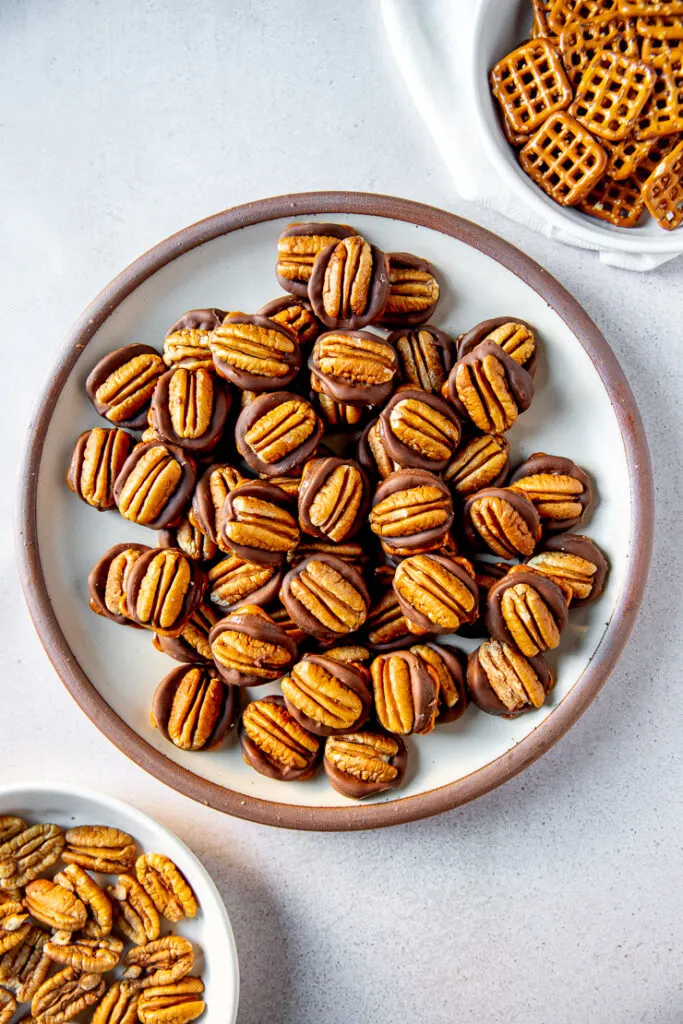 Rolo Pretzel Turtles
Rolo pretzel turtles are a spin on the classic turtle candies, but only made with three ingredients making them the easiest treat to make! They're a fun way to get the whole family involved, no matter the age.
The combination of the crisp, salty pretzel, gooey chocolate and caramel Rolo, and crunch from the pecan half makes the perfect blend for a sweet and savory treat. It's hard to have just one!
These rolo turtle pretzels also make a great sweet treat for cookie exchanges for the holidays or Valentine's Day or party treat! The best part is that they can be easily customized with different types of toppings to make them your own with whatever flavor combo you like.
The Culinary Compass participates in several different affiliate programs. As an Amazon Associate, we earn from qualifying purchases.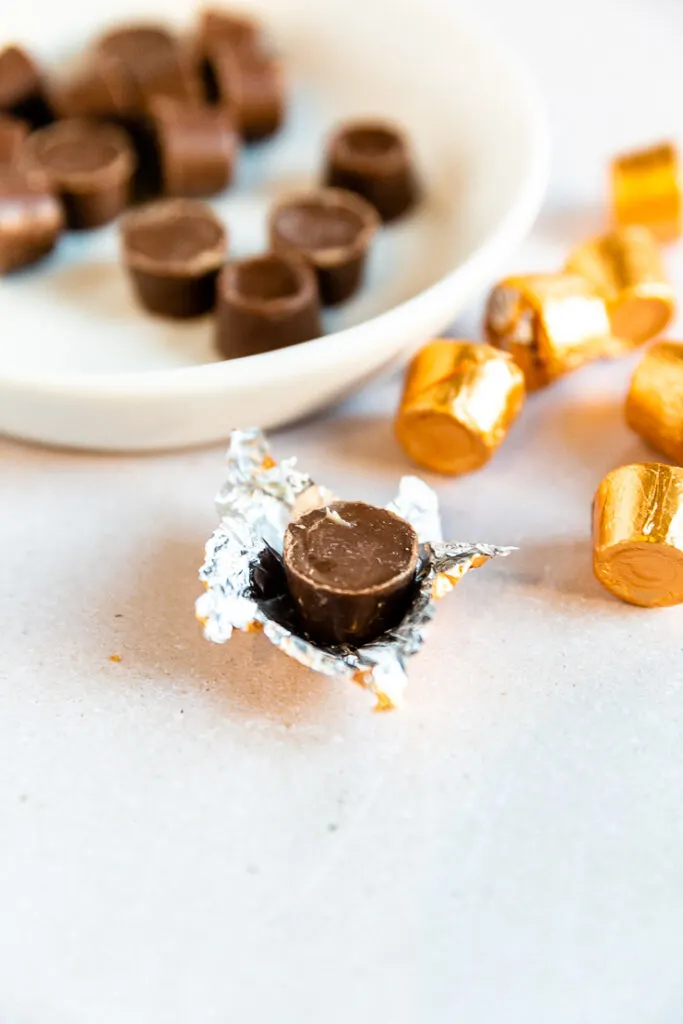 Rolo Pretzel Turtles Ingredients
You just need a few ingredients for this pretzel turtles recipe:
Rolo chocolate candies
Square shaped pretzels
Pecan halves
Ingredient Substitution and Variations
These pretzel turtles can be made in an endless combination of toppings! Instead of using Rolo candies, you can use other types of mini candy bars or chocolate caramel candy, such as Ghirardelli caramel chocolate squares, mini Reese's peanut butter cups, or Hershey's Kisses.
Different types of nuts can also change the overall flavor and texture like using almonds, hazelnuts, or cashews instead. You could even dice them up and make a blend to top the chocolate with.
You can even leave off the pecan half altogether! Top it with some white chocolate chips, M&Ms, Reese's Pieces, sprinkles, or crushed candy canes to really make them unique.
If you can't find square pretzels, really any mini pretzels will work great. You can also microwave the pretzel and Rolos together for 20-30 seconds to make them even quicker, but the texture will be chewier rather than crisp from the oven.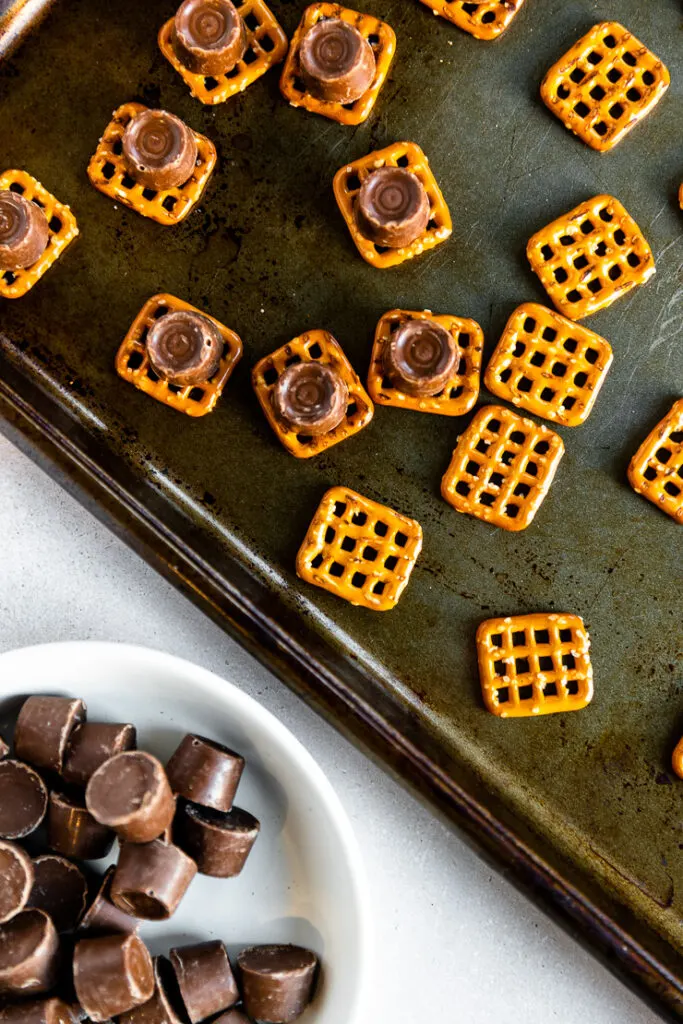 Can you store pecan rolo pretzels and how long do they last?
Rolo pretzel bites can be stored in an airtight container at room temperature and will last for 5-6 days this way, but I can almost guarantee they'll be gone long before that!
You can also store them in the refrigerator for them to keep a bit longer. You can either bring them to room temperature first to enjoy, eat them cold, or warm them in the oven to crisp up the pretzel and melt the Rolo again.
Can you freeze pretzel rolo turtles?
Definitely! When the pretzel turtles are room temperature, place them on a baking sheet or plate in a single layer to freeze. Once frozen, you can move them over to a plastic bag and store them for up to 3 months.
To thaw them, place them in your refrigerator overnight and either warm them up before serving, or serve them cold.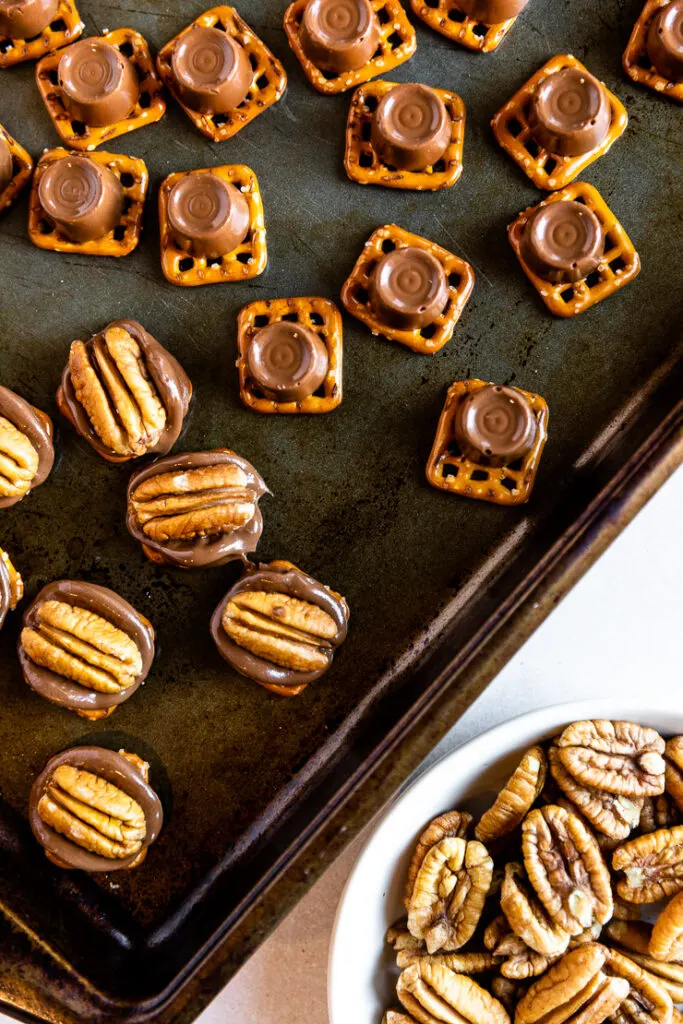 How to make Rolo Pretzel Turtles
To make rolo pretzel turtles, preheat the oven. On a cookie sheet, place pretzels in a single layer. Place the unwrapped Rolo chocolates on top of each pretzel. You can also use parchment paper on the baking sheet for easy cleanup from the melted chocolate.
Bake the pretzels in the oven for 3-5 minutes, or until the Rolos are soft but not melted. The baking time may vary depending on your oven, so be sure to keep an eye on them! Remove the baking sheet from the oven and quickly press a pecan half on top of each of the melted Rolos.
Let the pretzels cool for a few minutes before serving (probably the hardest part of the whole recipe) so the chocolate firms and enjoy!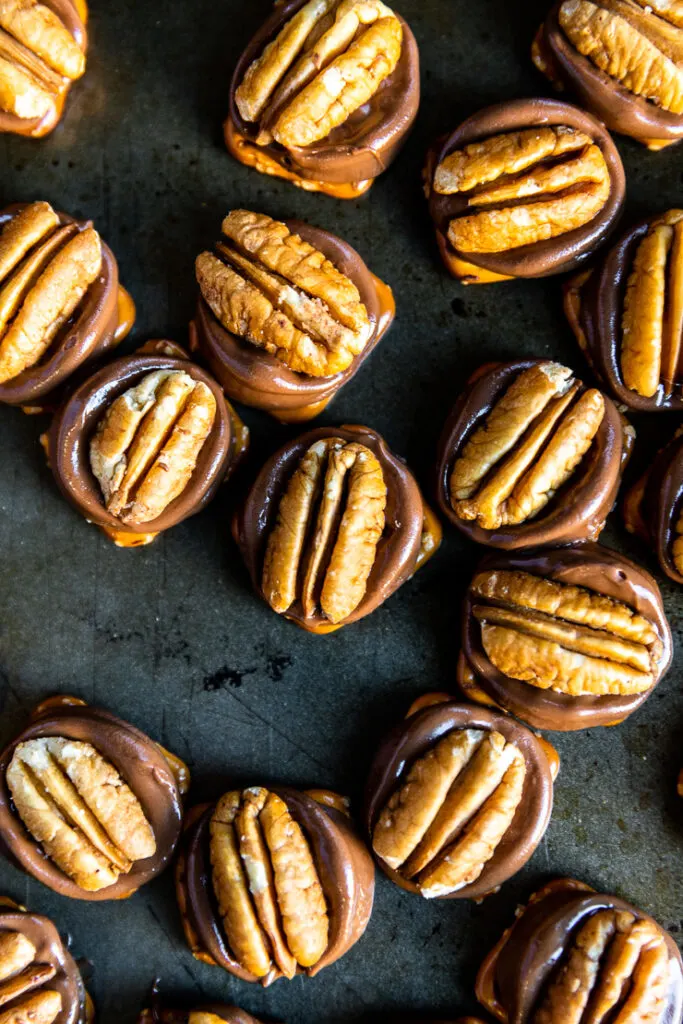 More Pecan Desserts: