This Easy Candied Pecans Recipe is made on the stovetop with just 4 ingredients! It just takes a few steps to learn how to candy pecans with cinnamon and no eggs.
Easy Candied Pecans Recipe
Every winter, my grandfather sends my family a few pounds of pecan halves. Coming up with new recipes, like these Pecan Turtles, and ways to use all the pecans halves has been a goal of ours. This Easy Candied Pecans recipe is a winner!
It only takes 4 ingredients and doesn't need an oven making it a perfect dessert for both summer and winter! You won't need to heat up the kitchen in the summer to make dessert, and you won't need to adjust your holiday baking schedule at all in the winter.
This recipe is gluten free and easy enough to swap out with vegan ingredients to make it a dish for lots of your friends and family!
The Culinary Compass participates in several different affiliate programs. As an Amazon Associate, we earn from qualifying purchases.
What ingredients to do I need to make candied pecans?
This recipe only calls for four ingredients:
Pecan halves – You could also use crumbled or crushed pecans, but halves make the process really easy.
Salted butter – Using salted butter helps add a good balance to the dish overall.
Granulated sugar – This should melt really easy into the butter to make a sugar coating for the pecans.
Ground cinnamon – It adds a bit of extra flavor to the pecans! Cinnamon sugar is great on everything, right?
Can I add other flavors to the pecans?
Always! You can make these your own. Removing the cinnamon for a more basic flavor is totally ok, or you could add nutmeg for some holiday spices.
Consider adding smoked paprika or cayenne pepper to add some kick, or some herbs to make them even more savory.
Topping the final coated nuts in a little sea salt also adds a nice balance to the nuts if you're looking for more savory options, or aren't big on sweets!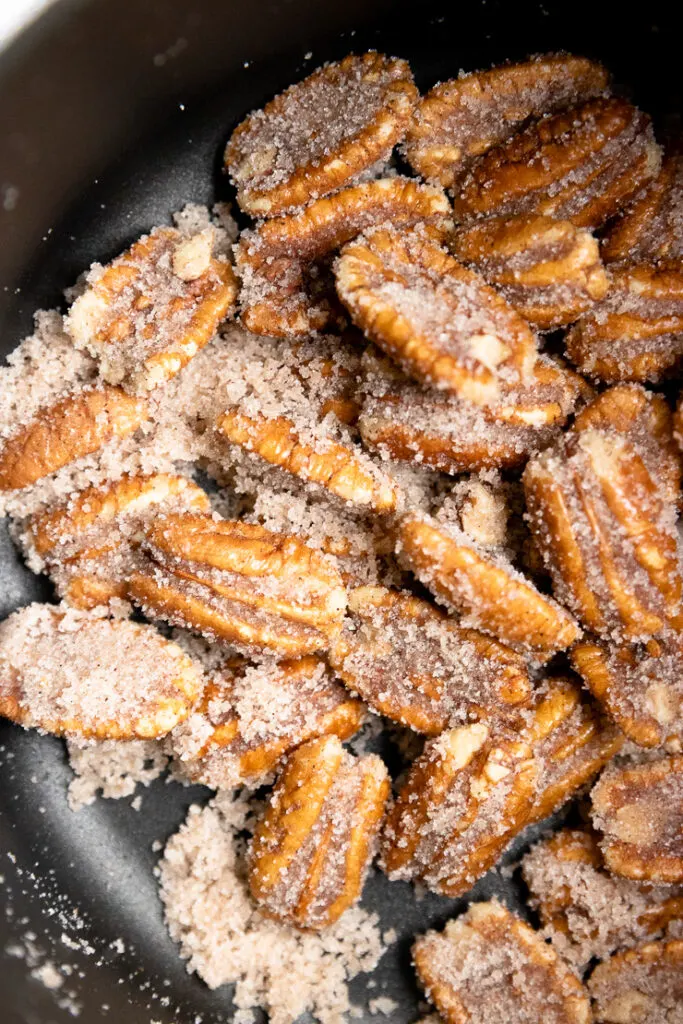 Do I need to bake the pecans?
For this recipe, you won't need to turn on the oven at all so you can even save time from getting to preheat the oven.
You will need to prepare a cookie sheet with parchment paper for the pecans to cool, but other than that, it takes less than 10 minutes on the stovetop to make.
Does this recipe call for eggs?
It does not! Some candied pecan recipes call for egg whites to help bind the mixture to the nuts, but since this is a super simple recipe, the less ingredients there are, the better.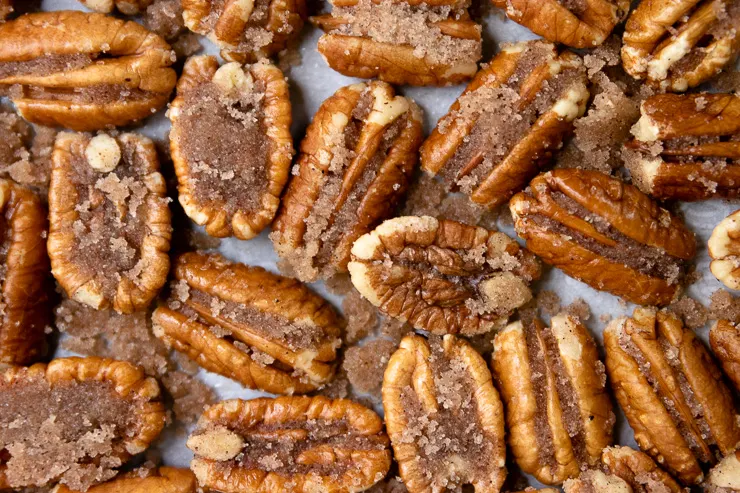 Should I use pecan halves or chopped pecans?
We always use pecan halves since that is what we have on hand, but chopped pecans would also work great.
It may be a little more challenging to get the chopped pecans covered all the way, but it shouldn't require too much more effort.
You could also consider what you're making these for to help decide! Is it a topping on a dish? Maybe go with chopped. If it's a dessert on it's own, halves would be the way to go!
Could I use other types of nuts?
Yes! Pecans are always what comes to mind when making candied nuts in my family, but walnuts, almonds, cashews, pistachios, or peanuts. All shelled, of course!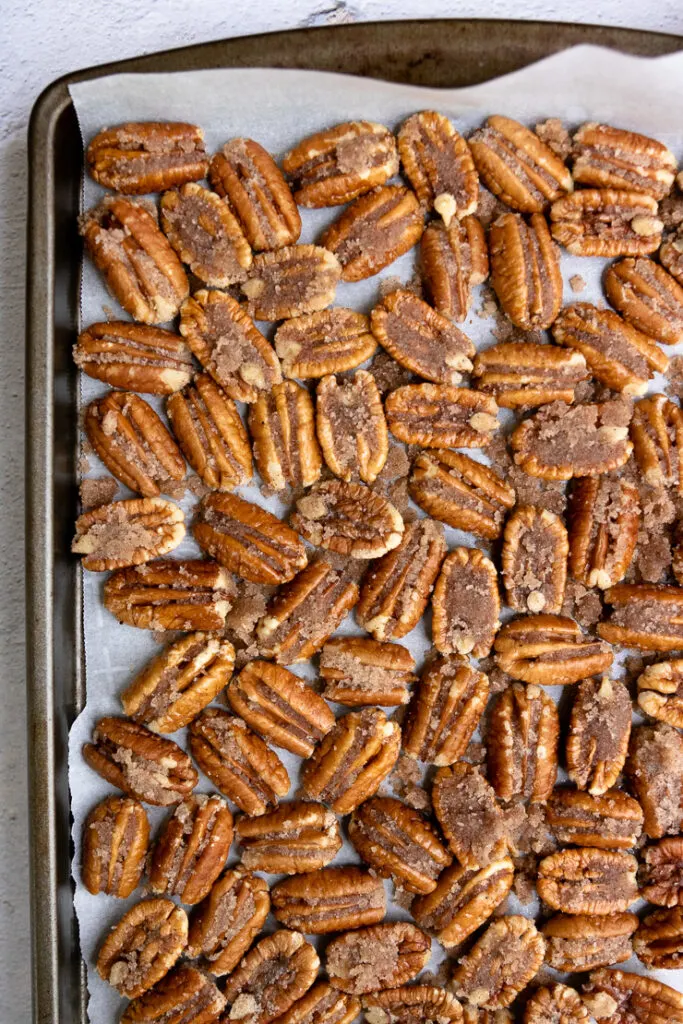 How to Make Candied Pecans
This is an easy recipe and super simple way to make candied pecans. You'll want to line a large baking sheet with parchment paper, first.
Next, add the butter, sugar, and cinnamon to a nonstick pan over medium heat. It could be a sauce pan or skillet as long as there's enough room for the nuts.
Now you'll spend 3-5 minutes stir constantly, until the sugar and butter are melted, then add in the pecan halves and stir again until they're all coated in the cinnamon sugar mixture.
Carefully spread the pecan halves onto the prepared baking sheet and try to separate them to cool so they don't stick together. You can serve them whole, or chop them up!
Store them in an airtight container for up to a week on the counter at room temperature, or 2-3 weeks in the fridge. They're great to make the day ahead especially for holiday gifts!

It is somehow already time for another Freaky Friday blog hop! Michaela from An Affair from the Heart created such a fun experience, organizes the whole thing, and I couldn't be more excited to join.
If you haven't heard of a blog hop, basically every blogger gets to make a recipe from another blogger's website. We don't know who has who until the morning when all the posts go live which is so fun to find out.
This round I was lucky enough to get Amy from House of Nash Eats! Amy is a rockstar blogger and photographer; she fully believes that food and cooking brings together families and creates memories which I absolutely love.
She's all about trying new things whether that be visiting a place she's never been, or trying new foods! I love the balance she brings between healthy meals and decadent desserts, too.
If you're looking to try foods from around the United States without having to leave your kitchen, check out her amazing American Eats series! I've already saved this Indiana Pork Tenderloin Sandwich and these Iowa Ham Balls to try soon.
Her desserts are also 1) gorgeous and 2) as Prue from GBBO would say, worth the calories. Like can we talk about these Easy Copycat Levain Chocolate Chip Cookies or this insane French Fruit Tart!? I know how I'll be spending my weekend.
Take a look at all of our 2021 Freaky Friday Spring Edition Recipes:
What can I serve with candied pecans?
You can use candied pecans in a few ways:
Pin this Recipe!