This Scotcharoo recipe combines delicious no-bake peanut butter Rice Krispies treats with a butterscotch chocolate topping for a dessert you won't be able to resist!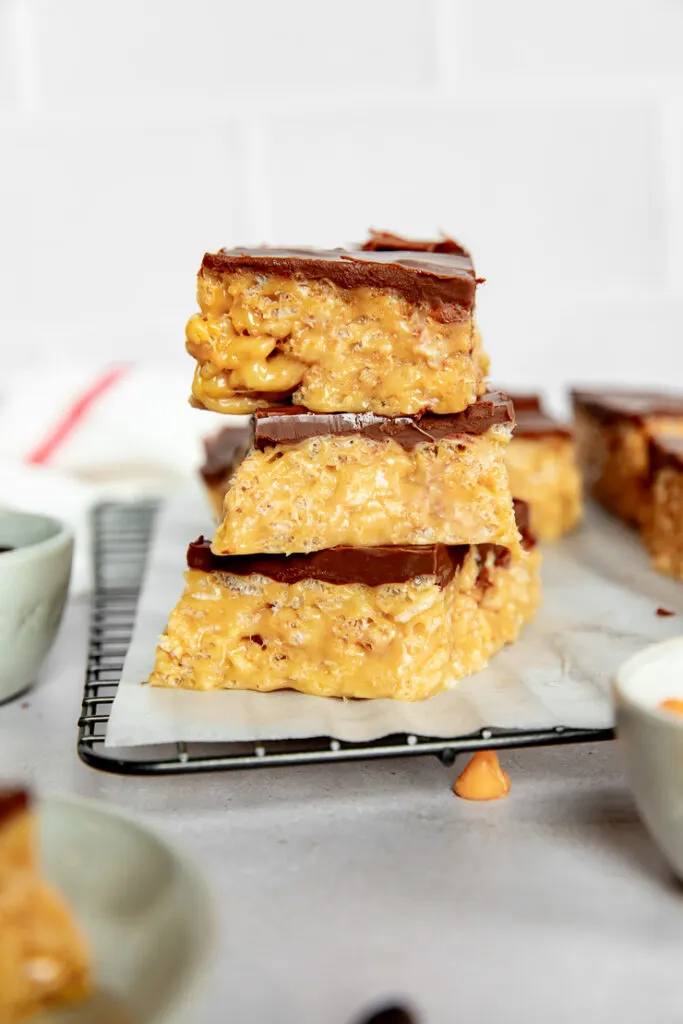 Scotcharoo Recipe
If you're looking for a dessert that's easy and a crowd-pleaser, you have to try Scotcharoos! I was recently introduced to them and they're quickly one of my favorite to bring to family gatherings or events.
They are chewy bars which are the perfect combination of sweet and salty. The rich peanut butter rice krispies are perfectly complemented by the smooth chocolate and butterscotch topping.
The best part? You don't even need to turn on your oven! With just a few simple ingredients, you can whip up a batch of this no bake dessert in no time.
The Culinary Compass participates in several different affiliate programs. As an Amazon Associate, we earn from qualifying purchases.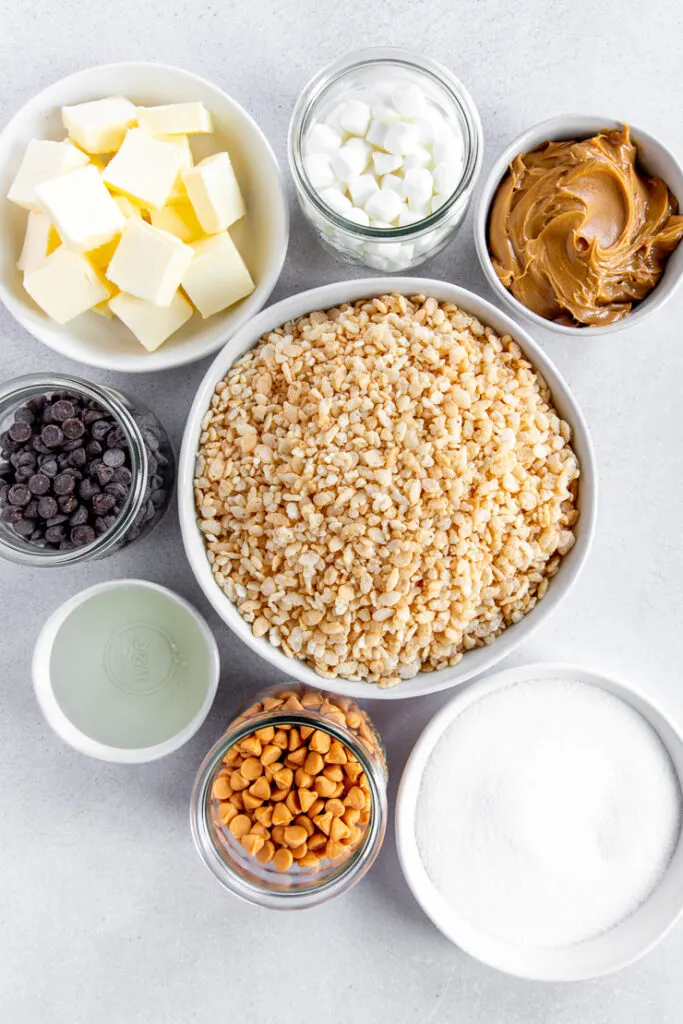 Scotcharoo Bars Recipe Ingredients
You'll only need a few ingredients to make this scotcharoos recipe:
Salted butter
Corn syrup or Karo Syrup
Sugar
Mini Marshmallows
Creamy peanut butter
Rice Krispies Cereal
Semisweet Chocolate Chips
Butterscotch Chips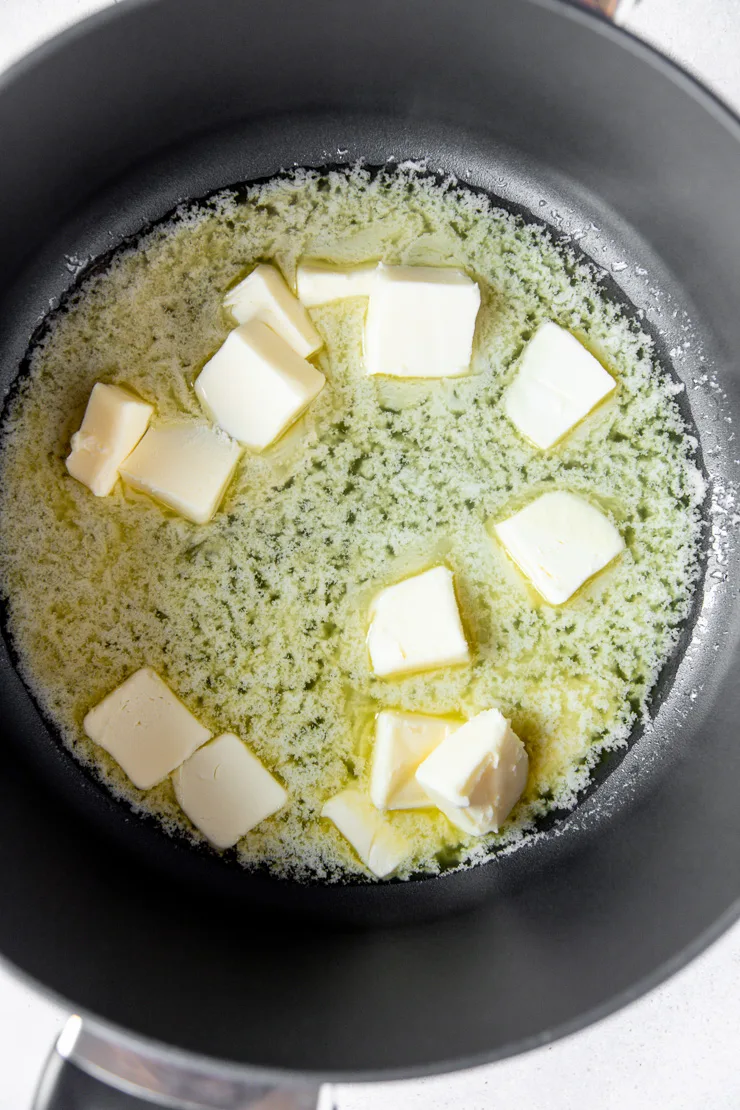 Ingredient Substitution and Variations
Use milk chocolate or dark chocolate chips if that's what you have on hand already!
For added crunch, try using crunchy peanut butter, M&Ms, or adding in chocolate and butterscotch chips into the mixture right before you add it to the baking dish.
Not a fan of butterscotch? Double the chocolate chips amount!
Stir in some Nutella to the peanut butter mixture for an extra dose of chocolate and hazelnut.
Add a layer of caramel in between the cereal and chocolate layer for an extra layer of sweetness.
Try adding flaky salt on top for a perfect sweet and savory touch.
Replace the Rice Krispies for Corn Flakes to make Special K Bars or K-Bars which is also a different name you may have heard these called!
Add in a little vanilla extract to the corn syrup mixture to add more sweetness.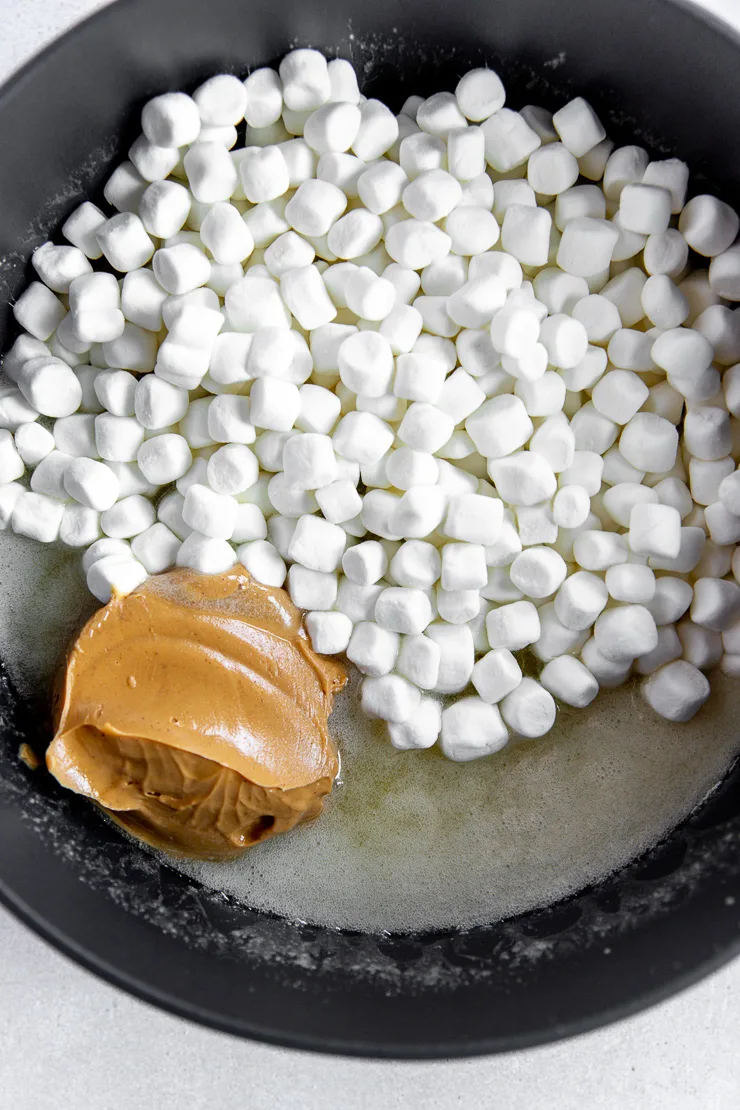 What are scotcharoos?
Scotcharoos or scotcheroo bars are a sweet and chewy dessert that typically consists of Rice Krispies cereal, peanut butter, sugar, and corn syrup, all topped with a layer of chocolate and butterscotch chips. Depending on the preparation, they can sometimes have a more firm texture to them.
They're a wildly popular treat especially for bake sales, potlucks, and around the holiday season! I was first introduced to them by a friend's mom who surprised us with a cookie plate this past Christmas and haven't stopped thinking about them!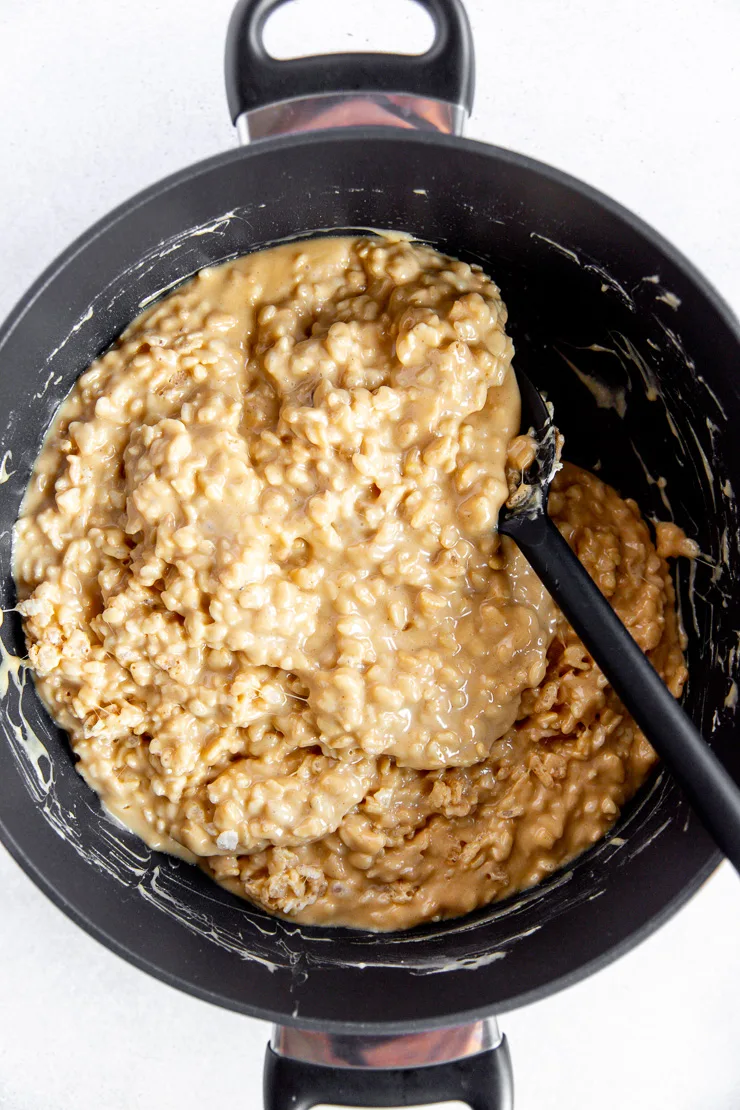 Can scotcharoos be made ahead of time?
Yes, they can be made ahead of time and stored for later. Once the scotcharoos have been prepared and the topping has set, they can be stored in an airtight container at room temperature or in the refrigerator for up to 3-4 days.
I personally love refrigerating these, though! They are the perfect chewy texture with the hardened chocolate topping that make it hard to stop at one.
You can also freeze them as a treat for later! I'd recommend cutting them into squares first, then layering them on parchment paper with a little room in between each. Once they're frozen, you can put them in an airtight bag or container to easily grab them when your sweet tooth strikes!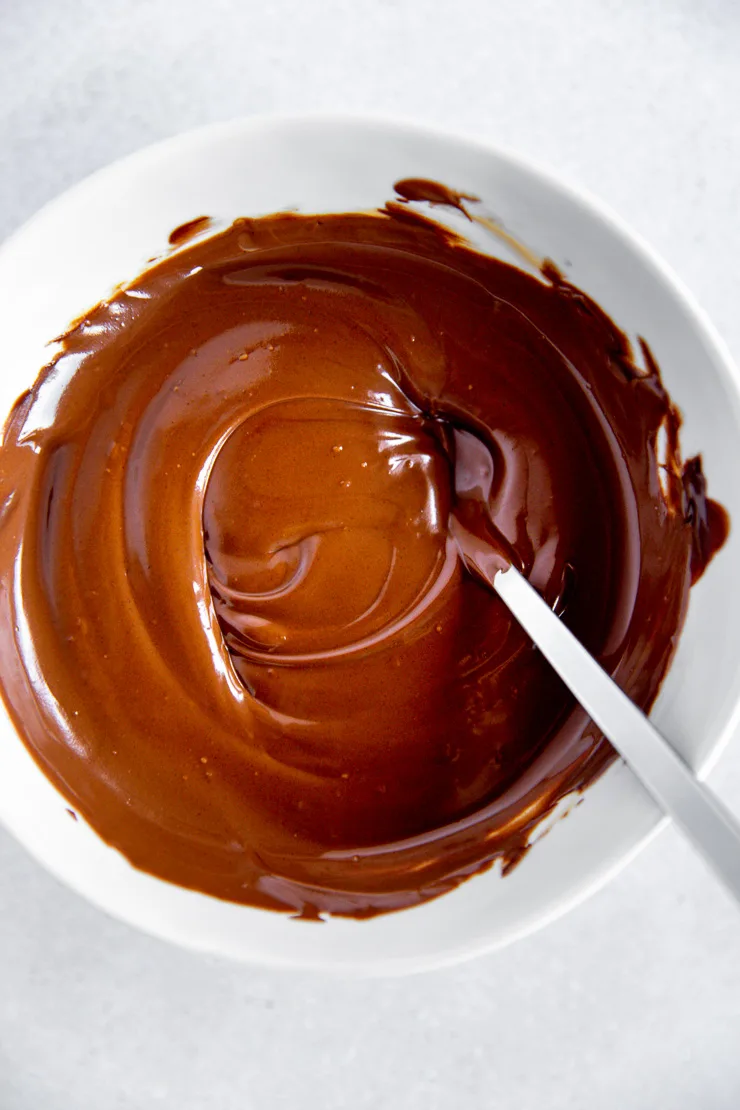 I'm excited to join back up with my friends over at the Freaky Friday blog hop where we get to make recipes from another one of the blogger's site. It's all a surprise until Friday morning where everyone gets to see the fun recipes we've all made.
Michaela from An Affair from the Heart continues to do an amazing job coordinating the whole blog hop and has created such a fun experience for everyone involved. It's definitely one of my favorite blogger events I've gotten to take part in!
This round I had Jill from The Carefree Kitchen! As a mom of 5 and having grown up on a farm and ranch in Idaho, she cooks a ton and has an appreciation of what it takes to grow vegetables and raise grass-fed beef. This combination has resulted in an incredible knowledge of cooking and baking as well as some drool-worthy recipes!
I've already bookmarked these Easy Crockpot Lasagna With Ravioli, Slow Cooker Beef Short Ribs, and Green Chile Chicken Enchiladas for some delicious dinners. And hello, is there anything better than DoubleTree Chocolate Chip Cookies?? Definitely go check out her site!
See all of our 2023 Freaky Friday Winter Recipes
Hosted by –
An Affair from the Heart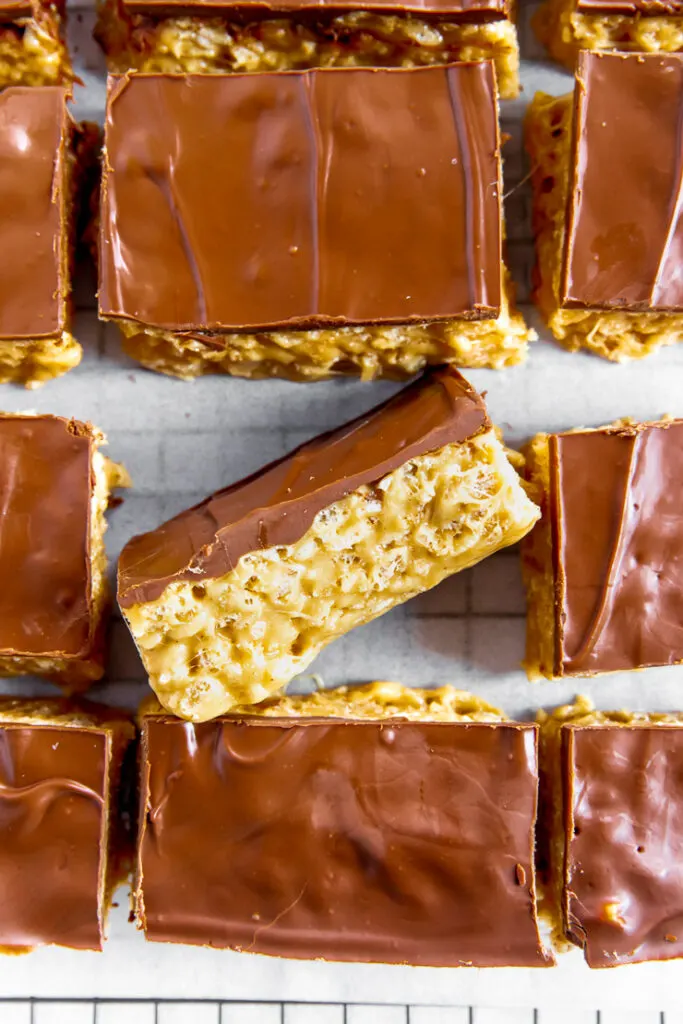 How to make Chewy Scotcharoos
To start, spray a baking dish with non-stick cooking spray and set it aside. Then, melt some butter in a saucepan with corn syrup and sugar over medium-low heat and let the sugar dissolve. Bring the sugar mixture to a boil before adding in some peanut butter and marshmallows.
Mix in some Rice Krispie cereal, pour the hot mixture into the baking dish, and spread the cereal base out evenly. For the topping, melt chocolate chips and butterscotch chips in the microwave and pour the melted chocolate and butterscotch mixture onto the peanut butter Rice Krispie treats. Let it cool and then cut it into squares to enjoy this amazing treat!