These Veggie Egg Muffins are a breeze to throw together for a great breakfast meal prep option.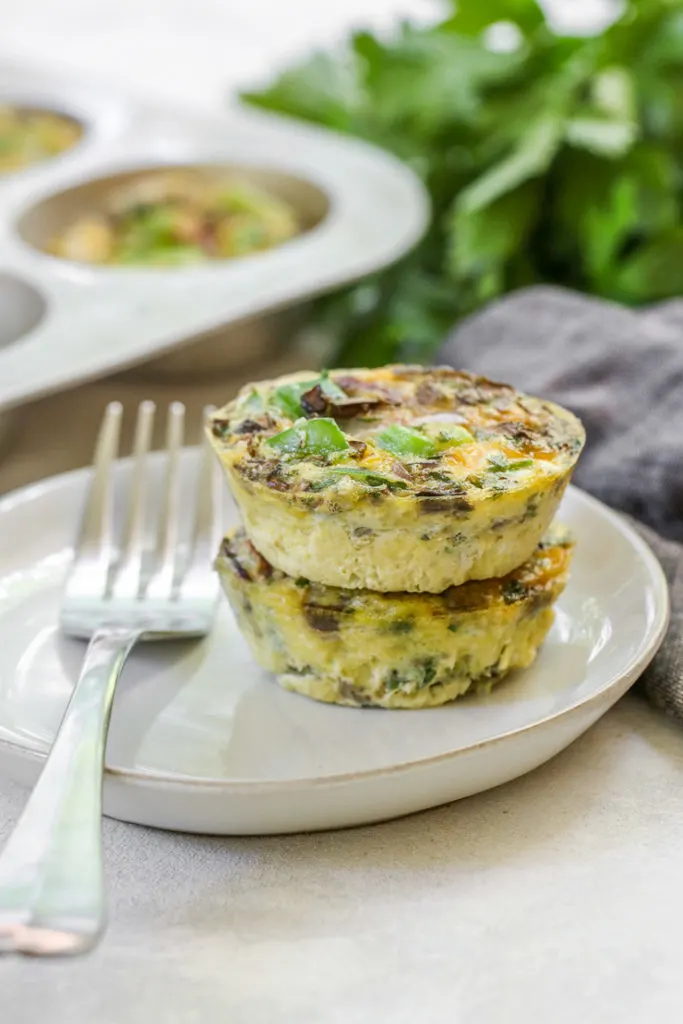 Veggie Egg Muffins
This Veggie Egg Muffins recipe is a delicious way to start your day! They're a healthy breakfast option that you can have on hand for those busy mornings.
These are full of veggies to add a little more flavor and texture!
How long are they good in the fridge?
Egg muffins with veggies are good for 3-4 days after they are made as long as they are stored in an airtight container in the refrigerator according to the FDA regarding egg safety.
The Culinary Compass participates in several different affiliate programs. As an Amazon Associate, we earn from qualifying purchases.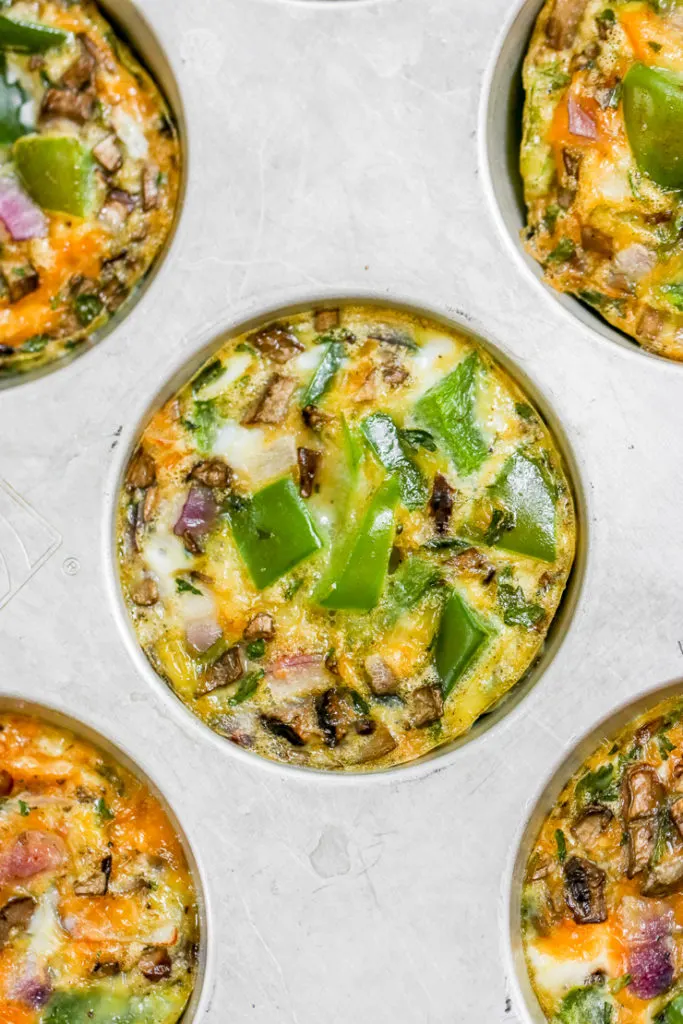 What kinds of veggies can I use?
Feel free to add just about anything you have on hand! Here's what I found worked for me:
Green bell peppers
Mushrooms
Red onion
Green onions aren't necessarily a veggie, but they are another favorite for baked egg breakfast muffins because of how much flavor they add! The salt and pepper also brings out some of the bright veggie flavors.
How many calories does an egg muffin have?
These egg cups have around 70 calories per muffin making a light breakfast option. I usually will have two for breakfast.
Keep in mind that the nutrition information is just an estimate so if you're looking for an exact nutrition breakdown, you'll want to use a trusted calculator using the brands that you have on hand.
If you're looking to cut down on saturated fat, feel free to use only egg whites. This will cut down on the overall amount so you may want to do a full dozen eggs.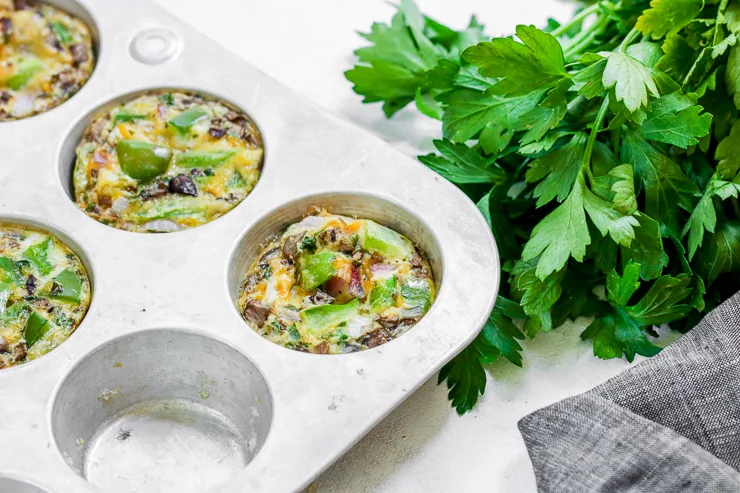 How do you stop the muffins from sticking?
I like to use a little cooking spray in each of the muffin cups before adding in the egg mixture. You could also rub a little olive oil in each if you don't have cooking spray on hand.
Another option is to use reusable silicone cups in the actual muffin tin so you don't have to worry about it sticking to the tin. You'd need around 18 and to cook it at separate times since a traditional muffin tin has 12 muffins. I'd avoid using mini muffin tins if you're able to.
What if I want to use another protein in them?
You definitely can! Some cooked and diced bacon would be perfect. I also like using breakfast sausage as an option. You should try out these Sausage, Egg and Cheese Muffins if that's something you're interested in.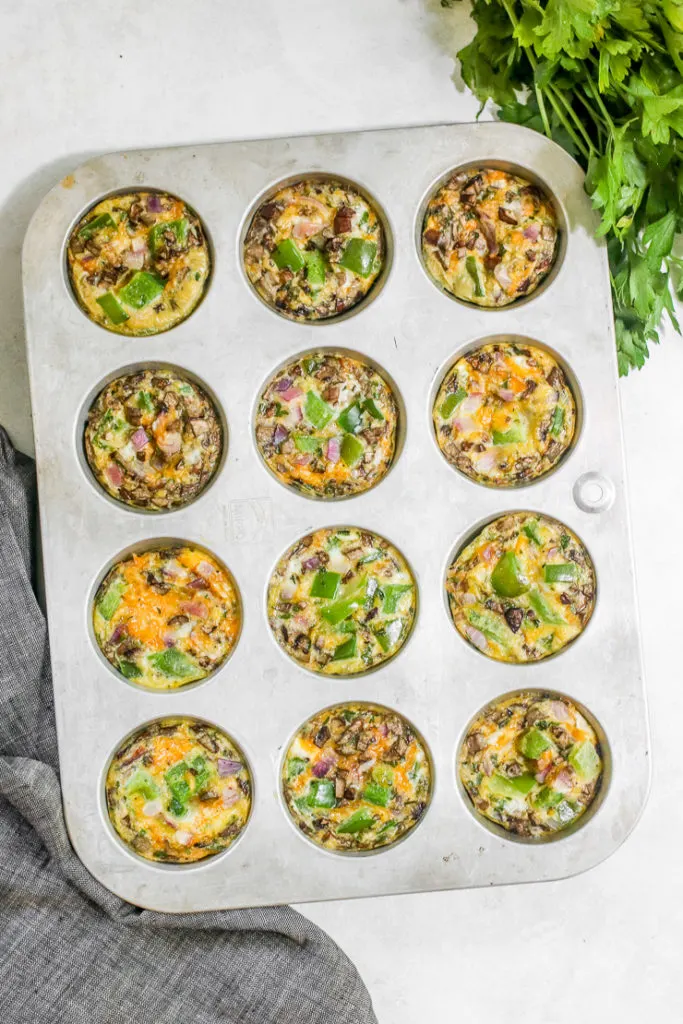 How do you reheat egg and veggie muffins?
It's as easy as putting two on a microwave safe plate and reheating them for 1:00 to 1:30. You may want to cover them in a paper towel to avoid any spatters especially in a public microwave.
Looking for other breakfast options? Try one of these: