Looking for the perfect skillet breakfast potatoes recipe? Just a few seasonings are needed for these skillet fried potatoes. No need for a cast iron to make your own crispy home fries.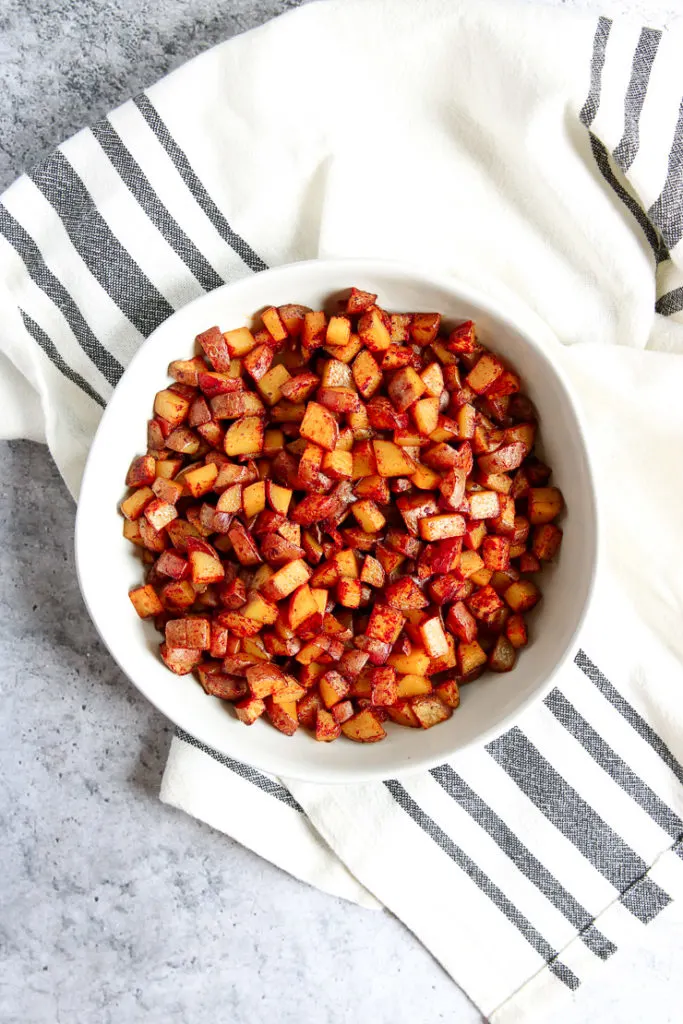 Skillet Breakfast Potatoes Recipe
These have to be the best pan fried potatoes. They're seasoned to perfection and only take about 15 minutes to cook through which is perfect for being able to get your eggs and bacon cooked during that time.
The Culinary Compass participates in several different affiliate programs. As an Amazon Associate, we earn from qualifying purchases.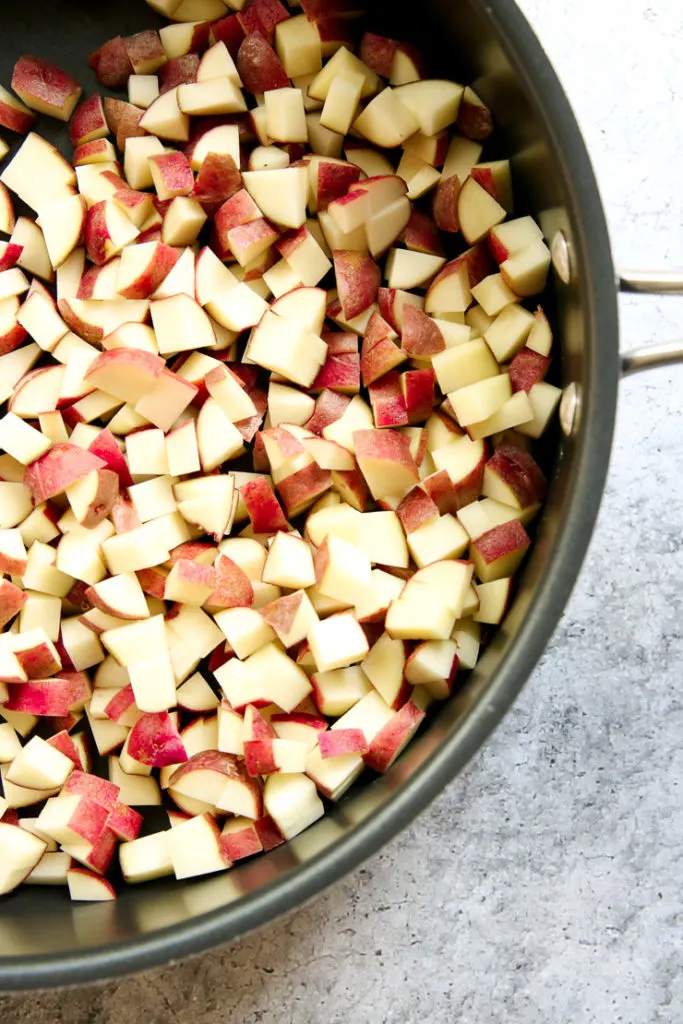 What's the difference between skillet fried potatoes, home fries, and hash browns?
The difference between home fries and hash browns is definitely how they are cut. Home fries are diced while hash browns are grated. That makes skillet fried potatoes more closely related to home fries than hash browns. You'll even hear them be called country fried potatoes if you're in the south.
What kind of skillet should I use?
I like to use a large skillet which is about 12 inches. This gives the diced potatoes more room to spread out so each has the opportunity to get crispy edges and become the perfect golden brown.
A cast iron skillet can also be used since cast iron skillet potatoes are notoriously crispy, but no worries if you don't have one! I found that a regular non stick skillet works well.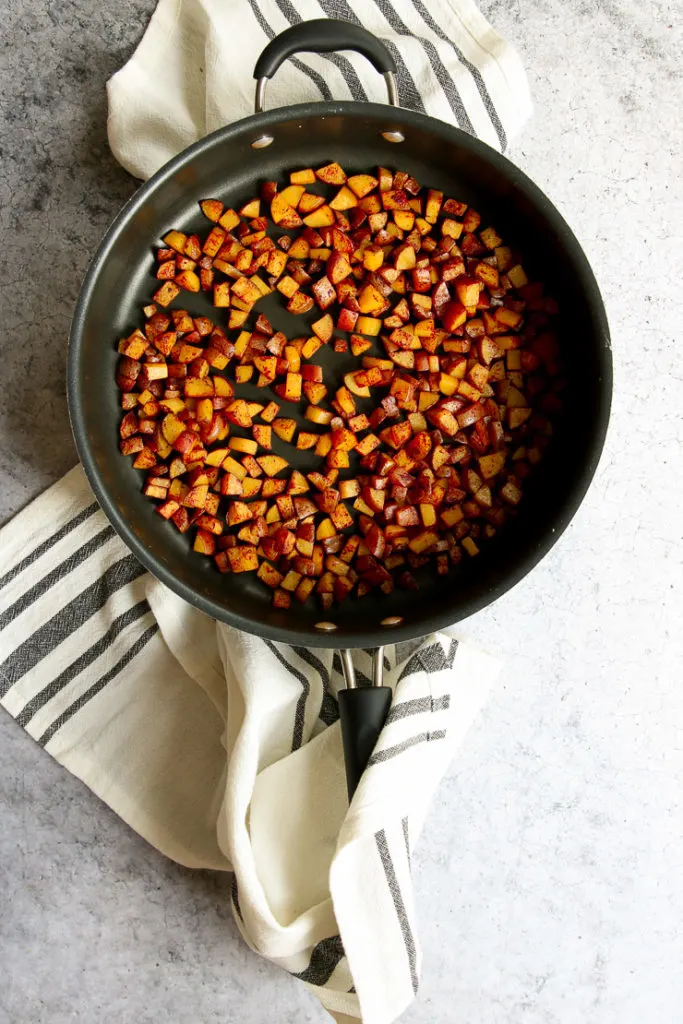 What kind of potatoes are best for this breakfast potatoes recipe?
I love using small red potatoes! I find those skins the most palatable and I don't know about you, but I rarely feel like peeling potatoes in the morning.
Really, any potato works though! As long as you cut them into relatively the same sizes, you can cook the potatoes evenly in a skillet.
How do you get the edges crispy?
You'll want to use a large pan over medium high heat. Heat up the olive oil first so it sizzles when you add in the potatoes.
If you have a lot of potatoes, you may want to do it in batches to avoid crowding the pan. I like to aim for one layer of potatoes so they aren't sitting on each other and each has an opportunity to sit on the pan.
Avoid covering the pan if you can! That traps in moisture and steams the potatoes which makes the outside lose any crispiness it may have.
How do you season the skillet breakfast potatoes?
I'll use olive oil to cook and add in the minced garlic to the skillet to get it nice and aromatic. I usually mix the spices in a small bowl first so when I sprinkle it over the potatoes, it coats evenly with each. Here's the spices I use:
Paprika
Chili powder
Onion powder
Salt
Pepper
If you don't have any minced garlic, garlic powder works great as an option here too.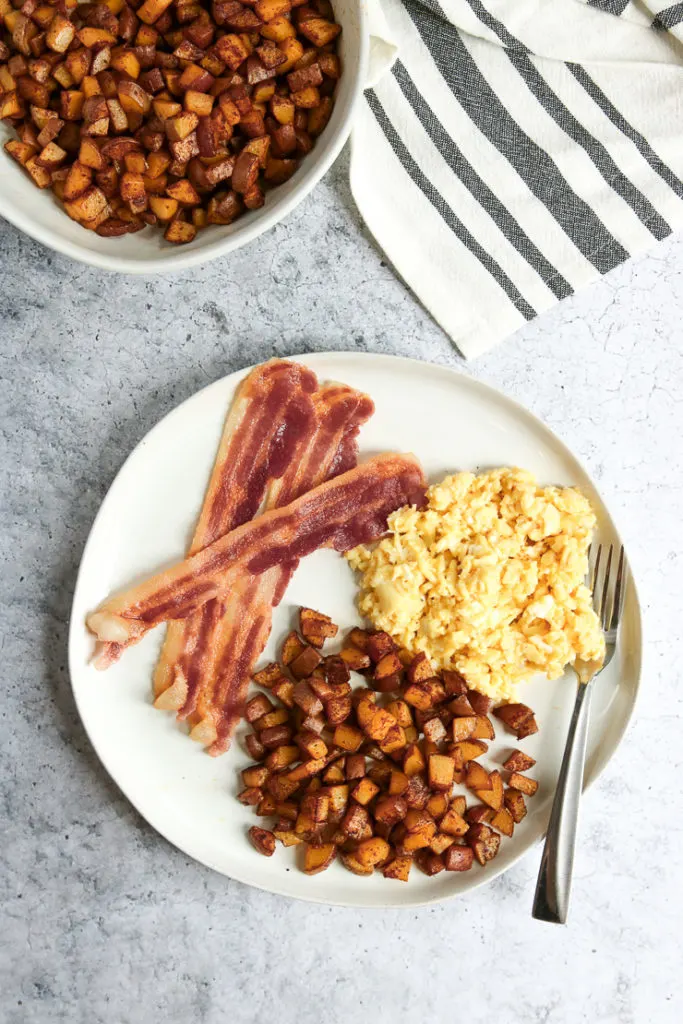 Can I add other vegetables?
You bet! If I have onions and green bell peppers on hand, I will always add those to make a breakfast hash.
You can start cooking them at the same time as the potatoes, but they will definitely cook faster. If you're ok with fork tender peppers and caramelized onions, that's no problem though! If you still want a little crunch in both, you'll want to add them in about half way through the sweet potatoes cooking time.
What should I serve this with?
This would be perfect with a side of bacon and egg on top! A fried egg with a gooey yolk and some salt and pepper makes a perfect pairing with these potatoes any day of the week.
Try making this Air fryer Sausage to really round out your breakfast, or this Potato and Eggs Skillet for a full breakfast option in one dish!
Looking for other breakfast ideas? Try one of these: