These Sausage, Egg and Cheese Muffins are easy to throw together and the perfect breakfast for busy mornings!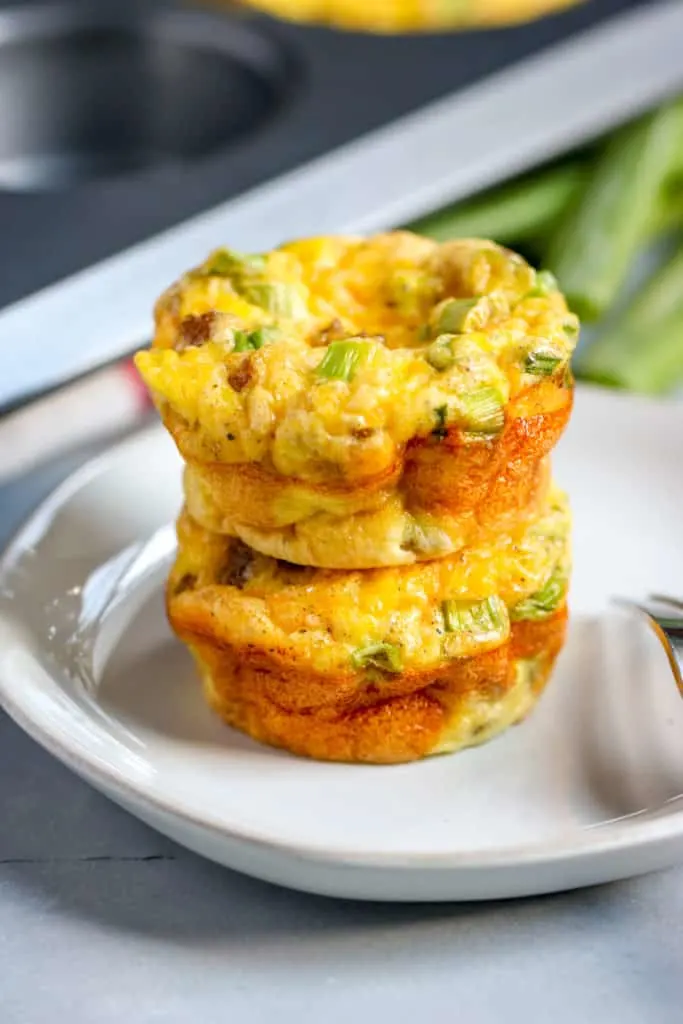 Sausage Egg and Cheese Muffins
How long are they good in the fridge?
They are usually good for 3-4 days stored in an airtight container in the fridge according to the FDA regarding egg safety.
I generally make them Sunday night and have them through the week and then a little treat for making it to Friday!
How many calories are in this sausage egg muffin recipe?
These have about 140 calories per egg muffin, though, it should be noted that it's just an estimate. If the nutritional value is something that is very important to your health, I'd suggest using a more trusted nutrition calculator with the brand of ingredients that you have on hand.
This is also dependent on what you decide to use! If you pick turkey sausage over breakfast sausage, it would be a little lighter on calories as well. This is also true for if you decide to use half and half over a lighter calorie milk.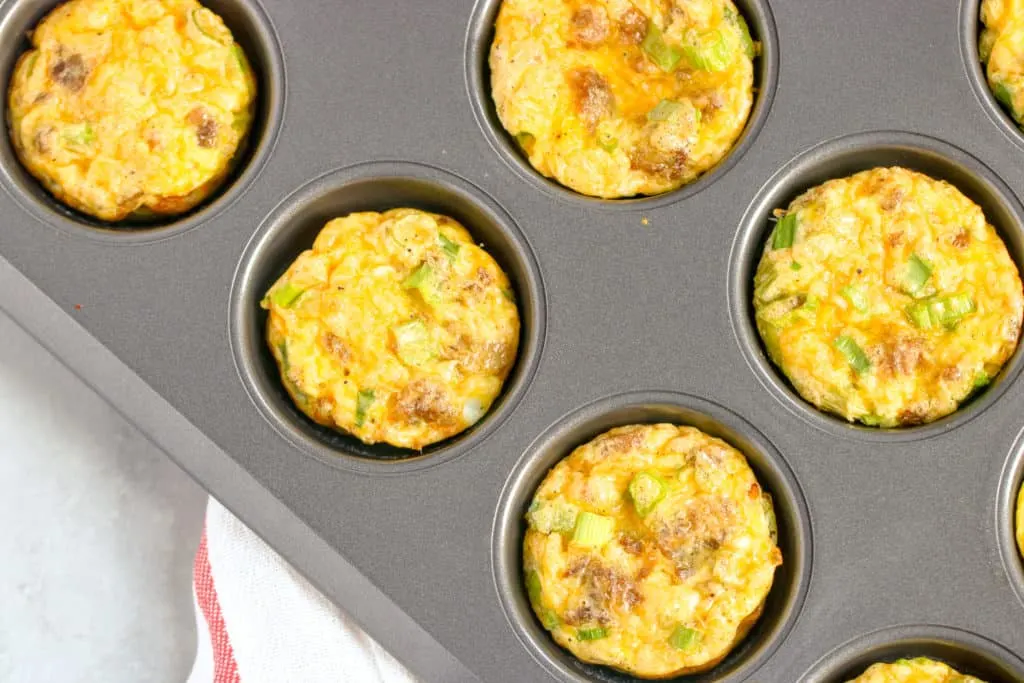 Can these sausage and cheese egg muffins be frozen?
You can make these in advance and store for up to 3 months in the freezer. This is great if you want to make a few batches and just use them as you need them.
You could thaw the ones you'd eat in the morning overnight and microwave in morning to serve!
Can you eat baked egg muffins cold?
While you can definitely eat them cold from the fridge, not from frozen, it may not be as good as microwaving them. If it's something you're just looking to eat on the road or during a commute on a busy morning, there's no harm in eating it cold.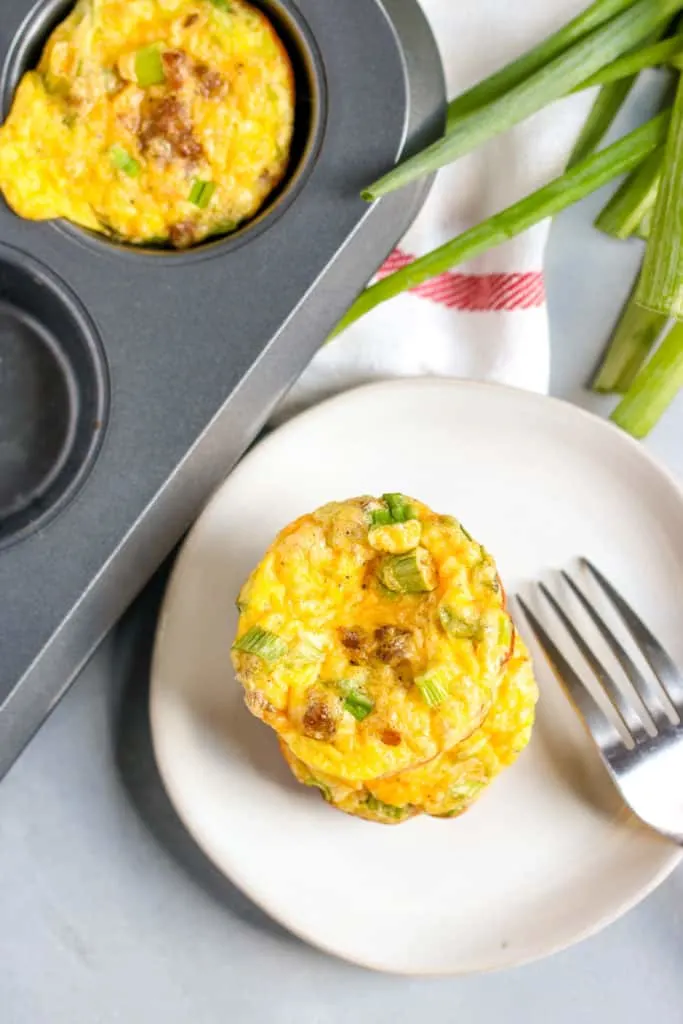 What are in these breakfast egg muffins?
It only takes a few ingredients to make these. All you'll need is:
Eggs
Breakfast sausage
Shredded cheese
Green onions
Salt and pepper
If you're looking for different substitutes, try using turkey sausage! Even using a few different vegetables like diced jalapenos would give it a kick.
How do you cook sausage egg and cheese muffins in the microwave?
You can put two on a plate and microwave for 1:00 – 1:30 minutes to reach desired temperature. I usually do this without covering them at all or switching sides so it's pretty simple preparation!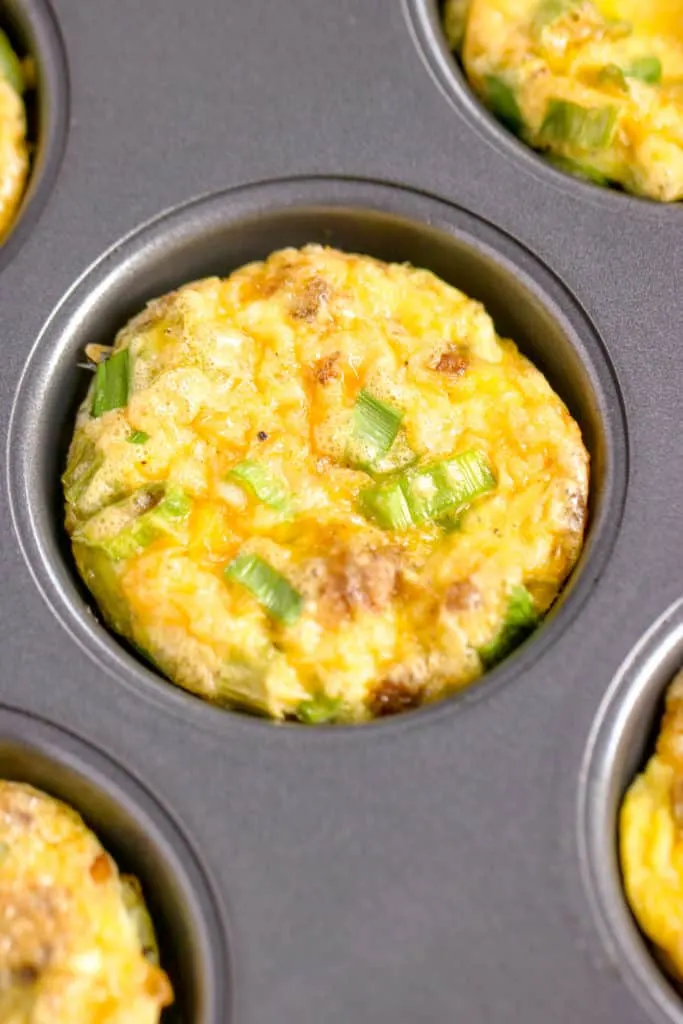 How do you stop them from sticking?
You can use a little cooking spray in the muffin pans to keep them from sticking to the edge!
Another thing that a lot of people like to use are individual silicone muffin cups that are reusable so that they're easy to transport and remove. I'd suggest putting them each into the muffin tins first, then pouring the mixture into it to make it easier to transport.
How do you store them after cooking?
I like using a glass Pyrex container with the snap lids to make sure they are airtight, but really any airtight container should work.
Be sure to let them cool completely before closing the lid or putting in the fridge to help avoid harboring any unwanted bacteria.
Looking for other great breakfast options? Try one of these: