Egg Bhurji is an Indian styled scrambled eggs that consists of vegetables like red onion and peppers and Indian spices like garam masala. It's typically served with roti, but I paired it with some basmati rice.
Who doesn't want what is essentially veggie fried rice in the morning? If you're looking for something outside of your normal egg routine, I definitely suggest this! It's super simple to make and makes for this sweet and spicy combination that is addicting.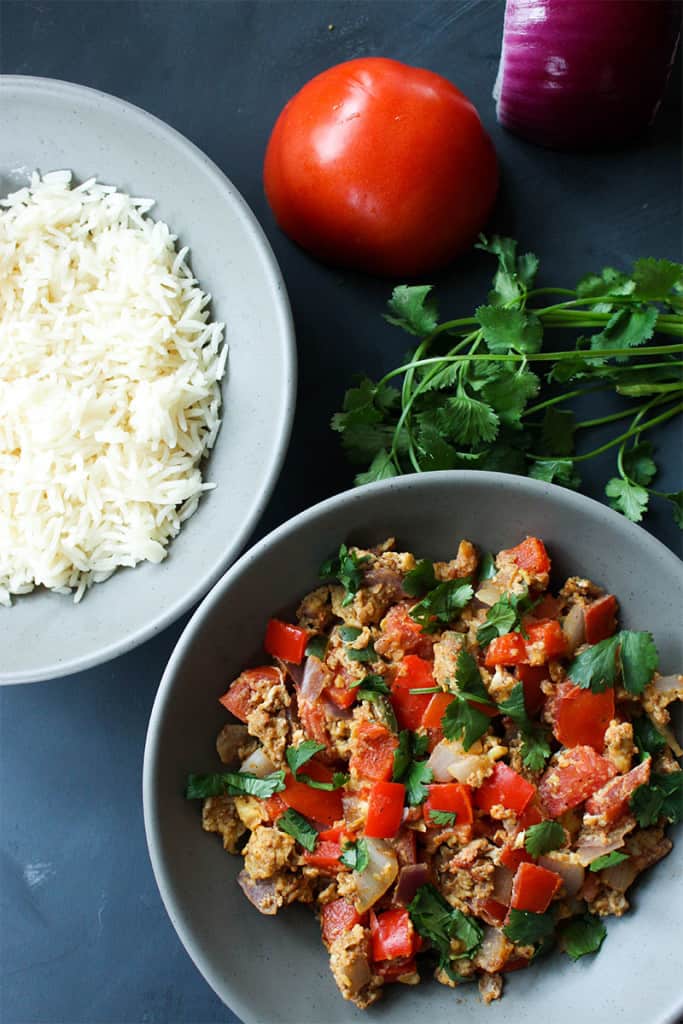 Did you know that capsicum is a common term for bell peppers? I definitely did not. Learning every day!
If your recipe calls for coriander leaves, that's cilantro. My cilantro last summer bolted in the high heat before I even had a chance to realize what happened. Bolting is essentially the plant trying to create seeds as fast as possible to give it a chance to survive in the heat. Cilantro is very picky about what temperature it's in so before I knew it my cilantro had flowers then seeds which are commonly known as coriander!
The cilantro that tops the Egg Bhurji gives it freshness that balances all of the spices that are incorporated. You should definitely give this a try next weekend.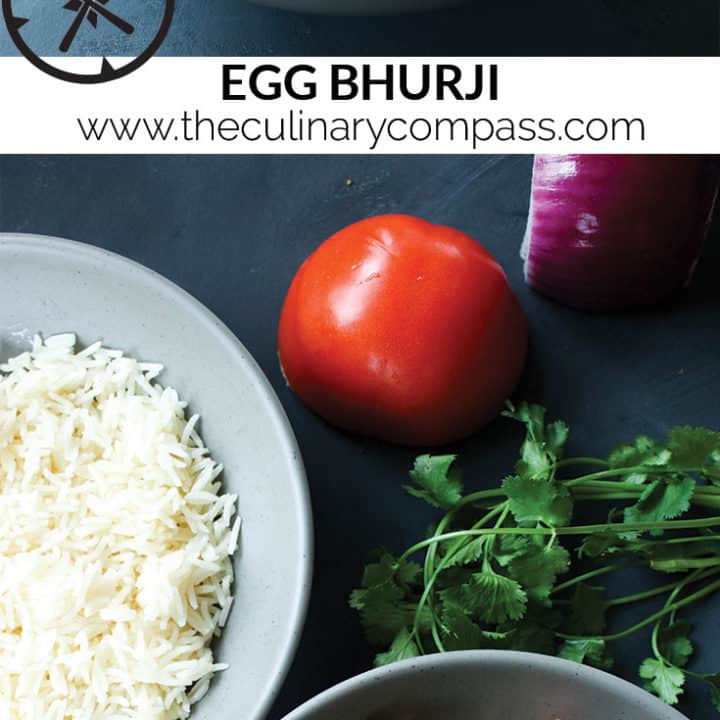 Egg Bhurji
Yield: 2 servings

Prep Time: 5 minutes

Cook Time: 15 minutes

Total Time: 20 minutes

An easy Indian spiced take on scrambled eggs with vegetables
Ingredients
1 tbsp olive oil
1/2 red onion, diced
1 jalapeno, seeded and diced
1/2 red pepper, diced about 1/2 cup
1/4 tsp garlic powder
1/4 tsp ground ginger
1/2 tsp cumin
1/2 tomato, diced
2 eggs
salt to taste
1/2 tsp garam masala
1/4 tsp chili powder
fresh cilantro for topping
Optional: basmati rice or roti for serving
Instructions
Heat olive oil in a medium saute pan over medium heat. Throw in red onion, jalapeño, and red pepper in and cook until peppers are tender, about 10 minutes.
While vegetables are cooking, beat two eggs and salt until frothy in a separate cup.
Mix in garlic powder, ground ginger, and cumin heating for another 2-3 minutes until well incorporated.
Add tomato and cook for another 2-3 minutes until most of the liquid evaporates.
Bring temperature down to medium low. Pour eggs in over the vegetable mixture. Use a rubber spatula to combine the mixture.
Add in garam masala and chili powder until incorporated and mix around until egg mixture is fully cooked through 4-5 minutes.
Top with cilantro leaves and serve with basmati rice or roti.

Adapted from Indian Healthy Recipes.