Wondering how to make pickled red onions? This pickled red onion recipe only takes 4 ingredients and a few steps!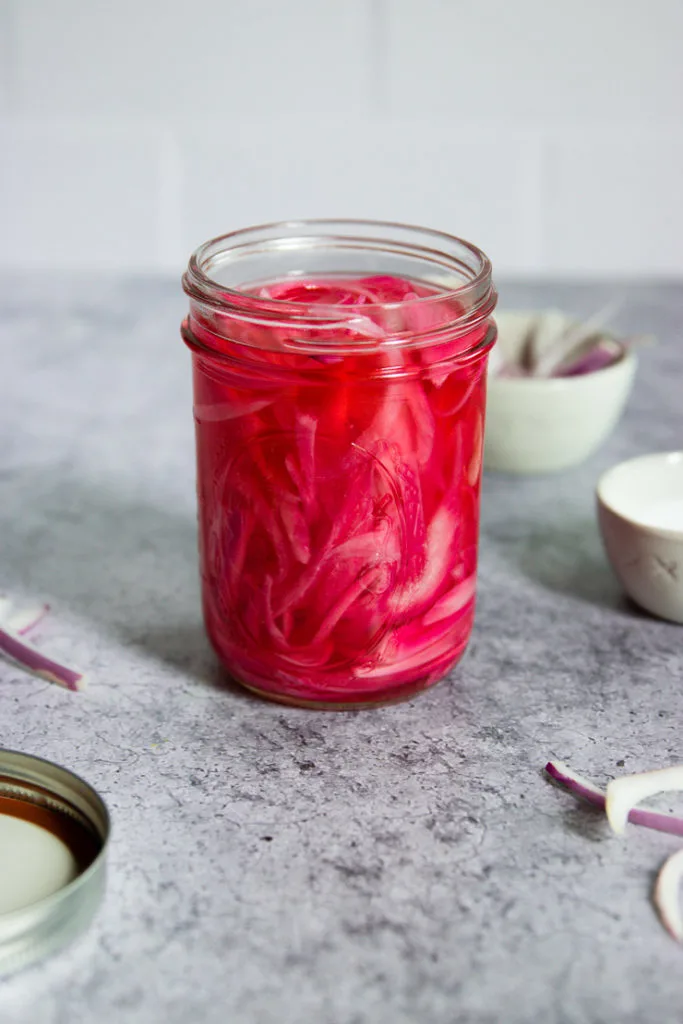 Pickled Red Onion Recipe
Pickled red onions have to be one of the most underrated ingredients to add immediate flavor and texture to just about any of your dishes! It only takes a few ingredients to throw together and a majority of the time is completely hands off.
The best part is that you don't even have to know how to can anything in order to make this. I know I for one was wildly intimidated by canning after hearing all of the things that could go wrong in my food science classes in college.
This is considered a quick pickle so there's no sealing the jars for later. It will pickle right in the heat and liquid. They last a significant amount of time less and aren't shelf stable, but you'll be able to throw these together in no time after you do it once.
The Culinary Compass participates in several different affiliate programs. As an Amazon Associate, we earn from qualifying purchases.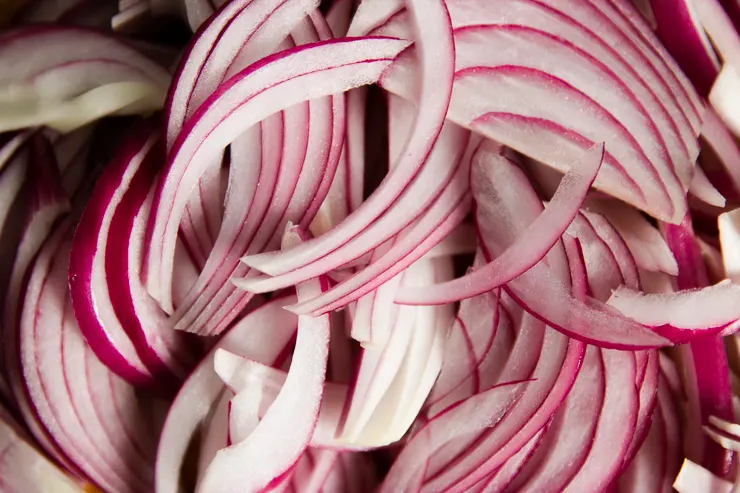 How To Make Pickled Red Onions
Making pickled red onions is quick and easy! It takes a few minutes to cut the onions and boil the liquid and that's about all the hands on time that you need.
Cut the red onions into strips or however you'd like them to be and place them in your mason jar or other non-reactive vessel that you can seal.
In a medium saucepan, you'll bring the vinegar, sugar, and salt to a boil. Be sure to stir this liquid a bit so the sugar and salt dissolve.
Carefully, you'll pour the liquid into the mason jar and let cool to room temperature without a lid on it. I like to stir the mixture every 10 minutes or so for the first 30 minutes that you can let some of the heat escape.
Once it's cool, you'll just top the jar with a lid and save in your refrigerator! It should last between 2-3 weeks, but I've usually gone through the whole jar in about a week since it's just so good on everything.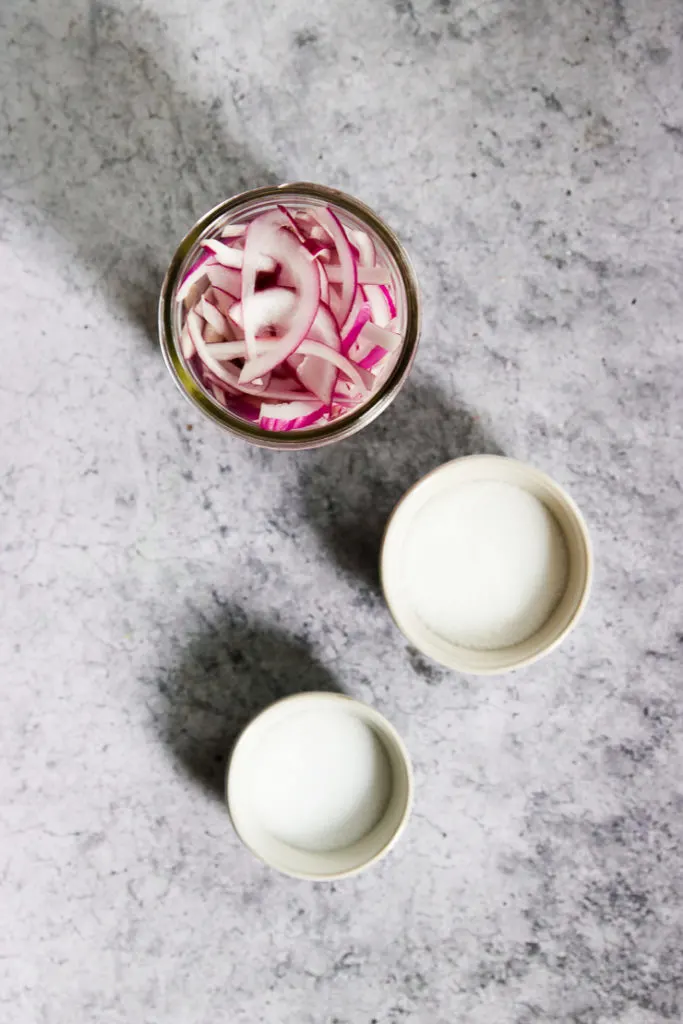 How should I cut the onions?
If you already have a mandoline, you can use that to get perfect thinly sliced onions. Be careful with those if you've never used one though as it can be easy to cut yourself! Speaking from experience on that one.
I personally just like using a knife to thinly slice the halves of the onion to make individual strips. We've also made them doing large diced pieces which disperses throughout your food when you mix it a little better.
Some people like making them into very thin rounds of the onion to help get it out of the jar with a fork a little easier too. It's really up to you! I suggest trying a few different cuts and seeing which you like best.
What is in the pickling liquid?
It's just a few ingredients! You'll just need vinegar, sugar and salt to make the liquid. Once it's all boiled together, the sugar and salt dissolve to make a tasty pickling liquid. If you don't like using refined sugar, you could try replacing it with maple syrup or honey too.
Since there are also so few ingredients in the liquid, if you have kosher salt, I'd recommend using that! Kosher salt has a slightly larger crystal size and no iodine which both give it a better flavor and allows you to control the amount of salt a little better. No worries if you don't have it though! I've made it plenty of times with good ole table salt.
What kind of vinegar should I use?
I generally use white vinegar just because I have it readily available, but you can use just about anything besides something like balsamic vinegar.
Some other popular choices are red wine vinegar for more depth and color, apple cider vinegar for some sweetness, or rice vinegar if you're looking for another pale vinegar to bring out the colors.
Can I add other ingredients to add other flavors?
Definitely! Here's just a few things I've tried, but really, you can let your mind run wild:
Whole peppercorns
Garlic cloves
Red pepper flakes
Fresh herbs like thyme
Mustard seeds
You can put them in the jar with the onions to add the flavorings or boil them with the vinegar.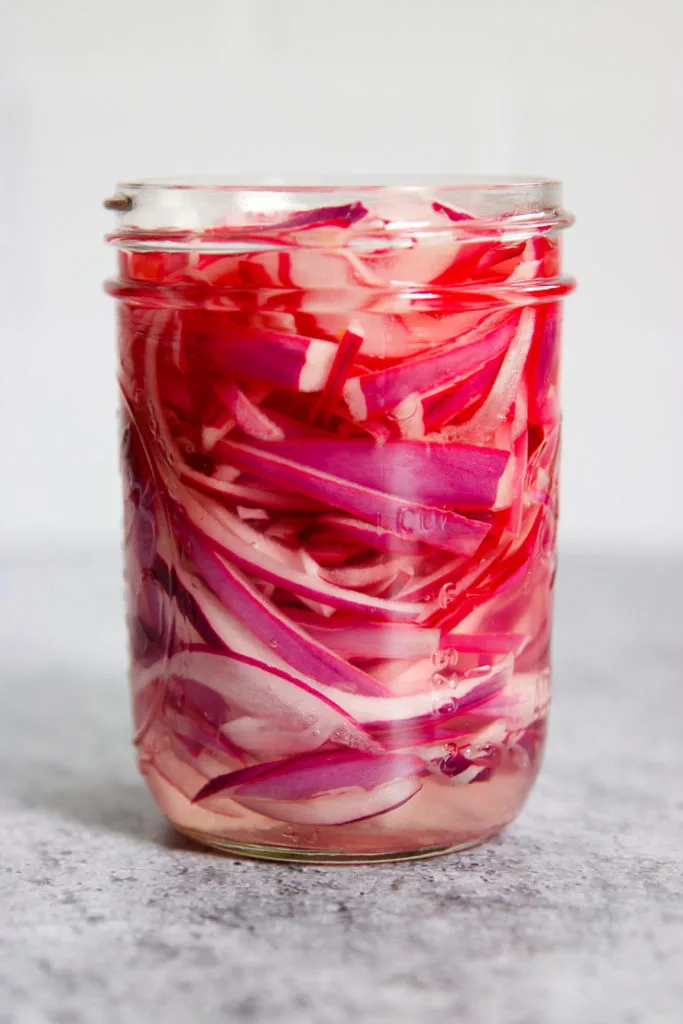 What should I use quick pickled red onions for?
Just about anything your heart desires! Add it to sandwiches, your scrambled eggs in the morning, rice bowls, tacos, as a barbecue topping… the options are endless. They'd be particularly great on these Fish Tacos with Pineapple Mango Salsa and Tuna Avocado Lettuce Wraps!
Try out this recipe for Cowboy Candy if you're looking for another great tangy topping!
Looking for other side dishes perfect to add to any dishes? Try one of these: