These Spinach Feta Turkey Burgers are full of flavor without any of the greasy feeling. It's an easy turkey burger for the grill or to make inside any time of year!
Spinach Feta Turkey Burgers
As soon as the weather gets a little warmer, grilling burgers is one of my favorite options for dinner! The same ole beef burgers can get a little boring, so changing it up is always a goal.
This Spinach Feta Turkey Burger is one of those creations and is one of my families new favorites! It's packed full of flavor and topped with refreshing veggies so it doesn't weigh you down.
The Culinary Compass participates in several different affiliate programs. As an Amazon Associate, we earn from qualifying purchases.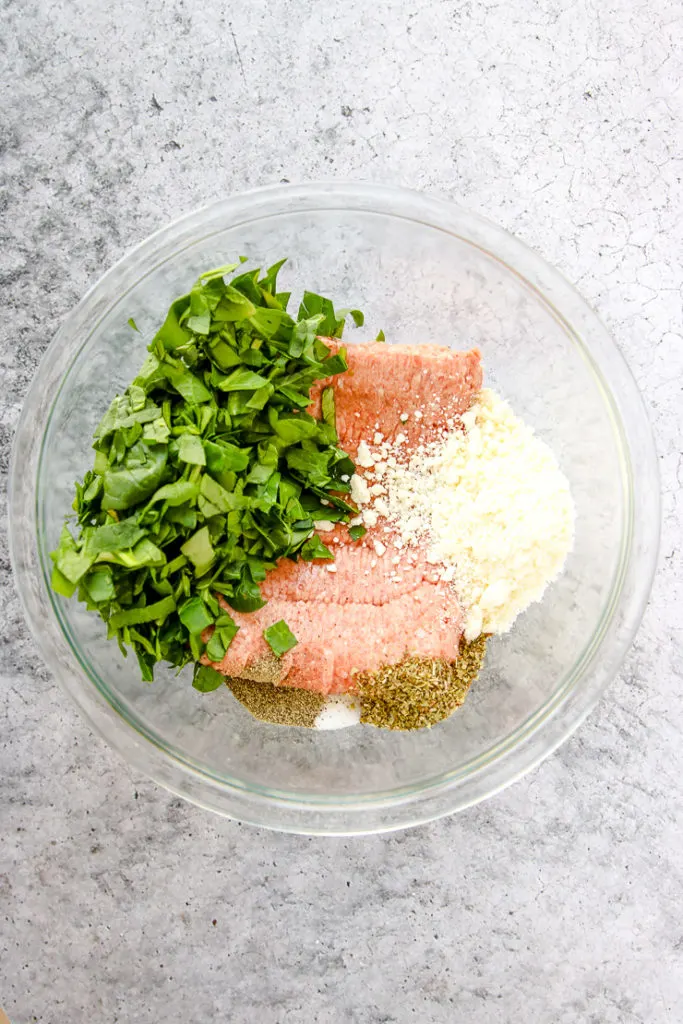 How do I make the turkey burger patties?
Making turkey burger patties is pretty simple! All you'll need to do is throw the ground turkey, chopped spinach, crumbled feta, garlic, dried oregano, salt and pepper into a bowl.
I like using a glass bowl so I can throw it in the dishwasher once I'm done with it.
After that, just mix it up and divide it into four even balls. Form those into patty shapes as best as you can and set aside until you're ready to make them!
I'm a fan of just using my hands to make the patties rather than one of those presses, mostly because I really need to cut back on my kitchen appliance habit.
Anyways, something to note is to try and form the patty to the size of the burger so that it isn't overwhelmed by the bun. It can shrink up a little so be sure to consider that as well when you're making them.
Could I use ground chicken instead?
Ground chicken would be a great substitute if you're either not a fan of ground turkey or your store doesn't have it in stock.
I haven't tried using ground chicken, so I'm not sure if it'll hold quite the same. If you find that the mixture is falling apart a bit, you could try beating one egg and adding that to the mixture to help bind it together.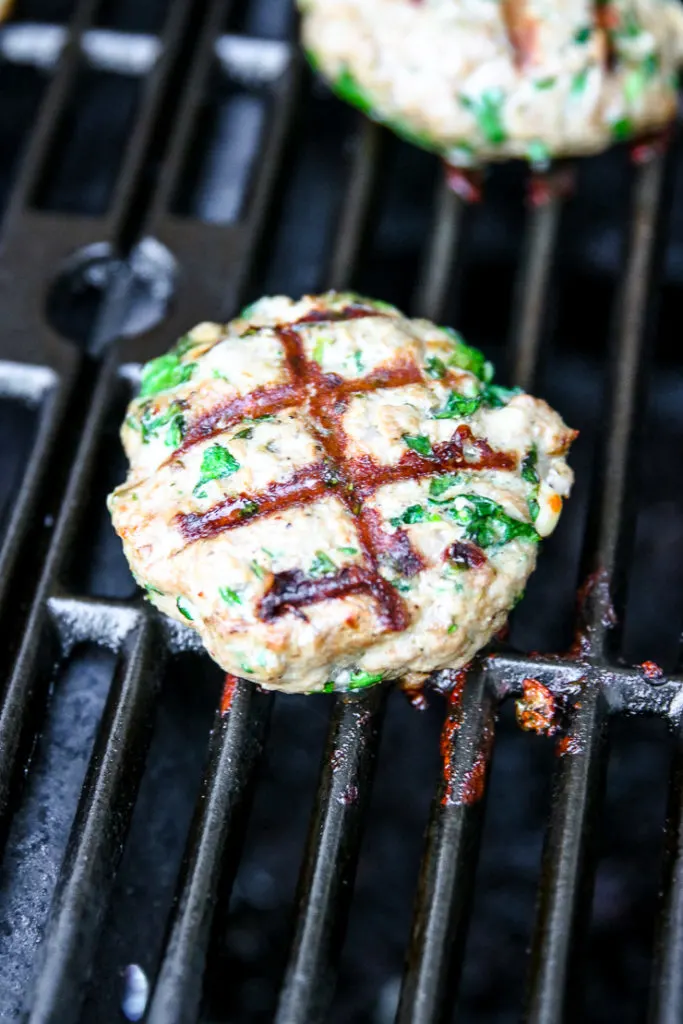 Can I prepare the patties ahead of time?
Absolutely! If you have time in the morning to prepare the burgers, you can set them aside and cover with plastic wrap then refrigerate for 8 or so hours. It's always nice to have them ready to cook right when you'd like to!
Can I use frozen spinach?
I would avoid it if you're able to. The spinach will have a ton more liquid in it than the fresh spinach which may ruin the integrity of the patty.
Since we're using the spinach and the feta cheese as a binder for the burger rather than bread crumbs, we want to make sure that it's dry to help keep it together.
How should I chop the spinach?
Take a handful of spinach and just do some rough chops on a cutting board before measuring and adding to your patty mixture!
You can also take out some of the stems if you find that they are too long or are affecting the way that the burger is sticking together.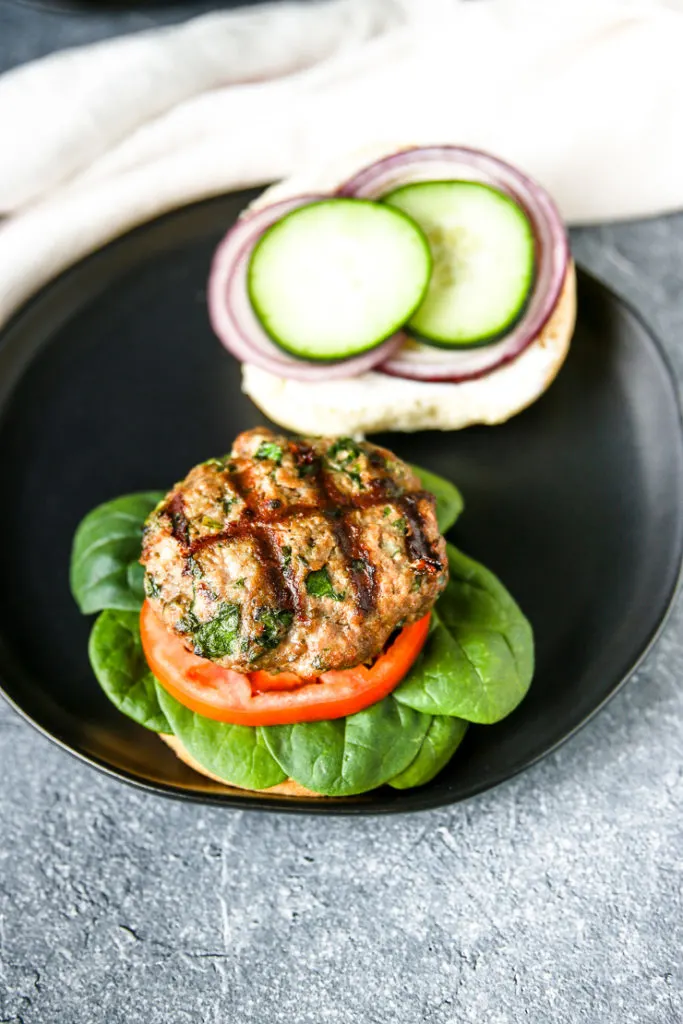 What should I top this Spinach Feta Turkey Burger with?
The toppings of the spinach feta turkey burger are up to you! I love adding some red onions, sliced cucumber, tomato and spinach for some fresh flavors and crunch.
Making some Greek Yogurt Tzatziki sauce to add to the burger is also always a great idea. It's full of flavor from the dill, cucumber, and lemons and will add some creaminess to the whole burger.
What kind of bun should I use?
A normal hamburger bun that you can find at the grocery store is always a good option, but something like a sesame bun or brioche bun really enhance the flavors.
Another option would be to turn this mixture into smaller meatball shapes and cook them in a skillet or in the oven. This would be a perfect time to make some homemade pita bread and stuff them with all the delicious toppings you have!
Do I need to use a grill?
Nope! You can cook these in a skillet or a grill pan with some olive oil for a 6-7 minutes per side over medium high heat.
It's a great option if the weather isn't cooperating, or if you don't have access to a grill.
Try making an Air Fryer Turkey Burger for another delicious option!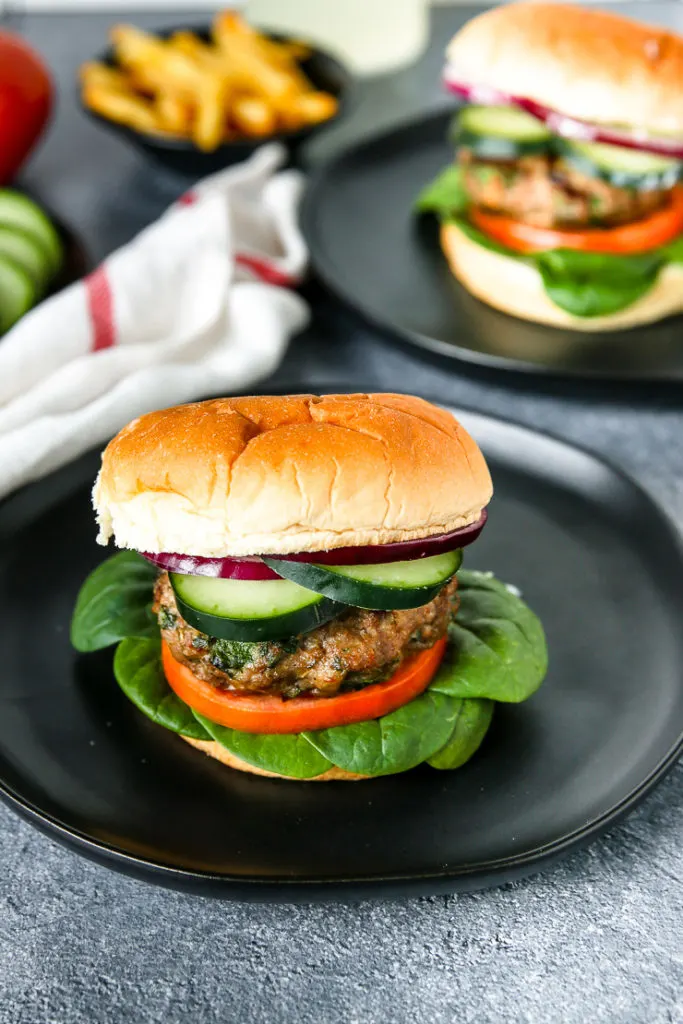 How to make Spinach Feta Turkey Burgers
To make the spinach feta turkey burgers, you'll want to preheat the grill to 350°F. I love using a gas grill for these to help keep the temperature pretty steady.
In a large bowl, mix together the ground turkey, chopped spinach, crumbled feta, minced garlic, dried oregano, salt and pepper. Divide the mixture into four patties and set those aside until the grill is ready.
Put the burgers on the grill then let them cook for 6-7 minutes on each side, or until the internal temperature reaches 165°F. I love using a digital thermometer to help with this.
Assemble the buns with your burgers and toppings of your choice and enjoy!
Looking for other fun meals to grill? Try one of these: