These Grilled Salmon Burgers are full of flavor and will be a family favorite. Learn how to grill salmon burgers and enjoy them all year round!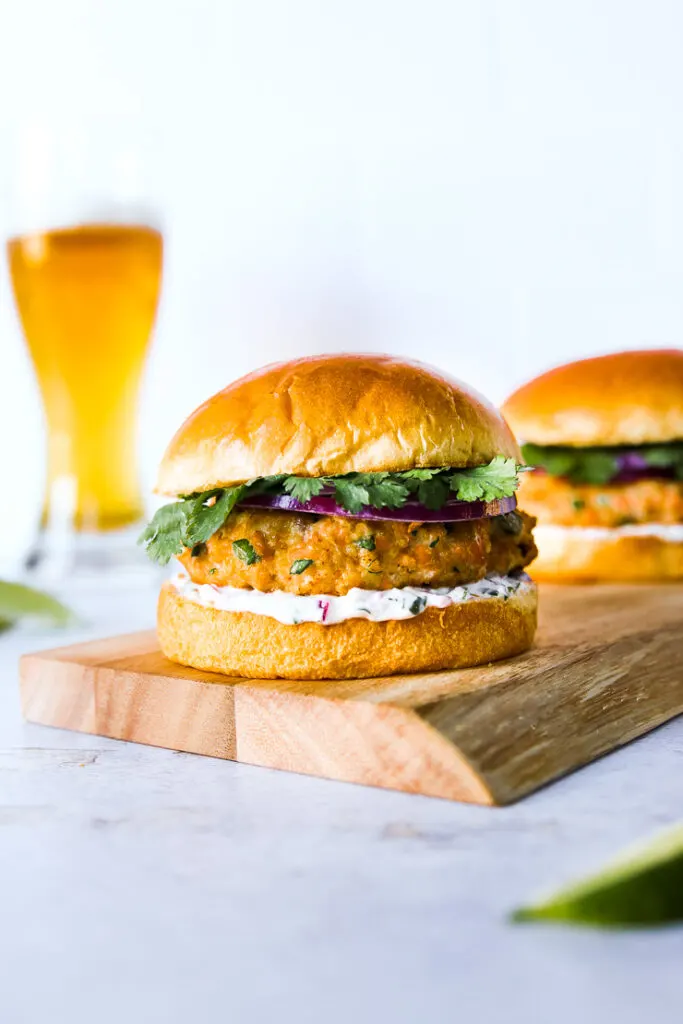 Grilled Salmon Burgers
Summer means burgers and these Grilled Salmon Burgers will be some of your new favorites! It's light, refreshing, and unlike any that you've had before.
The hints of cilantro, lime and red onion add brightness and crunch that you'll want to make again and again.
The Culinary Compass participates in several different affiliate programs. As an Amazon Associate, we earn from qualifying purchases.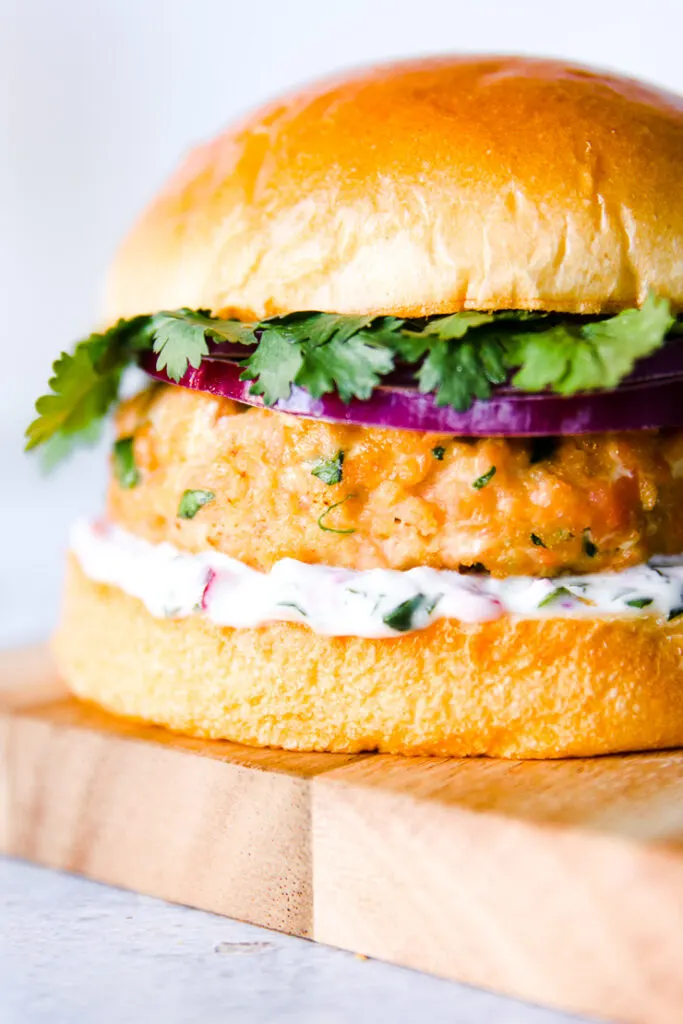 How do you make salmon burgers from scratch?
Some seafood companies will sell raw salmon meat that is flaked that makes making salmon burgers even easier.
It can be pricey, but ordering from local Alaskan markets that ship is an easy way to get incredible quality salmon.
Using raw salmon filets from the grocery store is the route I usually take. It can be a little messy and not as convenient, but always delicious.
Cutting it really finely is one way to make it easier to form into patties, or just pulsing chunks in a food processor makes it really easy to work with.
Smaller pieces makes it easier to bind with the other ingredients so that they don't flake as easily on the grill.
What ingredients do you need to make salmon burgers?
To make salmon burgers, you'll want the following:
Salmon filets
Eggs
Panko breadcrumbs
Green onions
Cilantro,
Ground ginger
Reduced-sodium soy sauce
Lime juice
Salt and pepper, if desired
Can I make grilled salmon burgers with canned salmon?
While I haven't tried using it with this salmon burger recipe, it can be a great alternative to making salmon burgers. Choose high quality, sustainably caught, boneless and skinless salmon if you're able to. Wild Planet is a great option!
Since the canned salmon is already cooked through, you'll just need to cook the salmon burgers through to warm them mostly.
Do I need to use a grill?
Not necessarily! You can make these in a grill pan, or really, even in a skillet with some oil to help it brown and keep it from sticking.
How do you know when salmon burgers are done?
Using an instant read digital thermometer is the best way to determine the doneness of the of the salmon burgers.
The USDA says the internal temperature of salmon should be 145ºF so that's what you're shooting for.
If you use canned salmon, it just needs to be warmed through!
What do you put on top of salmon burgers?
Burger toppings are up to you! My favorites for salmon burgers are:
Lettuce
Sliced red onions
Avocado
Mayonnaise – especially lime or cilantro mayonnaise
Cilantro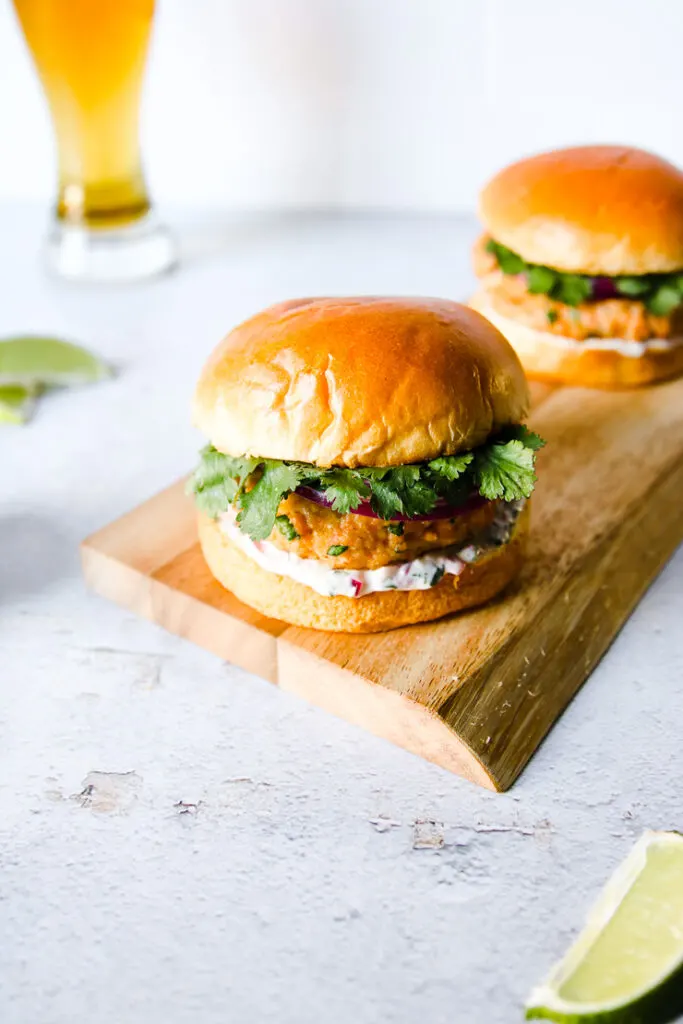 How to Make Grilled Salmon Burgers
To make grilled salmon burgers out of fresh salmon, cube your salmon filets into large chunks. Add those salmon cubes to a large food processor and pulse 7-8 times, until salmon is coarsely chopped, but some chunks still remain.
If you don't have a food processor, use a knife to cut the salmon into small chunks.
In a medium bowl, add the beaten eggs, Panko breadcrumbs, green onions, cilantro, ground ginger, soy sauce, lime juice, and salmon. Mix the ingredients until they are combined. The binding agents should allow for the mixture to stick together pretty easily.
Form 4 evenly sized salmon patties from the mixture and transfer the salmon patties to a plate. Put the plate covered with plastic wrap in the refrigerator for 30 or so minutes to allow patties to firm up. This will help make sure that the patties don't fall apart as easily.
If you're using a gas grill, add the patties to the grill when it's at about 350ºF and cook for 5-6 minutes then flip and cook for 5-6 minutes more.
If you're using a skillet on a stovetop, add some olive oil to the skillet over medium high heat. Add the patties and cook the burgers for 5-6 minutes on both sides.
Grill or toast the buns and add the patty and toppings to enjoy!
Looking for other burgers to enjoy this summer? Try one of these: