Pecan Crusted Salmon is a delicious weeknight meal topped with a honey and Dijon mustard coating with pecans and Panko breadcrumbs.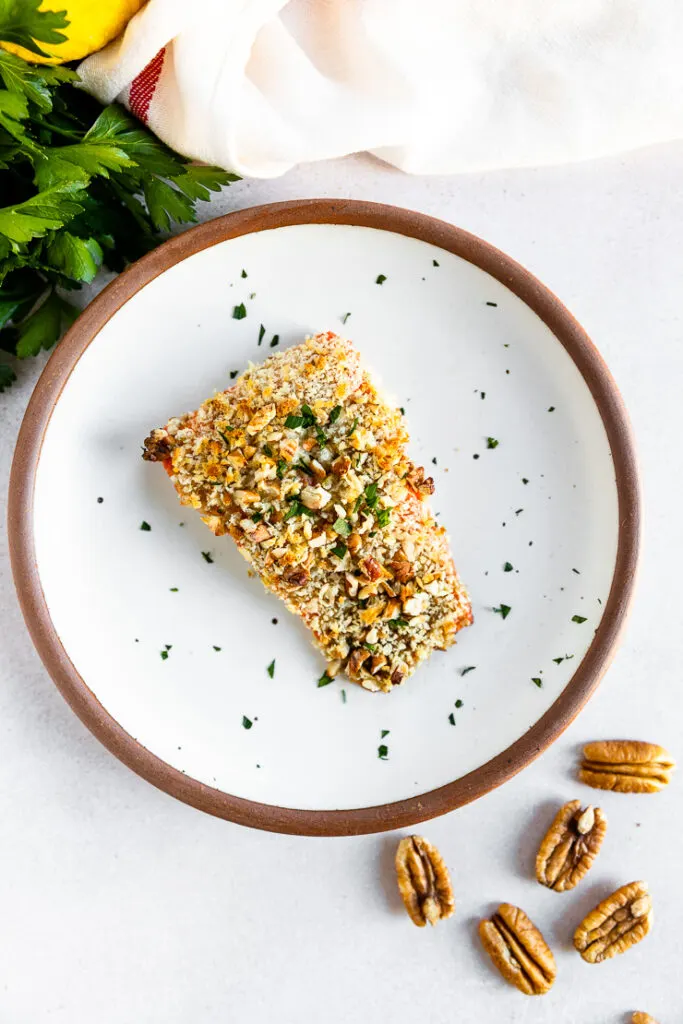 Pecan Crusted Salmon
Growing up, I wasn't a huge fan of salmon, but as soon as I had some that wasn't just steamed and not seasoned, I realized salmon could actually be good. Shocking, right?
This Pecan Crusted Salmon is a both a great beginner recipe for someone looking to like salmon for the first time, and a tried and true classic for salmon lovers.
This recipe combines the rich flavors of honey, Dijon mustard, and lemon juice with the nutty goodness of pecans that ensures any fishiness from salmon is lessened.
This dish is not only delicious and perfect for a special occasion, but it's also easy to prepare and a delicious way make any salmon skeptic a believer!
The Culinary Compass participates in several different affiliate programs. As an Amazon Associate, we earn from qualifying purchases.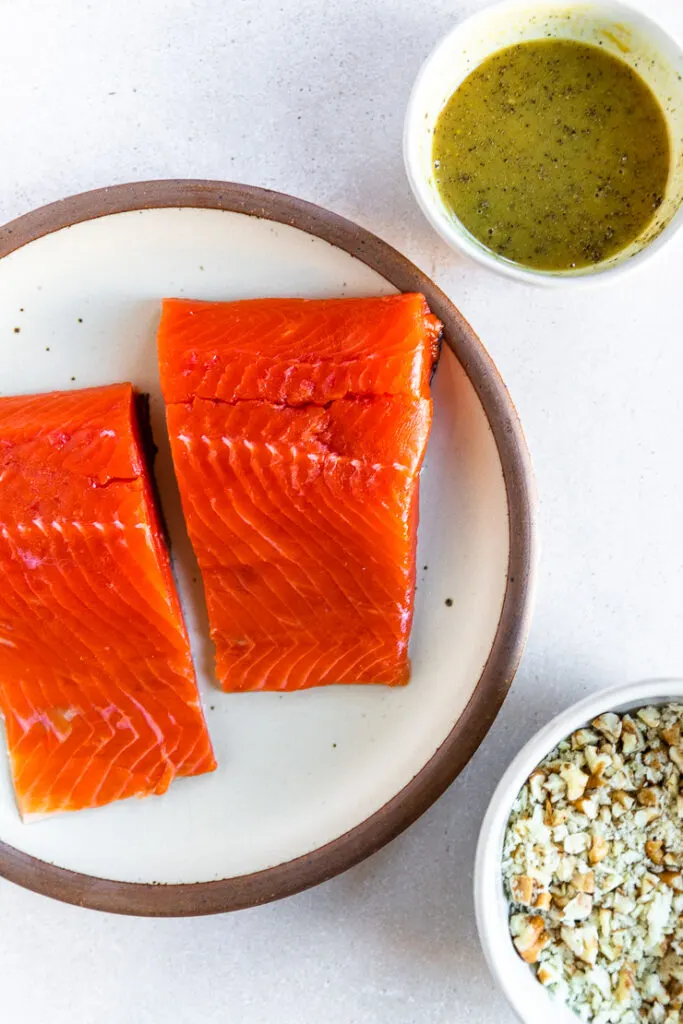 Pecan-Crusted Salmon Recipe Ingredients
You'll just need a few ingredients:
Salmon filets
Dijon mustard
Honey
Lemon juice
Salt
Pepper
Panko breadcrumbs
Finely chopped pecans
Ingredient Substitution
While the original recipe has a great balance of flavors, you can customize the Pecan Crusted Salmon to suit your preferences. Here are a few ingredient substitutions you can try:
Instead of Dijon mustard, you can use whole grain mustard for a more textured flavor.
Maple syrup can be substituted for honey, adding a touch of sweetness with a hint of earthiness.
Brown sugar can be a great replacement for the honey, if needed.
Use worcestershire sauce, soy sauce, or garlic powder to punch up the umami flavor.
Lime juice can replace lemon juice if you prefer a slightly tangier taste.
If you're allergic to pecans or want a different twist, consider using almonds, walnuts, or pistachios in place of pecans.
Add in some cayenne pepper to give the salmon a kick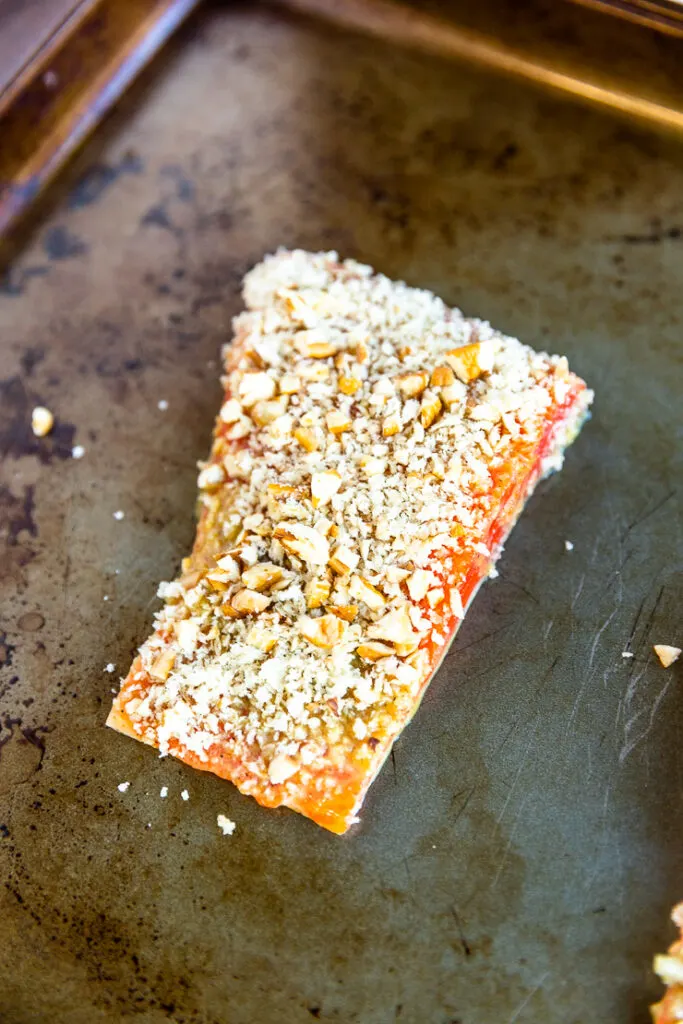 Can I use frozen salmon fillets for this easy salmon recipe?
Yes, frozen salmon fillets work well for this recipe! Just make sure to thaw them thoroughly before starting the preparation and be sure to use paper towels to remove any extra moisture from the thawed frozen filets.
Fresh salmon is definitely my preference if you can swing it from your local grocery store!
This Lemon Dill Garlic Butter Salmon is another great way to serve fresh salmon!
How do I know when the salmon is cooked through?
Salmon is cooked when it becomes opaque and the salmon flakes easily with a fork.
Since the topping can make it hard to tell, you can use a food thermometer to ensure it reaches an internal temperature of 145°F.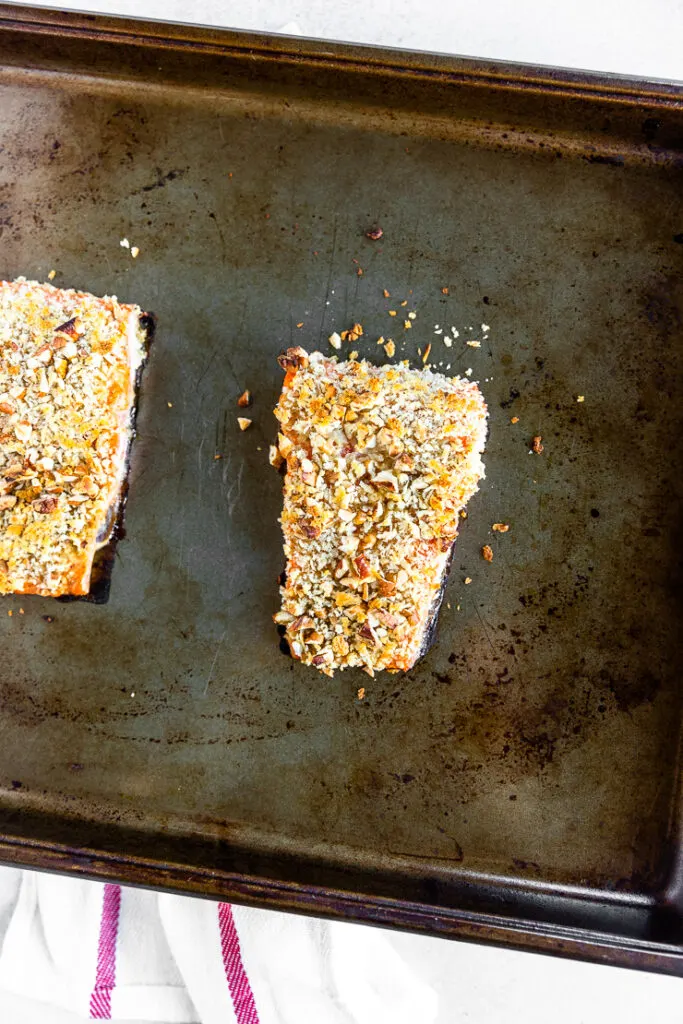 Can I prepare the breadcrumb mixture in advance?
While it's best to prepare the bread crumb mixture fresh, you can make it a day ahead and store it in an airtight container at room temperature.
Is this recipe suitable for a gluten-free diet?
To make the recipe gluten-free, you can replace the panko breadcrumbs with gluten-free breadcrumbs or crushed gluten-free crackers.
How to make Pecan Crusted Salmon
To prepare this easy recipe, start by mixing together the Dijon mustard, honey, lemon juice, salt, and pepper in a small bowl. In another mixing bowl, combine panko breadcrumbs and finely chopped pecans. Next, brush the mustard mixture evenly over the surface and sides of the salmon fillets with the skin side of the salmon facing down.
Sprinkle the breadcrumb mixture over top each fillet, pressing it gently to help it adhere. Place the coated salmon fillets on a baking sheet prepared with parchment paper and bake them in a preheated oven at 425°F for 10-12 minutes or until the fish is cooked through and the pecan crust topping turns a beautiful golden brown.
Serve your Honey Pecan Crusted Salmon with your choice of sides, such as roasted vegetables like Crispy Roasted Sweet Potatoes, Italian Quinoa Salad, or a fresh green salad, and enjoy altogether for a delicious dinner!