This Italian Quinoa Salad is a perfect side dish with all the flavors of a caprese salad. Eat it cold for lunch or warm up for dinner!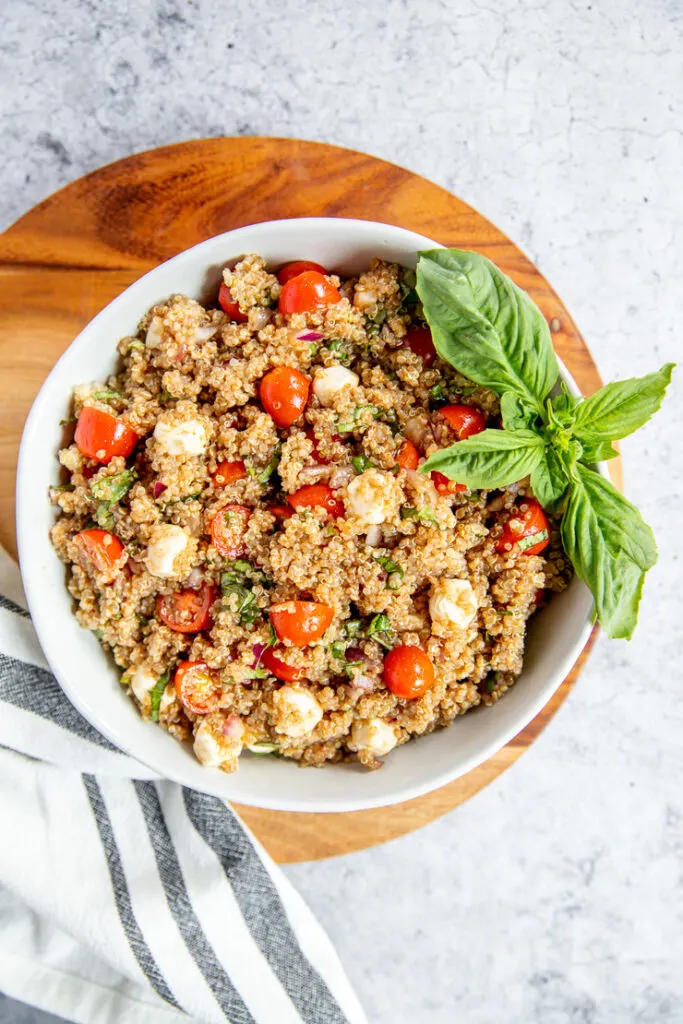 Italian Quinoa Salad
This Italian Quinoa Salad recipe might be one of my favorite ways to eat quinoa ever, especially with the tangy balsamic vinaigrette. It's so easy to just grab a fork and dig in!
The quinoa salad is a perfect summertime recipe. It full of fresh flavors and bright in taste which keeps people coming back for more.
I love serving it as a main dish with Grilled Boneless Skinless Chicken Thighs to add some protein or as a side dish served cold during a potluck alongside these Baked Italian Sliders.
The Culinary Compass participates in several different affiliate programs. As an Amazon Associate, we earn from qualifying purchases.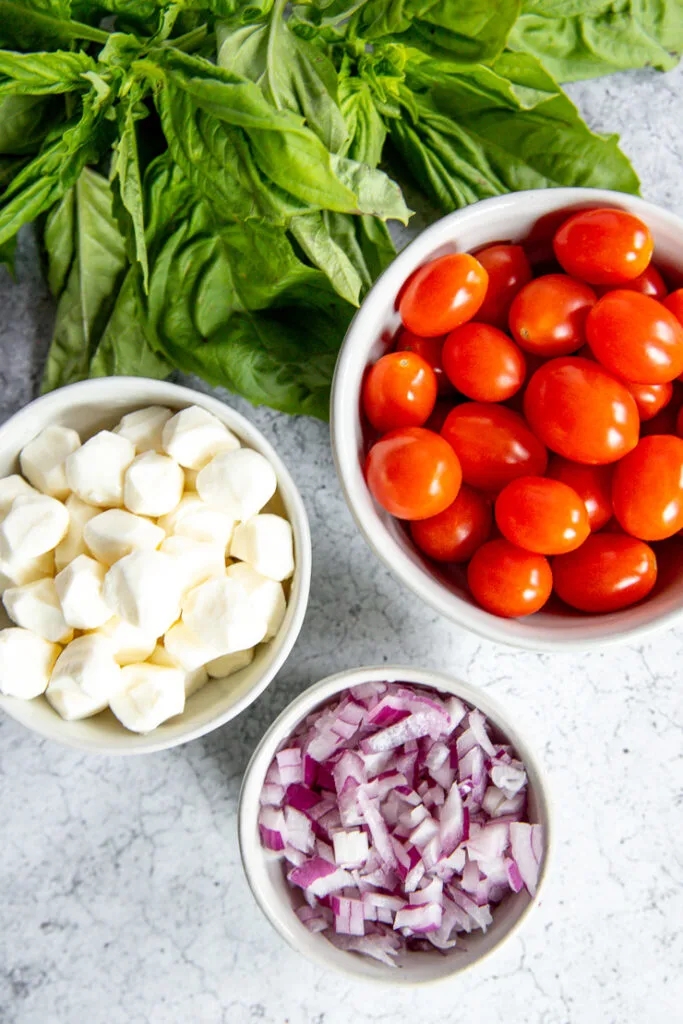 What ingredients do I need for an Italian Quinoa Salad?
You'll just need a few ingredients to make this Italian quinoa recipe:
Quinoa
Water
Grape tomatoes or cherry tomatoes
Pearl mozzarella
Fresh basil
Red onion
For the dressing ingredients, you'll need:
Olive oil
Balsamic vinegar
Honey
Dijon mustard
Salt
Black pepper
You can use any type of quinoa that you have on hand. I usually like making it with tri-color quinoa mostly for how pretty it ends up being!
If you can't find pearl mozzarella, you can also get a ball of fresh mozzarella and cut it into bite sized pieces to add in. Or you can remove the mozzarella cheese altogether to keep it dairy free.
If you have leftover mozzarella cheese, try making this Baked Chicken Caprese or Tie Dye Pizza.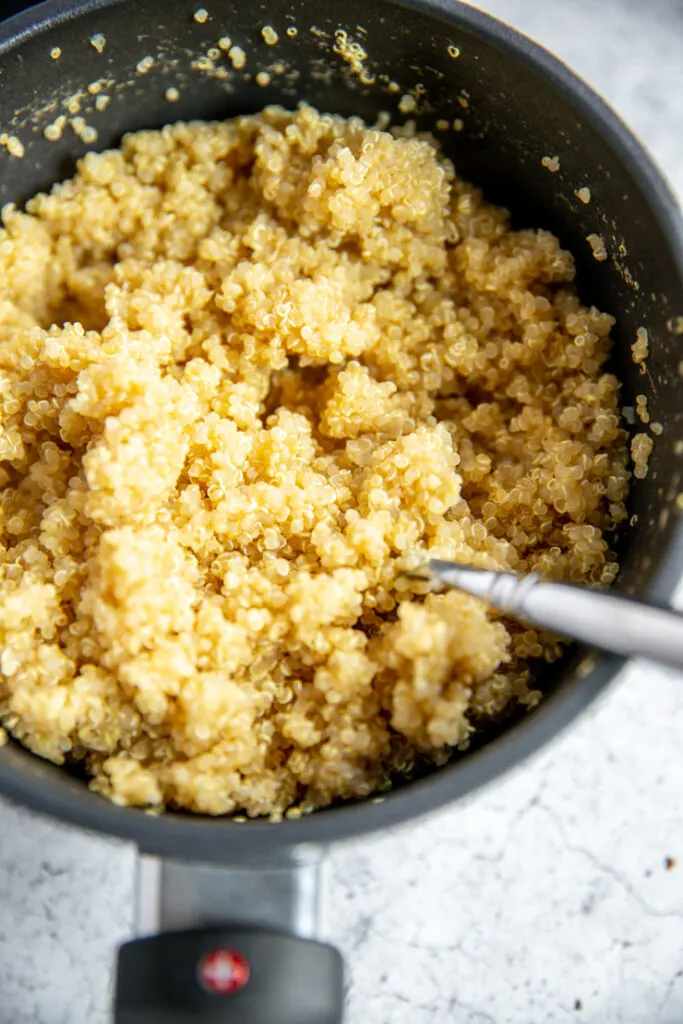 What other ingredients could I add to this salad?
To make this more of a mediterranean quinoa salad recipe, you could add in some kalamata olives, black olives, sun dried tomatoes or roasted tomatoes, feta cheese, and pine nuts. Some diced bell peppers, zucchini, green onions, fresh parsley, or arugula could also make it a great veggie filled salad.
For the dressing, you could even swap out those ingredients for something as simple as Italian dressing.
Is this salad gluten free?
Quinoa is naturally gluten-free! Before you start preparing everything, be sure to check all of your individual ingredients to be sure.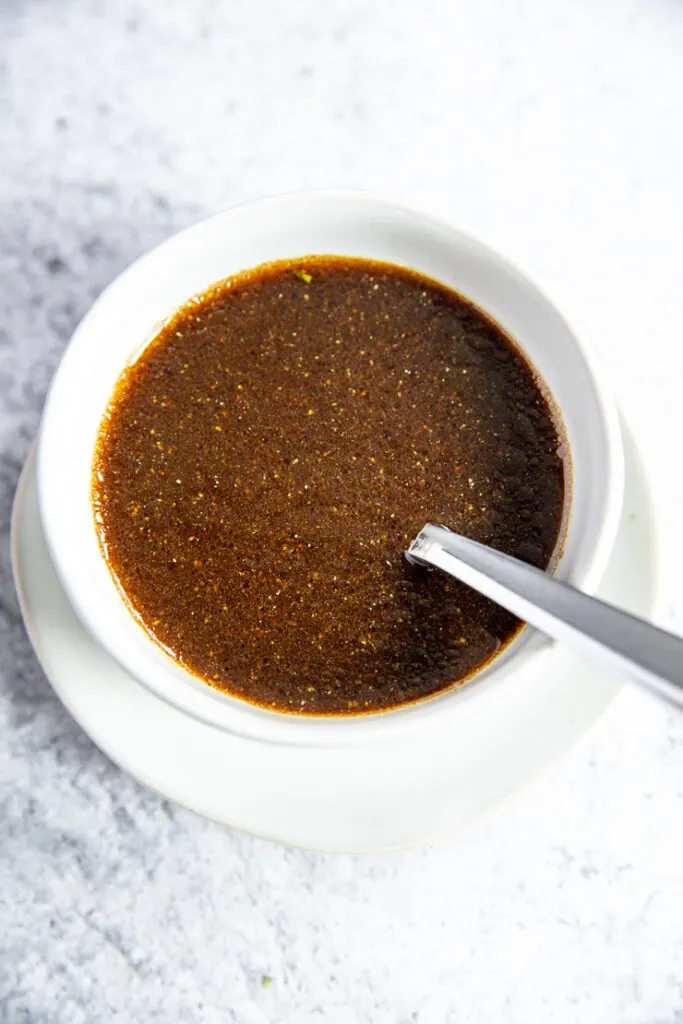 Make ahead tips
Making this dish ahead of time is a breeze. You'll definitely want to cook your quinoa ahead of time to let it cool first, then prepare the rest of your veggies. Toss everything together once the quinoa is cooled and store it in an airtight container.
You can also keep the dressing assembled in a small mason jar to pour over the dish once you're ready. The cold italian quinoa salad can hold up to the dressing if you want to pour it over so it can soak into the quinoa!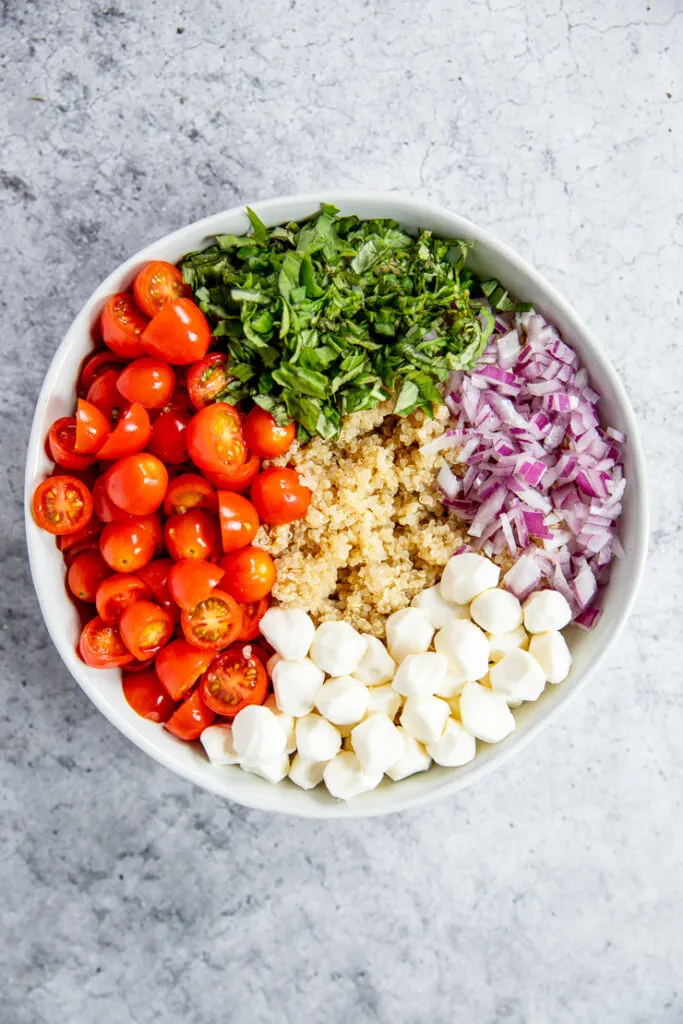 How do I store leftovers for Italian Quinoa Salad?
Leftovers can be stored in the fridge in an airtight container or at least three days. It's a great cold salad so you can eat it straight from the fridge too!
Can you double this recipe?
Yeah! It can easily double or triple for meal prep or for parties. The leftovers can stay in the refrigerator for a few days after assembly.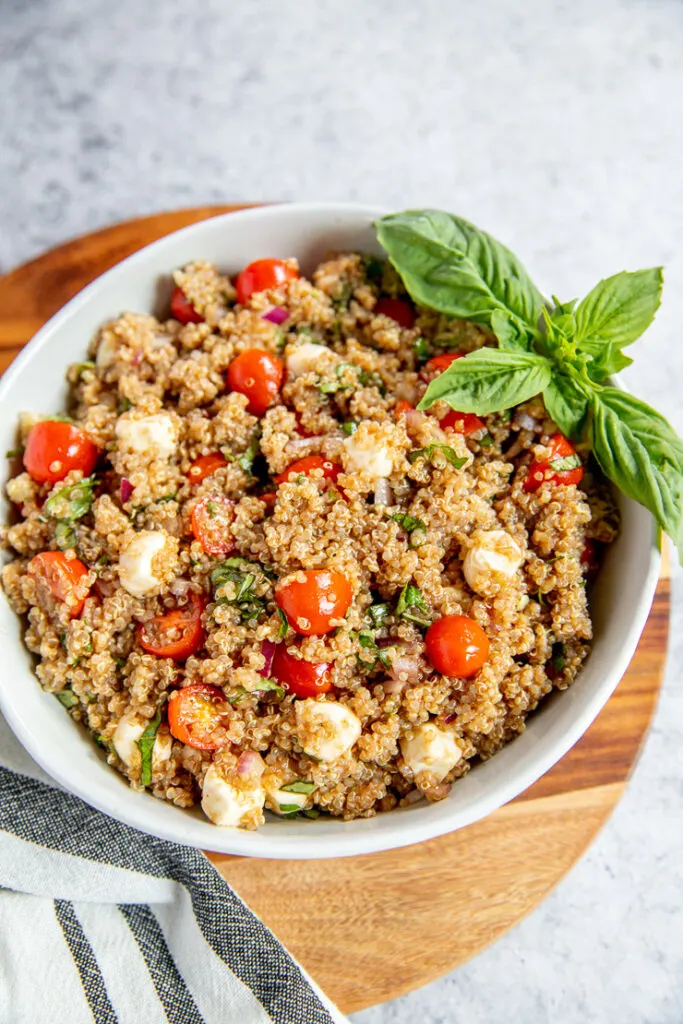 How to Make Italian Quinoa Salad
It only takes a few steps to make:
Combine your quinoa and water into a medium sauce pan and bring to a boil. Reduce the heat and cover to cook quinoa. Let it simmer together for 13-15 minutes until the water is absorbed then fluff with a fork and set aside to cool.
In a large bowl, combine your halved grape tomatoes, pearl mozzarella, basil, and diced red onion.
In a small bowl, whisk together the olive oil, balsamic vinegar, honey, dijon mustard, salt, and pepper until the mixture is combined.
Once your quinoa is room temperature, add it to the large bowl with the tomatoes and mix together. Drizzle your balsamic mixture on top and toss together until it's nice and combined.
Serve the quinoa salad cold or heat up and serve warm!