This Sheet Pan Shrimp Boil is an easy weeknight dinner with all the flavors of a low country boil. It's piled high with shrimp, corn, potatoes, and andouille sausage.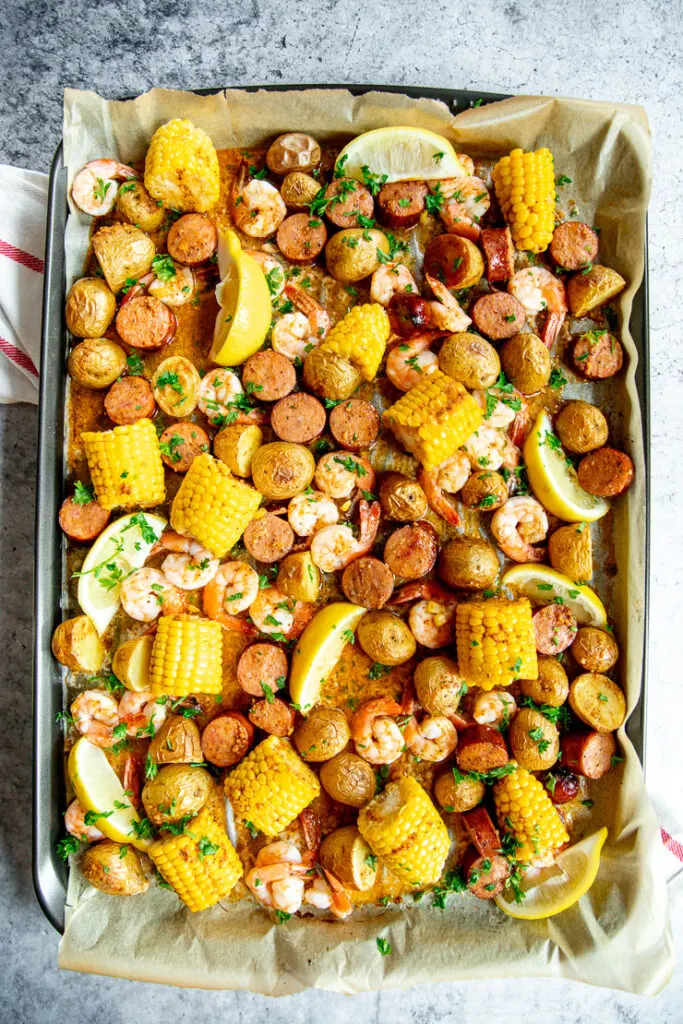 Sheet Pan Shrimp Boil Recipe
This Sheet Pan Shrimp Boil is a delicious and easy one-pan meal that's perfect for any seafood lover. This recipe combines the classic flavors of a traditional shrimp boil with the convenience of a sheet pan dinner, making it a great option for busy weeknights or a fun summer gathering with friends and family. Who doesn't love an easy clean up!?
With a mix of juicy shrimp, flavorful andouille sausage, and tender potatoes and fresh corn, all tossed in a spicy butter sauce, this dish is bursting with flavor and sure to be a crowd-pleaser. Plus, with easy substitutions and variations, you can customize the recipe to your liking and make it your own.
The Culinary Compass participates in several different affiliate programs. As an Amazon Associate, we earn from qualifying purchases.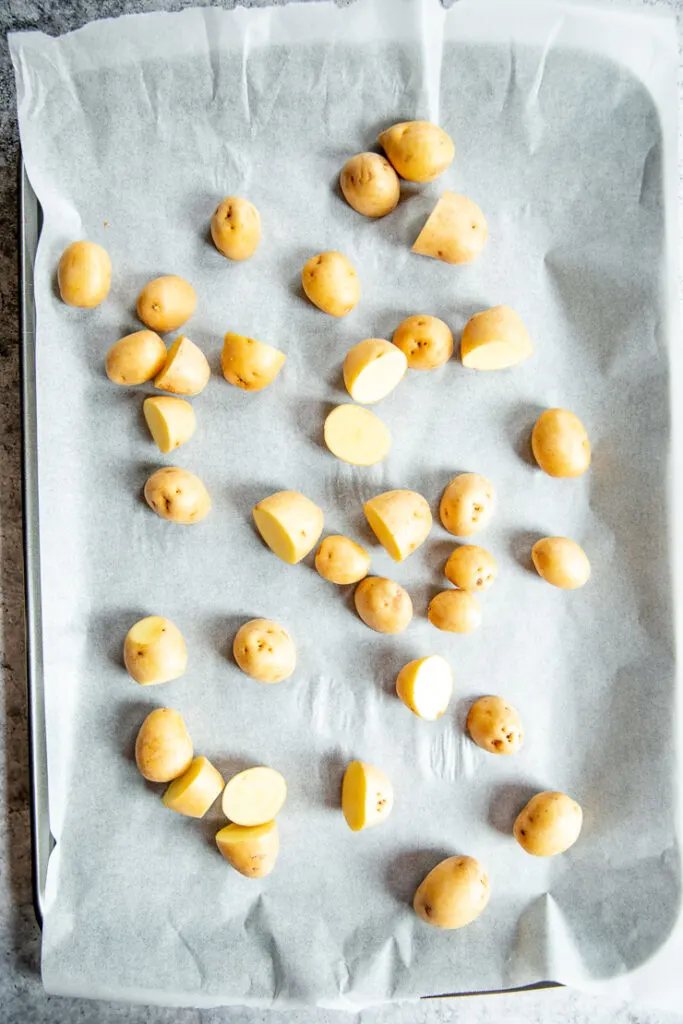 Sheet Pan Shrimp Boil Ingredients
Baby Dutch yellow potatoes
Olive oil
Corn on the cob
Unsalted butter
Garlic cloves
Old Bay seasoning
Shrimp
Andouille sausage
Lemon slices
Fresh parsley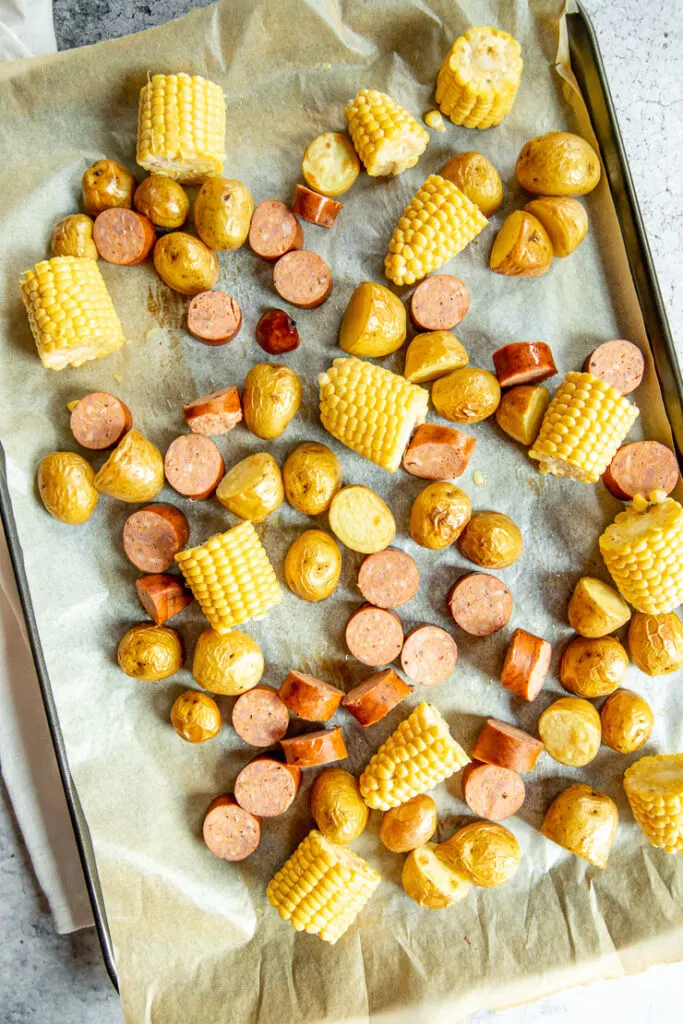 Ingredient Substitutions and Variations
The great thing about a sheet pan shrimp boil is how much you can make it your own. Add in other proteins like crab legs, mussels, clams, chicken sausage, or even tofu! Swap out the andouille sausage for spicy sausage.
Sweet corn is definitely the classic choice of veggie, but you can always switch that out, or add to it depending on what is in season or what you have on hand! Vegetables like bell peppers, green beans, red onion, asparagus, or Brussels sprouts are all great options.
Switch out the yellow potatoes for something like red potatoes, sweet potatoes, or butternut squash to switch it up even more!
While I'm an Old Bay lover, you could switch that out for a Cajun seasoning blend. You can even make up your own homemade Old Bay seasoning using paprika, garlic powder, onion powder, and cayenne pepper. Old Bay vs Cajun seasoning are a little different flavor profiles, so adjust the seasoning carefully!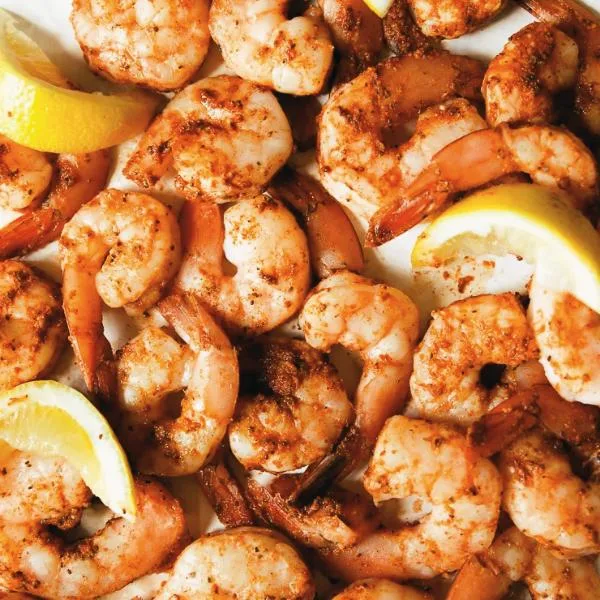 Wild Caught Shrimp
These Wild-Caught Shrimp come peeled and deveined making dinner that much easier!
What side dishes would go well with a sheet pan shrimp boil?
The great thing about a sheet pan shrimp boil is that it is the whole meal! Sides aren't necessary, but it also goes with a ton of options.
You could pair it with buttermilk cornbread, easy coleslaw, macaroni salad, summer salad, grilled vegetables, a green salad, or even garlic bread. Definitely bring some Cocktail Sauce with Horseradish to the table too!
Have extra shrimp and creole seasoning? Try pairing this with a New Orleans Bloody Mary!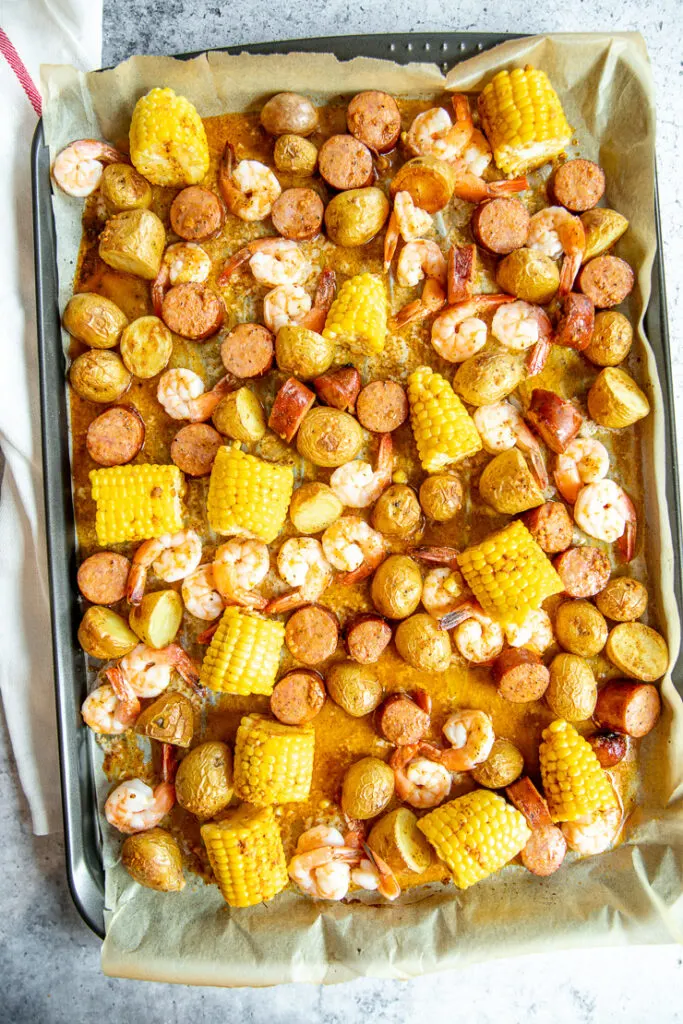 FAQs
What is a low country boil?
A low country boil is a south-eastern seafood boil. Think New England clam bake, but with succulent shrimp, crawfish, or even crabs depending on the recipe. Pair that with some tender corn, potatoes, and kielbasa or sausage into a large stock pot and you've got yourself a traditional seafood boil.

It's called a low country boil because of where it originates. You may even hear of a Frogmore Stew which is an homage to where the creator is from. Frogmore is a small community within St Helena Island outside of Charleston.
Can I use frozen shrimp for a shrimp boil?
Yes — you can use frozen shrimp in a sheet pan shrimp boil.

It's important to thaw them properly before cooking to ensure they cook evenly and don't affect the texture of the dish. A quick way to thaw frozen shrimp is to place them in a colander and rinse them under cold running water until they are completely defrosted.

You could also place the shrimp in a bowl of cold water and let them sit for about 10-15 minutes making sure to stir the water occasionally.Once the shrimp are thawed, you can pat them dry with paper towels and you're ready to go!
Can I make this recipe on the grill or stovetop instead of in the oven?
Instead of using the oven, you could make this recipe on a grill or stovetop. For grilling, you can wrap the ingredients in foil to make a steaming foil packet or use a grill basket.

For stovetop, you can use a large skillet or pot for everything to simmer together!
How to make a Sheet Pan Low Country Boil
To make this a sheet pan shrimp boil, preheat the oven to 400°F and prepare a cookie sheet or rimmed baking sheet with parchment paper or aluminum foil. Cut potatoes in half and place potatoes on the prepared baking sheet in a single layerr, drizzle with olive oil, and bake for 20 minutes.
Meanwhile in a small bowl, melt butter in the microwave. Combine butter with the minced garlic and Old Bay seasoning. After 20 minutes, add corn and sliced andouille sausage to the sheet pan, pour half of the melted butter mixture over, and toss. If you're worried about making a mess, you can put everything in a large bowl to mix first!
Bake for 5 minutes, then add shrimp, pour the remaining butter mixture, and toss again. Cook for 6-8 more minutes until shrimp are pink. Top with lemon wedges and parsley, and serve!