This Old Bay Seasoning substitute comes together with just a few ingredients and in a few minutes. This copycat recipe will be a staple!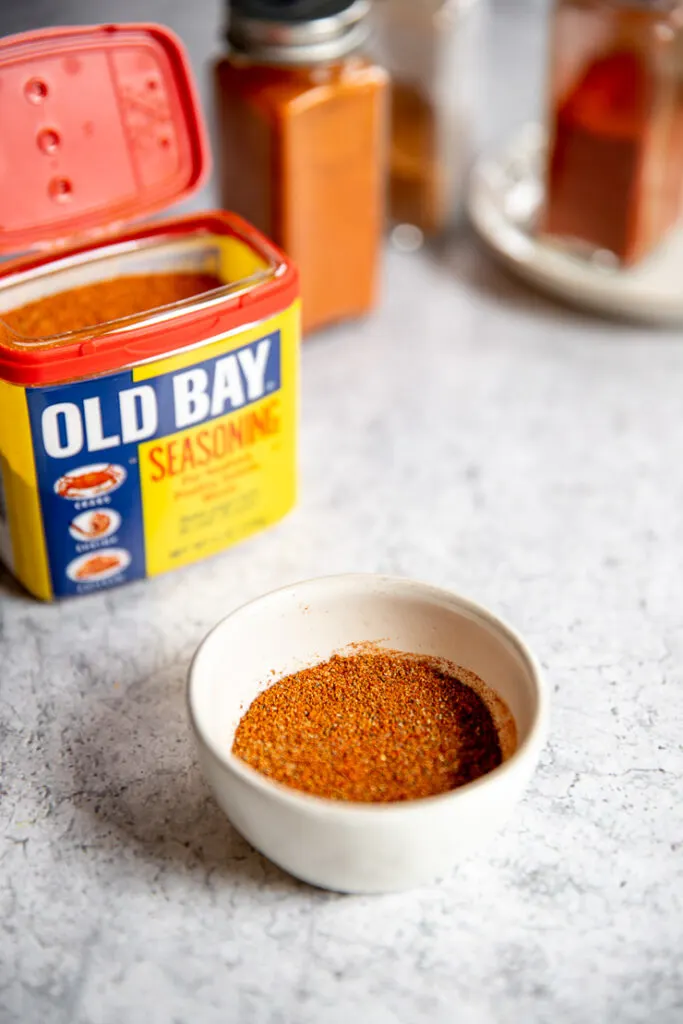 Old Bay Seasoning Substitute
Old Bay is basically the only spice you need when you grow up in Maryland. Luckily, if you ever run out, or are in a place where you can't buy it, making your own homemade Old Bay seasoning substitute is super easy!
It's a flavorful and customizable seasoning blend that's perfect for sprinkling on just about anything. The best part is that you can adjust the heat, saltiness, and other flavors so you can tailor the seasoning to your taste buds.
Whether you're a fan of bold and spicy flavors or prefer a more mellow and savory taste, this seasoning mix is sure to become a go-to spice blend in your kitchen.
The Culinary Compass participates in several different affiliate programs. As an Amazon Associate, we earn from qualifying purchases.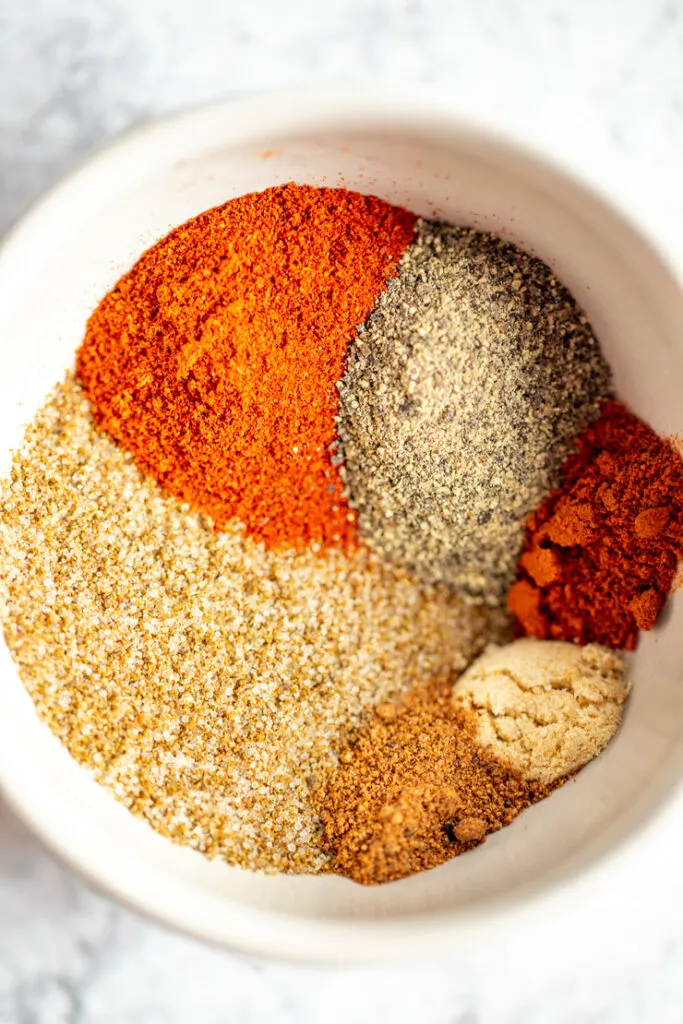 Old Bay Substitute Ingredients
Create your own version of this homemade Old Bay Seasoning recipe using a combination of the following spices:
Celery salt
Paprika
Ground black pepper
Cayenne pepper
Ground nutmeg
Ground dry yellow mustard
Ingredient Substitutions and Variations
Celery salt: You can substitute regular salt or sea salt, but it won't have the same unique flavor from celery. You can also try using ground celery seed or celery powder for a similar taste.
Paprika: If you don't have paprika, you can use smoked paprika or chili powder for a smoky flavor, or cayenne pepper for a spicier taste.
Ground black pepper: You can use white pepper or pink pepper instead of black pepper for a different flavor. You can also try using ground Sichuan pepper for a slightly numbing and citrusy taste.
Cayenne pepper: If you don't have cayenne pepper, you can use red pepper flakes, chili powder, or paprika for a milder taste. If you want more heat, you can use hot sauce or fresh chili peppers for a spicy flavor.
Ground nutmeg: You can use ground cinnamon or allspice for a warm and sweet flavor. If you want a more savory taste, you can try using ground cloves or mace.
Ground yellow mustard: You can use Dijon mustard or whole grain mustard for a similar flavor. You can also try using turmeric for a bright yellow color and mild taste.
Keep in mind that the flavor and aroma of the substitute may differ slightly from the original recipe, but these substitutions can still be delicious!
Other common ingredients found in substitutes include star anise, bay leaves, fennel seed, coriander seeds, Chinese five-spice, cilantro seeds, and mustard seed.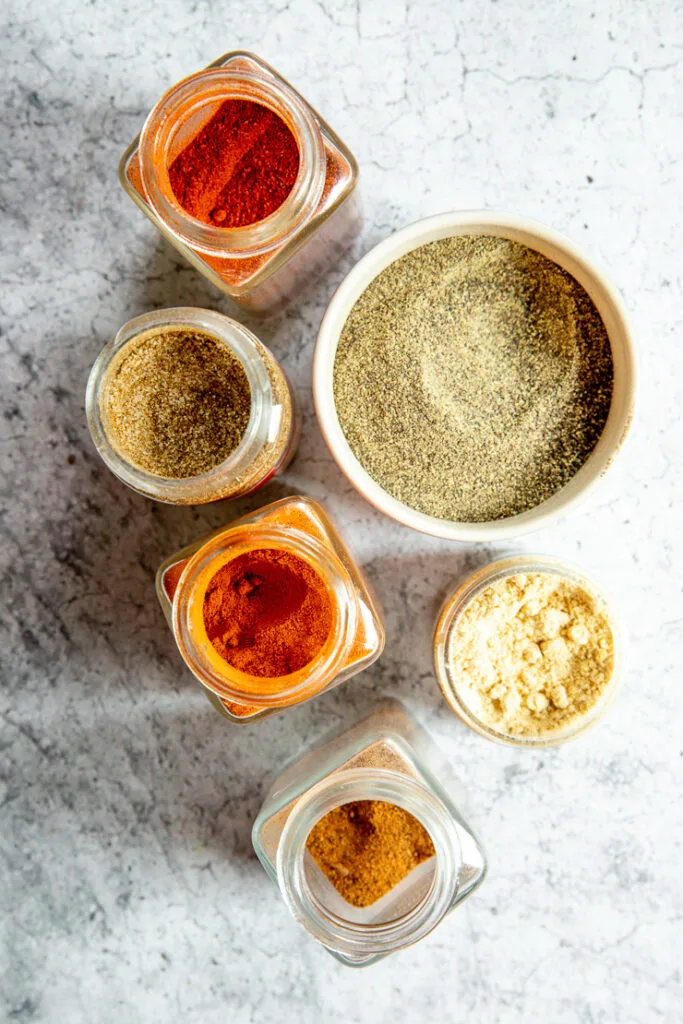 What is Old Bay?
Old Bay Seasoning is a blend of herbs and spices created by the McCormick & Company based in Baltimore, Maryland.
The Chesapeake Bay spice company markets its seasoning "For Seafood, Poultry, Salads, Meats." If you're from or have been to Maryland, you know how true that is.
We can put it on anything and everything. Think crab cakes, crab dips, french fries, deviled eggs, popcorn, shrimp boils, Bloody Marys, … really anything.
The flavor profile's main ingredient list include a blend of celery salt mixed with black pepper, crushed red pepper flakes, paprika, and other spices that McCormick keeps secret.
What can I substitute for Old Bay seasoning?
Cajun seasoning often has a similar flavor profile to Old Bay. They typically contain a mix of paprika, cayenne pepper, garlic powder, onion powder, thyme, oregano, and black pepper. While not identical to Old Bay, it can provide a flavorful substitute that may be a touch spicier.
Creole seasoning shares some similarities with Old Bay and can work as an alternative. It typically includes paprika, garlic powder, onion powder, dried thyme, dried oregano, black pepper, cayenne pepper, and salt. More of the pepper and herb mixtures shine in this seasoning blend which is one of the best Old Bay seasoning substitutes.
Look for seafood seasoning blends specifically formulated for seasoning fish and shellfish. While not a direct replacement, they often have complementary flavors that work well in seafood dishes since they are often used for seafood boils.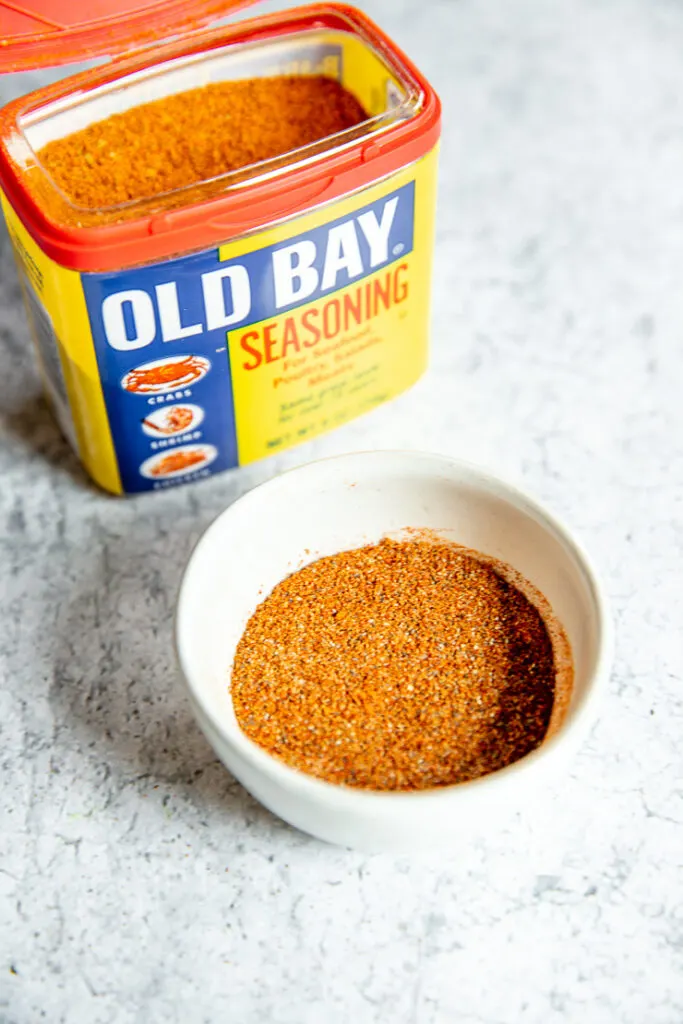 How to Store Homemade Old Bay Seasoning Substitute
Transfer the spice mix to an airtight container, such as a glass jar with a tight-fitting lid or a plastic container with a snap-on lid.
Label the container with the name of the seasoning and the date it was made. This will help you keep track of its freshness.
Store the container in a cool, dry place away from direct sunlight and heat sources. The pantry or a spice cabinet are good options. Use the seasoning within 6 months for optimal freshness and flavor.
If you notice any changes in the color, aroma, or flavor of the seasoning, discard it and make a fresh batch. It's also a good idea to periodically check your spice cabinet and use or replace any seasonings that are past their prime.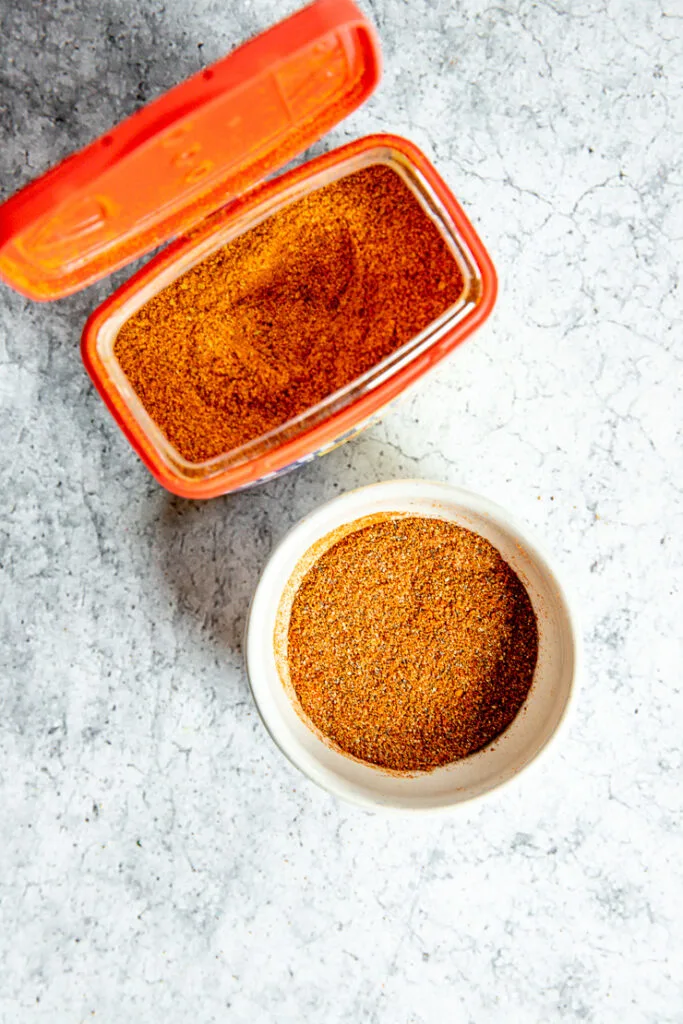 How Make Old Bay Seasoning Substitute
Whisk together celery salt, paprika, ground black pepper, cayenne pepper, ground nutmeg, and ground yellow mustard in a small mixing bowl. Multiply the amounts of each spice if you need more!
Transfer to an airtight container and store in a dark cool place.
Recipes using Old Bay
Travel to Maryland and try out these Old Bay Steamed Shrimp, The Best Maryland Crab Dip or Old Bay Sauce.
Try these Jalapeno Poppers, Old Bay Cauli Tots, or Copycat Cheddar Bay Biscuit recipes for some great appetizers full of Old Bay flavor!