This Balsamic Glaze recipe is a great topping for sweet and savory dishes! Here's how to make balsamic reduction in just a few steps.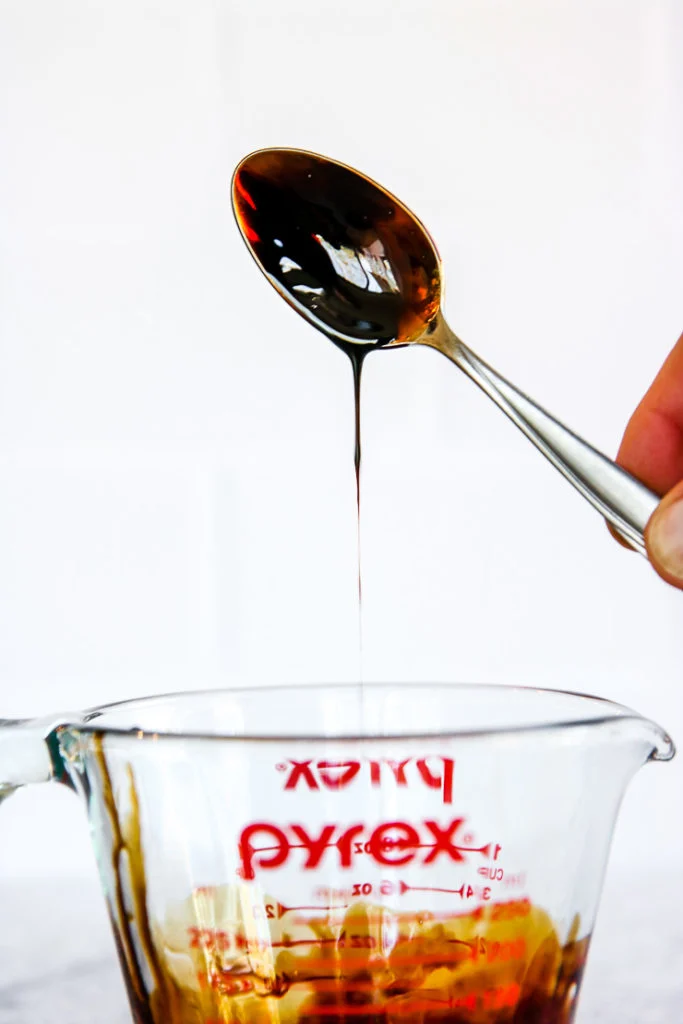 How to Make Balsamic Reduction
If you've ever wondered how to make balsamic reduction, look no further! Get ready for the easiest recipe you'll ever make.
It's literally just simmering balsamic vinegar until it reduces into a reduction.
That sentence is full of face palms and Chris Traeger references, but you get what I'm saying!
You'll only need one ingredient: balsamic vinegar. Put the balsamic vinegar in a small saucepan and heat to medium. Let it simmer or boil to reduce for 20 to 30 minutes depending on the amount you need.
Once you make it, you'll always want to make balsamic reduction at home.
It results in an easy topping for almost anything! Think caprese salad, pizza crusts, appetizers, brussels sprouts, ice cream, salads with olive oil, burgers… anything you put your mind to.
The Culinary Compass participates in several different affiliate programs. As an Amazon Associate, we earn from qualifying purchases.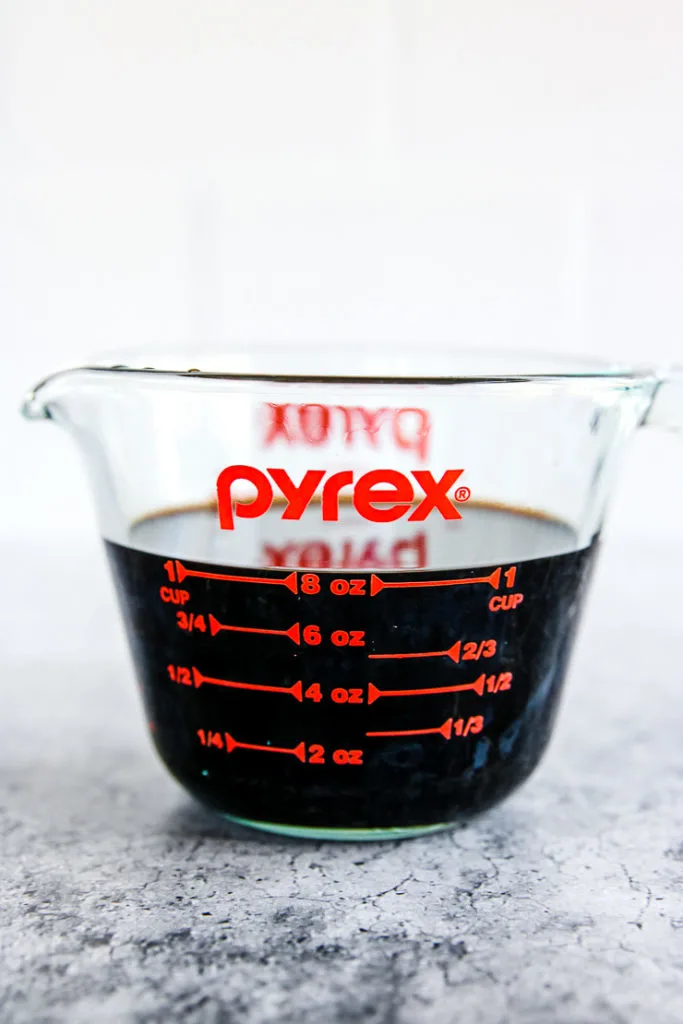 Is a balsamic reduction different than a balsamic glaze?
It isn't! Balsamic reduction and balsamic glaze are the same thing.
It's just balsamic vinegar simmered until most of the liquid has evaporated leaving a thicker sauce, reduction, or glaze behind.
What ingredients do I need?
The only ingredient you'll need is balsamic vinegar! You'll see that some recipes call for a sweetener to use as well. This will help cut the tartness of the vinegar if you're not big on tart flavors.
Balsamic vinegar is naturally sweet, though, so I tend to lean towards just using the balsamic vinegar itself without either the brown sugar, maple syrup, sugar or honey added.
Here's a great list of some good quality balsamic vinegars that you can buy at the grocery store!
Some of these are definitely more expensive that what you may normally buy, but it could be good to have on hand even as a vinegar option!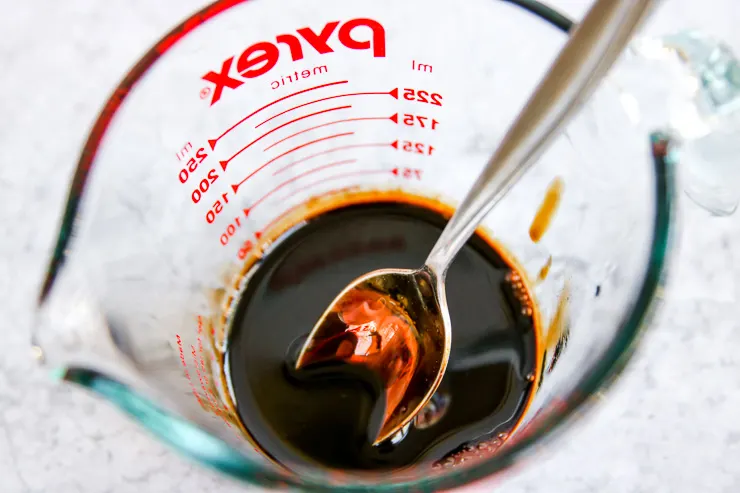 How long do I need to simmer the balsamic vinegar?
For one cup of balsamic vinegar while simmering over medium low heat, it'll take about 10-15 minutes for it to reduce by half.
Something to keep in mind is that balsamic vinegar can come in different viscosities. What that means is that it can come as more of a liquid and runnier, or thicker and closer to a reduction already.
If you're balsamic vinegar is thicker, you may not need to simmer it as much so take that into consideration and keep an eye on it.
A good trick to test to see if you've reached a good stage is to stir a spoon into the reduction. If it sticks to the spoon evenly, you're there!
How can I store homemade balsamic reduction?
You'll want to store balsamic reduction in a container that is air tight with a non-reactive lid.
Something glass is ideal, but a plastic squeeze bottle with a lid could also work.
How long does balsamic reduction last?
Since it is so acidic, it should last for awhile if kept properly in your refrigerator to help extend shelf life. If it hasn't been used within three months, consider making a new batch after that.
If you add any sugar or sweeteners to your recipe, it will reduce the shelf life so be sure to keep that in mind.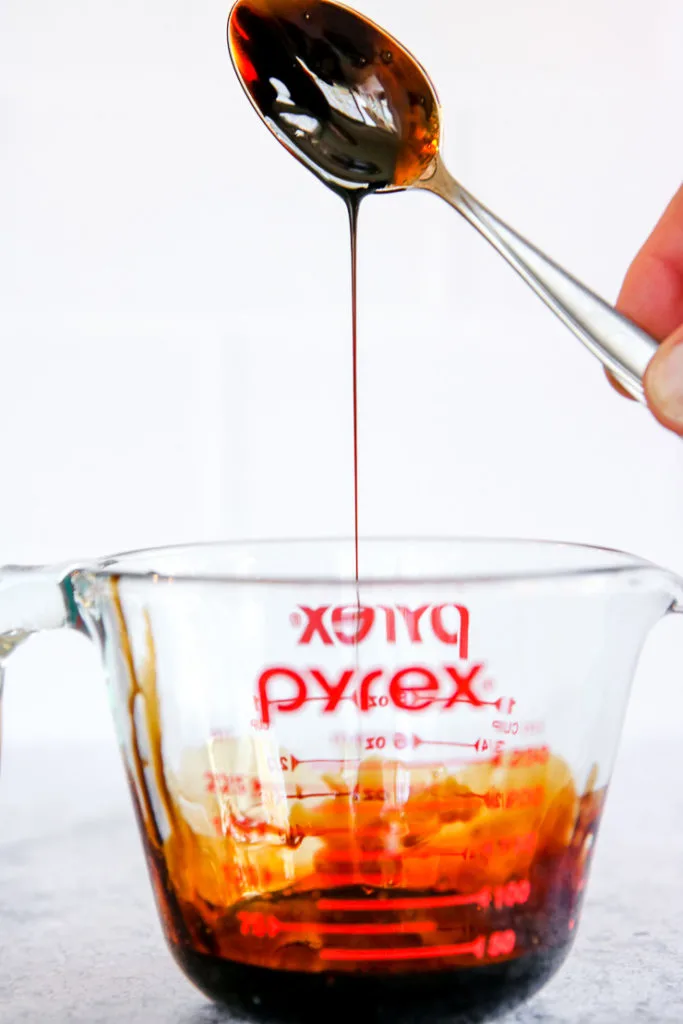 What if my balsamic glaze isn't thickened?
Something you might notice is that once you are able to coat your spoon with the balsamic glaze, that it's still pretty liquid. Trust the process!
Remove the balsamic glaze from the heat and it'll continue to thicken. Even 5 minutes later, you'll be surprised how it goes from liquid to glaze.
What can I use balsamic reduction on?
Honestly, it works on so many dishes! Try it drizzled on one of these: