This Grapefruit Crush recipe will be your new favorite summer cocktail. Freshly squeezed grapefruit juice makes for a tart drink that is delicious!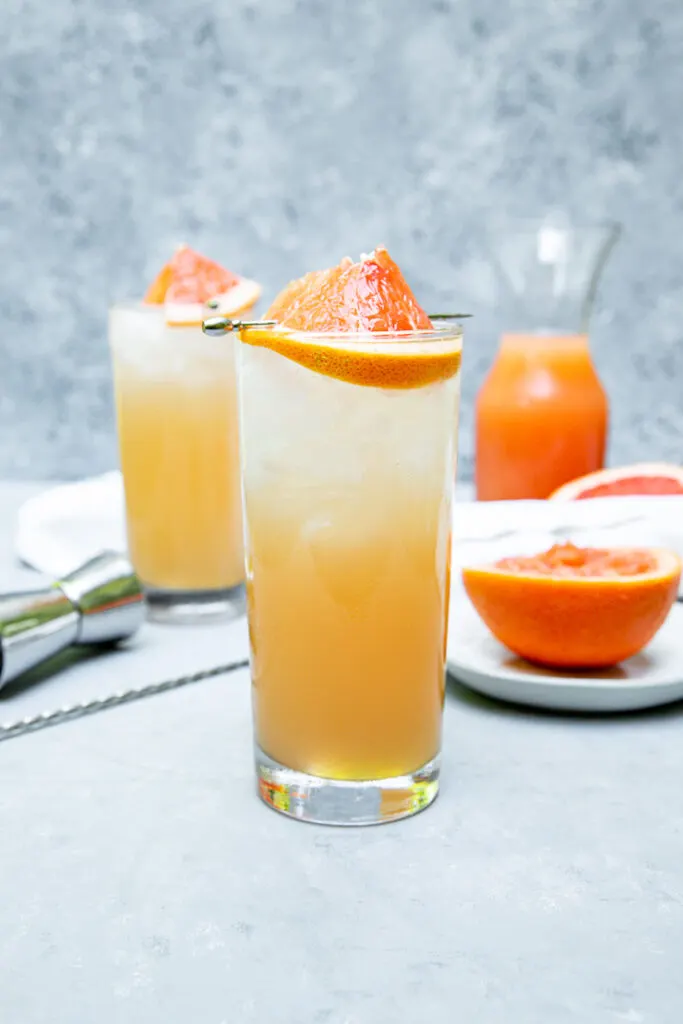 Grapefruit Crush
If you've been to Maryland during the summer, crush cocktails are a staple. You've probably heard of the the more well-known orange crush, but the grapefruit crush is a close second!
It's more tart than the orange version, but it's still a refreshing cocktail with its fresh squeezed juice, vodka, triple sec, and splash of Sprite.
Crush cocktail history
Grapefruit Crush cocktails are just about everywhere in Maryland and even Virginia. What makes a grapefruit crush cocktail such a staple?
Essentially this version mimics a famous Orange Crush cocktail recipe which originated on the Maryland shorelines, specifically from Harborside Bar and Grill in West Ocean City.
It started with the Orange Crush which has orange liquor, triple sec, orange juice and lemon lime soda. Crush began to grow and became a major attraction in Baltimore. Crushes of every flavor entered Baltimore and can be found on the menu at just about any bar.
The Culinary Compass participates in several different affiliate programs. As an Amazon Associate, we earn from qualifying purchases.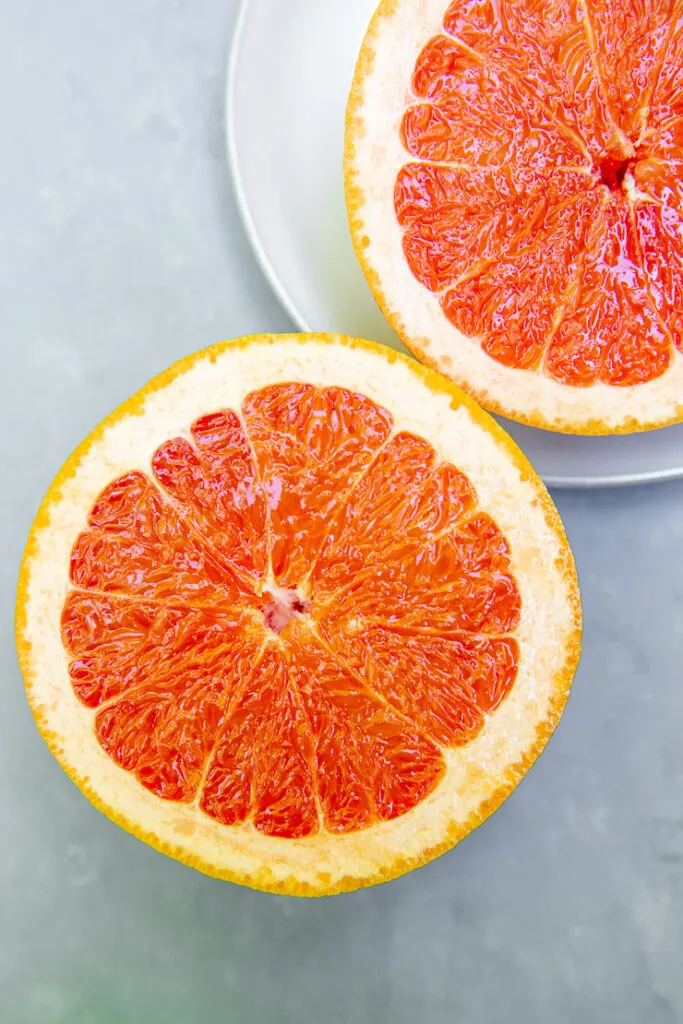 Are crushes a Baltimore thing?
Crush cocktails, which are super refreshing flavored cocktails made up of vodka, orange liqueur, fruit juice, and something sparkly like Sprite or club soda, are the official drinks of summer in Baltimore, and really, Maryland in general! Most bars in the city of Baltimore will have a citrus press or citrus juicer just for these!
You can't go wrong with a crush and some Maryland Crab Dip!
What ingredients do I need to make this Grapefruit Crush recipe?
You'll just need a few ingredients to make a grapefruit crush:
Fresh juice of one large grapefruit, 3-4 ounces
2 ounces of vodka
1 ounce of triple sec
Splash of lemon lime soda
If grapefruit cocktails are too bitter for you, try adding in a little bit of simple syrup to add some sugar to balance the tartness.
It only takes a few minutes to throw together so here's a guide on how to make simple syrup, if you'd like!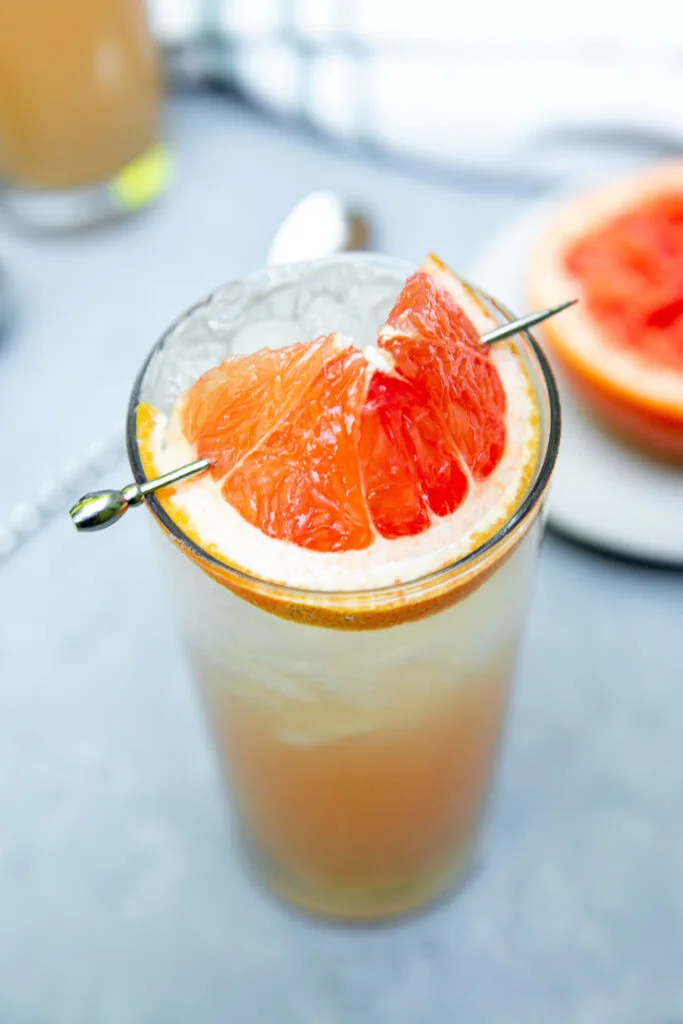 What alcohol is in a grapefruit crush?
This cocktail is made with vodka and triple sec. You can use plain vodka or grapefruit flavored vodka for a little extra punch of flavor.
In terms of triple sec, the generic versions are okay to use, but something like Cointreau or Grand Marnier would really bring out the flavor more!
Do I need to use freshly squeezed juice?
To get the authentic taste of a grapefruit crush, fresh grapefruit juice is highly recommended! If you can't find large grapefruits, or are looking to make a lot of cocktails, you can use cold-pressed juice instead.
When picking out a grapefruit at the store, the deeper the color, the more intense the flavor will be. You should also look for one that feels heavy for its size. Here's great guide on how to pick a grapefruit.
If you have extra grapefruits, try making this homemade sour mix made with lemon juice and lime juice to enjoy with other cocktails!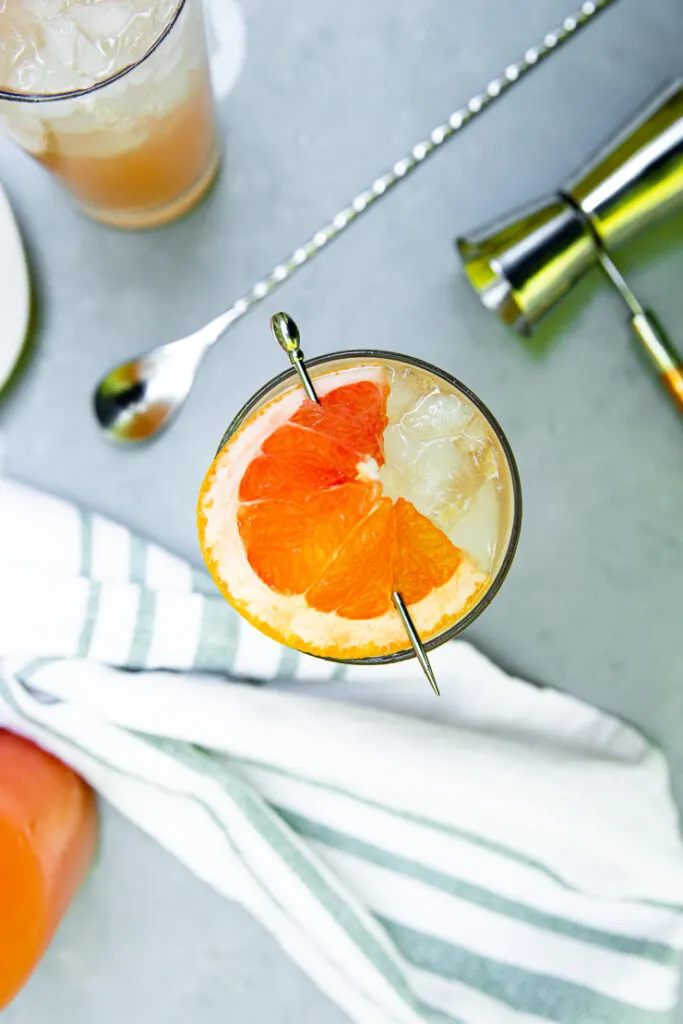 Could I use other soda options?
If you don't have lemon lime soda, grapefruit flavored club soda like Fresca or plain sparkling water are good options as well.
Substitutions for grapefruit crush
Grapefruit crushed fruits can easily be modified or adjusted according to a specific taste or preference. Here is an option that can be changed:
Orange juice
Pineapple juice
Peach juice
Mango juice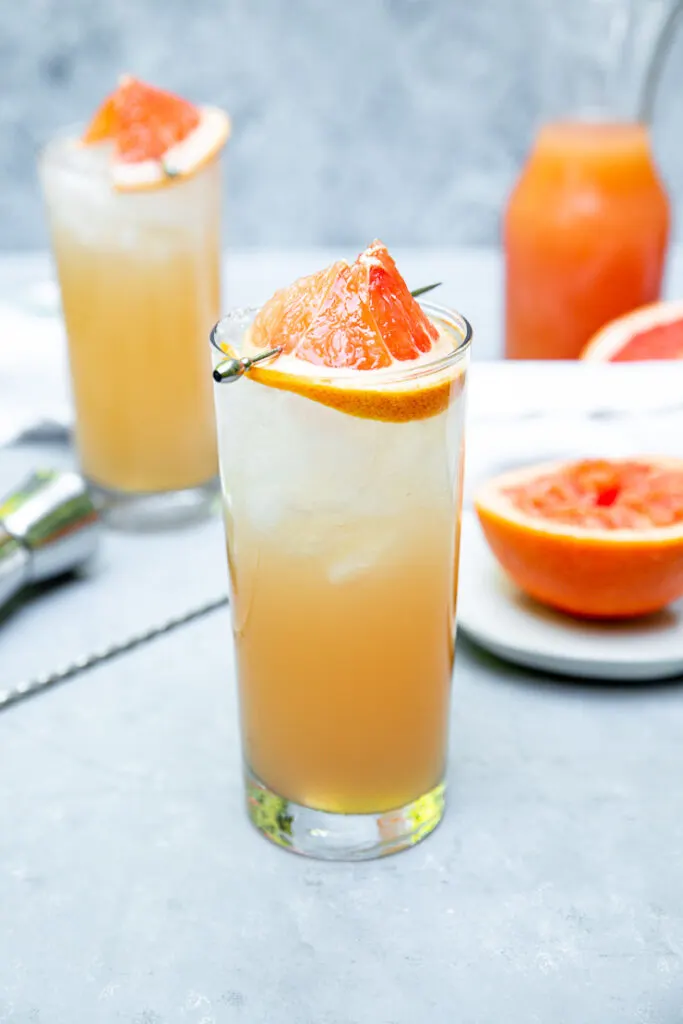 Can I make a pitcher of Grapefruit Crushes?
Definitely! Most of our local bars always have a large container ready to go. Depending on how much you'll want, just pour your grapefruit juice, vodka, and triple sec into the container, multiplied by however many servings you'd like to make.
Be sure to leave the ice out of the pitcher and add the ice to the cocktail glass instead. That'll make sure it doesn't get watered down too much.
If you're serving it later in the day, hold off on adding the soda until you're serving so it doesn't lose any bubbles.
How to make a Grapefruit Crush cocktail
Pour your grapefruit juice, vodka, triple sec, and splash of lemon lime soda in a pint or highball cocktail glass filled with ice and give it a light stir. Garnish with a grapefruit slice. Serve and enjoy!