This Orange Crush Recipe is a perfect summer cocktail. It's full of fresh orange juice, citrus flavors, and is oh, so, refreshing.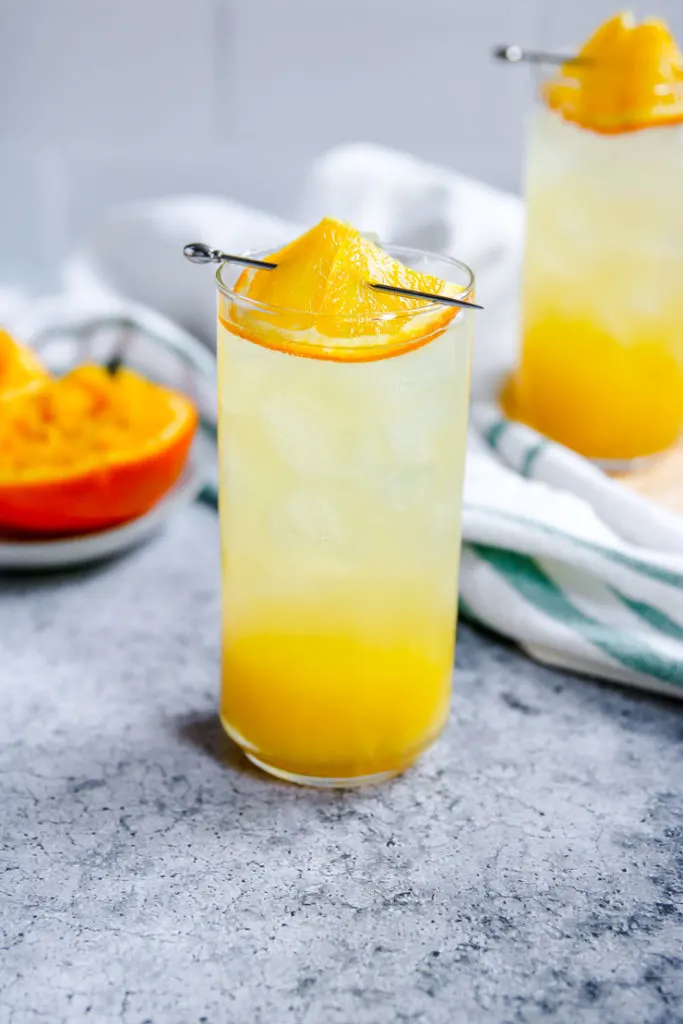 Orange Crush Recipe
If you've ever been to a Maryland bar, you'll know one thing is true. Orange crushes will always be on the menu as a perfect summer drink.
They're synonymous with summer and, really, you can never go wrong with them. They're light and refreshing and honestly, pretty dangerous.
Each restaurant generally follows the same ingredients with a few tweaks that make them their own. Wherever you go, they'll probably be pretty great.
The Culinary Compass participates in several different affiliate programs. As an Amazon Associate, we earn from qualifying purchases.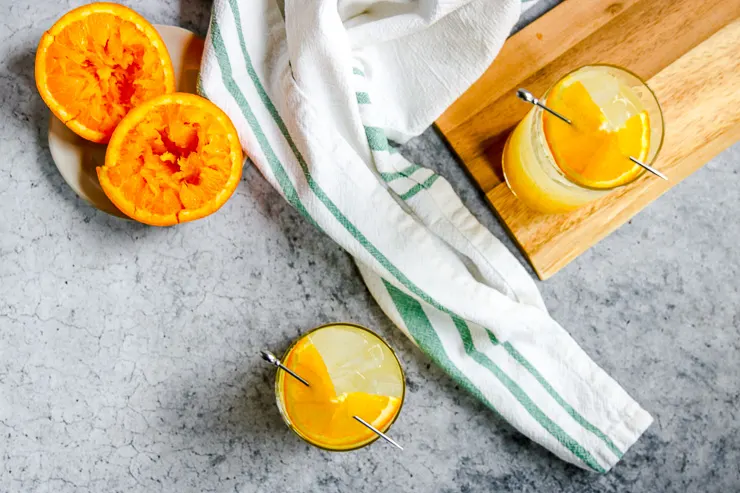 What is an orange crush?
Orange crush cocktails are a staple in Maryland during the summers. It's a cocktail that consists of freshly squeezed orange juice (a MUST), orange flavored vodka, triple sec, and a splash of lemon lime soda served over some crushed ice.
You'll also see some recipes call for Grand Marnier, which is an orange liqueur.
They're like light orange sodas that are alcoholic, but don't taste like they are. This orange crush cocktail recipe my personal favorite for a hot summer day, and hope it will be yours too!
Where were orange crushes invented?
Orange crushes were created on the beaches of Ocean City at Harborside Bar & Grill in 1995 and has taken over Maryland bars ever since.
You may hear of Waterman's orange crushes in Virginia Beach being great as well, but as a Marylander, we love to claim them as our own.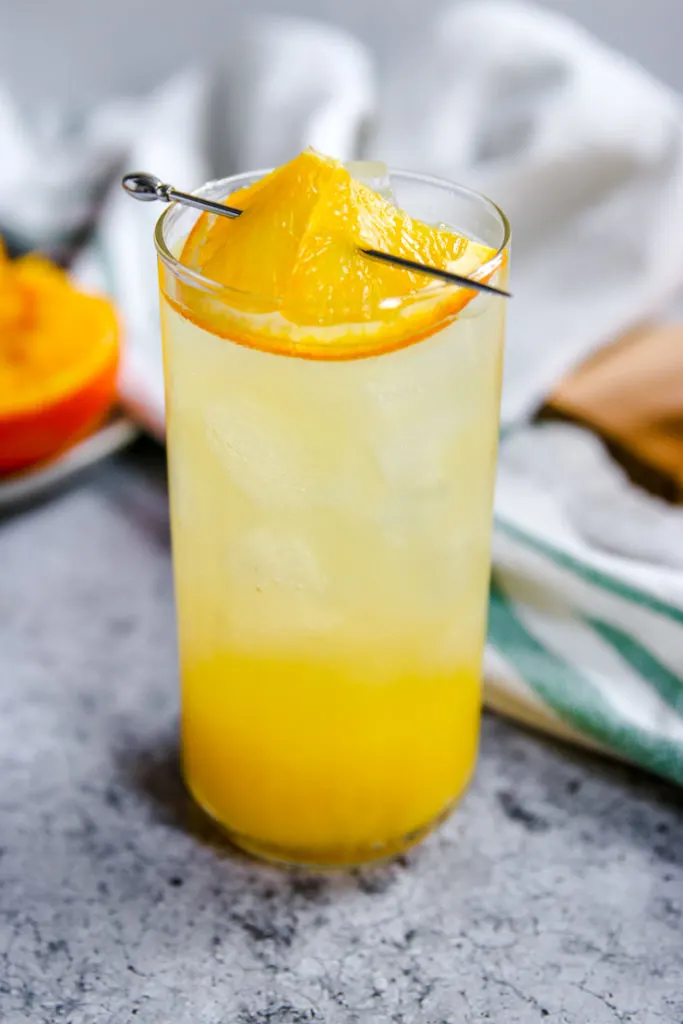 Do I need to use freshly squeezed orange juice?
Yes! It's a must to make it as traditional as possible. If you can use navel oranges, definitely use those.
You'll want to use the juice of one orange per drink.That usually ends up being between 3 oz. to 4 oz. of orange juice.
If you want to use packaged orange juice, shoot for the same amount per drink. Use more if you're looking to mask the alcohol flavors a bit more.
Can I use other flavors of vodka?
You can use other flavors of vodka, but it might not taste as traditional. Plain vodka would be fine, but you may lose some of that orange flavor.
Something like whipped cream or vanilla vodka could also result in a dreamsicle inspired orange crush which, honestly, doesn't sound too terrible.
Can I make a large batch of this orange crush recipe?
Definitely! Most of the summer bars (looking at you, Tiki Bar and Seacrets) would have large vats of orange crush mixtures which makes it great for gatherings or, just like a regular Saturday afternoon.
You'll just multiply the recipe for however many drinks you're looking to make. If you're serving it immediately, you can put it all in the pitcher.
If you're serving it later in the day, maybe hold off on adding the soda until you're serving so it doesn't lose any bubbles.
Do I need to use soda to make an orange crush?
It does add a little bit of fizz to the drink so I recommend it! If you don't like drinking lemon lime soda or sugary soda in general, using club soda or a flavored seltzer would also work great.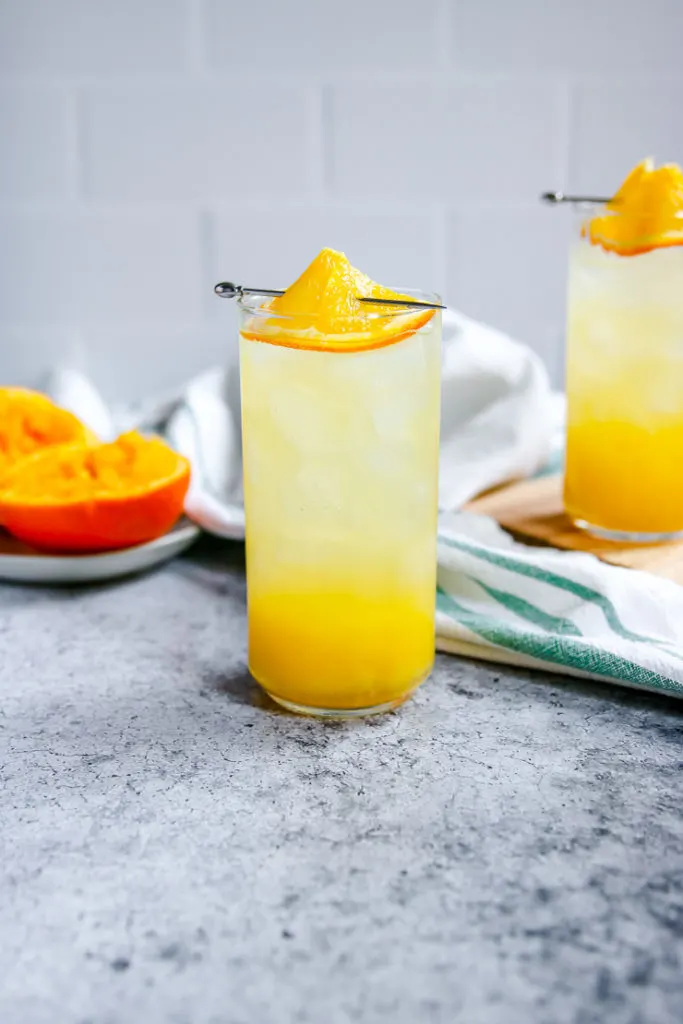 How do I make an orange crush?
First, you'll want to fill a pint glass with some crushed ice. Squeeze your oranges to get your fresh orange juice and add that to the ice.
Top this with your triple sec and orange vodka then top with a splash of lemon-lime soda.
Garnish with an orange slice and enjoy!
Can I make other versions of this?
For sure! Grapefruit crushes are a huge hit too. You can find all sorts of takes on crush cocktail recipes too.
Think lemonade crushes, peach crushes, watermelon crushes, pineapple crushes… the options are endless!
Looking for other summer cocktails? Try one of these: