This Dunkaroo Dip recipe is a fun copycat dessert that your whole family will love! This homemade cake batter dip recipe only takes four ingredients and a few minutes to make one of your favorite childhood snacks.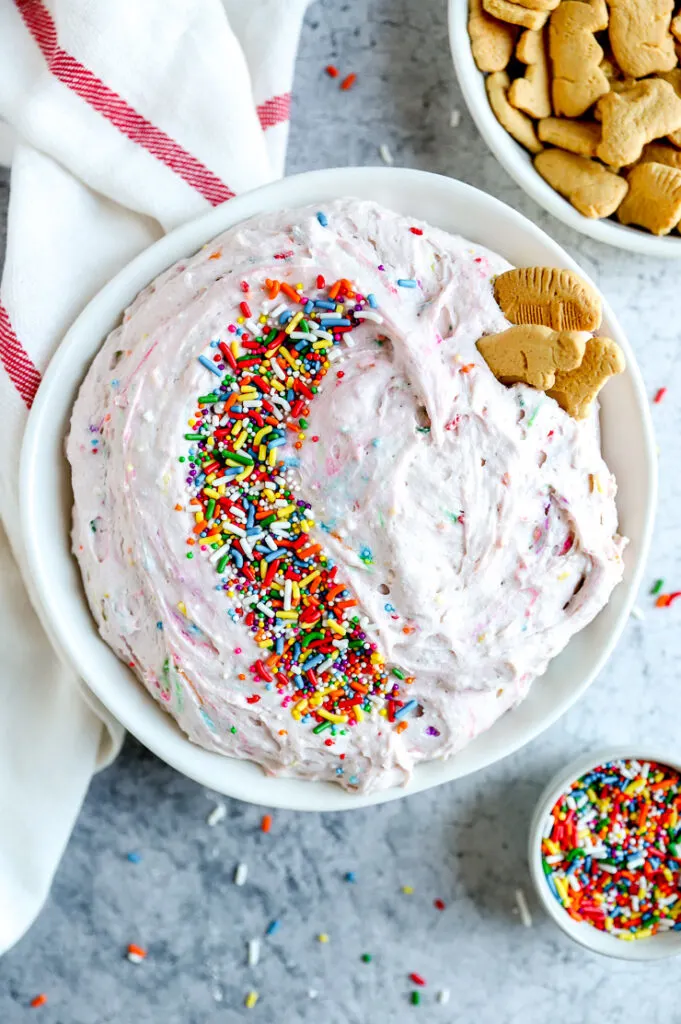 Dunkaroo Dip
If you're looking for a quick and easy dessert dip recipe, this one couldn't be easier! It only has four ingredients including the best one of all – Funfetti cake mix.
The flavor of the cake mix helps bring all the nostalgia back of the early 2000s as a 90's kid when you were lucky enough to get that famous blue dunkaroo pack in your lunch box.
Also can we talk about how exciting it is to see one of my favorite snacks in stores again? Anyways..
The combination creates a perfectly fluffy and airy vanilla dip with the slight crunch from the sprinkles. You'll have a hard time only eating one bite just like the original dunkaroos.
I promise this funfetti dip will become a popular snack in your house for a birthday party, baby shower, pot lucks, or holiday events because of how easy it is and how much everyone who tries it, loves it!
The Culinary Compass participates in several different affiliate programs. As an Amazon Associate, we earn from qualifying purchases.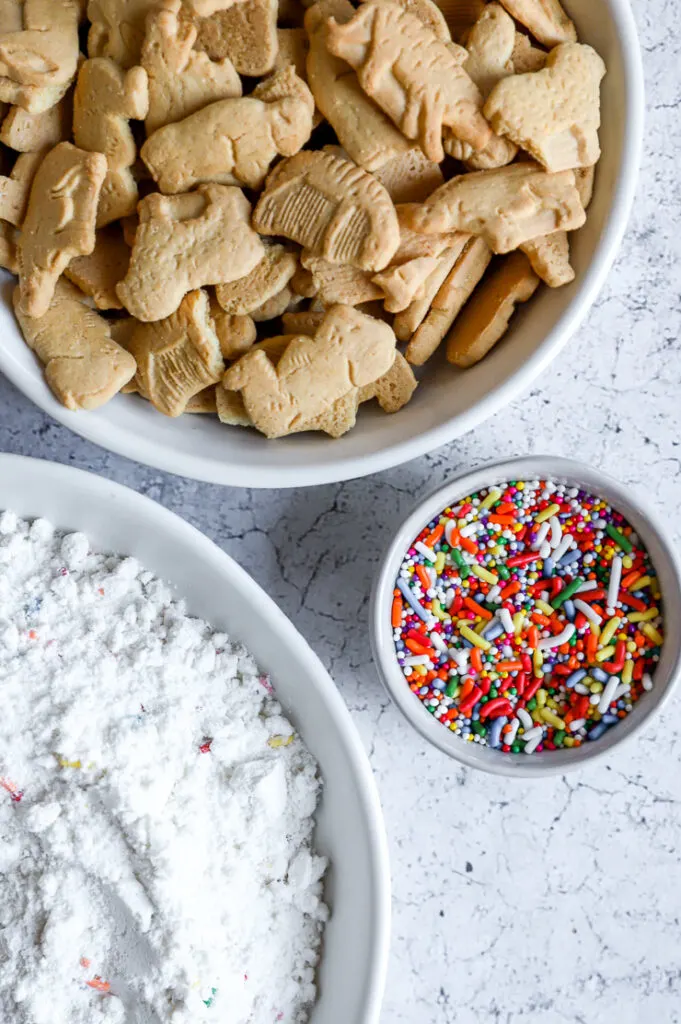 What do I need to make homemade dunkaroo dip?
You'll just need four main ingredients to make this cake mix dip:
1 box of Funfetti cake mix
8 ounces Lite Cool Whip
1 cup vanilla yogurt
½ cup sprinkles
Can I make this ahead of time?
Absolutely! It really only takes five minutes to throw together, but you can make it ahead of time and chill in the refrigerator until you're ready to serve.
Be sure to cover it with some cling wrap, plastic wrap, or in a tightly sealed airtight container when you store it.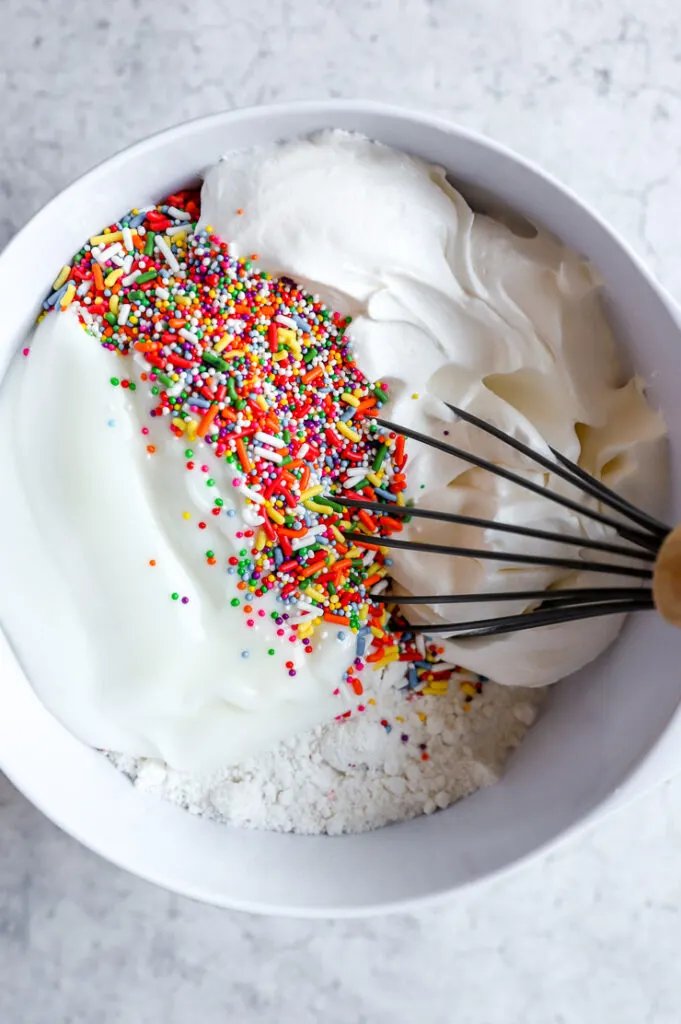 What kind of yogurt should I use?
For this recipe, you'll want to use regular yogurt as opposed to something like vanilla Greek yogurt. The runnier liquid helps combine all the ingredients together a little bit easier.
The recipe calls for vanilla yogurt, but you could also use plain and it'd taste great if that's what you already have on hand! I also used a lite version of yogurt, but a full fat would work as well.
If you use a plain yogurt, you could even add a small amount of vanilla extract to help bring out that flavor more.
What kind of sprinkles should I use?
Anything your heart desires! I think this is such a fun recipe that you could tailor to your event with specific colors or favorite sprinkles.
The Funfetti cake mix does have rainbow sprinkles in them already, but you could really do whatever you have on hand. If you're looking to make this without the colorful sprinkles, you could try it with vanilla cake mix or white cake mix.
I'd recommend stirring your ingredients together without the sprinkles first, though. There's a chance that the sprinkles will dye the rest of the dip with their coloring.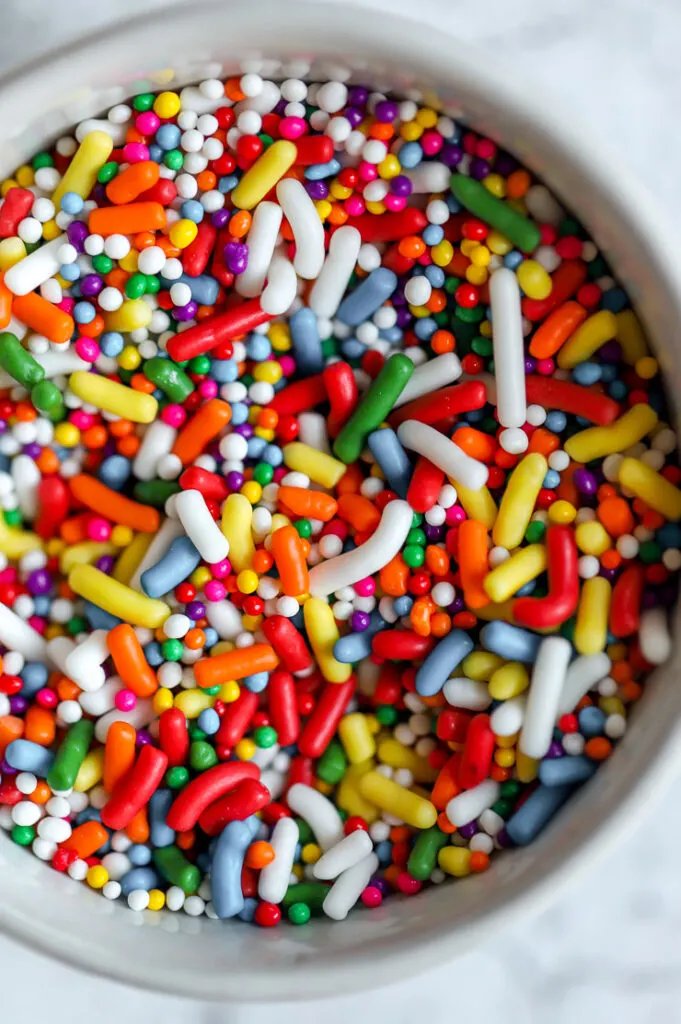 What should I use to dip?
There's a ton of options to use to dip in this recipe! Try out a few options and find your favorite. Here's a few of my favorite dippers to get inspired from:
Animal crackers or animal cookies
Graham crackers
Nilla wafers
Apple slices
Teddy Grahams
Pretzels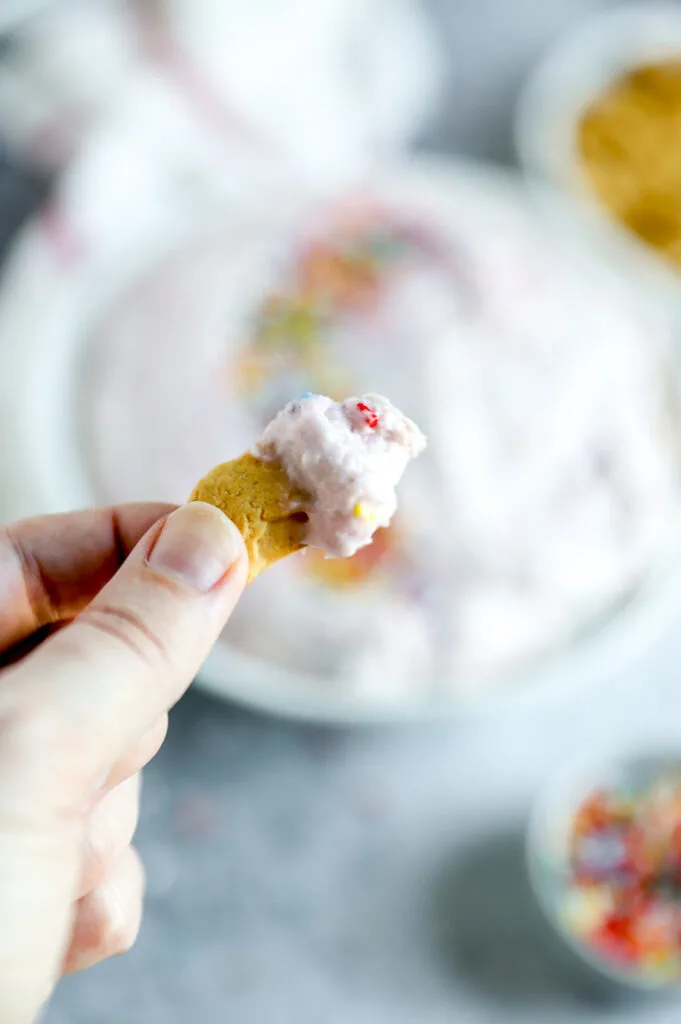 I'm excited to join back up with my friends over at the Freaky Friday blog hop where we get to try making recipes from another blogger's site. It's all a surprise until Friday morning where everyone gets to see the fun recipes we've all made.
Michaela from An Affair from the Heart has done an amazing job coordinating the whole thing and has creating such a fun experience.
For this round, I got Kathryn from Kathryn's Kitchen Blog! So first off I fell in love with her photos – they all show how fresh and delicious her recipes are that I had a hard time picking which recipe to do.
Kathryn has tons of health inspired, simple recipes that anyone can make. Just take a look at her Main Dishes to find your next dinner menu, but what immediately caught my eye was her desserts!
She has a ton of the cutest holiday inspired desserts, but I couldn't be more excited about her funfetti recipes! Just take a look at these Funfetti Dunkaroo Cheesecake Bites, Funfetti Cake Mix Cookie Bars, or even these Funfetti Cake Mix Cookies all using a box of cake mix!
See all of our 2022 Freaky Friday Spring Edition Recipes
Hosted by –
An Affair from the Heart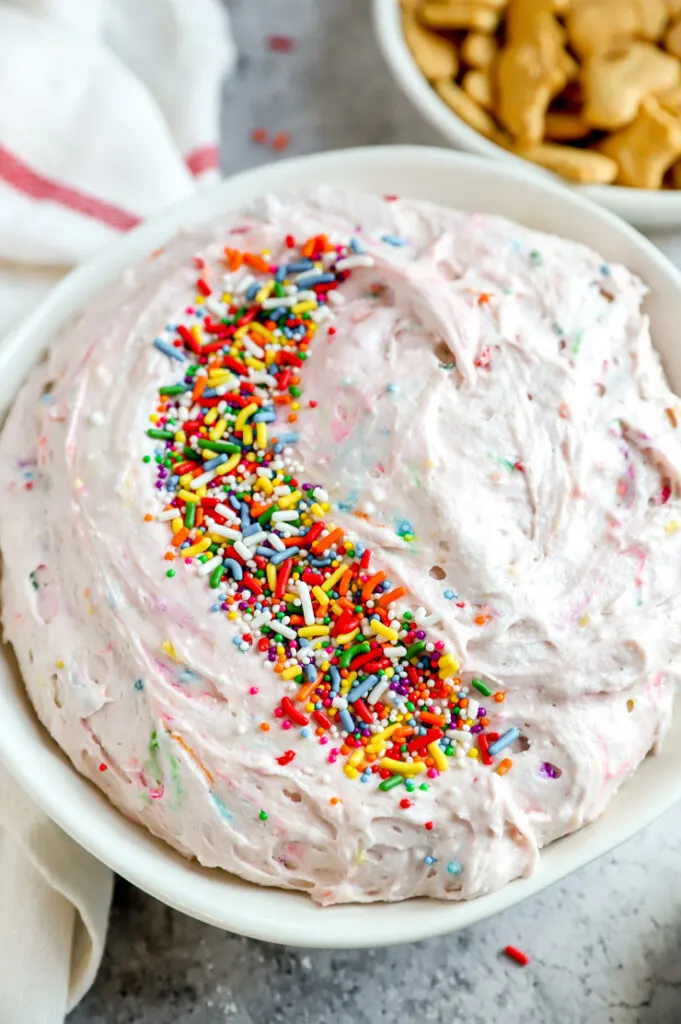 How to Make Dunkaroo Dip
In a large mixing bowl, mix together your Funfetti cake mix, Cool Whip, and vanilla yogurt until there are no clumps left. For the best results, you could use an electric mixer or hand mixer, but I just used a whisk or silicone spatula.
Stir in your sprinkles, spoon mixture into a serving bowl, cover with saran wrap, and let the dip chill prior to serving. You can serve it at room temperature too!
Serve with some extra sprinkles on top with animal crackers, graham crackers, or Nilla wafer and enjoy! You can even put the leftover dip in some snack-sized package containers to enjoy throughout the week.
Looking for other great dessert options? Try out these Lemon Crinkle Cookies, Heath Bar Trifle, or these Pecan Turtles!