This Baileys French Toast is a decadent brunch option to start your weekend. It's full of flavor and is such an easy french toast recipe.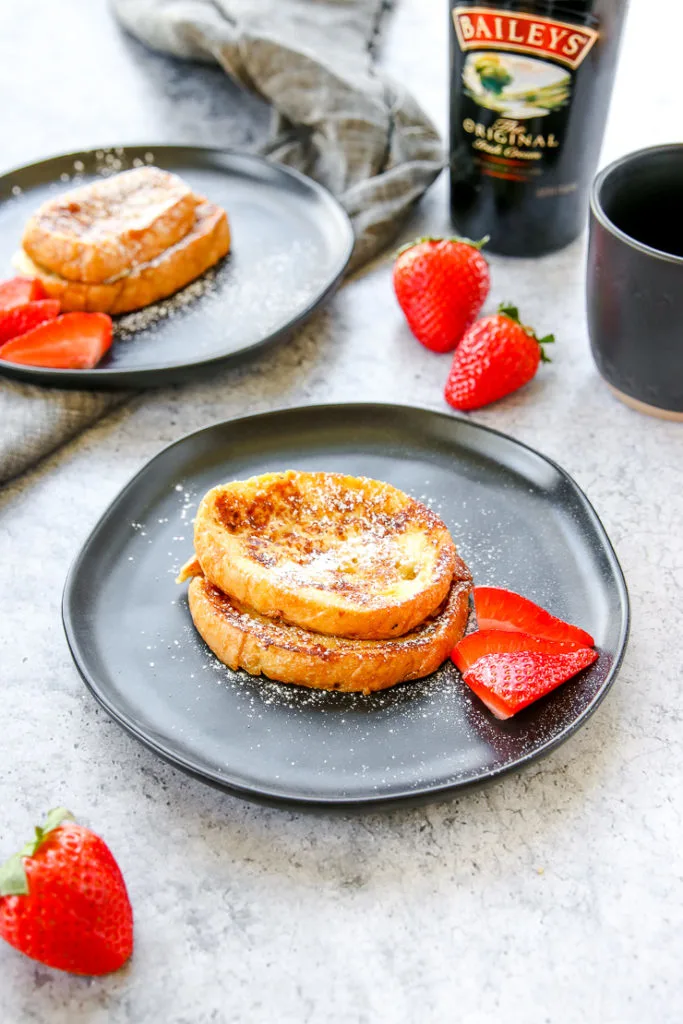 Baileys French Toast
French toast is always a great option for a weekend breakfast. I know I'm usually hesitant on picking it from having flavorless, soggy French toast in the past.
This Baileys French Toast recipe will be sure to kick any preconceived notions about French toast out the door.
It's full of flavor and will be a crowd please for your St. Paddy's day festivities or even your Mother's Day Brunch.
It isn't reserved for special occasions, though. You'll want to make this every weekend because of how tasty it is!
The Culinary Compass participates in several different affiliate programs. As an Amazon Associate, we earn from qualifying purchases.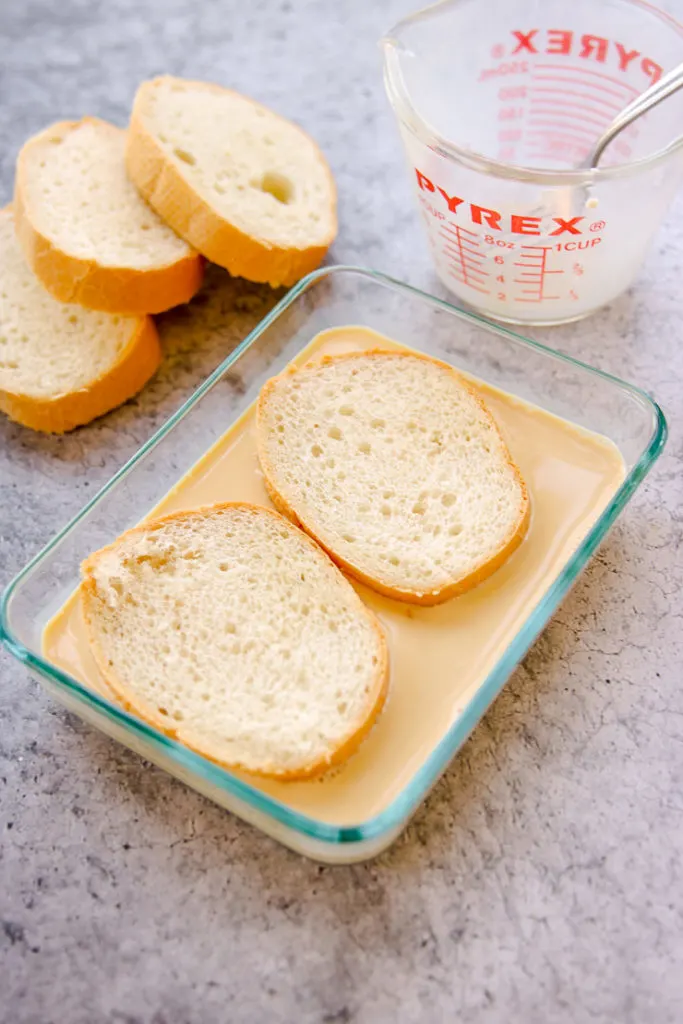 What kind of bread should I use?
A bakery-style bread like an Italian loaf or baguette work great for making French toast at home. It usually can hold up to dipping in the mixture than a presliced loaf of bread.
Whatever bread you end up deciding on, you'll just want to be sure that you cut it into thick slices. This helps avoid the middle from getting too soggy while still holding up to the Baileys mixture.
Do I need to use Baileys?
Not necessarily, but it does add a great flavor to the French toast! You could also use other brands of Irish cream to make it if that's what you have on hand or have access to.
You could even make your own Irish cream! Susannah from Feast + West has this great guide on how to make homemade Irish cream liqueur.
If you want to leave it out, you could just increase the amount of half and half used to make up for that.
To make up for some of the flavor, you could add a touch more vanilla extract to the mixture. Another option would be a few dashes of cinnamon for a more warming flavor!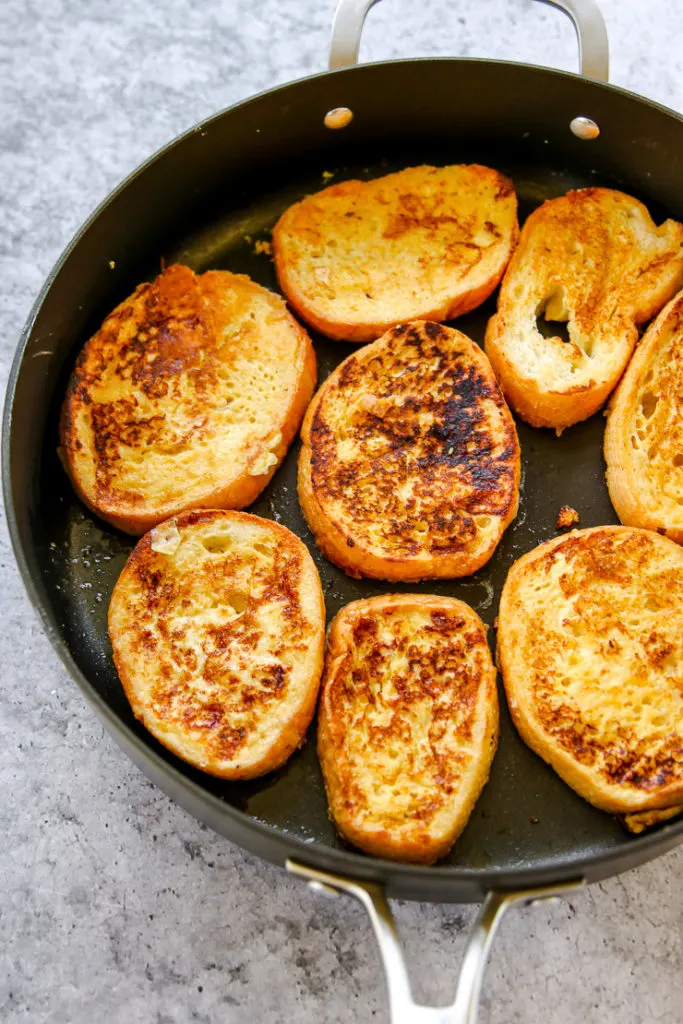 How do I make sure the french toast isn't soggy?
Since we all know that soggy French toast is the actual worst, you'll want to do a few things to avoid it.
The first is using thicker cut bread. The thick bread can stand up to the custard mixture much better than regular sandwich bread.
When you dip the bread, you'll want to avoid letting it sit in the mixture too long. If you let it hang out in there, it'll just soak more up which makes it harder to cook through.
Be sure to also give the French toast enough time to cook on both sides so that the middle is cooked evenly and all the way through with golden brown edges.
The tl;dr of avoiding soggy French toast is to use thick bread, quick dips, and cook it long enough!
What can I serve with this?
Making your own whipped cream would make a great topping for this French toast! A dollop of whipped cream on top is just.. chef's kiss.
I'm a fan of serving it with some maple syrup, powdered sugar, and cut berries to really make it feel like a treat.
Chocolate sauce is also a great option!
Tips for making Baileys French Toast
To make the best Baileys French Toast, here's a few helpful tips for you:
Whisk the eggs together first to make the egg mixture as smooth as possible
Use thicker cut slices of bread to avoid soggy french toast
Dip the bread quickly on both sides to evenly coat the slices
Don't overcrowd your skillet so that you have room to flip the bread
Melt your butter in a large skillet over medium heat so that the french toast can crisp immediately when put in the pan.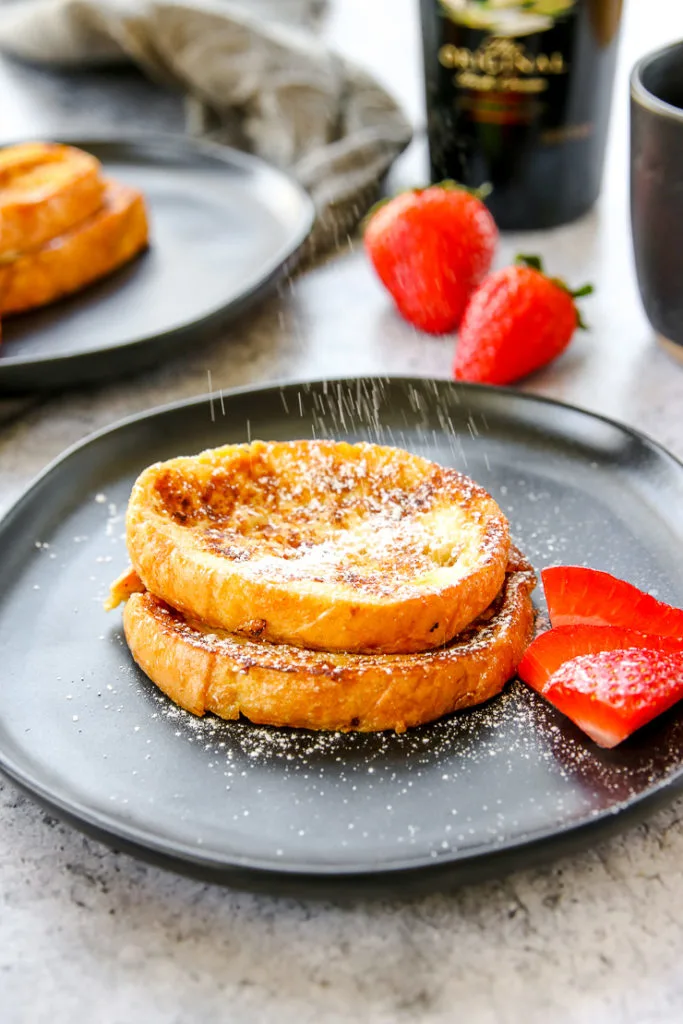 Looking for other decadent brunch options? Try one of these: