Brioche French Toast is a decadent twist on the classic. Learn how to make french toast with brioche bread in just a few steps!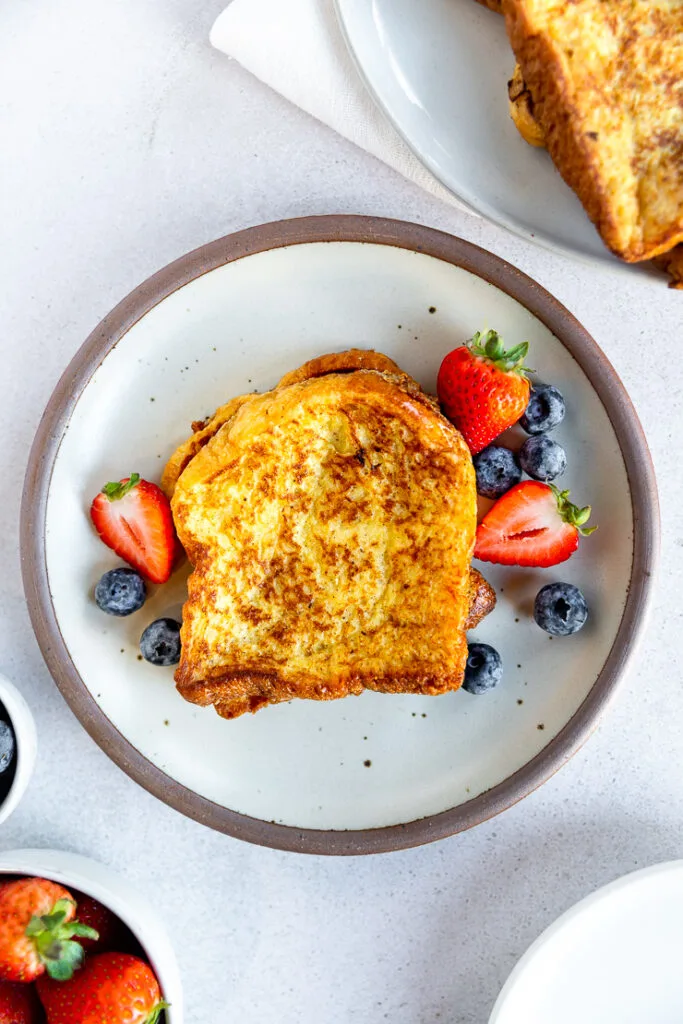 Brioche French Toast
There's something special about a savory and decadent breakfast for weekend brunch and this Brioche French Toast is exactly that. It's a twist on the classic using buttery brioche bread to make it rich and perfect all around but especially for special occasions like Christmas morning or Mother's Day.
The mixture of eggs, half and half, and spices fills the slice of brioche bread with a ton of flavor. It's then pan fried to a crispy perfection and topped with all of the goodness of maple syrup and berries.
It's for sure going to be a family favorite special breakfast once you try it!
The Culinary Compass participates in several different affiliate programs. As an Amazon Associate, we earn from qualifying purchases.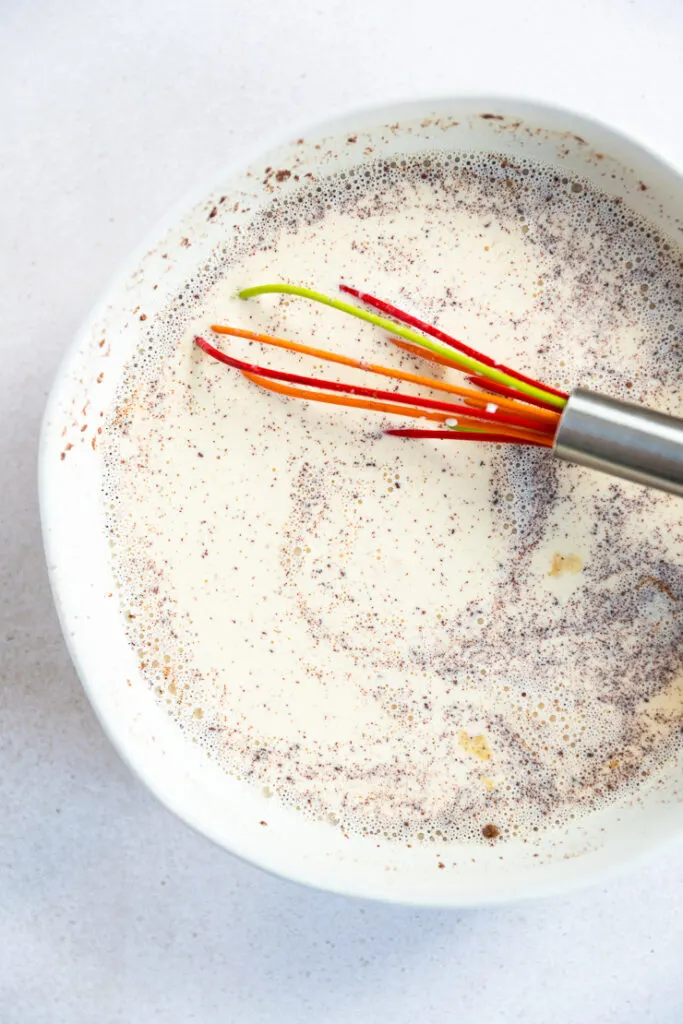 Brioche French Toast Ingredients
Here are the you'll just need a few simple ingredients:
Large eggs
Half and half
Vanilla extract
Cinnamon
Salt
Butter
Brioche bread
Pure maple syrup
Fresh berries like strawberries and blueberries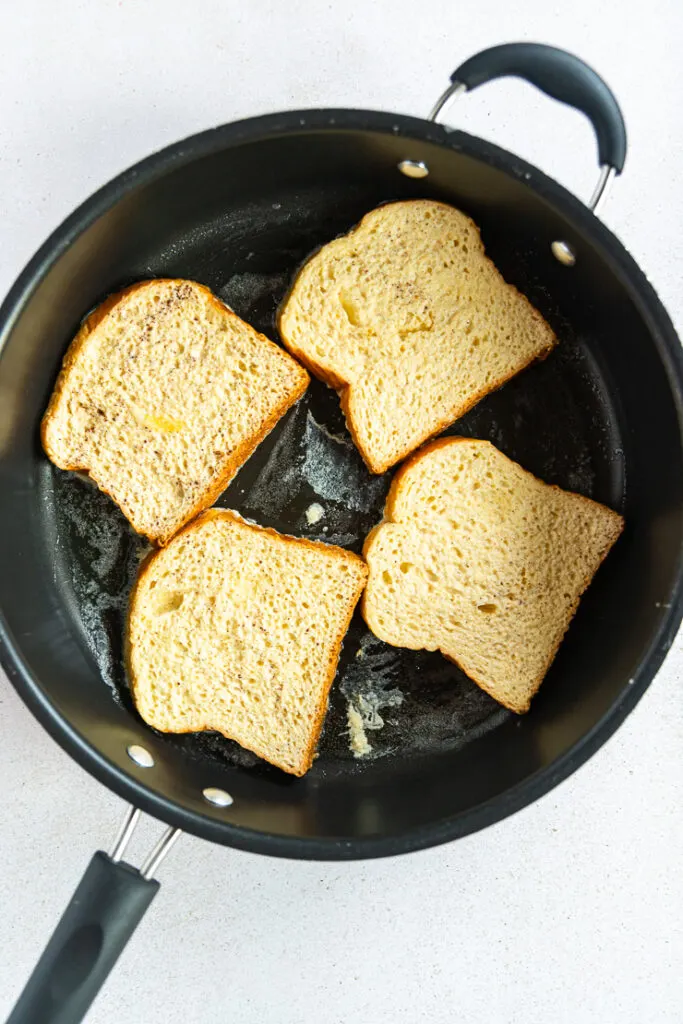 Ingredient Substitutions and Variations
Half and half: You can use whole milk or heavy cream if that's what you already have on hand! You could also use a non-dairy milk such as almond milk or coconut milk, although the final texture may be slightly different.
Vanilla extract: You can use another extract such as almond extract in its place. You can also try using a teaspoon of vanilla bean paste or the seeds from a vanilla bean.
Cinnamon: Try a combination of other spices such as nutmeg, allspice, or cardamom for a spice blend. You can also omit the spice altogether or try using a different type of spice blend, such as pumpkin pie spice or chai spice.
Butter: If you are unable to use real butter, you can try using a different type of fat, such as olive oil, coconut oil, or vegan butter. You can also try using a non-stick cooking spray to grease the skillet.
Brioche loaf: If you don't have brioche bread on hand, you can try using another kind of bread such as challah bread, French bread, Texas toast, or sourdough bread. You can find brioche loaves at grocery stores, Target, or Trader Joe's.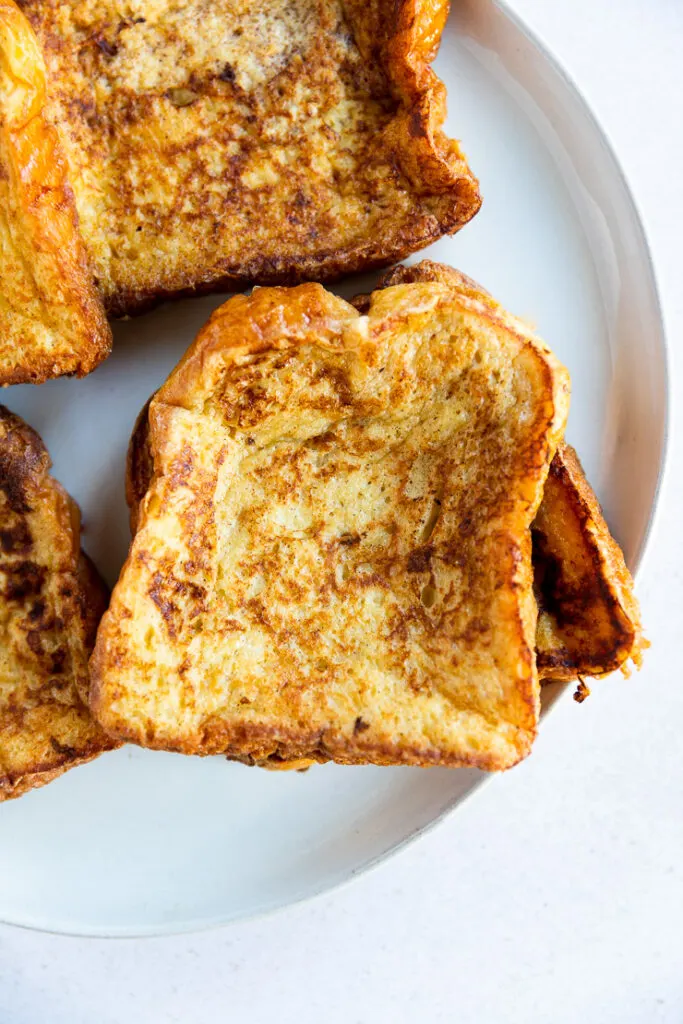 What toppings should I use for Brioche French Toast?
Anything your heart desires! My favorite toppings are maple syrup, strawberries, and blueberries. Really any fresh fruit you can think of!
For an even more decadent option, add in some chocolate chips to your batter and top with some powdered sugar, brown sugar, or something even more delicious like this Bourbon Caramel Sauce.
You could also try out these Creme Brulee French Toast or Bailey's French Toast for more options.
Could I make this a Baked French Toast Casserole?
To turn this recipe into a brioche french toast casserole, you will need to make a few changes to the preparation method.
Begin by preheating your oven to 350°F. Cut a brioche loaf into 1-inch thick cubes. Store-bought brioche is usually cut into slices already, so you can just cut them into a few pieces.
In a small bowl, whisk together eggs, half and half, vanilla extract, cinnamon, and salt. Butter a 9×13-inch baking dish and arrange the brioche bread slices in a single layer.
Pour the egg mixture over the bread, ensuring even coating. Allow the casserole to sit for about 15 minutes, allowing the bread to absorb the mixture.
Bake in the preheated oven for 40-55 minutes until the top turns golden brown and the casserole sets. Serve the hot French toast casserole with maple syrup and berries!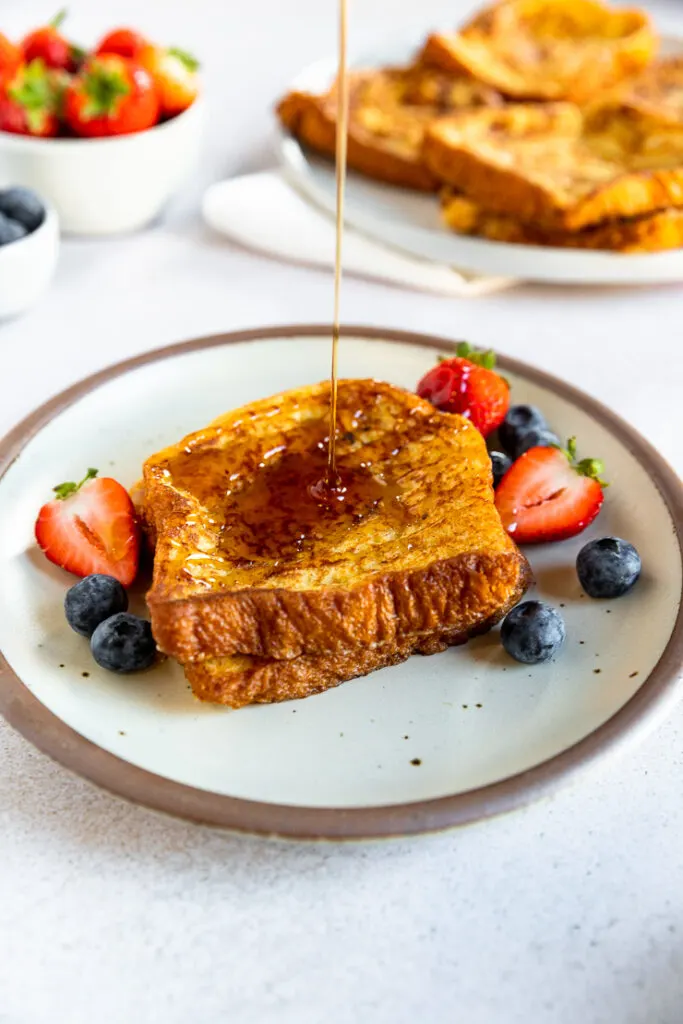 How to make Brioche French Toast
To make French toast, start by whisking together eggs, half and half, vanilla extract, cinnamon, and salt in a large mixing bowl. Place the mixture in a shallow bowl.
Melt butter in a large skillet over medium heat, and while the butter is melting, dip slices of bread in the custard mixture on both sides and place it in the skillet.
Cook the bread in batches in the melted butter in the frying pan, and cook each side for 4-5 minutes until it is browned. Working in batches, cover the cooked pieces on a baking sheet with aluminum foil and place it in the oven.
Serve the French toast with maple syrup and berries, if desired.