This Mango Black Bean Salsa is such a refreshing dip. It's perfect with chips or as a topping in a burrito bowl.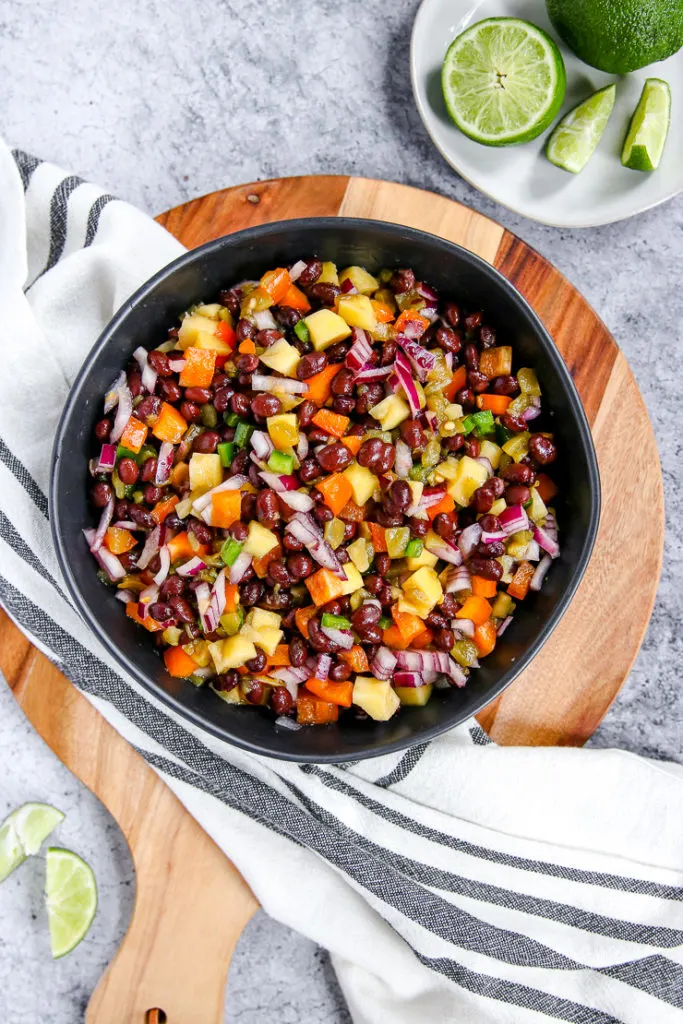 Mango Black Bean Salsa
Making a dip or salsa out of as many flavorful ingredients I can find in the refrigerator or pantry always turns out with something delicious.
This Mango Black Bean Salsa came from an at-home version of a cooking show when I wanted to make a mango salsa with the ingredients I had on hand.
The results are perfect as a snack or as a topping for tacos or burrito inspired bowl. It's a little sweet and spicy with some protein to make it filling too!
The Culinary Compass participates in several different affiliate programs. As an Amazon Associate, we earn from qualifying purchases.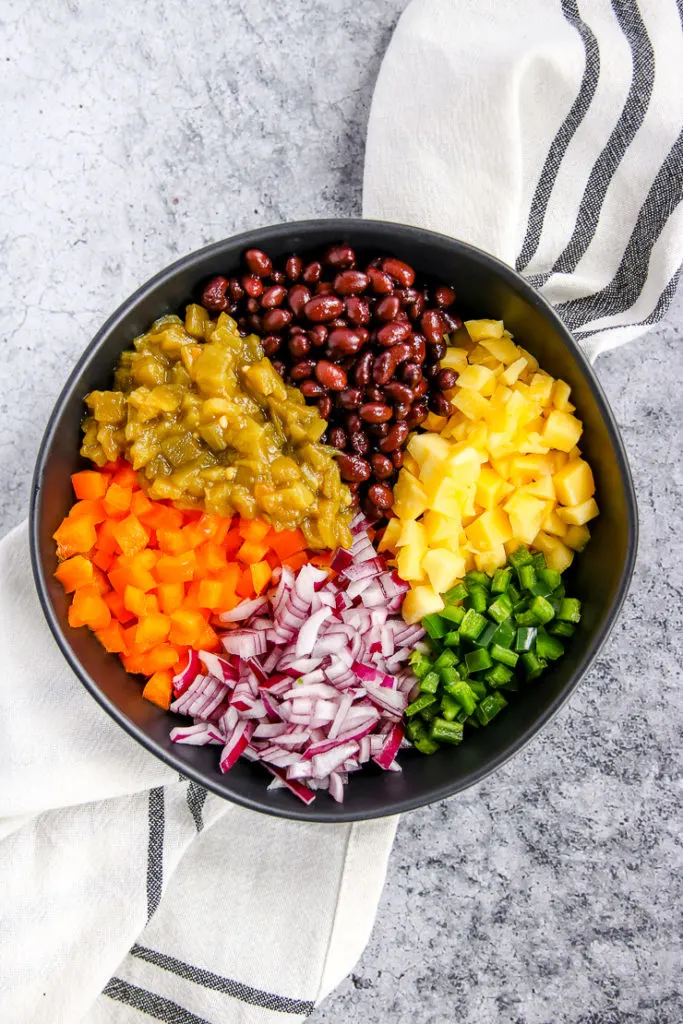 Could I use fresh beans instead of canned?
You definitely can! It'll take a bit of time more to get that ready and to finish the whole dip, but it would still be delicious!
Be sure to check out this great guide on how to cook black beans if you're looking to go that route! There are a lot of different variations that should fit whatever cooking method you're looking for.
I'd recommend trying to remove as much as the cooking liquid as you can from them if you do use cooked beans. This will help avoid diluting the salsa and making the vegetables soggy much more quickly.
Can I make any substitutions if my mango isn't ripened?
Absolutely! One of my favorite fruits to use in a fresh vegetable and fruit salsa are peaches. They're perfectly sweet and add a great brightness to the salsa.
If peaches aren't available, you could even try nectarines or, if you have it, papaya. A sweet fruit is really what you're looking for if you can't add those mangoes.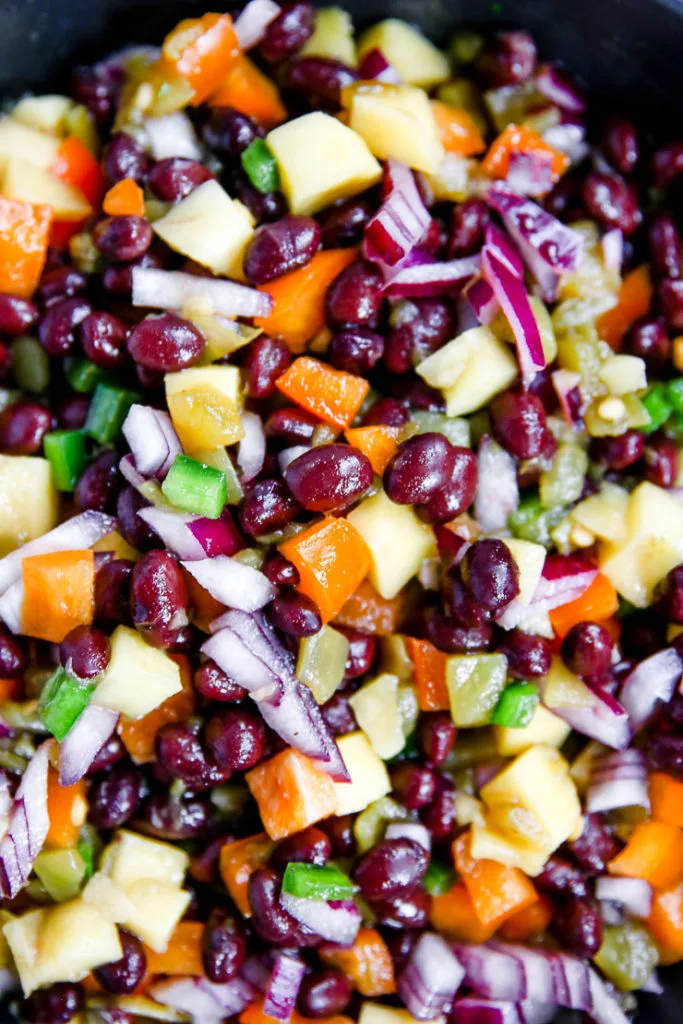 Can I make this mango black bean salsa recipe ahead of time?
It's one of my favorite side dishes or dips to make ahead of time! It holds up really well as a snack or topping for meal prepped burrito bowls.
To help it keep longer, you'll want to get as much liquid as you can out of the vegetables, fruit, and beans.
Rinsing off the black beans and shaking off as much water as you can will help it last even longer!
What else could I add to this salsa?
There are so many options that you can add to this black bean and mango salsa recipe! Adding diced avocado would be a perfectly creamy addition.
Spicy peppers like habaneros or some diced chipotles in adobo would add a great kick. Herbs like green onions or cilantro are also always a good idea.
If you're looking for another great veggie and bean dip, try out this Texas Cowboy Caviar.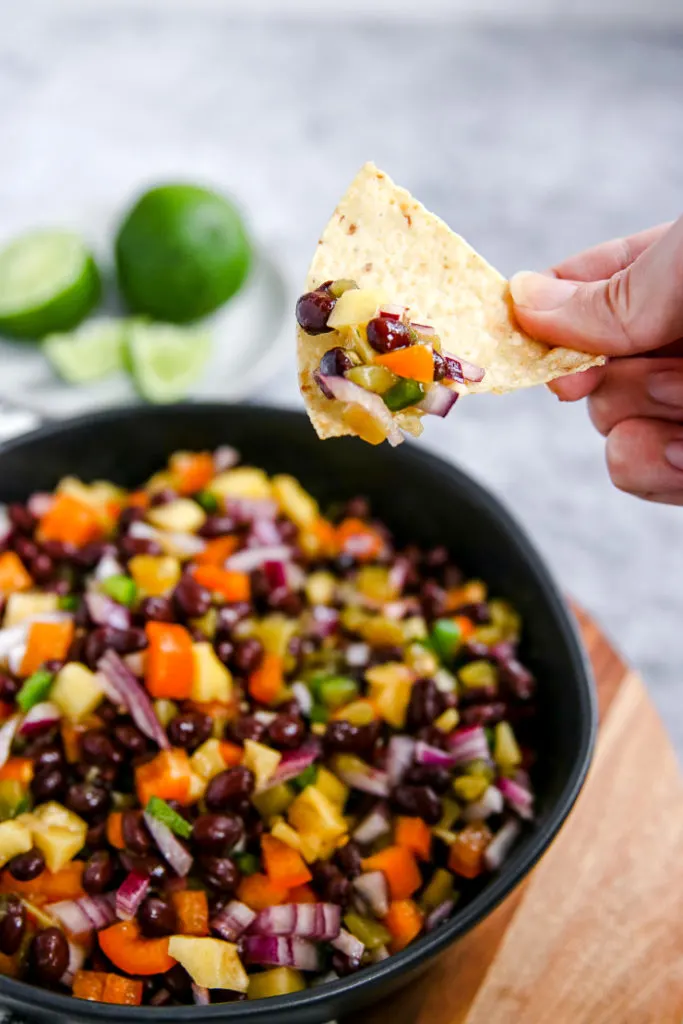 What can I serve this with?
You can serve this black bean and mango salsa with tortilla chips as a snack, or as a topping in fish tacos.
It also pairs really well with Chipotle Lime Sauce, Cilantro Lime Cauliflower Rice, and your choice of protein for a super flavorful dish!
Looking for other salsa or dips to try? Try one of these: