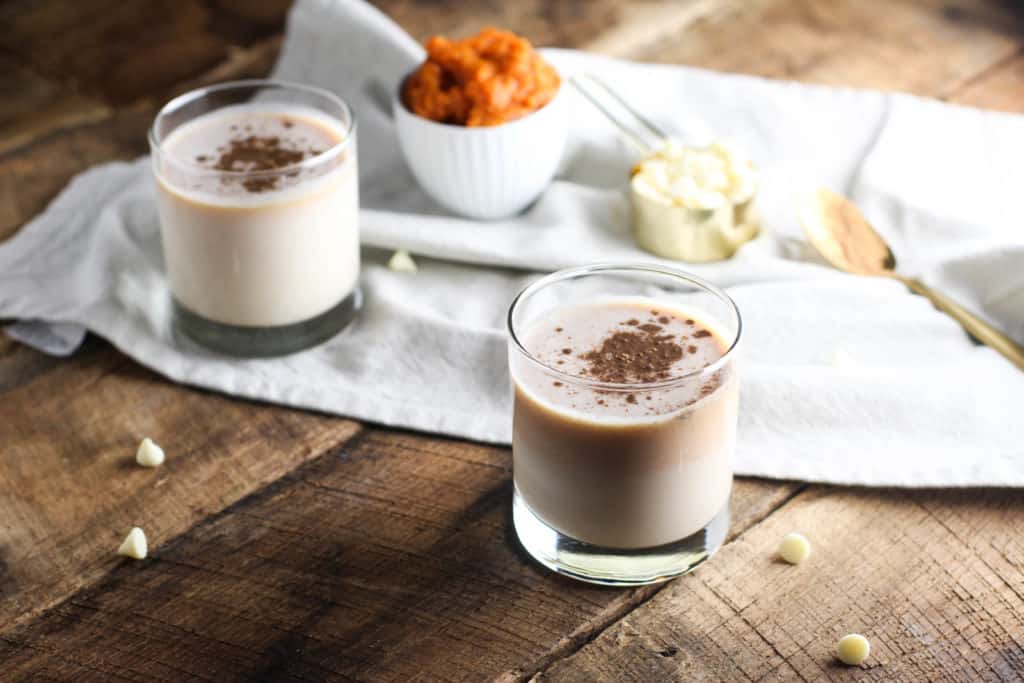 Can someone tell me how it's November already? I feel like October flew by and I absolutely have not had enough pumpkin things yet. I decided to change that with this White Chocolate Pumpkin Martini! It's the perfect infusion of pumpkin spices to bring you all of the warming flavors which is also perfect for Thanksgiving.
Thanksgiving is the perfect holiday for food bloggers and lucky for you, I've teamed up with more than 20 blogs to bring you Blogsgiving Dinner hosted by Meghan from Cake 'n Knife and Susannah from Feast + West! Feel free to scroll to the bottom of this post to see what everyone is bringing!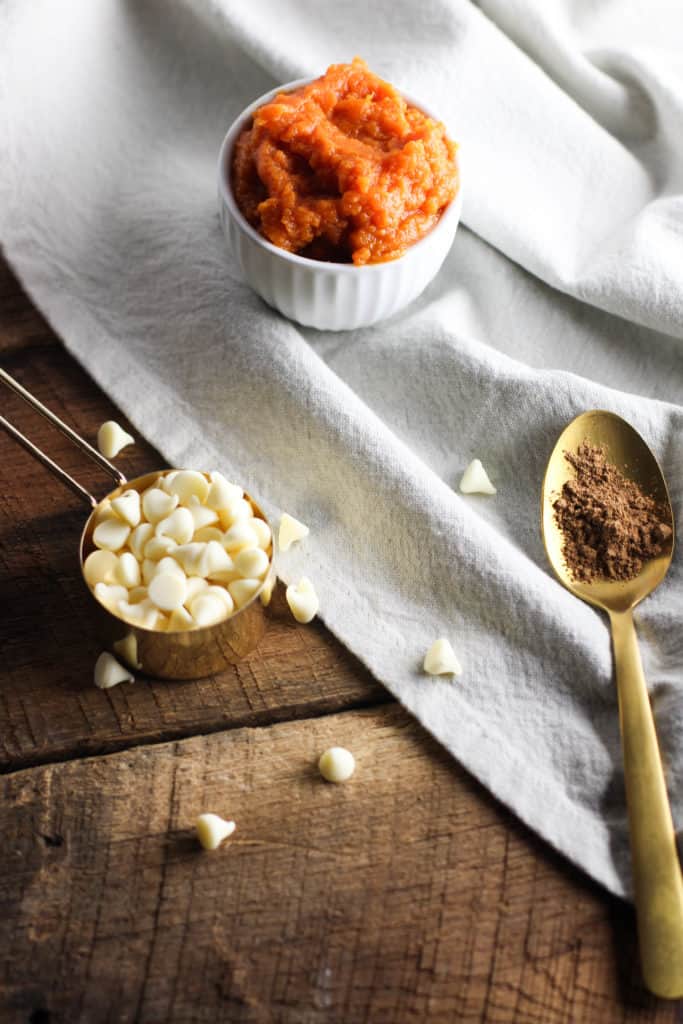 The idea is based on a pot-luck dinner so each blogger is bringing one or more dishes to the party. I've scrolled through and found plenty of things I want to add to my menu so be sure to stop by each one and get some ideas for your own Thanksgiving meal. We'll be posting to social media with the hashtag #blogsgivingdinner!
There's everything from drinks to desserts and soups to salads and side dishes! There's other items too, but they didn't work as well with my alliteration. You'll just have to scroll to find out what they are ?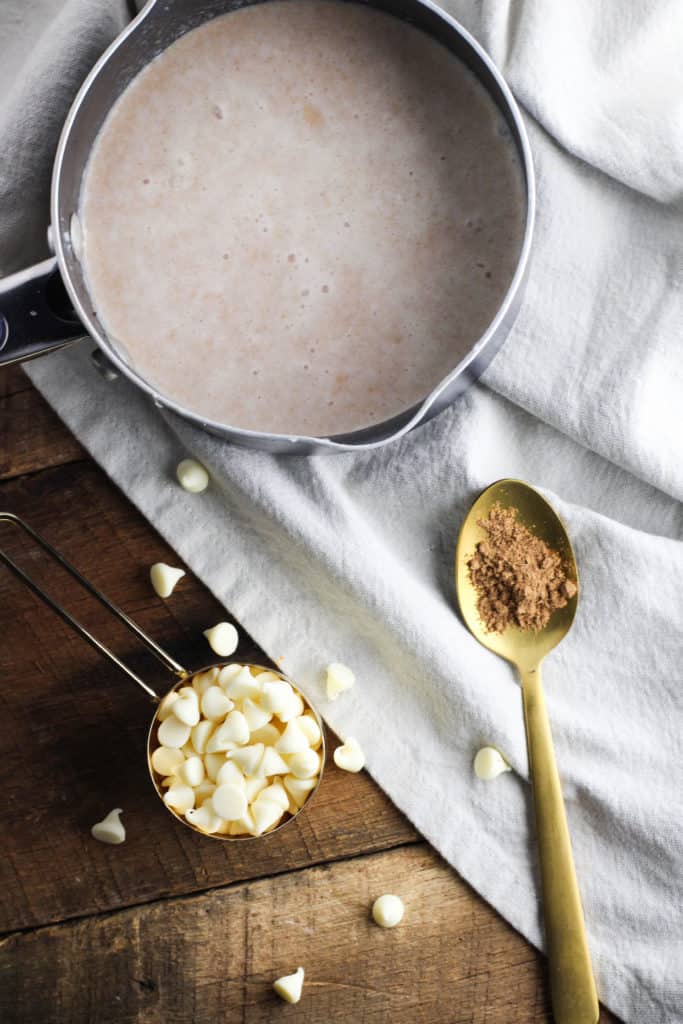 Now this drink. You guysssss. I am in love. Obsessed some might say. Pumpkin spice has my heart like everyone else in the fall, but you can only have so many #PSLs or pumpkin pies.
I don't know about you, but by the time I'm done making and eating Thanksgiving dinner, dessert is probably the last thing on my mind.
Mostly because I don't want to make it
Because I am usually stuffed to the brim (helloooo stretchy pants)
This drink fixes that dilemma! It's quick to throw together, tastes like dessert, and isn't too filling.
Also I realize that I called this a martini and it's not in a martini glass. I'm a food blogger that doesn't own martini glasses. Sorry 'bout it.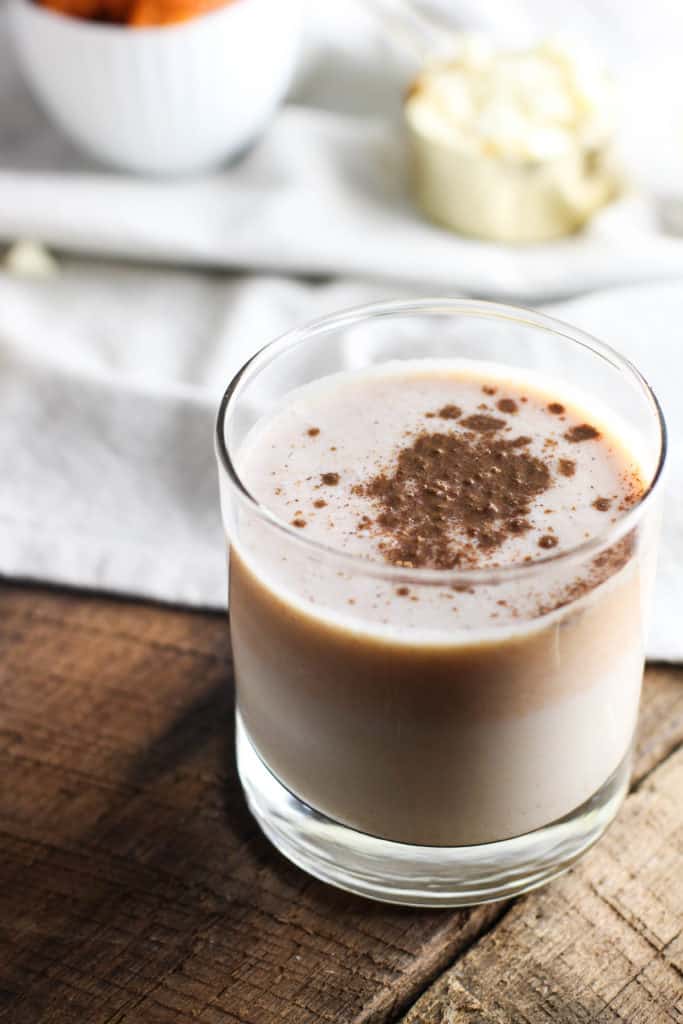 You can definitely scale this recipe for the crowd at Thanksgiving dinner. I also like drinking it cold, but if you want to try it warm it's also great that way! It'd probably go great sitting in a crock-pot just be sure to stir every so often and maybe add the alcohol to your cup rather than in the big batch.
I think the pumpkin spice is subtle enough so add as much or as little as you'd like!
Now that I think I've convinced you to try it, scroll through to find more things to try! Recipe is at the bottom if you just can't wait for it. ?? ?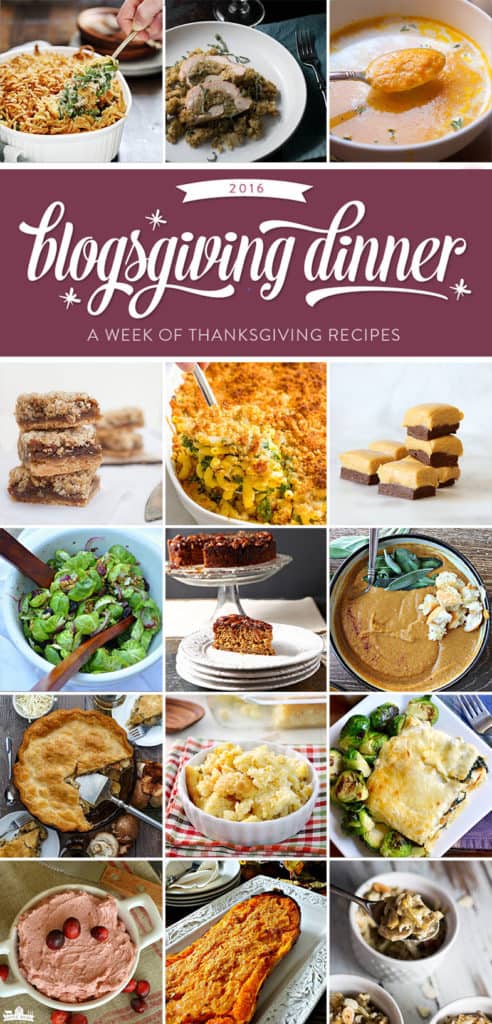 Ginger Pumpkin Beer Shandy by Feast + West
Glühwein/Mulled Wine by Tag&Tibby
White Chocolate Pumpkin Martini by The Culinary Compass
Apple Ginger Punch by The Little Epicurean
Cheesy Brussels Sprouts dip by Living Well Kitchen
Sun Dried Tomato & Goat Cheese Spread by Life's Ambrosia
Cranberry Goat Cheese Tarts by Cake 'n Knife
Roasted Butternut Squash Apple Ginger Soup by The Secret Ingredient Is
Brussels Sprout Salad with Farro and Walnuts by Sugar Dish Me
Sheet Pan Carrot Soup by Macheesmo
Kale + butternut squash mac and cheese by Family Food on the Table
Twice Baked Parmesan Butternut Squash by A Mind Full Mom
Twice The Onion Green Bean Casserole by Melanie Makes
Lightened Up Green Bean Casserole by Dash of Herbs
Easy Corn Casserole by Love Bakes Good Cakes
Cranberry Honey Butter by Little Dairy on the Prairie
Butternut Squash Lasagna by Hello Little Home
Beer-Brined Stuffed Turkey Loin by Beer Girl Cooks
Roasted Mushroom Pot Pie by The Cookie Writer
Chocolate Pumpkin Fudge by Around My Family Table
Carrot Cake by bell'alimento
Praline Pumpkin Upside Down Cake by The Speckled Palate
Roasted Banana Pecan Cheesecake by Lady Behind The Curtain
Chai-Spiced Apple Crumble Blondies by The Crumby Cupcake
Pecan Pie Crumble Bars by A Joyfully Mad Kitchen
Pecan Pie Milkshake by Brunch-n-Bites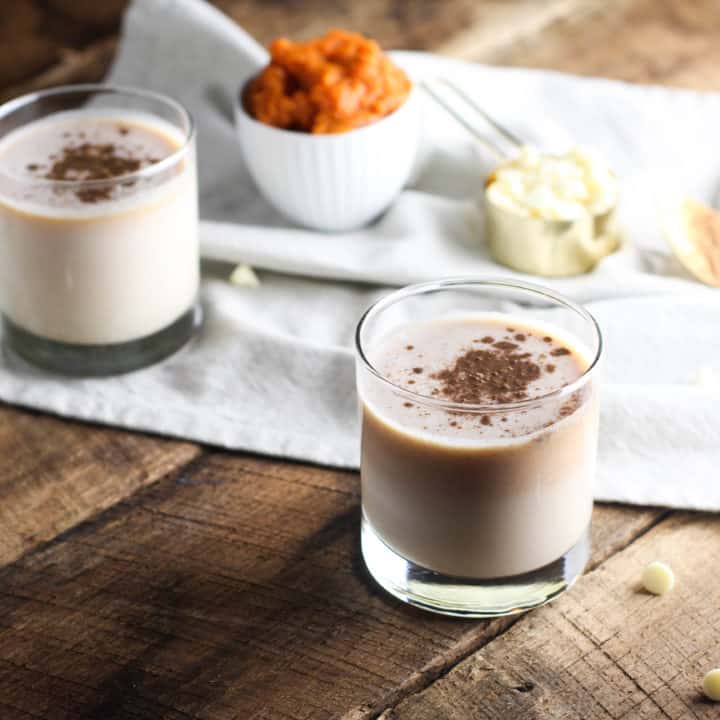 White Chocolate Pumpkin Martini
Yield: 2 drinks

Prep Time: 10 minutes

Total Time: 10 minutes

This White Chocolate Pumpkin Martini makes for the perfect dessert drink for your fall holiday gatherings!
Ingredients
1/2 cup white chocolate
1 cup milk
1/2 tsp pumpkin pie spice
2 tbsp pumpkin puree
3 oz vanilla vodka
Instructions
Melt white chocolate in milk in a small sauce pan over low heat.
Add in pumpkin pie spice and pumpkin puree and mix thoroughly until incorporated. Let cool.
Add white chocolate mixture, vanilla vodka, and ice into a shaker and serve cold! Enjoy!