These Spinach Berry Smoothies are full of nutrients without too much sugar for the right start to your morning! I promise you'll love these smoothies with spinach in them!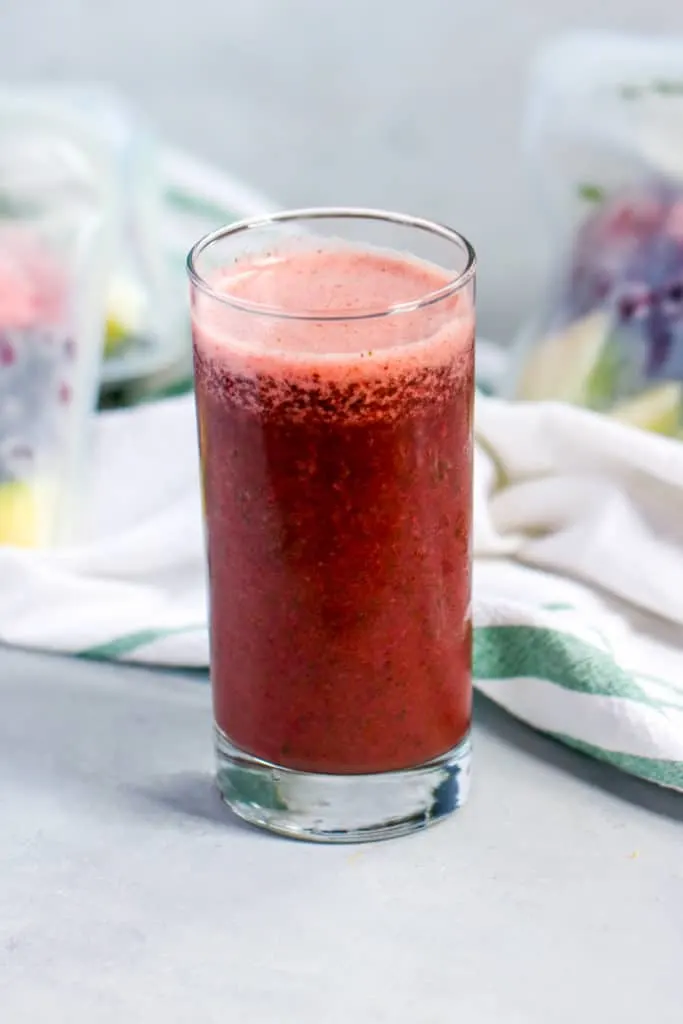 Spinach Berry Smoothies
These Spinach Berry Smoothies are perfect for a quick veggie and fruit filled breakfast. They're easy to make ahead of time to quickly blend in the morning too. It's also great to mix and match flavors to make your own.

Try it with fruits or more vegetables or even collagen peptides to add more protein too to make it a great breakfast option for any time!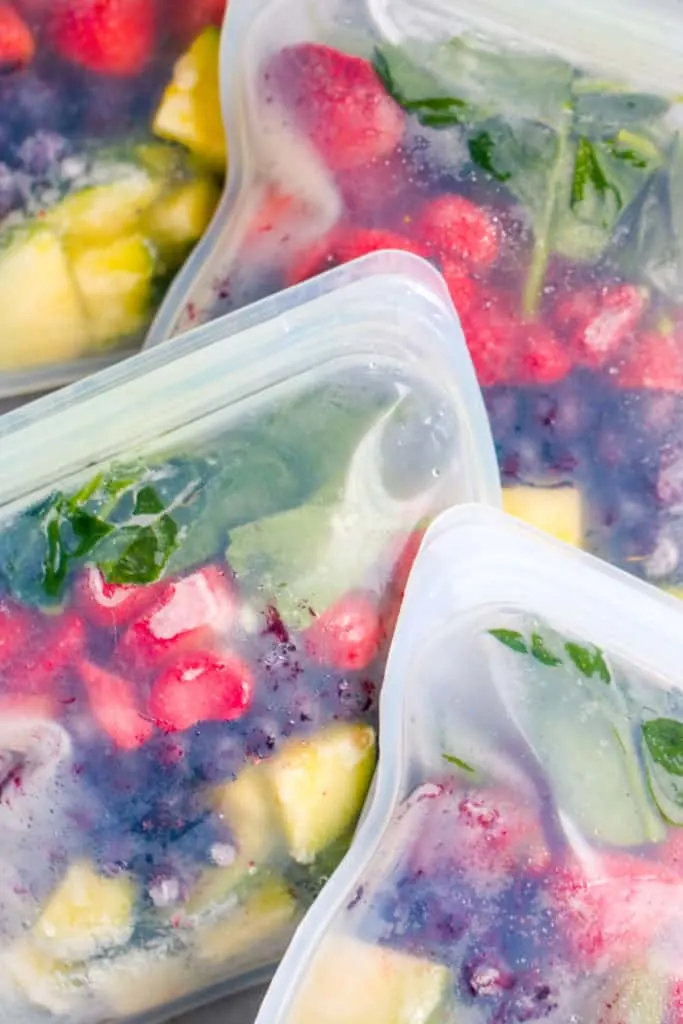 Can you taste spinach in a smoothie with spinach and fruit?
Nope! Having a good balance of spinach and fruit in the smoothie ensures that you won't taste the spinach at all, but ensures that you get all of the nutrients that you need. If you add extra spinach, it might have more of a 'green' flavor, but it will still taste great!

I would use fresh spinach as well rather than pre-frozen spinach to avoid any spinach flavors. If you're worried about the spinach going bad before you can use it, you can actually blend the spinach with some water and freeze in ice cube molds
What liquid do you use for a berry spinach smoothie?
There's a few types of liquids that you can use for the berry spinach smoothie.
Orange juice
Water
Almond milk
Other fruit juices can also work as well!
If you're looking to watch calories, use something like water to avoid the extra calories. Something else you can do is use mostly water and a splash of orange juice to still get that flavor. This also cuts back on the acidity of the smoothie if that is something you're worried about.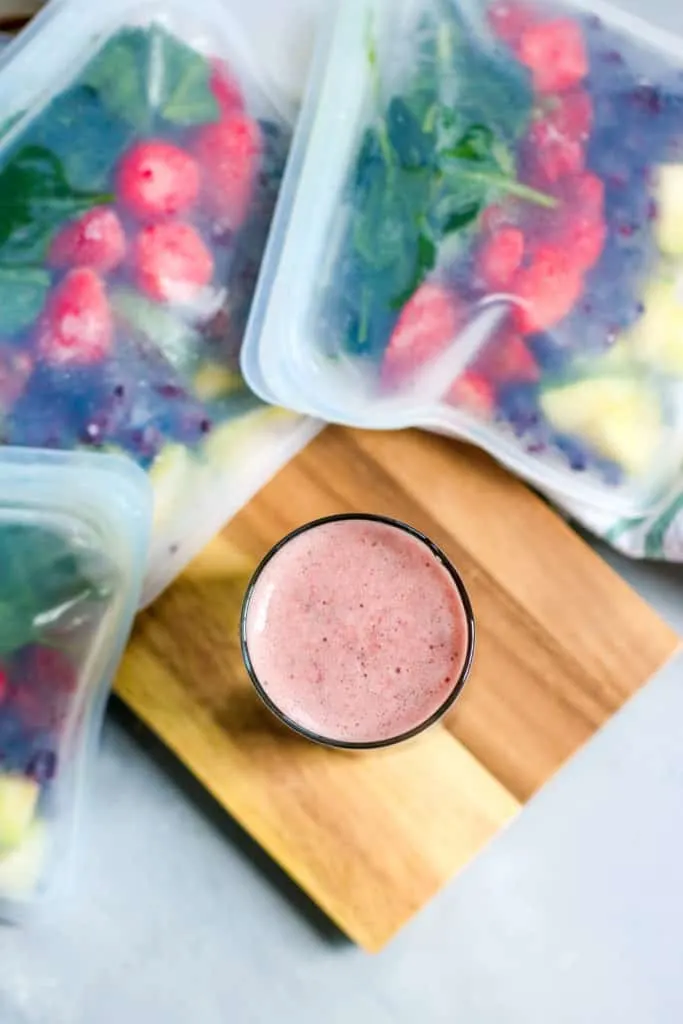 Can I use kale for this smoothie?
Yes! You can use kale for the smoothie. It blends nicely as well and is full of nutrients as well. I've found that it can be harder to mask the flavor, but is still a great option to use. I also avoid using the stems of the kale since those are usually harder to blend and don't have much great flavor.
Do you need to cook the zucchini?
I personally do not! I'll cut up a few zucchini at a time and freeze them to ensure that they don't go bad. They'll also act as ice cubes to help make the smoothie more icy rather than creamy. If you don't have time to freeze them, it will still work! It may just be a creamy consistency.

Some people will steam their zucchini and freeze it as they say it is easier to digest for themselves. This could be an option as well!
How much fruit should I use in a spinach berry smoothie?
According to a nutritionist at NBC News, you shouldn't have more than 1 cup of fruit per smoothie. This makes sure that you don't add too many calories or carbs. Fruit is always a good option, but it's much better in moderation.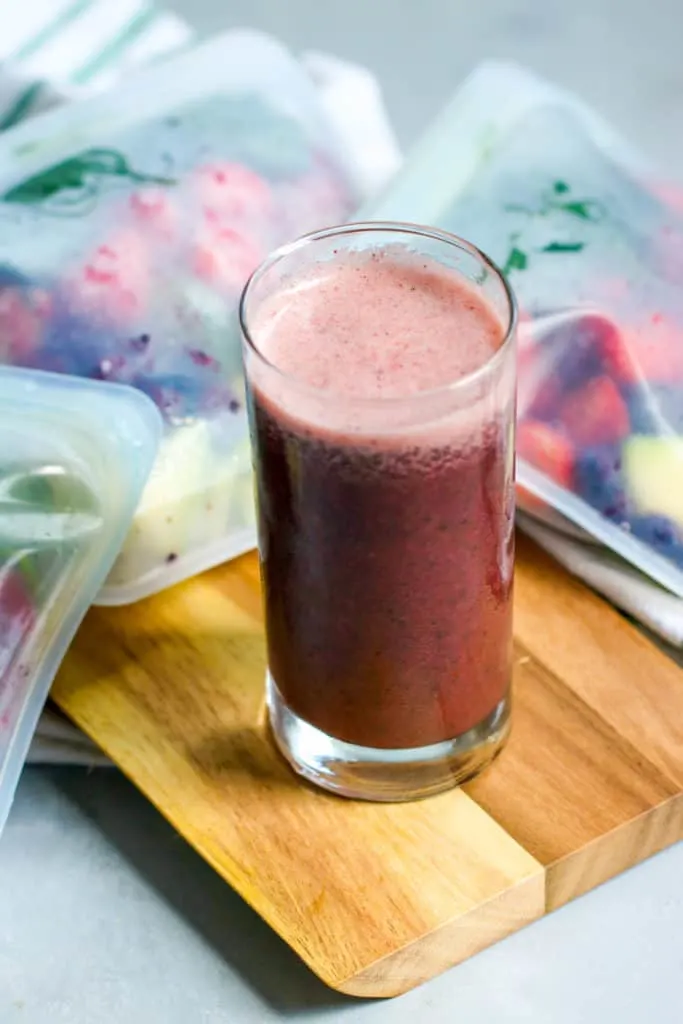 Can I make these spinach berry smoothies ahead of time?
Yes definitely! I like to use Stasher Silicone Sandwich bags to do this. This cuts down on my plastic use and they're reusable. I like to buy enough for 2 weeks of smoothies at a time so I only have to prep them once which really saves time in the morning!
Looking for other healthy breakfast options? Try out one of these:
Breakfast Veggie Bowl – This veggie bowl is full of earthy flavors like mushrooms, leeks and zucchini that have lentils to make it filling!
Pike Place Breakfast Casserole – This casserole is full of veggies found at the Farmer's Market making it a great summer weekend brunch.
Egg Bhurji – This Indian inspired breakfast is full of veggies and spices making it a new twist to your typical breakfast casserole.
Be sure to enjoy and tag me with #theculinarycompass on Instagram if you make this!