Firecracker Meatballs are a spicy twist on traditional chicken meatballs. Made with a combination of ground chicken, spices, and a fiery sauce, these Asian inspired meatballs are sure to pack a punch in both flavor and heat.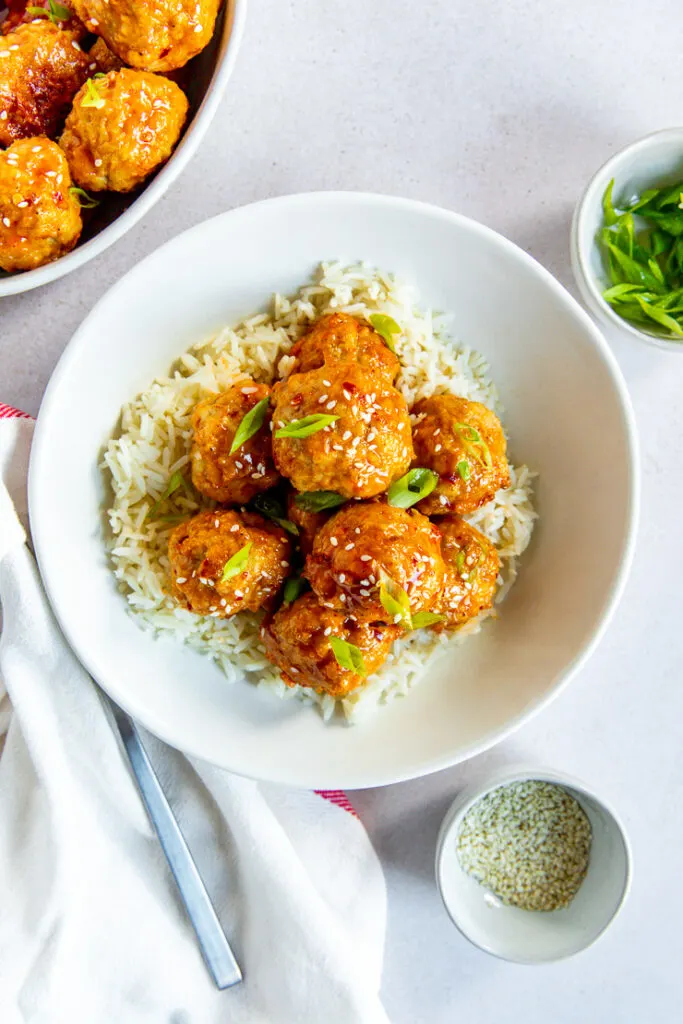 Firecracker Meatballs
Looking for a fun and flavorful appetizer or main dish? Definitely check out these Firecracker Meatballs. Inspired by the HelloFresh Firecracker Meatballs, they are the perfect blend of savory and spicy seasonings that make them delicious on their own and even better with the firecracker sauce on top!
This Asian inspired meatball recipe is packed full of punchy flavors like ginger, Sriracha, and soy sauce, with a sweet and spicy sauce made from hot sauce, brown sugar, and vinegar.
They are perfect on their own for an appetizer at a party or, as a main dish that can be served with rice and green beans on the side.
The Culinary Compass participates in several different affiliate programs. As an Amazon Associate, we earn from qualifying purchases.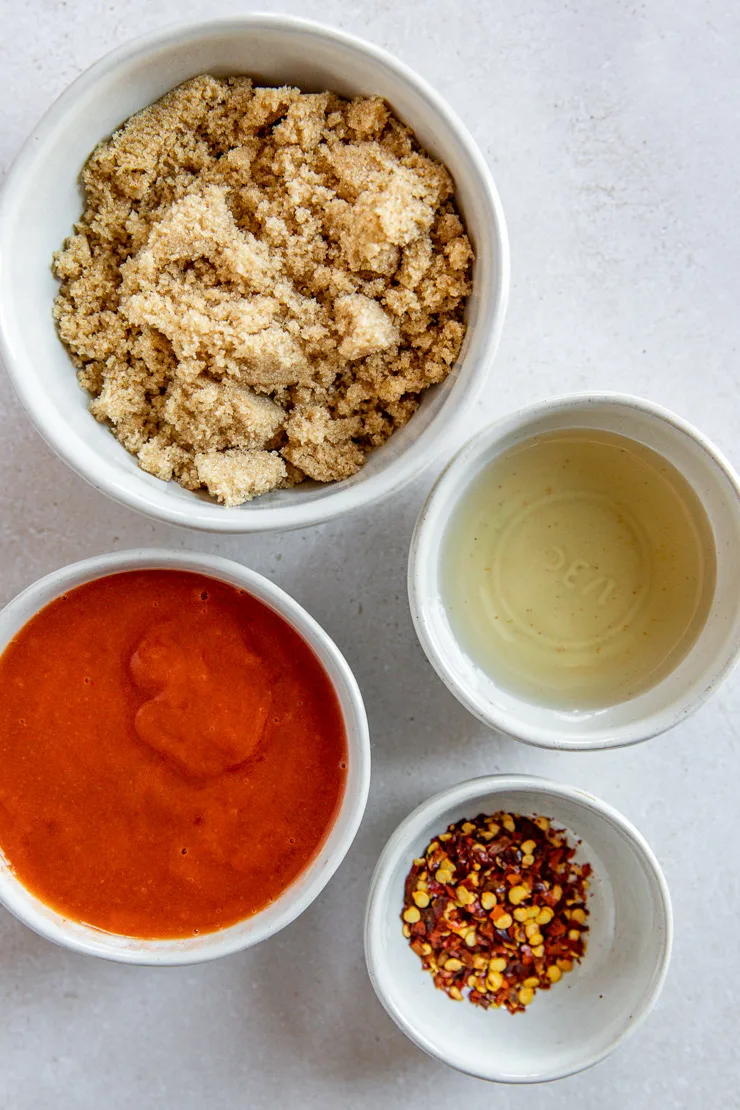 Firecracker Meatball Ingredients
Ground chicken
Panko crumbs
Sriracha
Eggs
Minced ginger
Spices like onion powder, salt, pepper, and red pepper flakes
Soy sauce
Hot sauce like Frank's Red Hot
Light brown sugar
Rice wine vinegar
Ingredient Substitution and Variations
There are a ton of ways that you can make this spicy meatball recipe your own! Here's a few ways that you can do that:
You can use ground turkey, or even pork or ground beef instead of ground chicken.
Use regular breadcrumbs, crushed cornflakes, or crushed crackers if you don't have Panko breadcrumbs on hand.
Try other hot sauces like Tobasco or Cholula if you don't have Sriracha.
Swap out the minced ginger with ground ginger or ginger paste.
Want to increase the spice? Trade out the red pepper flakes for fresh chili peppers, cayenne pepper, or even gochugaru which are Korean chili flakes.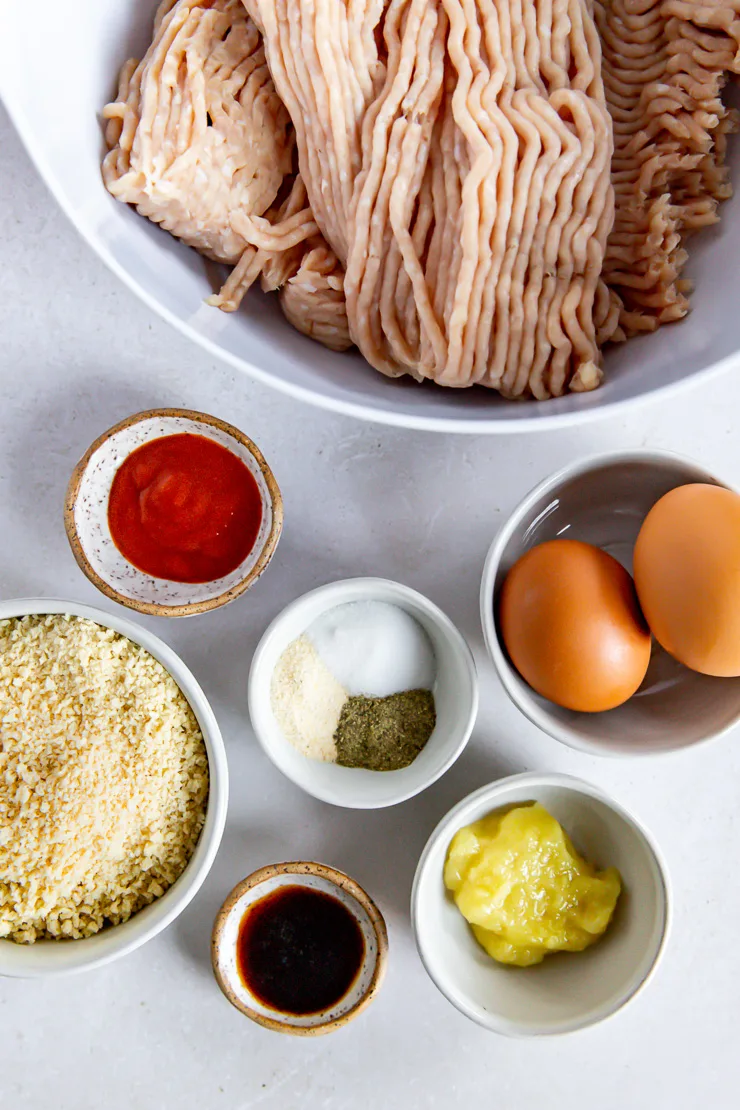 How can I serve Firecracker Chicken Meatballs?
This recipe is perfect for all sorts of serving options! Let's start with appetizers – you can just serve them as is with toothpicks, or even make them into smaller sizes for a cocktail meatball option. You could even serve each in a piece of lettuce for a quick lettuce wrap.
If you're looking for another great appetizer meatball recipe, try out these Chipotle Peach Meatballs.
Another great option is serving them on rice with a side of green beans, or whatever vegetable you have on hand! If you're keeping it low-carb, try zucchini noodles or cauliflower rice instead of rice.
Even a meatball sub would be a fun way to serve these! Try adding in some lettuce, shredded carrots, cilantro, and scallions to make a perfect sandwich.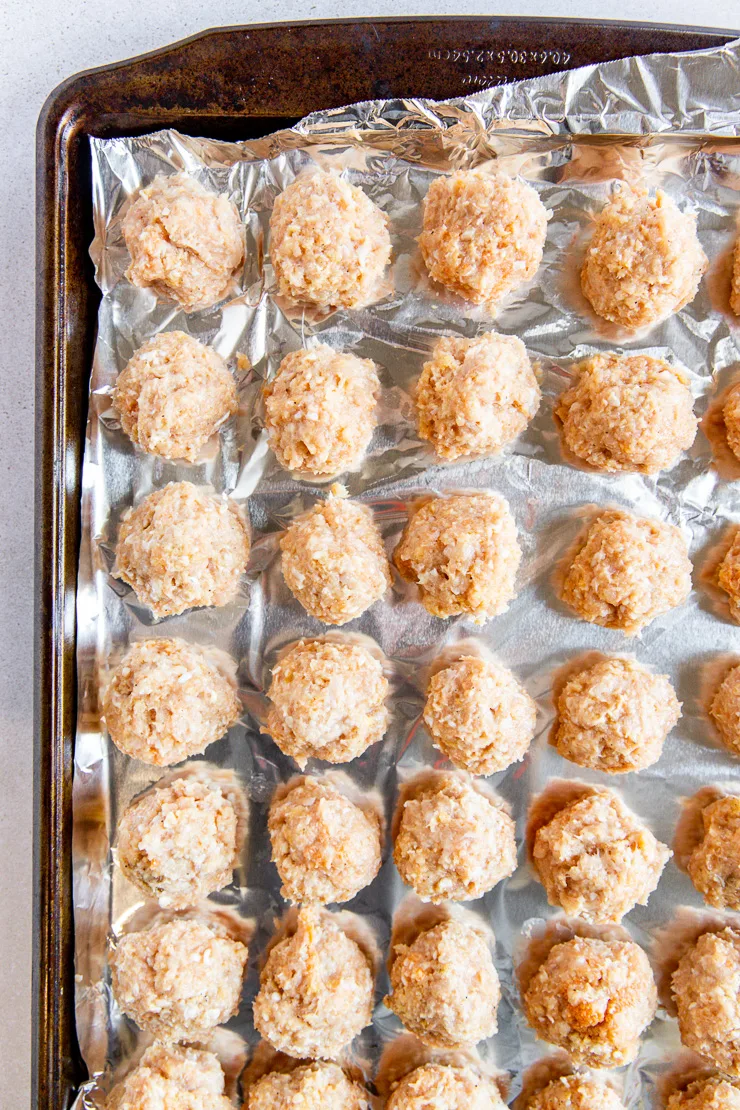 Can you air fry firecracker meatballs?
You can definitely air fry firecracker meatballs! It's a perfect way to give your meatballs a crispy exterior while keeping the inside moist and juicy.
You'll want to air fry the meatballs for 10-12 minutes at 400°F , flipping halfway through, until they are browned and cooked through.
Try out these Air Fryer Turkey Meatballs if you're looking for another easy option for dinner that you can add your own spin to!
Can I adjust the heat level to my liking?
You can! While this recipe is spicy by nature, you can adjust the heat level in a few ways.
For less spicy meatballs, cut out the Sriracha from the meatball mixture, and lower the amount of hot sauce in the sauce recipe. You'll probably want to cut out the red pepper flakes in the sauce too!
For more spicy meatballs, just amp up the hot sauce in all the places! You can even add in more red pepper flakes to the meatball mixture itself.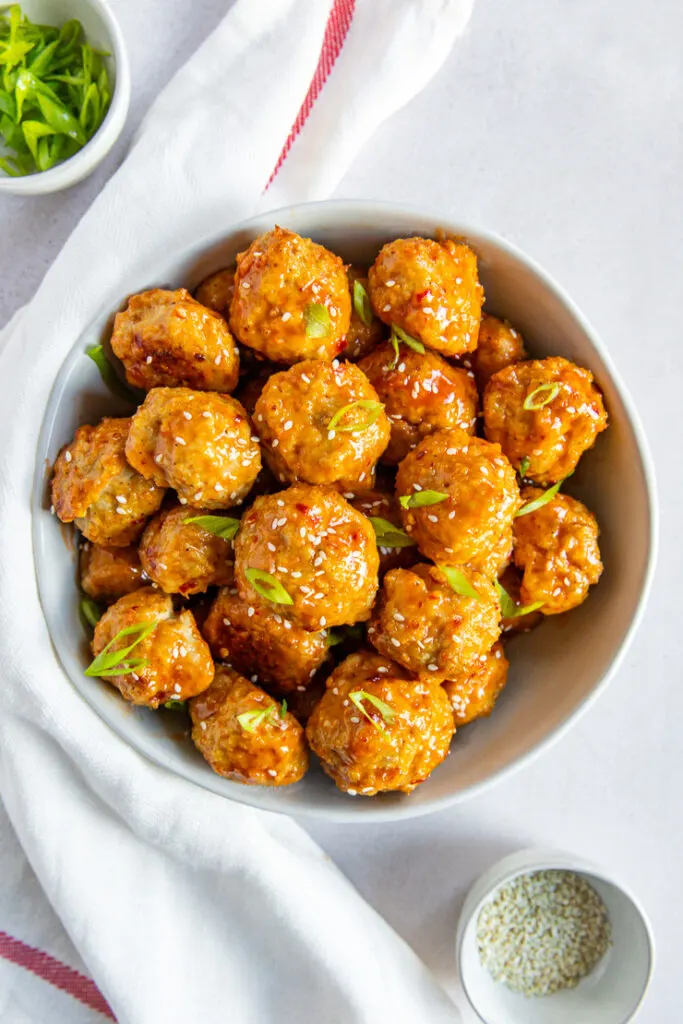 I'm excited to join back up with my friends over at the Freaky Friday blog hop where we get to make recipes from another one of the blogger's site. It's all a surprise until Friday morning where everyone gets to see the fun recipes we've all made.
Michaela from An Affair from the Heart is an absolute gem and continues to do an amazing job coordinating the whole blog hop which is such a fun experience. It's definitely one of my favorite blogger events I've taken part in!
This round I had Jennifer from Take Two Tapas! I absolutely love her site and her idea behind being able to taste and try more with creating meals out of smaller dishes. I'm a fellow appetizer orderer when going out so her philosophy is a 10/10 for me!
Her site ranges from Appetizers like these Pizza Egg Rolls or Finger Foods like this Summer Snack Board. Can't forget about all of her finger foods like these Big Mac Egg Rolls or these Pimento Cheese Sausage Balls.
See all of our 2023 Freaky Friday Spring Recipes
Hosted by –
An Affair from the Heart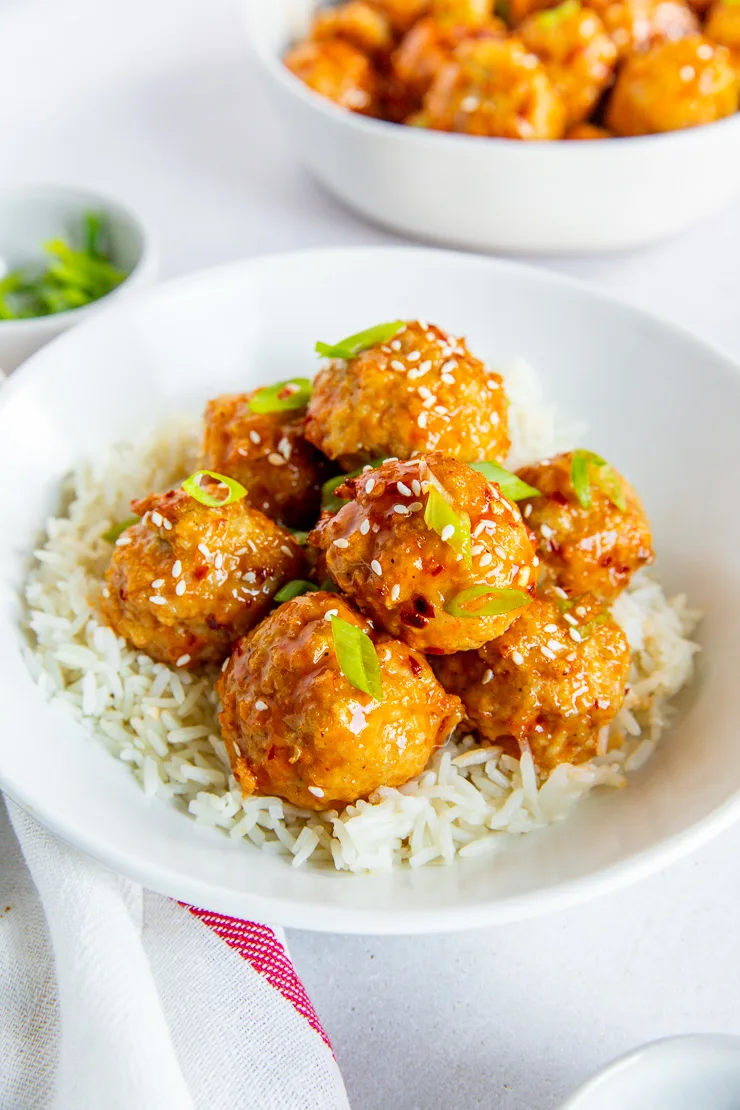 How to make Firecracker Meatballs
To make firecracker chicken meatballs, preheat the oven to 425°F and prepare a baking sheet. In a small saucepan, combine hot sauce, brown sugar, vinegar, and red pepper flakes and heat until slightly thickened. Set that aside until the meatballs are ready.
In a large bowl, combine ground chicken, Panko, Sriracha, eggs, soy sauce, onion powder, minced ginger, salt, and pepper. Shape the mixture into meatballs and place them on the baking sheet. Bake for 18-20 minutes, or until the internal temperature reaches 165°F.
Toss the meatballs in the sauce and serve on toothpicks or over rice, garnished with sliced green onions and sesame seeds.