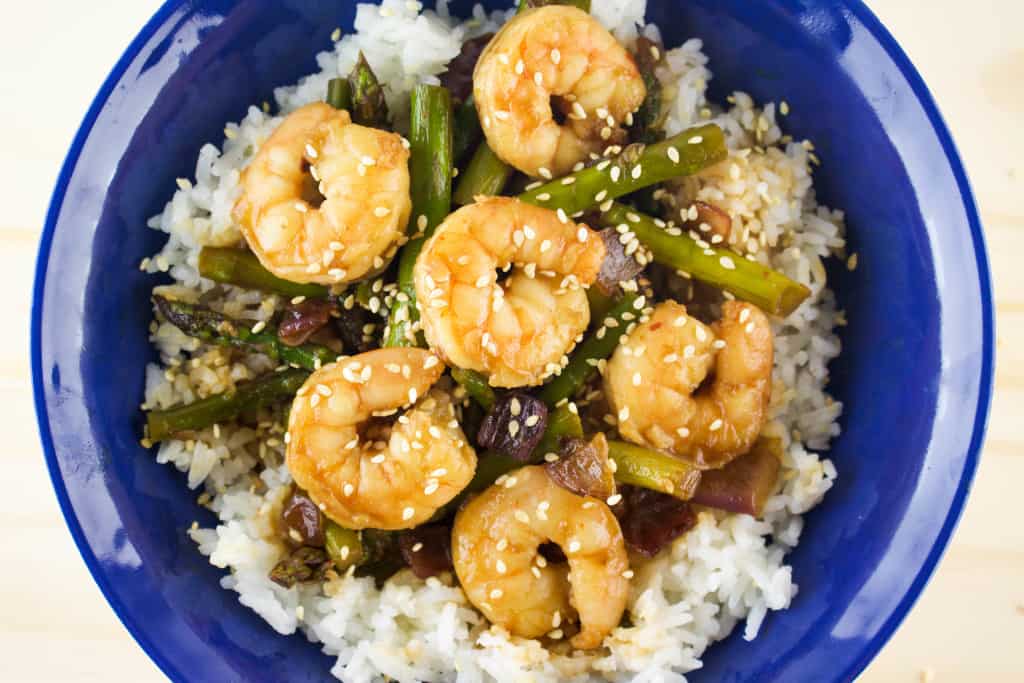 This Teriyaki Shrimp and Asparagus is one of those recipes that is perfect for those busy weeknights. Throw a few ingredients together in a pan, make a sauce, and call it done. Not to mention it makes great leftovers to take to work to next day too. ?
Traditional teriyaki sauce is typically a combination of mirin which is a sweet rice wine, soy sauce, and sugar. I personally didn't have mirin on hand, but I found that cooking sherry or white wine works well in mirin's place. I won't tell anyone if you just buy a bottle of teriyaki sauce to cut the ingredient list down and make this one of the simplest recipes ever.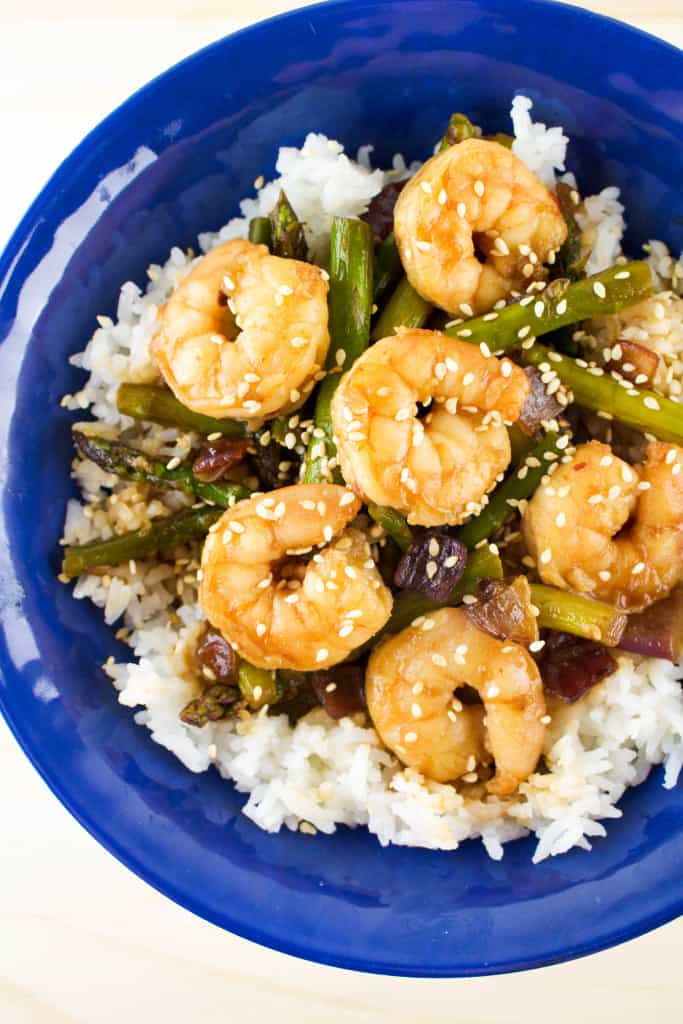 More fun facts about teriyaki:
I've found several recipes that sake or another type of alcohol is included. The combination of the alcohol and sugar is what usually gives your teriyaki dishes that awesome shine and crust to it. I added a little bit of ginger and red pepper flakes just to add a kick and to cut the sweetness of the sugar and mirin (…or it's replacement).
While I knew teriyaki was a form of Japanese food, something I didn't know was that teriyaki is technically both the sauce, "teri," and the cooking method of the food which is typically broiling or grilling the food, "yaki."
That's enough learning about teriyaki for the day. You can impress your friends or family with all of your newfound knowledge while serving them this great dish!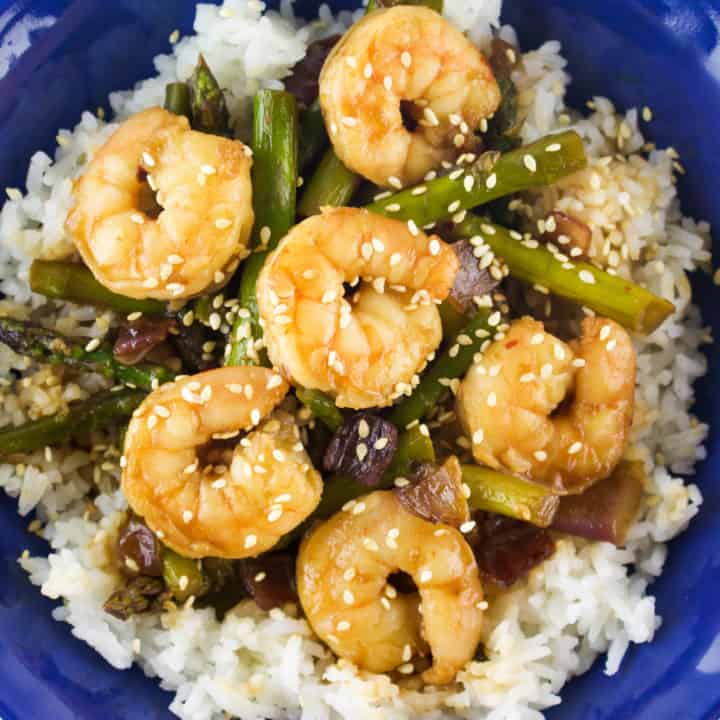 Quick Teriyaki Shrimp and Asparagus
Yield: 4 servings

Prep Time: 5 minutes

Cook Time: 25 minutes

Total Time: 30 minutes

A quick and easy take on teriyaki shrimp and asparagus!
Ingredients
2 tbsp vegetable oil
2 cloves garlic, minced
1 bunch asparagus, each stalk cut into thirds
1/2 red onion, diced
1/3 cup sherry or white wine (if you have mirin, use that)
1/2 cup soy sauce
2 tsp rice vinegar
1 tsp sesame oil
3 tsp white sugar
1.5 tsp ground ginger
1/2 tsp red pepper flakes
1 lb shrimp, deveined and peeled, thawed if frozen
Rice, to serve
Toasted sesame seeds for topping
Instructions
Cook rice according to package
Heat oil in a large saute pan over medium heat and add garlic. Cook until fragrant, about 2 minutes.
Add asparagus and red onion to pan. Cook until tender and stirring occasionally, about 15 minutes.
While asparagus and red onion are cooking, mix sherry, rice vinegar, sesame oil, sugar, ginger, and red pepper flakes together in a bowl.
Once asparagus is tender, add shrimp and to the pan and cook until pink, about 4-5 minutes.
Add teriyaki sauce to pan and mix thoroughly. Let simmer a few minutes to thicken and let sugar dissolve.
Serve over rice and top with sesame seeds. Enjoy!